BACK IN 2014, at the end of the third Test match in Melbourne, Mahendra Singh Dhoni presided over the customary post-match media conference like it were any other. He answered questions with a dour expression; he joked a bit. He told a journalist "There is a spicy answer and there is a sober answer," and went ahead with a particularly sober choice. He teased another to reword a question on "rash shots" to "loose shots". And he lamented the inability to get rid of the Australian tail-enders with the quip, "Now even PETA has said you can't cosmetically remove the tail."
It was a typical Dhoni press conference. Somewhat jovial and loquacious without really saying much.
Although the Test series had been lost, unlike the Austra­lian tour two years earlier, India had been competitive. Dhoni himself had just batted out 39 tense deliveries to draw the third match. Just one more Test remained. Just a single day separated the new year. Dhoni appeared relaxed. He answered some more questions, joked a bit, shook a few hands and left.
Less than an hour later, all hell broke loose. A Board of Control for Cricket in India (BCCI) press release arrived by email. Dhoni had retired from Test cricket. The biggest Indian sports star since Sachin Tendulkar had hung up his boots without once giving a hint of what he had been considering. There was going to be no fanfare, no farewell match, or even a farewell speech. It was as if —sometime between the jokes he cracked at that press confer­ence, or on the walk back to his hotel room, or maybe in-between those 39 balls he faced, or before—it had occurred to him that his time was up.
Only 10 more matches separated him from the record of playing 100 Tests—only 10 Indians have achieved this feat. But this wasn't going to hold back the cricketer who famously didn't play for records.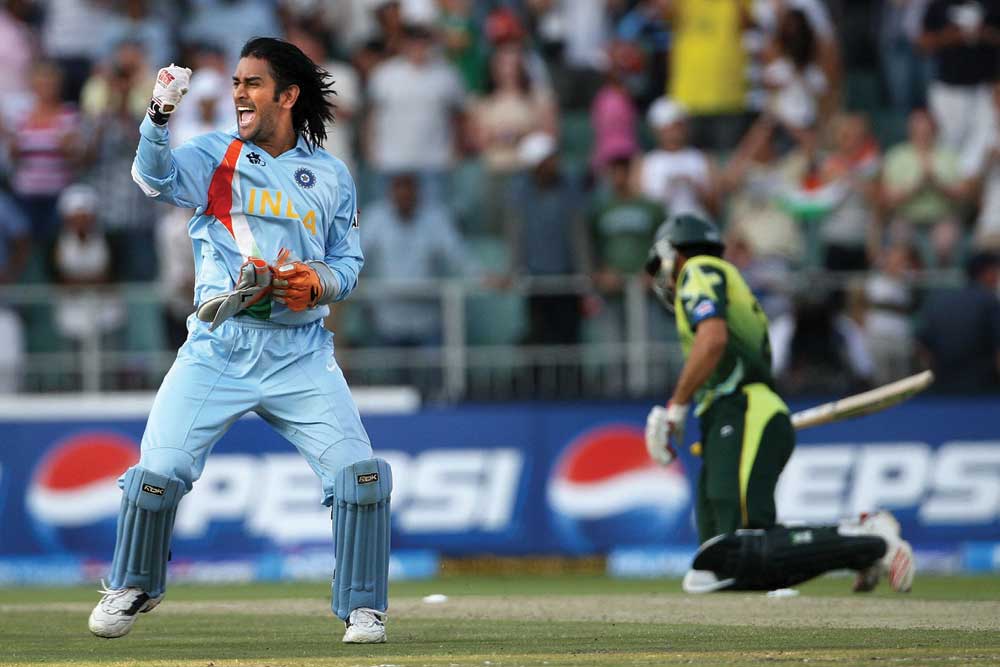 Six years later, after over a year of intense speculation, he has announced his retirement from all forms of international cricket. Announcement is an incorrect word. It was as though he were sending in a resignation letter to his superior at the Rail­ways. 'Thanks a lot for ur love and support throughout. from 1929 hrs consider me as Retired,' he wrote on Instagram.
The speculation over Dhoni's future had increased ever since that semi-final loss at the World Cup last year. Everyone who mat­tered was compelled to make a comment, from Virat Kohli and the coach to the selectors and the BCCI president. Only Dhoni stayed away. It was as if he didn't care to clear the air. He stayed away to the extent that it appeared he would go away without ever announcing anything.
And then, right in the middle of the pandemic, at the start of his IPL training camp, when no one was expecting it, he called it a day.
Dhoni is famously Indian cricket's biggest enigma. He prob­ably scoffs at the word. A man with the ability to look at the most pressured situations in an uncluttered manner will see the word for what it is—an empty label created by the media because of his inaccessibility. Besides, when you observe Dhoni, you get the feeling that he does not buy into his own adulation.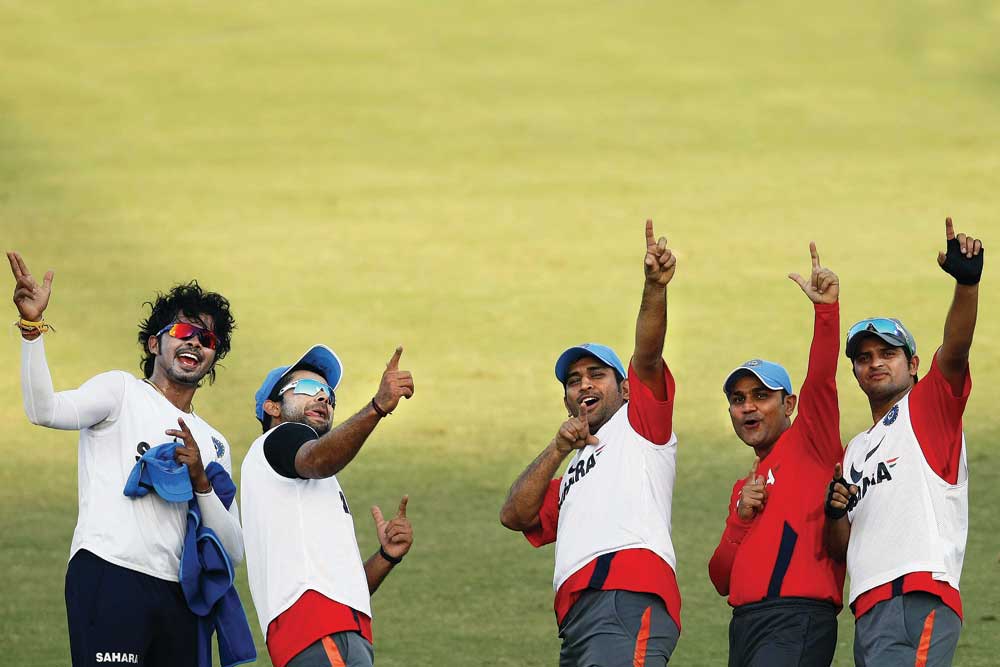 And yet, for someone whose life story has been so well documented, about whom even a biopic has been made while he was still playing, Dhoni is probably the Indian captain we least know. Nobody famously knows what he is thinking. Very early in his career, he pulled up the drawbridge on the media. He didn't do interviews; he didn't deny or discuss speculations; at press conferences, he often contradicted himself and came up with such lengthy analogies that one forgot what the original question had been. Dhoni's inaccessibility isn't limited to just the media. VVS Laxman famously could not reach Dhoni to tell him of his retirement. Even his wife Sakshi had to contact Suresh Raina so the message that she had just delivered a baby could be passed on.
The story of Dhoni's arrival at cricket is fairly well known by now. How the son of a water-pump operator living in a house so small that he would struggle to find a place for his kitbag strayed from football to cricket; how he had not been informed of his selection for the Duleep Trophy and the car his friends drove so he could catch a flight to the venue broke down midway; and how it appeared he had reached the culmination of his cricketing promise: a job of train ticket collector through the sports quota.
Dinesh Karthik was bumped up to the senior Indian team, freeing up a spot for Dhoni. Another year later, the country was eating out of the long-haired new wicketkeeper's hands. He had replaced Karthik in the senior team; broken the record of the highest score by a wicketkeeper in ODIs, a record that still stands; and Pervez Musharraf was asking him not to cut his hair. Two years into his international debut, he had capatained India to a T20 World Cup win
It was around this time that the BCCI had set up a now de­funct programme (Talent Resource Development Wing or TRDW) to spot and groom talented youths outside established cricket centres under former Indian captain Dilip Vengsarkar. "It was Prakash Poddar [a former cricketer and then TRDW of­ficer] who was in Jamshedpur watching a U-19 match when he spotted Dhoni playing in an adjoining ground," Vengsarkar reminisces. Although Dhoni was about 22 years old then and TRDW was meant to pick players under 19, an exception was made for Dhoni.
When you reflect upon Dhoni's journey, it is difficult not to sense the invisible hand of destiny guiding this wicket­keeper-batsman to his fate. A year after that chance spotting by a visiting official of a now defunct programme, the other wicketkeeper option of the India A team to visit Zimbabwe and Kenya, Dinesh Karthik, was bumped up to the senior Indian team, freeing up a spot for Dhoni. Another year later, the country was eating out of the long-haired new wicket­keeper's hands. He had replaced Karthik in the senior team; broken the record of the highest score by a wicketkeeper in One-Day Internationals (ODIs), a record that still stands; and Pervez Musharraf was asking him not to cut his hair. Two years into his international debut, he had captained India to a T20 World Cup win.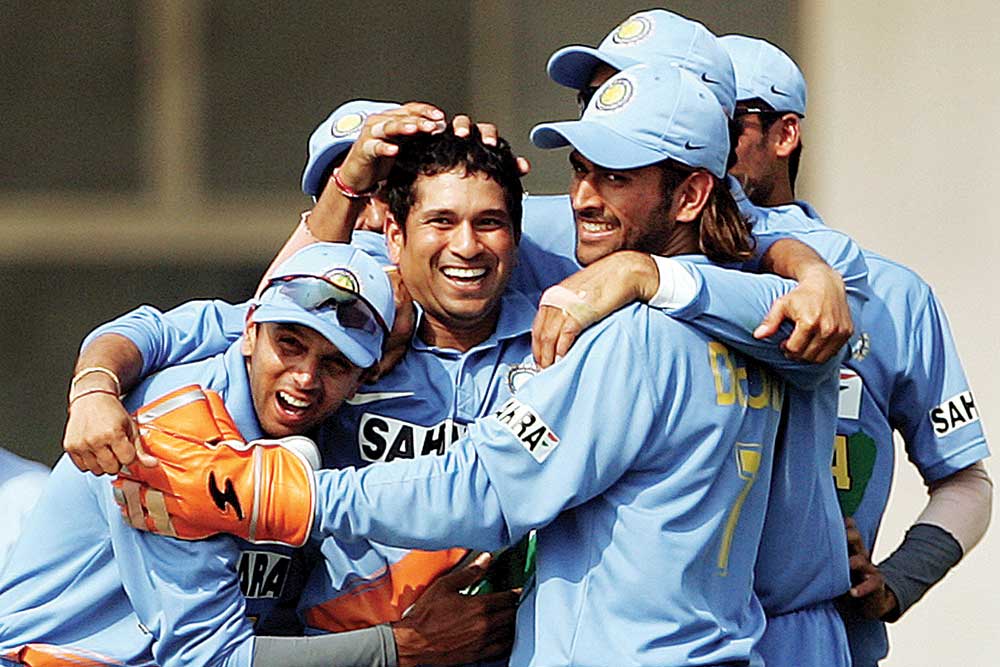 "There was this buzz about him before he was selected for the Indian team," says former Indian cricketer and coach Anshuman Gaekwad. "And when I saw him, I thought, what nonsense is this. What are these shots? What way of keeping wickets is this? And all that long hair and mannerism. I thought he wouldn't last much. And a year later, he had completely transformed."
Dhoni scored over 10,000 runs at a batting average of over 50 in ODIs, nearly 5,000 runs at an average of nearly 40 in Test matches, over 1,500 runs in nearly 40 T20 internationals. Some of his IPL numbers are even more exemplary. These are remark­able figures for any batsman. But even these really tell only half the story. Dhoni took games so deep that he made what had hap­pened before the final over immaterial. It didn't matter if indi­vidual centuries had been scored or five-wicket hauls had been taken. Dhoni would bring the result of the match down to the last over. He turned the game from Team India against another team to Dhoni against the last bowler standing. He would make it look like a penalty shootout. And more than his hitting ability in that final over, it was his ability to soak in pressure that made him prevail. The bowler just crumbled.
Dhoni took games so deep that he made what had happened before the final over immaterial. It didn't matter if individual centuries had been scored or five-wicket hauls had been taken. Dhoni would bring the result of the match down to the last over. He turned the game from Team India against another team to Dhoni against the last bowlder standing
AND YET this was not the only role he performed. In the final years when his batting began to let him down, Kohli seemed to suggest his other two skills—that of wicket-keeping and captaining or mentoring once Kohli took over—were good enough for him to retain his spot. Dhoni stumped more batsmen than anyone else in limited overs' history. He deflected throws for direct hits, he stopped runs by standing up to wickets or stick­ing his leg out. Many bowlers have frequently confessed that they owe half their wickets in the match to Dhoni. The former Australian cricketer Michael Slater once dubbed him the 'fastest gloves in the West.' Throughout history, great batsmen have often worried that captaincy affected their form. Dhoni prob­ably scoffed at such romanticised notions of fleeting form. He once said, when asked about his batting form, "When it comes to the mind, it depends on what you're feeding into the mind. You come and say, 'This is Napier' and it believes it's Napier. If you see, it's an abstract. When people say 'He's in form', nobody has seen form." As captain, his instinctive and calculated moves won the country three ICC tournaments (two World Cups and a Champion's Trophy) and took India to No 1 in Test rankings.
Vengsarkar, who was chief selector back in 2007 when Dhoni was appointed captain of the T20 team after the senior players had decided not to play the format, says Dhoni's calm approach just two years into his international career had impressed every­one in the team. "I was in England with the team and the other four selectors were in India. And I remember how all of us were in agreement that Dhoni would be the skipper," he says.
As captain, Dhoni had the unenviable task of captaining a team filled with former captains. But he ran the team his way, and gradually pushed some of those who had gone past their useby date out. "This is no mean task [handling seniors]," Gaekwad says. "Even when I was coach, I have seen it. It is tough to tell players who have played more than you to do something a certain way."
The rise of a sporting superstar from the cricketing backwaters of Jharkhand was a phenomenal story. Particularly from a market­ing perspective. Just as Tendulkar had been heralded as the per­sonification of a new liberalised India of the 1990s, Dhoni was seen as the symbol of the real India, a representative of the aspirations of the country's smaller towns and cities in a new millennium.
Dhoni's brand value soon caught up with his staggering exploits on field. Before his arrival, with the exception of Ten­dulkar, the advertising landscape was dominated with Bolly­wood bigwigs. Cricketers endorsed only a few products and they tended to be conscious of the image of these brands. Dhoni had no such qualms. He endorsed multiple brands; even an alco­hol company. By 2010, Dhoni had signed an unheard of sum of Rs 210 crore for a three-year endorsement deal with Rhiti Sports Management, surpassing even Tendulkar's Rs 180 crore three-year deal back in 2006.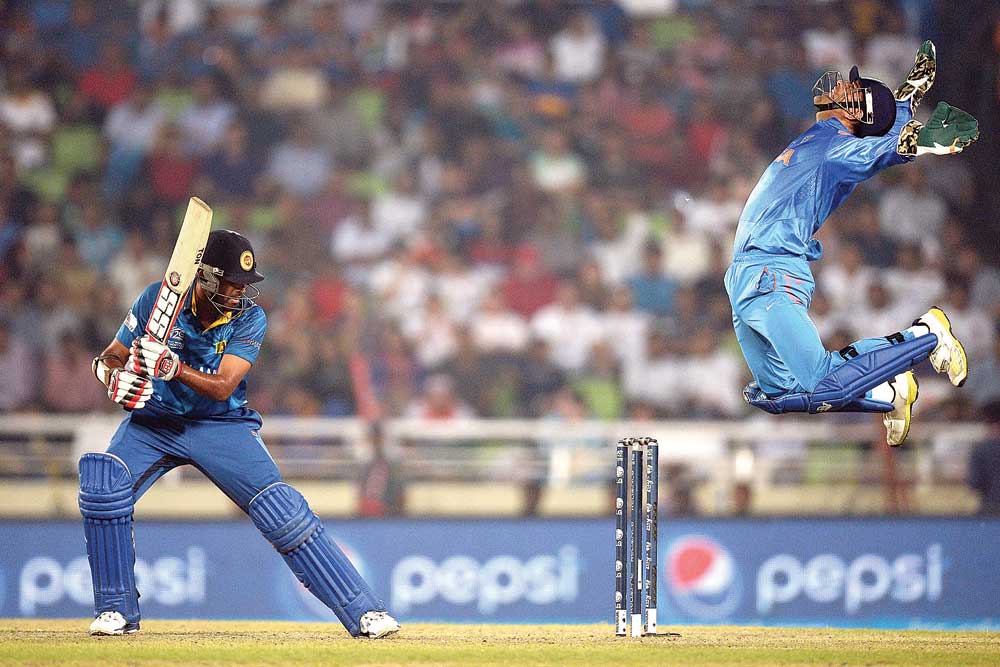 His influence was also expanding from the advertising landscape and the cricket field to now the powerful corri­dors of the BCCI. He became captain of the board president N Srinivasan's IPL team, Chennai Super Kings (CSK), and a vice president in his company, India Cements. Rhiti Sports Man­agement, which handles Dhoni and is run by his friend Arun Pandey (some say Dhoni even has a stake in it), also began to represent CSK and a number of other cricketers.
There were accusations of conflict of interest. A talent agency that Dhoni is rumoured to have a stake in was now represent­ing him, several cricketers, and also a team that he captained and that was owned by the board president. Dhoni, however, roughed out these questions. It was as though he felt it was be­neath him to clear the air. In 2012, after the whitewash in Eng­land and Australia, when the selectors tried to sack Dhoni from the ODI captaincy, Srinivasan made an unprecedented use of his powers to overturn that decision. Soon, the selector Mohinder Amarnath, widely expected to take over as chairman, was dropped from the committee.
A year later, the ties to Srinivasan became murkier when the IPL spot-fixing and betting scandal broke out and Srinivasan's son-in-law Gurunath Meiyappan was found guilty. It is said that Dhoni told the Mudgal Committee, appointed to probe the scandal, that Meiyappan was only a "cricket enthusiast" and unconnected with CSK's management.
Dhoni refrained from addressing the issue openly. After the fiasco, when he addressed a press conference on the eve of Team India's departure for the Champions Trophy, the questions that kept coming up were for his comments on the scandal. The other­wise loquacious captain now fell silent. He only smiled excruciat­ingly in response, waiting for the media manager to interrupt.
While Dhoni took Indian cricket to dizzying heights, there were several lows too. Less than a year after the 2011 World Cup win, India suffered its worst run in Test cricket, 0-8 losses in England and Australia. It wasn't entirely his fault. India's much vaunted batting order was coming apart; the bowlers were strug­gling to put together any decent sessions. But Dhoni let the games drift. In these moments, it looked like he didn't care enough.
Towards the later part of his career, Dhoni's batting skills had diminished. But he was too proud to admit it. His famed calm now ruptured every time someone brought it up. He began to snap at media conferences. Once, he even suggested no one ask that question unless they knew someone fitter than him.
Destiny appeared to have thrown him one last lifeline in the semi-finals last year. After Ravindra Jadeja's heroics, there were 31 runs to get in two overs. In his prime, Dhoni would have hit a few boundaries and ensured he played the final over. But this wasn't the same Dhoni. And he knew it too. He couldn't trust himself to hit boundaries at will.
And so he ran a second run that in his prime he would have refused. Martin Guptill scooped up the ball from square leg and aimed at the only wicket visible to him. The best fin­isher in the game was caught short by just a few heartbreak­ing inches. The pragmatic Dhoni would know. There are no fairytale finishes.