THE INDIAN INSTITUTE of Management, Ahmedabad (IIMA) has successfully nurtured a culture of excellence and innovation in its teaching, learning systems and research practice over six decades of its existence. This has ensured that the institute always stays ahead of the curve in imparting high-quality education, producing cutting-edge research and supporting effective policymaking.
The institutional culture has followed some traditions and practices even as it has evolved over the years. Everyone at IIMA is encouraged to be entrepreneurial and, therefore, work with a diverse set of people—whether students, faculty, research associates, administrative staff or the industry at large outside of IIMA.
The case method of teaching has been one of the most important and key differentiators that has made teaching and studying at IIMA truly world-class. In the early years of management education, the major problem was replicating the real world, real business problems, real human resource challenges, and everything that comes with learning how to run a successful enterprise. This is where the case method became the door to usher this world into the classrooms. The case method is globally known as participant-led learning pedagogy. IIMA adopted this method of teaching from the very beginning, and continues to use it.
IIMA inherited the case pedagogy from Harvard Business School (HBS). HBS mentored IIMA, and in the beginning, HBS faculty members visited IIMA to help recruit and train IIMA faculty in teaching and writing cases. Later, IIMA sent many of its faculty members to HBS to observe and master the case pedagogy. Of late, IIMA has restarted the process by allowing faculty members to attend the Global Colloquium on Participant-Centered Learning programme at HBS.
The case pedagogy has several advantages. Cases require the participants to step into a protagonist's shoes and take charge of the situation. They not only have to take a decision, but also need to substantiate it with reasons and a plan of action. For doing so, they have to evaluate the multidimensional aspect of each decision, such as the impact on profitability, competition, employees, collaborators, owners, and the owner's family. They have to own their decision and be ready to defend it in a class of about 90 students, each of whom would have their own reasons for defending their decisions. Sometimes, they have to think on their feet when they miss out on an important case dimension. They also have to communicate their decisions effectively to draw the attention and support of the class. In a way, the case method of teaching brings real-life situations to the class and students learn from these situations. It is like on-job management training. The participants have to choose from the multiple roles available to them—initiate the discussion, challenge an argument (play the devil's advocate), build on the ongoing discussion, summarise and integrate the discussions and draw new paths, or just be an observer. And this they have to do repetitively across many cases in different sessions, courses, settings, geographies, and at different stages of their learning process. Subsequent courses build on the learnings from previous courses, thereby integrating knowledge over time.
The case instructors (faculty) expect their class to prepare well for the case discussion. That does not mean a mere reading of the case. It involves identifying the case protagonists and their dilemmas. Individual students can decide on the role they want to play, identify the problems/pain points facing the organisation, identify the options and the evaluation criteria, zero in on the recommendations with justifications, and be ready with an action plan. The participants are separated into different study groups, and they are expected to have discussed their ideas and action plans within their study group before attending class.
The case method brings real-life situations to the class and students learn from these situations. It is like on-job management training. Participants have to choose from the multiple roles available to them—initiate the discussion, challenge an argument (play the devil's advocate), build on the ongoing discussion, summarise and integrate the discussions and draw new paths, or just be an observer
The preparation process also requires the participants to learn most of the concepts themselves. If an instructor has to teach something, participants are given notes and all other resources in advance to learn by themselves. This process ensures that class time is spent effectively solving a real-life problem rather than discussing mere concepts. Concepts, we understand, our students can pick up independently or with the help of their group members or through online media. However, most structured learnings can be done through concept notes, textbooks, or even beautifully curated videos on authentic media. The case pedagogy is thus like a flipped classroom where the structured learnings take place off-class, and the classroom provides for an interactive and unstructured learning environment.
CASES TEACH the students to understand business challenges quickly while considering the larger context of the industry, employees, resources and societal impact. Cases are great at applying theory to practice, and in an almost real-life environment with role plays and group projects. That is how real businesses function. The case method is instrumental in building skills such as critical thinking, analysis, timely decision-making, and implementation of those decisions to see the ultimate impact.
IIMA faculty members are considered case instructors, and not case teachers. They are supposed to help the participants learn through class discussions. They try not to give any opinions on students' solutions in the class; instead, they let the participants know their mistakes by reflecting on the class discussions. In fact, they do not believe that there is something like "the correct answer" in real life. It is all about how successfully one can diagnose the problem, how deep one can think through such problems, and how likely one can devise a defensible solution and a plan of action that captures the multidimensional aspect of the problems. The class instructor's role is to steer the class discussions effectively and efficiently. They set the tempo of the class, direct the discussion towards specific learning agendas, and sometimes, supplement the discussion with their own experiences. One can compare their role to that of a conductor in an orchestra. They highlight and summarise the discussion into broad themes and organise them into different pastures on a large grassland (class board). Their case preparation thus involves a teaching plan and a board plan.
IIMA also encourages its faculty to sit in each other's classes, something from where I have learned a lot in my career. The faculty members attend the sessions of their co-instructors and colleagues from their own discipline, and also of faculty members from other disciplines. One learns from attending the classes and the post-class reflections with the teaching instructors on what went smoothly, what could have been handled differently, the need for additional pre-class reading materials, etcetera. Over time, this learning helps instructors develop their own teaching style and understand the nuances and intricacies of course development.
IIMA has India's largest case repository. IIMA's commitment to case pedagogy is not just in the form of case teaching. The institute encourages and supports its faculty members to look for potential case-writing opportunities, and reach out to companies to allow writing cases on them. There is a keen interest globally in learning about cases from a vibrant, emerging market such as India. Thus, IIMA faculty is continuously involved in new case research and development. This also allows the faculty to work closely with the industry and bring rich experience to its classes. IIMA has an in-house case centre that provides both financial and nonfinancial support to the faculty members for case-writing. The publishing of India-centric cases ensures that IIMA not only creates knowledge on the country but also disseminates this knowledge that brings global attention to Indian best business practices and ways of doing business. The centre also disseminates the cases worldwide through its international distribution partners, including HBS and IVEY Publishing.
From the Alumni
Future Perfect: Shaping up in a competitive world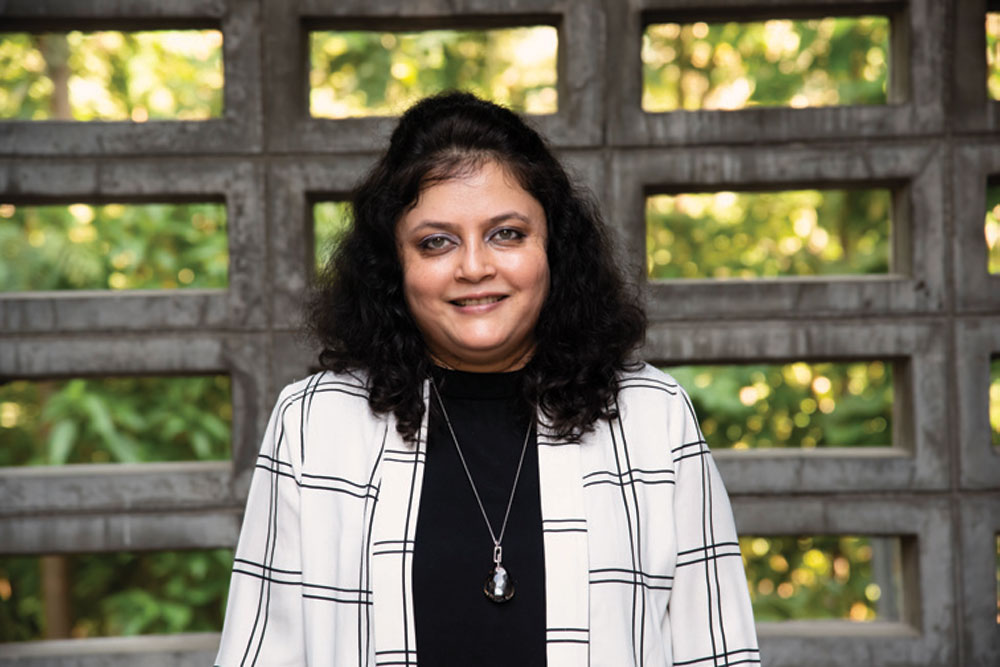 Chhavi Moodgal is the chief executive officer, IIM Ahmedabad, Endowment Fund
Prior to my MBA (Post Graduate Programme in Management) from IIM Ahmedabad (IIMA) in 2004, I was an Economics graduate from LSR, Delhi University, and had never experienced on-campus living. This was the first time I was going to be living by myself, and the beginning of my transformative journey at IIMA.
As I found out soon enough, a residential campus is a very different kettle of fish. My first memory of IIMA was all the tough love from seniors and professors alike, as we got inducted into the WIMWI, a pseudonym for IIMA, taken from the case studies which referred to the institute as the Well-known Institute of Management in Western India.
As an Economist article pointed out a few years ago, IIMA is the hardest business school to get into, globally. So, when I got in, I felt like I had grown wings and life thereon would be smooth sailing. Little did I know then that the "A" in IIMA is also proxy for academics, and the programme here is quite rigorous. Cracking CAT and being here meant one had been filtered to compete within the best and this relentless pursuit of excellence was only accentuated by the rigour of IIMA's academic curriculum. This tenet has stayed with me as well as most alumni from IIMA and it reflects in the success which our alumni have achieved—with several renowned CXOs, entrepreneurs, academicians making the grade.
During the PGP programme, one of the finest tools of instruction was the case method, which is unique to our institute amongst Indian B-schools. The case method ensured that we were trained in applying ourselves in more practical situations as opposed to just learning theory. This was particularly relevant for most of us who came from no prior work experience. So, the only way you got to get a realistic glimpse of corporate culture was through the cases. Most of the cases were written by the faculty in consultation with corporates or alumni and put one into complex situations with a question or problem to solve at the end of the case. Hence, one could imagine oneself in the shoes of a marketing manager deciding the best positioning for a product or an operations manager solving a logistics issue—applying our learning to help solve problems.
Also, our academic assessment was well-rounded—there were evaluations for all kinds of things. So, while you had to be exceptionally lazy or incompetent to actually fail a subject, only the truly outstanding ones actually excelled in terms of grades. There were evaluations for class participation, group discussions and presentations, and for quizzes. Then you had an interim exam and a final exam. Our faculty was among the best in the world and its objective was to bring out the best in you while making you work on your weaknesses. It focused on facilitating dialogue and exploration instead of rote learning.
In those days, just like today, a lot of energy of the students went into placements which came in the form of summer internships, at the end of the first year; and final placements, in the second year. In the first year, all the students learnt the same subjects. One's summer internship was chosen on the basis of experience on campus in the very first year. Depending on where one landed in one's summer internship and areas of interest, one would choose the electives during the second year. In my case, I did my internship in finance and investment banking at Morgan Stanley in Singapore. That gave me a very good hands-on perspective on how an investment bank works. For someone like me without prior work experience, learning about such a prized field in a competitive milieu was a great experience. You had to fight for your rightful place while competing with some of the best and brightest in the country. When I returned to IIMA, I selected courses like mergers and acquisitions, futures and options, negotiations, and the likes. In true IIMA spirit, course selection itself was an interesting process—for some courses in high demand, we had to bid for the courses. One had to be very clear about one's priorities, have back-up plans, and so on. At IIMA, the learning never stops, even while choosing electives.
It was not all finance and marketing, though. There were several off-beat courses on offer, too, like ERI (Exploration, Role and Identity), where we went camping in the Rann of Kutch over three nights, and spoke in small groups about self-discovery, feelings, emotions, roles— a refreshing change from classroom learning. There was another course called "Shodh Yatra" where one went to Ladakh for an exploratory trek. Then there were courses like "Legal Aspects of Business" and "Negotiation Skills" which are arguably crucial to doing business anywhere. Many such courses make IIMA stand out as a holistic foundation-building institution for business leaders.
Even our dorm interactions had a unique flavour. As dormmates, we came together at all sorts of odd hours to help each other through the easy times and tough ones. The dorm was an important support system for all of us. The dorm culture outlasted individual batches. Often, dorm seniors visiting the campus would take us out for lunch or dinner, sharing invaluable lessons on what they were doing with their work lives.
For me, high-quality education in management is not the only thing I left IIMA with. I met my future husband in my batch. With only 10 per cent women in my batch, campus couples were quite common.
Student exchange was a major part of the second year at IIMA. The fifth semester was when people had a fair idea of the road ahead. This is when international student exchange programmes took place. While I did not go on the exchange programme myself, my husband (back then, just a friend), who was also my batchmate, went to a German B-school. There were foreign students from such schools all over the world, who came to IIMA in turn—about a third of our batchmates through the fifth semester were exchange students, bringing in their unique global perspectives and cultures.
The two years at IIMA genuinely transformed me and I will always have tremendous gratitude for the institute for the lessons—both academic and in life. In addition, I made lifelong friends and had the privilege of being connected with our alumni and faculty—these networks genuinely have some of the most accomplished people in their fields.
It now gives me tremendous satisfaction to be able to lead the IIMA Endowment Fund which enables alumni to give back to the institute that literally changed their lives and contribute to various facets of IIMA that they are passionate or nostalgic about.

Sobhesh Kumar Agarwalla is professor of Finance and Accounting and chairperson of IIMA Case Centre