THERE IS A point in the famous Japanese animation series Demon Slayer where the warrior Giyu Tomioka addresses Tanjiro Kamado, the main protagonist of the series, asking him to "feel the rage". He must feel it against demons that have destroyed his family. "The powerful pure rage of not being able to forgive will become your unswerving drive to take action," Giyu tells him.
Ironically, earlier this month, Giyu became a symbol of demonic misdeed, after a young man in Assam used this name to create multiple social media accounts through which he sought to spread hate against women belonging to the Muslim community. Niraj Bishnoi, the developer of the 'Bulli Bai' app, which sought to sell over a hundred Muslim women in a virtual auction, is now in the custody of Delhi Police. He is a worrying symptom of a sickening pathology among a small but growing fraternity of young Indians, men and women, who are using social media to harass and intimidate their objects of hate—minorities like Muslims and Dalits, who in their puritanical idea of India should not exist.
On the face of it, as evidenced from reactions on social media, many see such acts as silly humour or pranks not intended to cause any real harm. The Bulli Bai app is not really an app that one can download from, say, Google Play Store, or install on one's desktop. It is just a code that Bishnoi developed and then hosted on Git Hub, a website owned by Microsoft, popular as an internet hosting site for software development mostly among coders. So, the 'app' has no use except as a tool for harassment.
This may seem absurd but, according to Lisa Bogerts and Maik Fielitz, researchers on the radical right, such inanities "can still convey hate messages, attract new supporters and give rise to bigotry". It is clear now that such acts in India draw their inspiration heavily from American alt-right groups, and like them aim to create a visual culture which in the words of media studies expert Viveca S Greene, "challenge progressive ideologies and institutions, redpill normies, and create a toxic counterpublic."
Bishnoi was arrested from Jorhat in Assam; he is originally from Rajasthan, but his father's employment is in Jorhat where he runs a self-owned pickup van while his mother runs a government fair price shop. He is currently pursuing an engineering degree from Bhopal. His arrest came about after details of the virtual auction of over a hundred influential Muslim women, from journalists to politicians, came to the fore earlier this month, the second time in six months. This time the app was called Bulli Bai.
The app for the virtual auction of Muslim women had surfaced on social media for the first time in July last year with the name 'Sulli Deals'—Sulli being a derogatory term for Muslim women. Like Bulli Bai it was also created on Git Hub and had names and photos of prominent Muslim journalists who face a lot of trolling on social media. Before that, a rightwing YouTuber, who has 87,000 subscribers, had hosted one such 'auction'.
But despite police complaints, it seemed there was no interest in pursuing the culprits behind the app. Information was sought from Git Hub, but it refused to part with such information, asking Indian agencies to instead take the legal route. The app stayed online for about three weeks before it was taken down. But police inertia in this matter encouraged others to follow suit. In November last year, a group of men spoke freely about auctioning women in a chatroom on the social audio app, Clubhouse.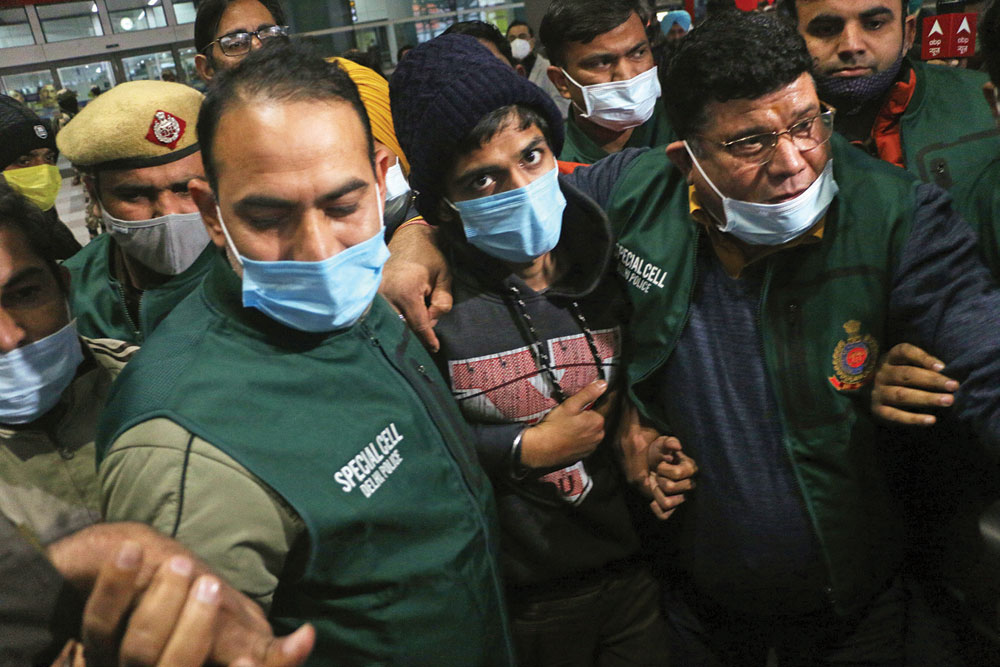 Bulli Bai, mirroring Sulli Deals, surfaced online most likely because of the confidence that police in India were not interested in pursuing the matter. But as pictures of victims surfaced online this time, it led to another cascade of outrage. The victims included Khalida Parveen, the mother of Najeeb Ahmed, a student at Delhi's Jawaharlal Nehru University who had mysteriously disappeared after a clash with rightwing supporters on campus in 2016.
But this time round, the Mumbai-Delhi politics spoiled the game for Bishnoi. The Shiv Sena government in Maharashtra, at loggerheads with the Narendra Modi-led Government in New Delhi, ordered Mumbai Police to investigate the matter after a complaint was lodged. In no time they arrested Vishal Jha, an engineering student in Bengaluru. This was followed by the arrests from Uttarakhand of Shweta Singh and Mayank Rawat, who had both shared details of auctions from Twitter handles they had created.
As Singh was interrogated, the police realised that her Twitter account was actually handled by someone else with whom she had shared her username and password. She said it was a man from Nepal. By this time, Delhi Police were also coaxed into action.
On January 3rd, a Twitter handle was created by someone by the name of @giyu44. It began putting up notices and communication received from Git Hub as proof that the mastermind of the app was someone from Nepal. In one of the messages, @giyu44 wrote: "If you really think they [sic] either of these kids [Jha or Singh] created or had anything to do with Bulli Bai, ask them the unique app ID." Then, to derail the investigation further, the handler wrote: "As for how I created the app, it was clone of the original #SulliDeals created by Javed Alam."
But as the police put together their investigation with the help of technical experts, they zeroed in on Bishnoi. It was Bishnoi who had created @giyu44, in a last-ditch attempt to confuse investigators. He was the one who was managing the Twitter handle that Shweta Singh had created.
Bishnoi is 21 and looks studious, with a boyish face. He went to school at an institute in Jorhat which claims to offer the best coaching to engineering and medical aspirants. In fact, he secured 86 per cent in Class 10, which led him to the possession of a laptop, awarded by the Assam government to meritorious students. He did well in Class 12 as well, securing 82 per cent. But by this time, his obsession with his laptop had become a problem. His father told local journalists that in school his laptop was seized by school authorities several times. Since the Covid lockdown in March 2020, his father told the Press Trust of India that Bishnoi kept to his room, mostly glued to his laptop.
Police investigations have revealed that Bishnoi created several other Twitter handles with the name giyu, such as @giyu2002, @giyu007, @giyuu84 and @giyu94.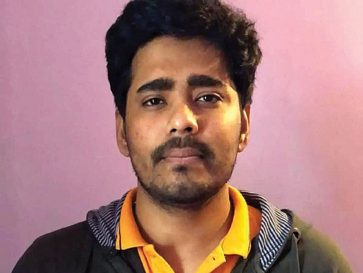 "He even used a fake profile of a woman, pretending to be a journalist, to get in touch with the investigating officer," KPS Malhotra, a senior officer with Delhi Police's Special Cell told Open. Another police officer who is part of the investigation said that Bishnoi is a shrewd manipulator who tries his best to delay the investigation and make it go off track. "Sometimes he tries to physically harm himself and sometimes he urinates in his trousers, but we have ascertained that mentally he is sound and stable," the officer said.
As the police persisted with the interrogation, it came to light that Bishnoi had in January 2020 joined a Twitter group called Tradmahasabha using the Twitter handle @gangescion. The group fashioned itself on the alt-right digital ecosystem "trad-wing", becoming a part of the tradition many young Indians, attracted to the right, are currently fascinated with. They are mainly from upper-caste communities now calling themselves "Trads" (short for traditional) while terming their rightwing but liberal cousins "Raitas"—picking up on the idiom "raita phailana", from the Hindi lexicon, which means making a mess of things. Trads like Bishnoi believe that the Raitas have messed up things by supporting modern, liberal ideas like democracy and emancipation of women. They are so extreme in their views that they even think that the distinctive personal stamp of Prime Minister Modi on Hindutva is not enough. Apart from considering him soft on issues (such as his decision to scrap the farm laws), their problem with Modi is also that he comes from a backward community (OBC).
According to the police, it is on Tradmahasabha that Bishnoi came across the details of the Sulli Deals app. It was here that he came in touch with another young man like him who said he was the creator of that app. Due to wide coverage of the furore the app had caused, the man told Bishnoi that he had erased all digital footprints from the internet. But Bishnoi knew one thing about the man.
He was from Indore.
As technical teams analysed archival data, they identified the man as Aumkareshwar Thakur. On January 8th, a Delhi Police team raided his house in an Indore township. As his electronic gadgets were examined, the evidence of his involvement with the Sulli Deals app became evident. With pressure mounting on him, Thakur confessed that he was indeed the developer of the app.
Bishnoi had joined a Twitter group called Tradmahasabha. The group fashioned itself on the alt-right digital ecosystem 'rad-wing'. These young Indians are mainly upper caste, calling themselves 'Trads' (traditional). Trads like Bishnoi believe the 'Raitas' (right wing but liberal) have messed up things by supporting liberal ideas like the emancipation of women
At his interrogation, the 26-year-old Thakur, who has a Bachelor's degree in computer application, told the police that he has been a member of Tradmahasabha for two years where he discussed ideas about defaming and trolling influential Muslim women vocal on social media. Subsequently, he developed the code for Sulli Deals to which all members of the group had access. Accordingly, other members uploaded photos of Muslim women they wanted to target, which were then made part of the virtual auction.
In custody, Thakur and Bishnoi are now both saying that they regret creating these apps and they were influenced by hate propagated by other members of the Tradmahasabha group. But a senior police officer investigating the case said it all currently felt like a ruse to escape the law.
"They have a propensity towards violence," he says. "They speak of Kaliyuga and their belief that the world will end, but before that they want to eradicate communities like Muslims and Dalits who they feel are eclipsing their idea of civilisational purity."
That is an ominous sign. Bishnoi and Thakur may not have been able to carry out a physical, violent attack against their objects of hate. But as Bogerts and Fielitz caution, "The digital hate cultures from which terror emerges make it increasingly challenging to distinguish between organised political action and individual provocation, between fun and deadly seriousness."
In 'Post-digital cultures of far right', the two researchers quote an anonymous associate of the internet activist collective who emphasises the need for social movements to have the potential of humour and joy. "Boredom is counterrevolutionary. Political resistance needs to be fun, or no one will want to participate," the activist says. That is precisely what Trads like Thakur and Bishnoi did. They created a chance for others like them to participate in an activity whereby they could send the picture of a Muslim woman of their choosing and then see her being added to the virtual auction. It was a 'fun' activity for them, but no one knows when it could become deadly serious.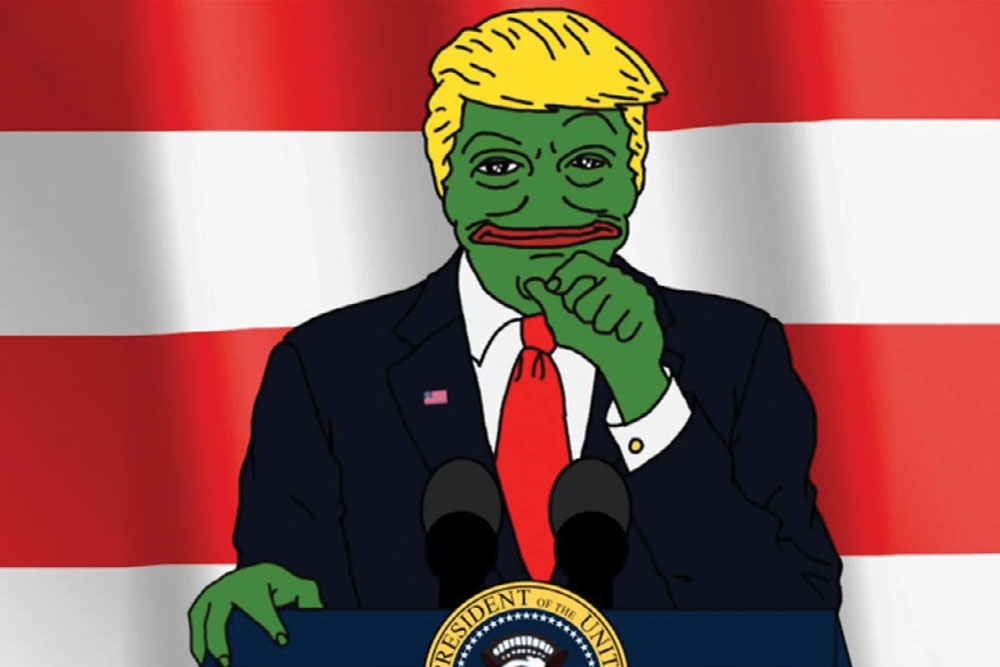 No wonder then that the Trads in India have swiftly adopted Pepe the Frog, a comic character of a frog with human traits, created in 2005 by artist Matt Furie. On the cover of his comic book, Boy's Club, Pepe is showcased along with his slacker roommates "combining laconic psychedelia, childlike enchantment, drug-fueled hedonism, and impish mischief." The comic book is described as "a stoner classic for Tumblr generation". In an interview to National Public Radio (NPR), Furie said the characters were inspired by his own life, "living with a bunch of guys". Calling Pepe the Everyman, Furie said, "[H]e likes to take naps and smoke weed, play video games."
But 10 years later, as rightwing populism saw an upswing, Pepe became a symbol of white supremacism, picking up steam with the ascension of Donald Trump in the US. Soon, white rightwing loonies had appropriated Pepe, depicting him as, among other terrible caricatures, Hitler drinking from a cup with the swastika, and a hood-wearing Klan. This prompted America's Anti-Defamation League (ADL), an anti-hate organisation, to classify Pepe as a hate symbol in 2016. In a statement, ADL's CEO, Jonathan A Greenblatt said, "Once again, racists and haters have taken a popular Internet meme and twisted it for their own purposes of spreading bigotry and harassing users".
In India, pursuant to Sulli Deals, Pepe is shown with clear Hindu symbols, crushing a Muslim man under a vehicle or beheading him. In other crude caricatures, he is shown as urinating on a dead Dalit girl. There are visuals of gas chambers as well that point to neo-Nazi tendencies.
Bishnoi has told the police that he was abreast of developments in India as he watched a television news channel regularly and felt that 'foreign' religions like Islam and Christianity had corrupted the purity of the Hindu religion. Sentiments like this are also being triggered by a constant flux of misinformation and disinformation landing through cheap data on mobile phones—on social media and on family WhatsApp groups. Then there are unrestrained sentiments at events like the recent Dharma Sansad which help create, in sociologist Stuart Hall's words, a "deeper movement" which the "average punter" feels attracted to.
As this hate gains traction, even opposition parties, at least at the state level, seem unwilling to counter it. In Congress-ruled Chhattisgarh, for example, under the nose of local Congress leaders, a Dharma Sansad, held in end-December, had speakers making inflammatory remarks about Islam and Christianity.
In one of seemingly innocuous messages, the Trads are known to have used the illustration of cauliflower farming. This has been read as a reference to the 1989 communal riots in Bhagalpur, Bihar, when the bodies of some Muslim victims were buried in a field with cauliflower grown over to keep them hidden.
How will more youngsters like Bishnoi and Thakur see such 'memes' in future? As American author Ian Bogost wrote about what he called "the meme terrorists": "What something 'really means' has become less important than all the possible meanings a planet's worth of potential readers might divine from it."
That is the danger in India right now. And even in its initial form, it hardly looks harmless.