THERE'S A KIND OF hush as you enter the room on the second floor of Mehboob Studio, built in 1943. It's Art Deco, the glass door bearing the famous hammer-and-sickle logo of the studio, the furniture inside dating back to the 1940s, a hand-painted poster of Mehboob Khan with Jawaharlal Nehru on the wall. There are also framed photographs of the iconic director with assorted cinematic giants—one is with stars Kim Novak and Jimmy Stewart, another with Hollywood legendary filmmaker Cecil B DeMille. One floor below is Dev Anand's private room, the walls still bearing holes made by dressing tables and paintings that have been removed. "This is where Dev Saab introduced me to Zeenat Aman and Tina Munim," says an old-timer, adding that the actor-director's son, Suneil, returned the key to his sanctum sanctorum a few days after he passed away. "He is a gentle­man, as was his father," he adds.
A few kilometres away from the tree-lined, four-acre plot that once housed several orchards and six wells in which Mehboob Studio still stands tall, its nine sound stages now increasingly used to film commercials rather than movies, a moist-eyed Kiran Shantaram stands beneath the imposing portrait of his father, the actor, director, producer V Shantaram aka Anna Saheb, at the entrance of Rajkamal Kalamandir. The man who made socially realistic movies, such as Dr Kotnis Ki Amar Kahani, based on KA Abbas' biography And One Did Not Come Back! in 1946, and song-and-dance spectacles such as Jhanak Jhanak Payal Baje in 1955 for which he mortgaged his wife's jewellery and his studio, is still very much a presence in Rajkamal Kalaman­dir. Its third floor remains as it was—divided into his private quarters where his second wife, the actor Sandhya, still stays and his office, which has three post­ers—the hand-painted symbol of Prabhat Film Company, Pune, where he started and which he left in 1941; Rajkamal Kalamandir, which he created; and of Sandhya. From the first close-up with a telephoto lens to the first colour film in Marathi, there was much that Shanata­ram's studio contributed to the industry.
In between the two studios, Famous stands out, just across from the Mahalak­shmi Race Course, the first fully air-conditioned building in Mumbai. In Art Deco style, built by Shapoorji Pallonji, it belonged to Shiraz Ali Hakim, a majority shareholder in Bombay Talkies as well. Hakim had to sell Famous in 1946 and leave for Pakistan after his laboratory, in the Tardeo area, was set on fire amid communal riots in Mumbai. Hakim also handed over the film rights of Mughal- E-Azam to Mistry's Shapoorji Pallonji Group, in lieu of the construction cost of the Famous Cine Studios and Laboratory, as it was known then. Arun Roongta, a tall, distinguished looking man, is keeper of the flame, alternately proud and anx­ious about his legacy. "My father Jagmo­han Roongta bought it and there was a time when every major filmmaker had an office here," he says, from Shakti Samanta to HS Rawail, from OP Ralhan to J Om Prakash. It was a bustling hub of film shoots, dubbing, and recordings. Now, its five studios are leased out to the shoots for IPL match shows, expensive and now out-of-date equipment like film cameras and film to video recorders bearing mute witness to technological obsolescence.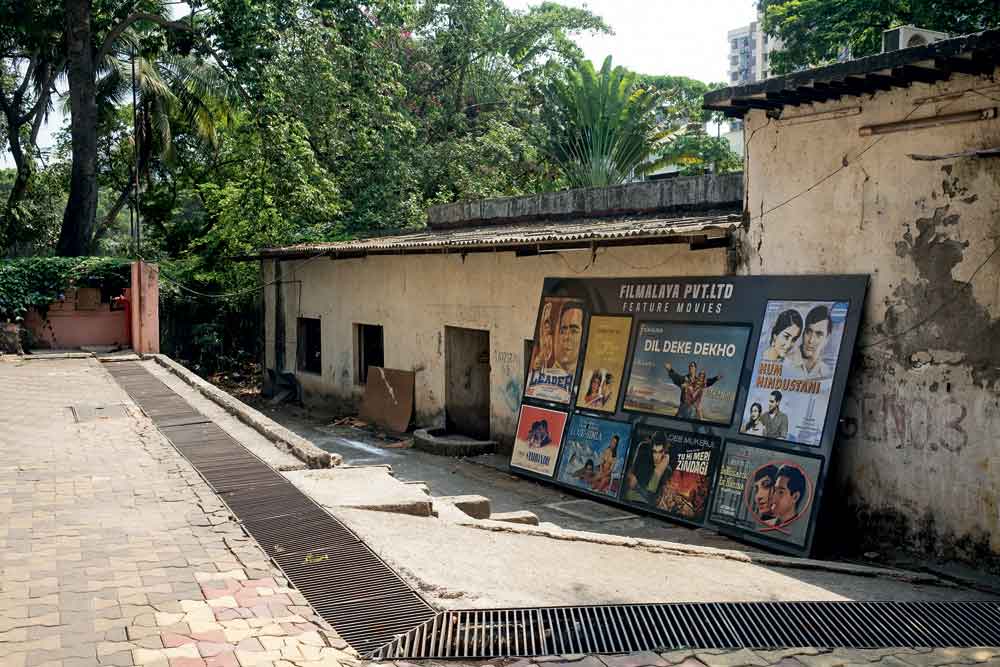 THE MARCH OF technology, with shooting moving from film to digital, as well as the rising cost of real estate has made it more viable to create residential estates and shopping malls where studios once stood in Mumbai. The bylanes of Mumbai are littered with the ghosts of studios past, whether it is the remnants of cotton trader Chandulal Shah's Ranjit Movietone (just the title) in a bustling market in Dadar or the ruins of Bombay Talkies in Malad. Studios where titans once ruled stars with an iron hand, making and breaking images; where producers bet everything they had for the movies they had in mind, even the studios; and where art mat­tered, not the money it made.
But there was a time, writes Univer­sity of Michigan scholar Swapnil Rai, that Bombay Talkies in Mumbai, Prab­hat Film Company in Pune, and New Theatres in Kolkata, were attempting to create a Hollywood-like model that posi­tioned the studios as the industry's main hubs in pre-Independence India. "These attempts were efforts to remedy the industry's undercapitalisation and move away from traditional moneylending systems to more formal sources of fund­ing. Formalising the studio system eco­nomically was also an attempt to secure social and cultural legitimacy for the industry as a whole," she notes. The stu­dio era had two phases: one of joint stock companies, which had partnerships, like Prabhat Film Company, which was bought by the government and where the Film and Television Institute of India now stands. The second phase was along the lines of proprietorships where single producers often had financiers, such as RK Studios and Rajkamal Kalamandir.
Much of that has been lost to time and tide. Deb Mukherjee remembers the house in which he stays, and in which he occupies a self-sufficient studio apart­ment studded with photographs of his illustrious father Sasadhar Mukherjee, was built on the garden where Filmalaya Studios began in tents before moving to where it is now, in Andheri. His father, hired by Himanshu Rai for Bombay Talkies on a train from Jhansi to Mum­bai, eventually became the founder of several film dynasties. His brother-in-law, a lab assistant in Bombay Talkies, became Ashok Kumar, the star, replac­ing Najmul Hasan, who was dropped from the studio rolls when Rai's wife Devika Rani eloped with him to New Theatres in Kolkata. It is a scandal im­mortalised, with some rearranging of facts, in Vikramaditya Motwane's series Jubilee on Prime Video. Among Sasadhar Mukherjee's six children, Joy became a star launched by Nasir Hussain, whose talent at song and dance flowered at Filmalaya, while Shomu married Tanuja Samarth, daughter of star Shobhana Samarth. They would be­come parents to 1990s star Kajol, while Sasadhar's brother's daughter, Rani, would become a star as well, eventually marrying Aditya, the son of another producer, Yash Chopra.
Sasadhar Mukherjee left Bombay Talkies for Filmistan, and finally for Filmalaya. Built in 1959, it still exists, run by his grandson Samrat, but the family stopped making films after Sasadhar's last experimental film, Bhooka Nanga Insaan, was a failure. "My father made us promise we would not tear down his house," says Deb, pointing to the original bungalow from his window, adjoining what used to be a badminton court where stars such as Dilip Kumar played with his father, and is now a park­ing lot. His brothers still live in adjoin­ing houses on the same plot of land in Santa Cruz, purchased by his mother for ₹80,000. It's called Grotto Villa, even though the grotto itself is now housed in the Sacred Heart School nearby.
Deb says he was made to learn every aspect of filmmaking by his father who was notorious for his inability to suffer lack of application. Whether it was legendary music director SD Burman or lyricist Kavi Pradeep, no one could escape his wrath when he thought something was not up to the mark.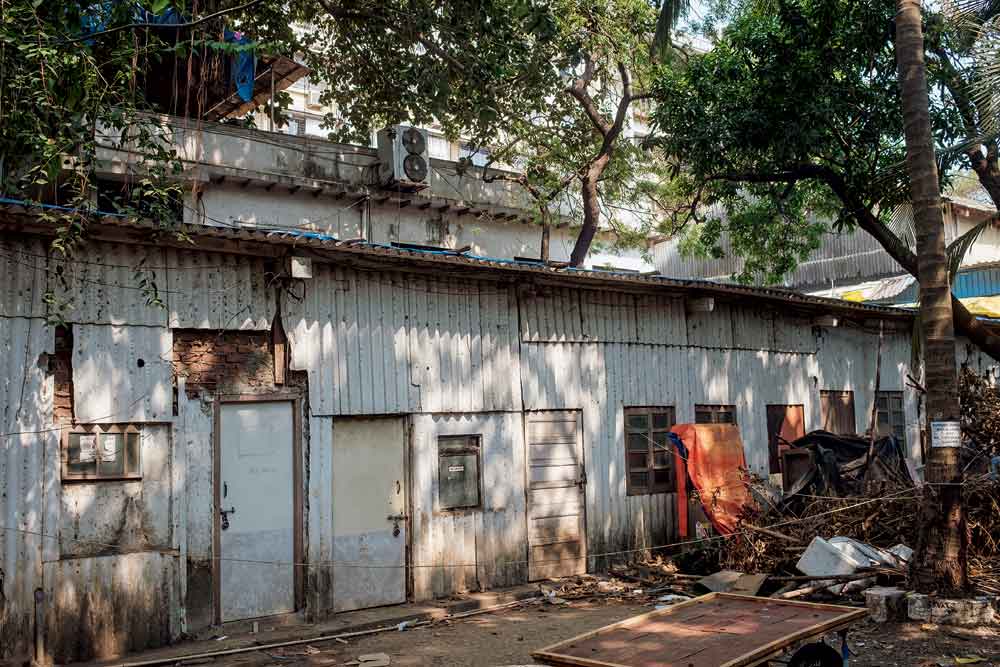 IT WAS A similar exacting taskmas­ter that Kiran Shantaram found in his famous father, whom he first assisted in Navrang, a musical extravaganza based on Marathi poet Prabhakar's life. The five-acre studio, leased and eventu­ally bought for ₹12 lakh from the owners of Wadia Movietone, now has just one operational floor, but it was the hub of constant action at one point. "Satyajit Ray would do the sound mixing of all his films here. BR Chopra, Yash Chopra, even Raj Kapoor after Sangam, had of­fices here. Govind Nihalani still has an office here," says Kiran Shantaram as he generously gives us a guided tour of the mammoth estate, which has a recording studio where some famous songs were sung. He speaks of the next generation of potential filmmakers in his family, his granddaughters, one of whom wants to be an actor, and the other a writer.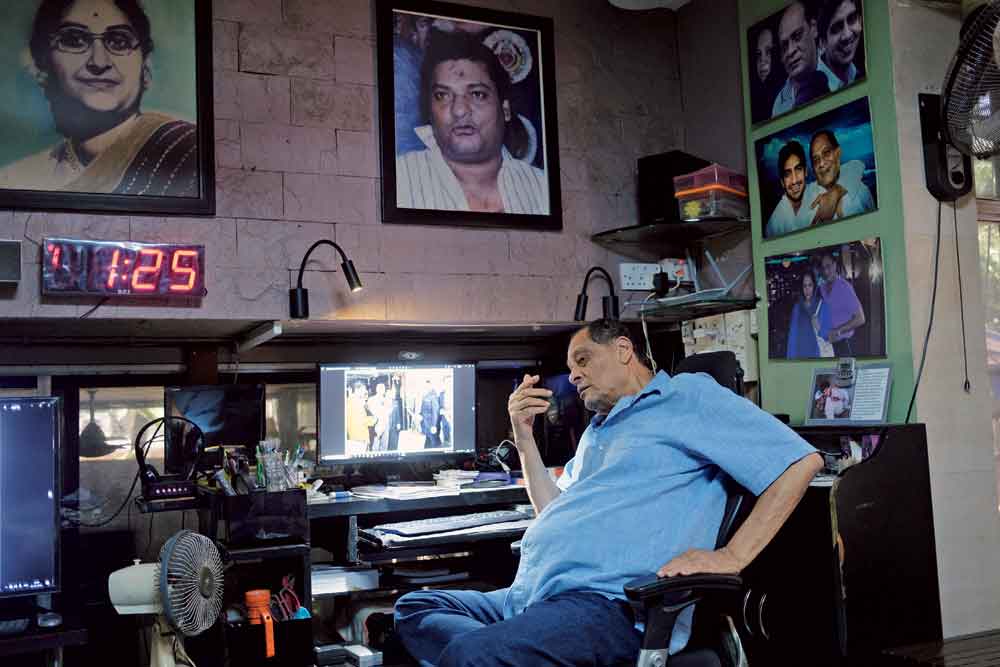 The inheritors of such rich legacies dot the city of dreams. In some cases, as in the RK Studios in Chembur, started in 1948 on six acres of land bought with the prof­its of Barsaat (1949), they have chosen to yield to the passage of time and the rising cost of real estate, selling the Chembur studio to real estate developers. In other cases, the studios have fallen to ruins. Bimal Roy, who began at New Theatres, Kolkata, as a still photographer, made iconic films such as Do Bigha Zamin, Devdas, Sujata and Bandini, for Ramniklal Shah's Mohan Studios between 1951 and 1963. The plot has been taken over by a pharma company and there is no visible remnant of the studio now. "Baba never encouraged the children to be on set or to be part of his films," says his son Joy, who lovingly tends to his parents' legacy, whether it is to showcase his father's work as a photographer, or his mother, Manobina Roy and her twin Debalina Majumdar's photography exhibition, 'Twin Sisters with Cameras', now travel­ling across the country. His home, Godi­wala Bungalow, right off the Bimal Roy Path in Bandra, is testament to that love, with photographs of his parents on the walls, artifacts from their travels and even bits and pieces of their former home.
Deb Mukherjee's father, hired by Himanshu Rai for Bombay Talkies on a train from Jhansi to Mumbai, eventually became the founder of several film dynasties. His brother-in-law, a lab assistant in Bombay Talkies, became Ashok Kumar, the star, replacing Najmul Hasan, who was dropped from the studio rolls
And yet, not everyone was fortunate to have such a careful custodian. Bom­bay Talkies, built by Himanshu Rai and his wife Devika Rani, where 120 films were made in 20 years, has now fallen to pieces. Difficult to locate on the map, one is able to trace it only by relying on the memory of old-timers in the area. A 10-minute walk from the western side of Malad station, it has no signage point­ing the way. Around the studio ruin is a small industrial complex for metal works. There are some stores inside the studio building which share a wall. Its reverse side is nothing but a public toilet, a perfect example of how we treat our cultural heritage. This was the place which created India's first superstar, Subodh Kumar Ganguly aka Ashok Kumar, renamed Yusuf Khan as Dilip Kumar and gave Dev Anand a break.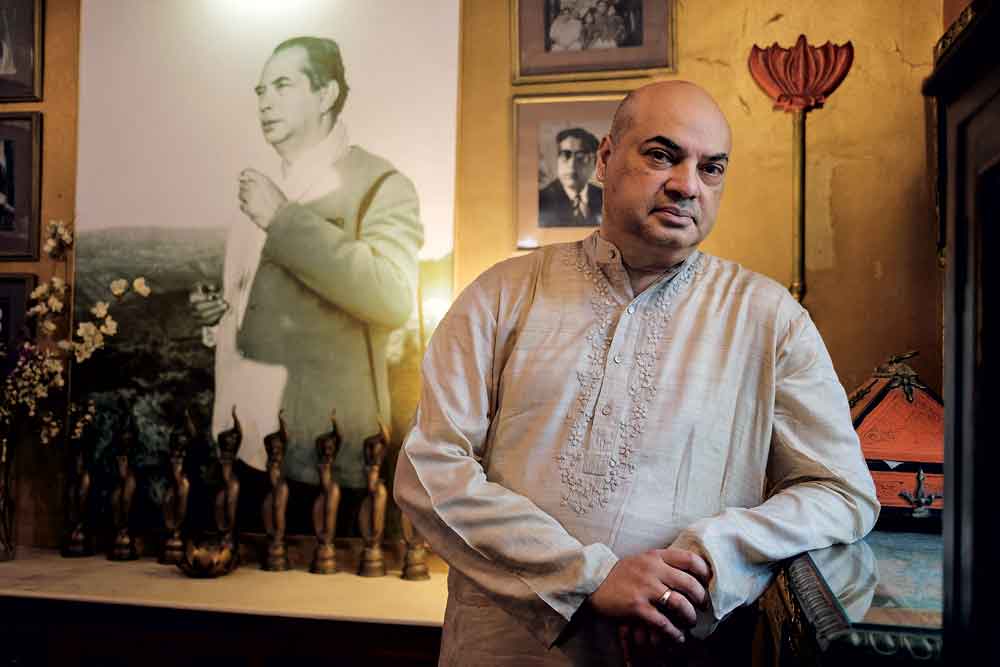 "It is easy to talk about how rundown everything is, but has anyone looked at the maintenance costs? We had asked the government to give us an option of building a studio in Film City when it came up, given our contribution to the industry. We were ignored," says Roongta. His father was an active mem­ber of the Studio Owners' Association, and his conference hall wall is dotted with photographs of his father at meet­ings with Raj Kapoor, but none of their proposals was ever considered. Now that it has become impossible to maintain the studio, they are considering selling it for its land value.
IT'S THE END of cinema in this city, says an old-timer at Mehboob Studios, as he sits on a wooden bench marked 'private' at the entrance. It is in this garden that Rajesh Khanna would hold court before, after and during his shoot. He was the king of the world in the early 1970s, says Mahesh Bhatt, who recalls going to Mehboob Studios as a 21-year-old and meeting the legendary Raj Khosla there. "He asked me what I knew of filmmaking," says Bhatt. "I said zero, and he said it was a good figure to begin with." That was the beginning of his film career, assisting Khosla on Rajesh Khanna's 1969 blockbuster Do Raaste. He recalls taking his daughters, Alia and Shaheen, to the bench where he would sleep sometimes. This was where history was made.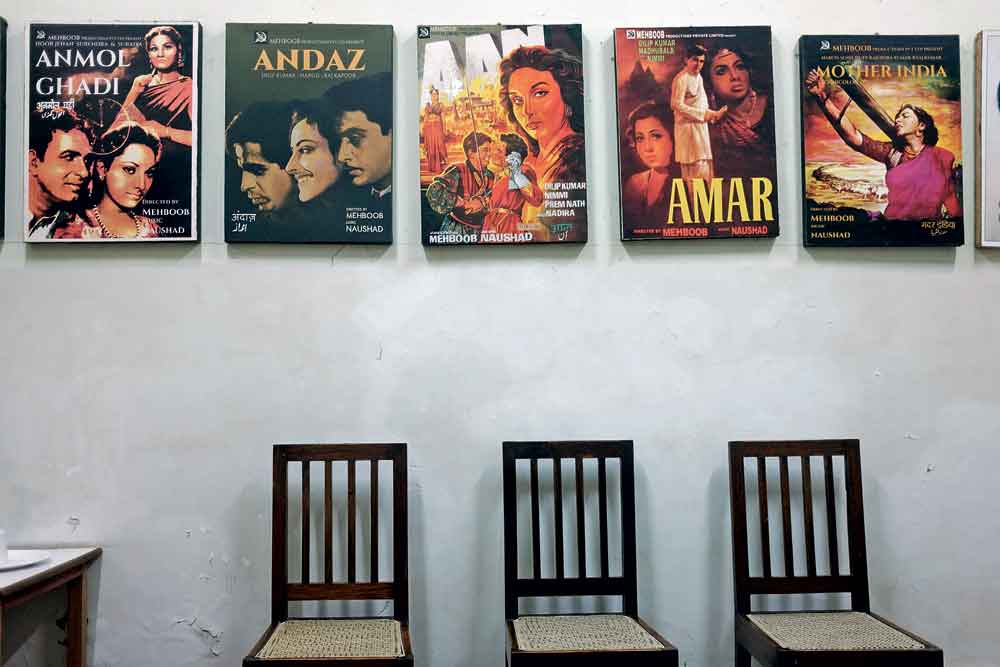 Bhatt remembers working in Shantaram's Rajkamal Mandir. "It was no accident that it was called a mandir. That was what it was for that generation, a temple where they worshipped work. This was cinema as sadhana [meditation]," he recalls, adding the times the great Shantaram would be on his rounds, pick­ing up dust or bits of paper that he would find in the corridors that would offend his fierce gaze and orderly sensibility. Shantaram's instructions to his son upon his death were quite precise—to mix his ashes with the earth of the studio. The son did just that, planting a tree there, with a reel shaped fence bearing his famous flamboyant signature.
The consensus is that Mumbai is no longer the capital of filmmaking in the country. Only 30 per cent of the bookings at Mehboob Studios, for instance, are movies, says an attendant, with the rest being commercials, fashion shoots, and product launches. "That's the problem with the Mumbai film industry," says a veteran at Mehboob Studios. "It is now only for, of and by the stars. The mov­ies don't matter, everything else does, whether it is endorsements or magazine covers." Since he built the studio in 1943 until Mother India in 1957, made for ₹40 lakh and which became India's first Oscar-nominated film, Mehboob Khan made 11 movies. His last one, Son of India (1962) was a flop, but by then, he didn't care. He, an unlettered former stable boy from Bilimora, Gujarat, had presidents and prime ministers for company, the apogee of his achievement. He died, in fact, within 12 hours of hearing of the death of his hero Jawaharlal Nehru, slip­ping into a heart attack-induced coma in 1964. The family never made another movie, but his three sons devoted them­selves to managing the studio.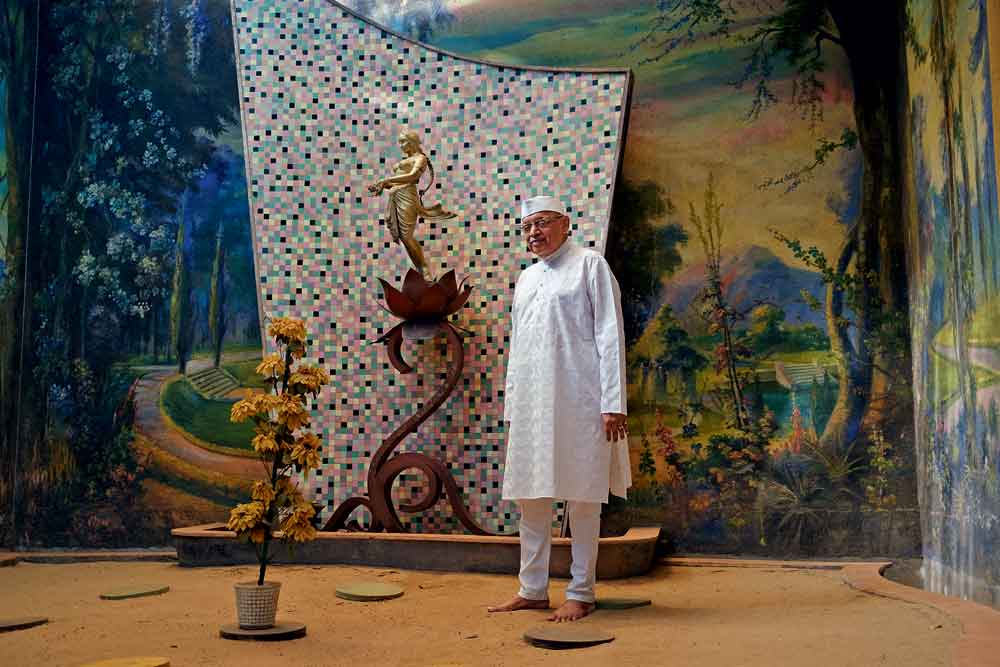 Khan's family still lives on Marine Drive, in Sonawala Building, part of the Victorian Gothic and Art Deco ensembles of Mumbai, a UNESCO World Heritage Site. It's far away from the movie business whose axis has now shifted from South Mumbai. A large model of a plane on one of the studio floors, for a movie starring Anil Kapoor, is an exception to the rule. Most movies are now shot either in Hy­derabad or on outdoor locations.
That has also meant the death of make-up rooms. Most stars now have their own vanity vans, with every luxury possible, reflected in the rows of locked make-up rooms flanking the posters of Mehboob Khan movies on the wall, from the only film to cast Dilip Kumar, Raj Kapoor and Nargis together, Andaz (1949) to India's first technicolour film Aan (1952), for which he mortgaged his studio, from Anmol Ghadi (1946), which cast three singing sensations, Surendra, Suraiya and Noorjehan, to Amar (1954), where Dilip Kumar played a rapist.
But the stories remain. Of how Mehboob Khan engaged the best lawyer possible to fight actor Raaj Kumar's case when he was accused of manslaughter, and of how the actor came to the family home after he was released, thanking the filmmaker for a "second life". Of how he was disappointed when Nargis replied in the negative when he asked her whether she was marrying Sunil Dutt, who played her son in Mother India. When he found out the truth, his trust in "Baby", as he called her, was broken. Of the endless wait by gi­ants such as BR Chopra, Shakti Samanta and Pramod Chakravorty for a glimpse or a chat with reigning superstar Rajesh Khanna as dusk fell on the gar­den. And the producer on whose shoul­der he put his hand would feel blessed, privileged to be touched by him.
STORIES ARE EMBEDDED in Deb Mukherjee's bloodstream. The actor turned director recalls how his fa­ther told Ashok Kumar what to do with his hands while on film. "He gave him a cigarette," says Mukherjee, "and that became his style." His relationship with Ashok Kumar survived their profes­sional differences, including Ashok Kumar's departure from Filmistan in 1947 for Bombay Talkies. "So much so," says Mukherjee, "that he made him the executor of his will." Filmalaya, which he created after differences with Filmistan's financier Tolaram Jalan, was quite ahead of its time, with an acting school on campus providing talent such as Asha Parekh and Sadhana; breaks to women such as Usha Khanna in music direction; free breakfast and lunch to all; and manda­tory cricket and volleyball matches.
These are the invisible wells today's Bollywood drinks from, those of our ancestors. Or perhaps it doesn't, which is why it is no longer a place for exalted emotions but a mere distillery of cheap pleasure, what Bhatt calls "ice packs for a jolted nation that wants comfort". One doesn't need grand studios or even grander visionaries for that.

Kaveree Bamzai is an author and a contributing writer with Open