AS BATTLEFIELDS GO, PANIPAT HAS HOGGED A DISPROPORTIONATE share of history's headlines. The two most significant battles of medieval India were not fought a hundred miles north of Delhi but near Agra: at Khanwa on March 16, 1527; and at Samugarh on May 29, 1658.
Babur broke the power of the Afghan-origin Lodi sultans at Panipat, but he laid the foundations of an empire only in the following year with victory over a confederacy led by Rana Sanga of Mewar, whose domain extended to Malwa, in alliance with Mahmud Lodi and Hasan Khan Mewati.
Aurangzeb's victory at Samugarh over his liberal elder brother Dara Shikoh has left such reverberations that 364 years later it continues to provoke political palpitations. Samugarh was much more than yet another battle of succession. Samugarh was a war over ideology between two Mughal princes; a decisive clash between the concept of an inclusive India and the imposition of faith-supremacy.
In an era when life was short, and fraught with peril for those seeking ultimate power, sons challenged their fathers almost as a rite of passage. Failure did not inhibit ambition. Jahangir's rebellion against Akbar in 1599 fizzled out, but his father's wrath did not abate till his deathbed, principally because the emperor's other sons, Daniyal Mirza and Murad Mirza, had died young due to excessive drinking, the former at the age of 32 and the latter when he was 28. Daniyal, as good a poet as military commander, was Akbar's favourite son.
Jahangir's son Khusrau, wanton and immature, went to war when his father had been king for only a year. Khurram, later Shah Jahan, marched against Jahangir in 1622 for more rational reasons, but once again the imperial banner prevailed. Aurangzeb waited until Shah Jahan fell seriously ill in September 1657 and Dara Shikoh was proclaimed heir. The ailing Shah Jahan was too weak to enforce his will, and Dara never became strong enough to protect his claim. The bitter differences between the brothers were common knowledge. Shah Jahan kept the brothers separate by sending Aurangzeb on campaigns or as governor while Dara Shikoh remained mainly by his side. Experience of war and administration helped Aurangzeb develop into a skilful military strategist, on-field commander, and judge of ability. The comfort of a dazzling court, on the other hand, provided Dara Shikoh with the environment to pursue his enquiries into philosophy, religion, and social concord.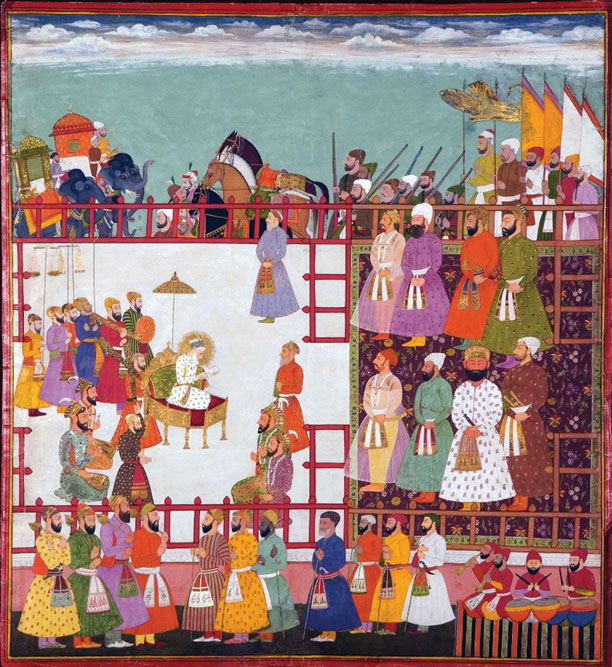 If Dara Shikoh was the apotheosis of inter-faith amity, then Aurangzeb was the champion of a counter-reformation that had been searching for a leader since Akbar fashioned the cultural synthesis which stabilised what evolved into a virtual Mughal-Rajput empire over the course of a reign that stretched across half-a-century.
No less a person than Chhatrapati Shivaji Maharaj lauded Akbar as a "Jagat Guru", or a guide for the world, for his commitment to Sulh-i Kul, or universal harmony. This inclusive philosophy shaped the great Mughal's social and military policy framework, and became the most important inheritance of his successors.
Akbar sought an answer to a central question for a multi-faith realm: Have the different religions no common ground? His own instincts were positive. He reached out to bind communities through emotional integration and put an end to any institutionalised injustice that discriminated against non-Muslims. In 1564, when he was just 22 years old, Akbar abolished Jizya, the hated punitive tax on Hindus. He rejected pressure from the hardline ulema and permitted those who had been converted to Islam under pressure to return to their original faith. Akbar drank water brought from the Ganga, which he described as the water of immortality. When he was on the march, Ganga water was brought by camel and bullockcart, a practice continued by Jahangir and Shah Jahan. Cow slaughter was prohibited. The emperor reduced the quantum of meat in his diet, became largely vegetarian as he grew older and famously wondered why men should turn their stomachs into the graveyards of animals. He ordered the translation of the Vedas, the Mahabharata, and the Ramayana into Persian under the aegis of his favourite scholar-historian Abul Fazl. To the irritation of orthodox Sunni clerics, he permitted Shias to offer namaz in their manner in court. He was the first Mughal to marry into Rajput royalty, and his Rajput wives could pray at temples in the palace precincts.
The grandmother and great-grandmother of both Dara and Aurangzeb were high-born Rajput princesses, but the brothers could hardly have been more radically different in their convictions. Dara, a scholar, searched for common space in Islam and Hinduism within the vast expanse of mysticism. He linked the dormant idea of monotheism in Hindu scriptures to the Islamic thesis of Tawhid, or the inviolable unity of God. A few examples will illustrate the range of Dara Shikoh's intellectual quest and individual investment in knowledge.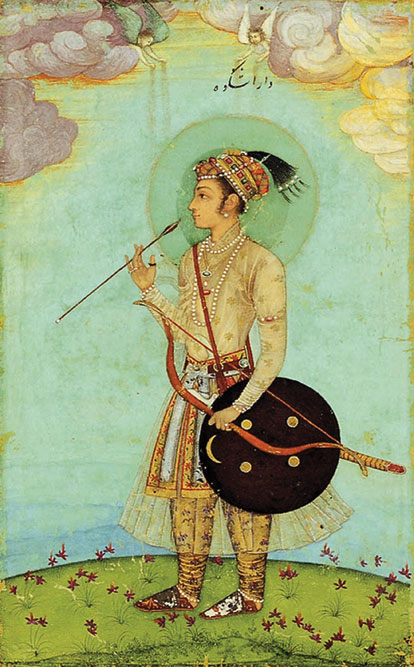 His principal spiritual mentor was the ascetic Sufi saint, Mian Mir. Dara compiled a biography of Sufi pirs, and by 1657 had translated at least 50 verses of the Upanishads into Persian, under the title Sirr-i-Akbar, or The Great Secret. Within the intellectual tides of this secret Dara sought "the confluence of two oceans" to supplement the prevalent theory of wahdah al-wujud, or "unity of all existence".
His seven conversations in 1653 in Lahore with Baba Lal, a Khatri Hindu yogi from Kasur who venerated Kabir, were recorded by Mir Munshi, Rai Chander Bhan, a Sanskrit and Persian scholar, in a work titled Nadir ul Nikat. Its importance was emphasised by the commission of three famous paintings to record the event. Bikrama Jit Hasrat, author of Dara Shikuh: Life and Works and an academic who studied in Lahore, Calcutta and Oxford, and taught at Santiniketan between 1938 and 1946, has a long chapter on this dialogue which ranged across asceticism, transmigration of the soul, the significance of Kashi, salvation, and the nature of the Creator and creation. Baba Lal, for instance, explained the worship of God in the form of an idol: "The whole spirit of the practice is for the concentration of mind… Those who do not possess knowledge of spirit, would certainly strive for its acquisition, through the medium of the form; but as soon as they gain inner consciousness, they would discard the form." In Dara's own words, the message he took from Baba Lal was: "Be not a Shaikh, be not a saint, be not a wielder of miracles. Be rather a faqir—unpretentious and sincere."
A faqir, however, was not quite the role model for a prince who also wanted a throne. Dara Shikoh's virtues were negated by his failings. As Mohammad Mujeeb explains in his seminal work The Indian Muslims—a book which should be standard text in universities—syncretic philosophy "may be regarded as having attained its climax in the mystic aspirations of Dara Shikoh" but the "prince had many faults, most of which arose out of his inability to face difficult situations. He was weak, incompetent and irritable, unable to control others or himself. But we are not judging him here as a politician or an administrator. What he represents socially is the culmination of that understanding between Muslims and non-Muslims of which Akbar laid the foundation and which led to the creation of a mixed governing class with a common code of behaviour. This understanding reached its highest point symbolically in Dara Shikoh's translation of the Upanishads and in Shaikh Muhibullah Allahabadi's verdict that a ruler who believed in a Prophet called 'the Blessing for All Humanity' could not discriminate between his Muslim and non-Muslim subjects".
IN AURANGZEB'S ESTIMATION, DARA SHIKOH WAS nothing less than an apostate. Interestingly, the first resistance to Aurangzeb came from Sufis when he began to canvass support for an Islamist empire. Mujeeb narrates that when Aurangzeb sought Shaikh Burhanuddin's blessings before starting his campaign against Dara, arguing that he would enforce the Sharia for the welfare of the people, the sage pointedly evaded a direct answer, and then restricted his response to saying that he could only pray for the welfare of the poor.
The nobility, familiar with the succession syndrome, split as war began. Many powerful nobles set aside any reservations they might have had and recognised Aurangzeb's superior strategic acumen, military leadership and administrative skills, the qualities required for the management of an extensive empire. Hard power has its admirers. Moreover, Aurangzeb was shrewd enough to screen his true intentions, personal or political.
Aurangzeb played the game of thrones adroitly. Before Samugarh, he won his younger brother Murad Baksh's support by promising him the crown after they had cooperated to eliminate Dara. Crucially, Aurangzeb kept command of the army and allotted only the left flank to Murad in the battle of Samugarh.
Mirza Raja Jai Singh of Amer was among the influential nobles who supported Aurangzeb. Jai Singh was given the responsibility for the final pursuit of Dara Shikoh, who was caught in the summer of 1659, brought to Delhi in August, and sentenced to death for "deviations" from Islam by Aurangzeb's clergy. Dara's corpse was paraded through Delhi on an elephant before being buried in a vault under the dome of Humayun's tomb.
Aurangzeb settled Murad Baksh's fate by pandering to the latter's weakness for wine. Three weeks after Samugarh, Aurangzeb invited his brother to a celebratory dinner in his tent. Murad was arrested while intoxicated—clearly Aurangzeb served wine, even if he did not drink it himself—and taken to Gwalior Fort, where he was executed by two slaves on December 14, 1661 and buried on the premises. If Murad Baksh had been astute enough to prevail, history might yet have taken another course, for a prince who loved alcohol could hardly have become a religious fanatic.
Aurangzeb implemented his agenda in stages; it was more 'mission creep' than sudden upheaval. His first ordinances, issued in 1659, ended the traditional celebration of the Zoroastrian, Persian new year festival of Nauroz, the day when the sun entered Aries; banned alcohol and intoxicants like bhang; and appointed a muhtasib, or chief of a morality police, to enforce prayer and fasting, check the designated length of Muslim beards, and keep a watchful eye on blasphemy. In substance, they affected Muslims more than Hindus.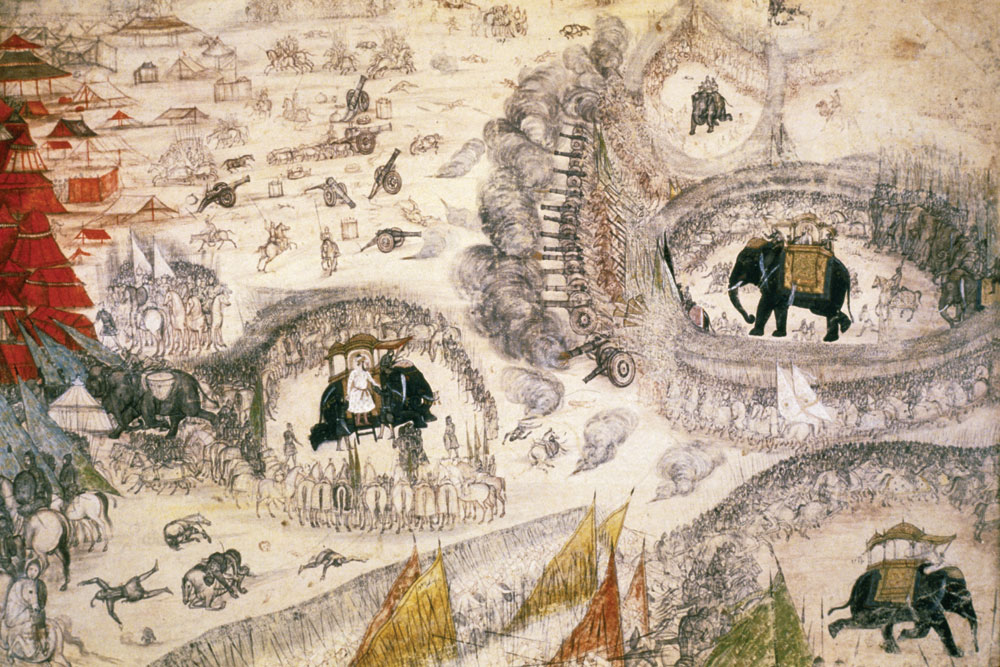 The old nobility was reluctant to suddenly abandon a lifetime's habits merely to please an enthusiastic puritan. Niccolao Manucci, the Venetian physician-historian-traveller-mercenary who served as an artillery officer in Dara Shikoh's army, records this story about Jafar Khan, the most powerful noble in the court, who also liked a drop of wine or three. The emperor sent messages suggesting that his "first minister" might want to set a better example. When hints failed, Aurangzeb confronted his vazir. Jafar Khan replied that "he was an old man, without strength in his hands or firmness in his feet, had little sight in his eyes". Wine, he continued, gave him "sight for seeing, power for wielding the pen in the service of His Majesty" and "strength in his feet to run to court when His Majesty called". For all his forbidding reputation, it seemed that Aurangzeb could summon up a sense of humour. He laughed. Jafar Khan kept drinking till age, rather than alcohol, took him to the tavern in the sky.
Mujeeb adds some academic heft to Manucci's memoirs: "What about the morals of the court? …Aurangzeb was a puritan for the rest of the world, but one of his wives, Zainabadi Begam, almost made him drink, and another, Udaipuri Begam was, if Manucci is to be believed, herself habitually drunk." Manucci may or may not have been recycling Delhi gossip, but there was enough such talk in the air. Mujeeb repeats an anecdote about Jahanara, who wanted to expose the hypocrisy of the elite establishment on prohibition. She apparently invited the wives of high officials, including the ulema, to a party where they got drunk. She then brought her brother Aurangzeb to witness the scene. The emperor was helpless. As Manucci notes, prohibition gradually succumbed to old habits. Alcohol went underground, but did not disappear.
There was appalled resistance from Delhi's citizens when Aurangzeb banned music in 1668, the 11th year of his reign. Music was an intrinsic part of popular, religious and court culture, where classical music had acquired a near-legendary dimension under the patronage of Akbar. The Qawwali, invented in the 13th century by Amir Khusrau, had become an integral part of homage at the dargah of Sheikh Nizamuddin Auliya, the saint of Delhi. When orders were issued to destroy musical instruments, resentment found expression in creative protest. One Friday afternoon about a thousand musicians assembled at the Jama Masjid, awaiting the arrival of the emperor for prayers, lamenting loudly as they carried over 20 biers. Aurangzeb saw them and enquired. Music, they replied, had been killed and they were taking out its funeral. The steely Aurangzeb instructed them to ensure that music was thoroughly buried.
By this time, sagacious nobles like Mir Jumla, Jafar Khan and Raja Jai Singh who had helped Aurangzeb win the crown had passed away. Sir Jadunath Sarkar describes Mir Jumla's character: "No other general of that age conducted war with so much humanity and justice, or kept his soldiers, privates and captains alike, under such discipline; no other general could have retained to the last the confidence and even affection of his subordinates amidst such appalling sufferings and dangers. The owner of 20 maunds of diamonds, viceroy of the rich province of Bengal, he shared with the meanest soldier the privations of the march and brought premature death on himself by scorning the delights and living laborious days".
Mir Jumla died in March 1663. Mirza Raja Jai Singh, veteran commander of multiple campaigns from the Deccan to Assam, died in 1667 after his failure to take Bijapur. Jafar Khan, who, according to Mujeeb, "represented, as well as anyone before him, the standards of culture and refinement that distinguished the dignitaries of the empire", passed away in 1669. Within a decade of Aurangzeb's coronation, the possible restraint of such nobles had gone.
In 1670, Aurangzeb ordered courtiers to stop saying 'Namaste' by folding their hands and restrict themselves to the salaam; prevented women from going to Muslim shrines; and stopped appearing on the balcony of the palace every morning to receive the salutation of the people, a tradition started by Akbar. Simultaneously, the edge of partisan malevolence began to harden. Sufis, Bohras and Shias became victims of a 'purification' drive against those who had deviated from orthodox Sunnism. From around 1675, Aurangzeb began to shed all inhibitions; aggression became the preference in policy where accommodation might have been more politic.
In 1675, Guru Tegh Bahadur was martyred, inspiring the rise of Sikhs under Guru Gobind Singh. There was fragmentation and growing disorder on all sides. The Marathas had found a leader in the iconic Shivaji. In 1668, Aurangzeb formally recognised Shivaji as a Rajah; his official coronation in 1674 marked another formal turning point in the history of the subcontinent. In the north, in the Khyber, an Afghan uprising became so dangerous that the emperor himself had to march to the frontier. To the south the Shias, incorporated into the Mughal ruling class from the time of Humayun, were completely alienated by Aurangzeb's relentless hostility. The Shia kingdoms of the Deccan were powerful bastions: Bijapur, established by Yusuf Adil Shah in 1502; and Golconda, founded by Sultan Quli Qutb Mulk in 1512. In 1537, Burhan Nizam Shah of Ahmadnagar declared the Ithna Ashari Shia creed to be the faith of his state.
Safavid Persia, which had established good terms with the Mughals, now became a serious threat. In 1666, Shah Abbas taunted Aurangzeb in a letter sent through the Mughal ambassador to his court, Tarbiyat Khan. The Persian monarch repeatedly threatened to invade India, defended the Shia doctrine, and sneered at Aurangzeb as a weak ruler under whom all the zemindars were in rebellion and Shivaji had risen from obscurity to the peak of fame: "You style yourself a world conqueror [Alamgir] while you have only conquered your father and gained composure of mind by the murder of your brothers." Aurangzeb vented his rage on his own hapless ambassador, reducing his rank and denying him an audience.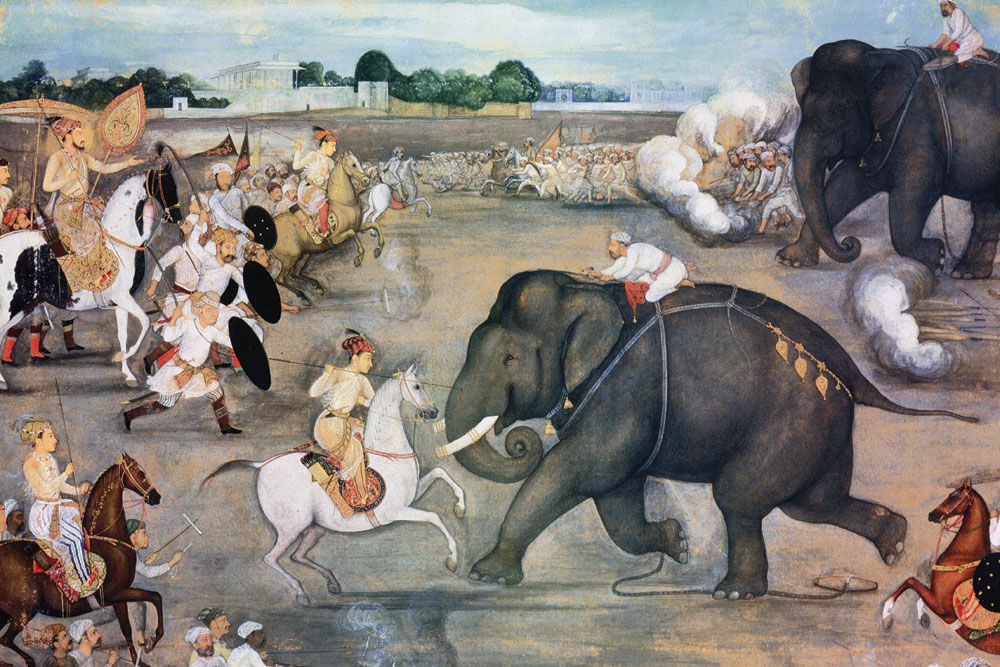 In 1680, Aurangzeb banned painting because it was allegedly "unIslamic". The exquisite Mughal school, begun by Humayun and Akbar under the guidance of two Persian masters, Mir Sayyid Ali and Khwaja Abdus Samad, had inspired the genius of artists like Daswanth, described by Abul Fazl as the "first master of the age", Basavan, Govardhan, Ustad Mansur, Bihzad, Bishan Das and Manohar. Adul Rahim Muhammad Khan-i-Khanan, son of Bairam Khan and commander of Mughal armies under Akbar and Jahangir, commissioned a Ramayana with 130 illustrations, which was completed between 1597 and 1605. Architecture, which achieved the pinnacle of glory with the Taj Mahal in Agra and Shahjahanabad in Delhi, shrivelled. Aurangzeb's only contribution was the Pearl mosque, which pales into insignificance before his father's grandiloquent monuments.
A CLOSED MIND CAN ONLY THINK OF DEAD-END options. Aurangzeb had ordered the desecration of temples in Gujarat in 1644, while governor, but was more careful after seizing the throne. Two decades later, his incandescent animosity towards the long-departed Dara Shikoh had not waned. According to Sir Jadunath, in October 1666, Aurangzeb ordered the removal of a stone railing gifted by Dara to the Keshav Rai temple. The ruler held his hand till 1669, when orders were given for the destruction of temples, including in Amber, seat of the Rajput family which had been such steadfast allies of the Mughals since the very first years of Akbar's rule.
The now buoyant orthodox clergy, led by Mir Murtada Waiz of Multan, tried to force Aurangzeb to destroy the shrines of Sufi saints as well, and burn their interred bones, as they condemned the prayers of devotees at such a dargah as "kufr". But even Aurangzeb thought this was going too far. Mir Murtada's credibility collapsed when, during a sermon in Burhanpur, he claimed that the Prophet had declared that consumption of bhang was a crime. A Kashmiri Muslim got up and said that Mir Waiz should be punished for telling lies about the Prophet since there was no bhang in Arabia at the time. The humiliated Mir retired to his home where, it was said, he died of shame. Even at the height of Aurangzeb's power, there were Muslims ready to challenge orthodox excesses.
The breakdown of the deteriorating relationship between Aurangzeb and Hindus was complete on April 2, 1679, when Jizya was reimposed on all parts of the empire, more than a century after Akbar had abolished this poll tax. This was the culmination of the orthodox campaign launched by the ideologue Shaikh Ahmad of Sarhind (1564-1624) for the total imposition of Shariah in this "unclean world". It speaks for the strength of a composite culture that Jahangir and Shah Jahan had kept the Sunni orthodoxy at bay, albeit occasionally passing on a few crumbs.
The need for revenue is always the easy explanation for taxation, but each tax cannot be measured in mere currency. Every Mughal emperor went to war, both to preserve and expand the empire. But till Shah Jahan's rule, the treasury had sufficient surplus. The principal sources of income were from land revenue, or Ushr; the obligatory Zakat from Muslims; and excise duties on trade which flourished under the stable Mughal regime. India supplied almost all the cloth used on the east coast of Africa; Indian exports ranged from cotton, silk, medicines, perfumes, beautiful woodwork, precious stones, ivory handles, tortoise-shell shields to saltpetre, pottery, furniture, and agricultural products. Gujarat was the home of textiles, along with Bengal. There was rich trade with China and Indonesia. Aurangzeb raised duties on trade in Surat from 2.5 per cent to around 5 per cent.
But Jizya was not merely meant to enhance revenue; it was a deliberate decision to humiliate Hindus, and a pernicious stab at the heart of a composite India. It dismantled internal peace, at immeasurable cost. The bond between Mughals and Rajputs was broken, for Aurangzeb had abandoned the commitment of mutual respect and shared power made by Akbar. A widespread rebellion in Rajputana followed. Aurangzeb's 23-year-old son, Sultan Muhammad Akbar, joined the Sisodias and Rathors in the rebellion. The imperial armies won the war, but they could never restore the peace. It is no accident that the first regions to break away from the empire, within a decade of Aurangzeb's death, were the Rajput states.
The most powerful indictment of Aurangzeb after the imposition of Jizya was by Shivaji. The eminent historian Sir Jadunath Sarkar reproduces the long letter which Shivaji wrote to Aurangzeb in 1679. Shivaji began with high praise for Emperor Akbar and the Timurid tradition: "That architect of the fabric of empire, Akbar Padishah, reigned with full power for 52 [lunar] years. He adopted the admirable policy of universal harmony [Sulh-i-Kul] in relation to all the various sects, such as Christians, Jews, Muslims, Dadu's followers, sky-worshippers [falakia], malakia, heathens [ansaria], atheists [daharia], Brahmans and Jain priests. The aim of his liberal heart was to cherish and protect all the people. So, he became famous under the title of Jagat Guru, 'the World spiritual guide'".
The letter adds that Jahangir for 22 years and Shah Jahan for 32 gathered "the fruit of eternal life" by following the same policies, for "He who lives with a good name gains everlasting wealth". Describing the emperor Akbar, Shivaji writes: "Through the auspicious effect of this sublime disposition, wherever he bent the glance of his august wish, victory and success advanced to welcome him on his way."
Jahangir and Shah Jahan, he added, also "had the power of levying jizya; but they did not give place to bigotry in their hearts, as they considered all men, high and low, created by God to be [living] examples of the nature of diverse creeds and temperaments. Their kindness and benevolence endure on the pages of Time as their memorial, and so prayer and praise for these pure souls will dwell for ever in the hearts and tongues of mankind, among both great and small…."
Shivaji described the havoc unleashed by Aurangzeb: "But in Your Majesty's reign, many of the forts and provinces have gone out of your possession, and the rest will soon do so too, because there will be no slackness on my part in ruining and devastating them. Your peasants are downtrodden; the yield of every village has declined; in the place of one lakh [of rupees] only one thousand, and in the place of one thousand only ten are collected, and that too with difficulty. When poverty and beggary have made their homes in the palaces of the emperor and the princes, the condition of the grandees and officers can easily be imagined. It is a reign in which the army is in a ferment, the merchants complain, the Muslims cry, the Hindus are grilled, most men lack bread at night… How can the royal spirit permit you to add the hardship of jizya to this grievous state of things? The infamy will quickly spread from west to east and become recorded in books of history that the Emperor of Hindustan, coveting the beggars' bowls, takes jizya from Brahman and Jain monks, yogis, sannyasis, bairagis, paupers, mendicants, ruined wretches, and the famine-stricken, that his valour is shown by attacks on the wallets of beggars, that he dashed down to the ground the name and honour of the Timurids!"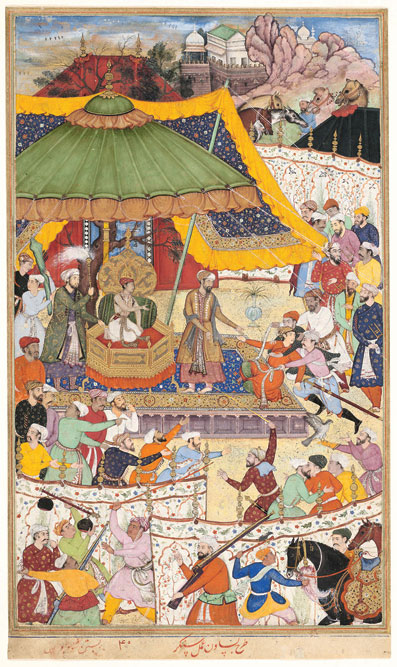 Shivaji's letter ended in a message that rings through the ages: "If you believe in the true Divine Book and Word of God [the Quran], you will find there [that God is styled] Rabb-ul-alamin, the Lord of all men, and not Rabb-u-Muslimeen, the Lord of the Muhammadans only. Verily, Islam and Hinduism are terms of contrast [but] they are [diverse pigments] used by the true Divine Painter for blending the colours and filling in the outlines [of His picture of the entire human species]. If it be a mosque, the call to prayer is chanted in remembrance of Him. If it be a temple, the bell is rung in yearning for Him only. To show bigotry for any man's own creed and practices is equivalent to altering the words of the Holy Book…."
[This letter has been quoted at full length in Sarkar's A Short History of Aurangzib; Sarkar spell the name with an 'i' rather than the usual 'e'.] Shivaji even questioned the legality of Jizya: "In strict justice the jizya is not at all lawful". Mujeeb endorses this doubt: "Aurangzeb's decision to levy the jizya, for instance, may be regarded as a measure necessitated by financial stringency or as an expression of fanaticism, but it is extremely doubtful if it could be justified on grounds of the shariah." However, such doctrinaire details were of little interest to those who believed this tax was punitive communal discrimination.
Shivaji's devastating critique was accurate and prescient: the surface might suggest otherwise but the empire had been undermined by discord and bigotry. The crumble would quicken into a shambolic collapse within a decade of Aurangzeb's death in 1707. Aurangzeb, who left Delhi for the Deccan in 1680, destroyed the most stable inheritance of the millennium. Even in his lifetime, the hypocrisy and impotence of his generals were evident to a new rising power, the British. When in January 1701, Aurangzeb's governor of Golconda, Daud Khan, went to Madras to demand payment of taxes, the British governor, Thomas Pitt, pacified him with a fancy ceremonial welcome, loads of liquor at dinner, and bribes. In a splendid irony, host and guest drank to the health of Aurangzeb to a salute of 31 guns. The state became fragile in a climate of pseudo-religious hyperventilation wreaked by the drumbeaters of faith-supremacy. The realm disappeared into the twilight of over-reach, over-indulgence, and divisive self-destruction.
Aurangzeb, in Mujeeb's words, might have been responsible for the empire's disintegration, but the concept of cultural unity survived long after him. It could not, however, resurrect what had been lost. The British stepped into the vacuum created by the disappearing Mughals and the inability of Maratha barons to create a homogenous successor state.
The Muslim intelligentsia of the 19th century was conscious of the damage done by religious excess, and of what had been lost thereby. Sir Mir Turab Ali Khan, or Salar Jung I, the famous prime minister of Hyderabad from 1853 till his death in 1883, told British Resident Richard Temple that while India might have had worse despots than the British, like Aurangzeb, Mughal rule survived because the Mughals had "amalgamated themselves with the people".
This amalgamation was ruptured by the last powerful Mughal lord. The wound, continuously scratched and deepened by a succession of poisoned darts shot from all sides during the centuries since Samugarh, has still to heal.