It is quite likely that the assassination of Mahatma Gandhi could have been prevented if clues in Mumbai, Pune, Gwalior, and Ahmednagar were investigated diligently. However, overwhelming political and strategic considerations ensured that the role of the Hindu Mahasabha was not investigated closely.
Even after the assassination, the investigation was deliberately weakened under instructions from deputy prime minister and home minister Sardar Vallabhbhai Patel to ensure that Vinayak Damodar Savarkar and Mahasabha leaders in Gwalior got away scot free.  The Italian Beretta revolver which Nathuram Godse used to assassinate Mahatma Gandhi belonged to the Military Secretary to the Maharaja of Gwalior.
Of the five people who dispatched the revolver to Nathuram Godse and Narayan Apte, Jagadish Prasad Goyal, the biggest weapons dealer in Gwalior, was not named in the charge sheet at all.
The leader of the chain, Dr Dattatreya Sadashiv Parchure, head of the Hindu Mahasabha in Gwalior state, and physician to the Scindia royal family, was sentenced to life imprisonment by the trial court, but was acquitted on technicalities by the High Court of Punjab in Shimla.
The three other persons, who were key leaders of the Hindu Mahasabha in Gwalior, were listed as untraceable in the charge sheet filed in the trial court of Justice Atma Charan, although they were openly moving around in Gwalior.
My late mother Kamalamma Madikera Sharada Prasad was part of the prosecution team in the Mahatma Gandhi murder trial before Justice Atma Charan in Red Fort in 1948, a role for which she had been specifically handpicked by Oscar Henry Brown, chief presidency magistrate of Mumbai. A postgraduate in psychology, she was a freedom fighter who was arrested in the 1942 Quit India Movement. She had worked for a leading law firm, in the Home Department of the government of Bombay, as well as other government departments.
Her assigned task was to elicit evidence from one of the accused Shankar Kistayya, servant of Digambar Ramachandra Badge. Badge, a weapons dealer in Pune and a member of the Hindu Mahasabha, had turned approver in return for a pardon.
Brown, a Scotsman who stayed on in India after independence, thought that with her post graduate degree in psychology and with her knowledge of her mother tongue Telugu, my mother would be able to elicit evidence from Shankar Kistayya, who was illiterate and spoke only rustic Telugu, and a bit of Marathi.
Flawed Priorities
According to my mother, there were numerous national interest considerations for Sardar Patel to ensure that the investigation did not probe the involvement of the Hindu Mahasabha too closely. First, the Mahasabha was conducting a proxy war against the Nizam of Hyderabad's kingdom, where fanatical Muslim Razakars were butchering Hindus.
In 1938 itself, five Mahasabha leaders, including Nature Godse and the grandson of Bal Gangadhar Tilak, GV Ketkar, had launched the Bhaganagar Movement against the Nizam, in close cooperation with the Hyderabad branch of the Congress party, as well as the Arya Samaj. The Hyderabad Congress agitation against the Nizam was led by Swami Ramananda Teertha, aided by his lieutenants NV Gadgil, PV Narasimha Rao, SB Chavan, and Veerendra Patil.
After the Congress cadres were massacred by the Muslim Razakars, the leadership of the anti-Nizam agitation devolved to the Mahasabha, led by Nathuram Godse, GV Ketkar, GM Nalavade, VB Davre, SL Karandikar, and PM Bapat.
After Partition, Mahasabha branches in Pune, Ahmednagar, and Gwalior were secretly supplying weapons to Hindus in the Nizam of Hyderabad's territories to protect themselves against the tyranny perpetrated by Muslim Razakars.
Two of the biggest arms suppliers were Digambar Ramachandra Badge in Pune, who turned approver in return for a pardon, and Jagadish Prasad Goyal in Gwalior, who was instrumental in transporting the Beretta revolver to Nathuram Godse from the Military Secretary to the Maharaja of Gwalior.
Second, the integration of the princely state of Gwalior into the Indian union was then in a very delicate stage.
Sardar Chandroji Rao Angre, the powerful and popular uncle of the Maharaja, Jiwaji Rao Scindia, had established the Hindu Mahasabha in Gwalior. It was headed for long years by Dr Dattatreya Sadashiv Parchure, who was physician to the Scindia royal family, and was also a close confidante of Vinayak Damodar Savarkar.
The Gwalior Connection
The Mahasabha enjoyed strong support in Gwalior, and was expected to form the government after Independence, with Dr Parchure becoming the premier. However, the Dewan of Gwalior, MA Sreenivasan, who was close to Jawaharlal Nehru, and who was a member of the Mysore Civil Service, swore in Congress ministers instead.
Narayan D Apte and Dr DS Parchure threatened Sreenivasan that they would "finish him and Gandhi off". Significantly, Dewan MA Sreenivasan visited Mahatma Gandhi at Birla Sadan on the afternoon of 29 January 1948, the day before Gandhiji was assassinated.
Third, so soon after the carnage of Partition, Sardar Patel and Morarji Desai wanted to avoid communal violence and political instability at all costs.
Govind Ballabh Pant and Lal Bahadur Shastri corroborated that Sardar Patel and Morarji Desai were apprehensive of uncontrollable communal violence if VD Savarkar was arrested.
Sardar Patel is reported to have said at a meeting of top Congress leaders – The Muslims are already against us. If Savarkar is arrested / convicted, then the Hindus too will turn against us.
Fourth, Sardar Patel was shrewdly trying to split the hardline elements of the Hindu Mahasabha and the RSS Rashtriya Swayamsevak Sangh away from their more moderate members, and then get the moderates to join his faction of the Congress party.
It has to be remembered that the Hindu Mahasabha had originated in 1907 as a faction within the Congress party, before it split away in the 1930s.
Realising that their ideology was too extreme for the majority of members of the Hindu Mahasabha, Nathuram and Gopal Godse, and Narayan Apte, formed a faction within the Mahasabha, which they named the Hindu Rashtra Dal.
In Gwalior too, Dr DS Parchure formed an extreme faction of the Hindu Mahasabha, which he named the Hindu Rashtra Sena. The rank and file members of the Mahasabha in Gwalior did not subscribe to the extreme views of their leader.
While the Hindu Rashtra Dal proclaimed Vinayak Damodar Savarkar to be their leader, there are no documents to indicate Savarkar's active involvement, except for his leadership of the parent Hindu Mahasabha.
Sardar Patel was careful to distinguish the extremist Hindu Rashtra Dal wing from the rest of the Hindu Mahasabha, which I will elaborate on later in this article.
My mother described numerous lacunae in the investigation of the unsuccessful attempt on Mahatma Gandhi's life on 20 January 1948. It is quite possible that the assassination on 30 January 1948 could have been prevented.
The Plot Thickens
Madanlal Pahwa was a Punjabi refugee from Pakistan. His entire family had been massacred, and he sought revenge.
After fleeing from Pakistan to Mumbai, Pahwa was engaged by Professor Jagadish Chandra Jain, head of the department of Hindi at Ruia College, to sell his books. Jain, a protege of Rabindranath Tagore, had been imprisoned in the Quit India movement. Pahwa simultaneously worked in a firecrackers factory in Ahmednagar which surreptitiously manufactured explosives which Shankar Kistayya transported to the Nizam's territories in his rickshaw.
During one of his rage-filled tirades against Muslims, Pahwa had let slip to Professor Jain that he and his friends wanted to kill Gandhiji, and that Vishnu Karkare, head of the Hindu Mahasabha in Ahmednagar, had taken him to meet VD Savarkar, who "patted Pahwa and encouragingly told him to carry on". Jain dismissed this as the bragging of a youthful traumatised partition victim.
The plan of the unsuccessful 20 January 1948 attempt was that Pahwa would explode a gun cotton slab to create a commotion, and in the confusion, Digambar Badge, who was stationed in the servants quarters of Birla Bhavan, would fire shots at Gandhiji from the back and also hurl a grenade at him. Badge's servant Shankar Kistayya was to fire shots at Gandhiji from the front, and also hurl a grenade at him.
The two Godse brothers, Narayan Apte, and Vishnu Karkare were not to carry any weapons, but would coordinate the operation by giving signals to the others.
Shankar Kistayya was an illiterate simpleton. He had no idea at all who Gandhiji was, or why he was being asked to shoot the man pointed out by the Godse brothers, Apte, and Karkare.
As soon as Pahwa exploded the gun cotton slab, Badge saw the two Godse brothers, Apte, and Karkare slipping away. Badge instantly realized that the four of them had abandoned him and Shankar to their fate, and that they would get caught while the masterminds had already escaped.
Badge grabbed Shankar and both quickly fled from Birla Bhavan without firing or hurling their grenades, and went into hiding near Pune.
Badge vowed that he would get back at the Godse brothers and Apte for abandoning him. He had no ideological commitment to the Mahasabha, he was merely a mercenary.
During the trial in Red Fort, Shankar Kistayya told my mother in his expletive laden obscenity riddled Telugu: "We fucked off from there without firing our fucking pistols and we fucked away to Pune". ( He was sentenced to life imprisonment by the trial court, but was acquitted by the High Court of Punjab ).
Pahwa was caught and handed over to the police. At first Pahwa claimed that he acted alone, and that his intention in exploding the gun cotton slab was to register his displeasure with Mahatma Gandhi, and that he had no intention of injuring anyone.
However, on 22 January 1948, Pahwa named Vishnu Karkare, but said that he did not know the names of the others, although some of them were associated with a newspaper called Hindu Rashtriya. Pahwa added that some of them had stayed at Marina Hotel in Connaught Place, and others at the Hindu Mahasabha Bhavan.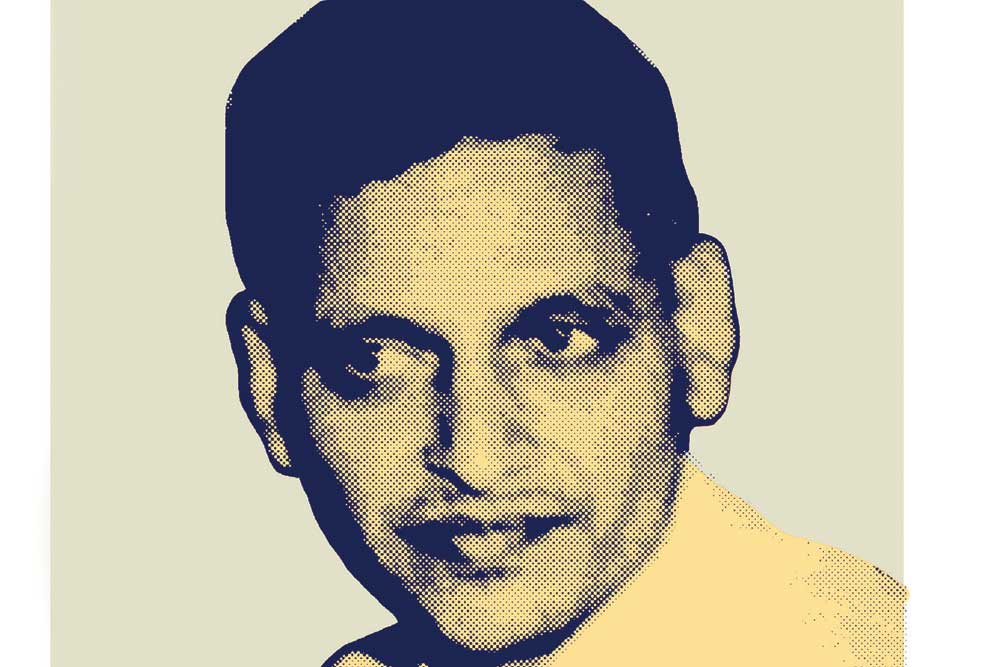 Police Inaction
But it took until 23 January for the Delhi police to go to Marina hotel, where they found clothes bearing the initials NVG, as well as documents of the Hindu Mahasabha. But the Delhi police did not investigate who NVG was. Kali Ram, the attendant of Marina Hotel, gave detailed descriptions of the room's occupants, but the Delhi police did not follow through.
Ashutosh Lahiri, the head of the Hindu Mahasabha in Delhi, was never questioned at all even though there were signed documents from him in the hotel rooms. Moreover, the Delhi police did not make efforts to locate the editors and proprietors of the Hindu Rashtriya newspaper, even though it was registered with the Registrar of Newspapers.
On 21 January 1948, Professor Jain in Mumbai read in the newspapers that Pahwa had exploded a bomb. Recalling Pahwa's boasts to him about killing Gandhiji, Jain immediately telephoned Sardar Patel in Delhi, but the home minister was in a hurry to catch a train to Ahmedabad, and so could not take Jain's call.
Jain then rushed to the premier of Bombay province, Balasaheb Gangadhar Kher. Kher was short of time, and passed Jain on to Morarji Desai, then home minister of Bombay province.
Morarji heard Jain for a few minutes and abruptly cut him short. Morarji angrily accused Jain of being part of the conspiracy to murder Gandhiji along with Pahwa, and added that he too should be arrested.
That night, Morarji mentioned to Jamshed Dorab "Jimmy" Nagarvala, the deputy commissioner of police of Bombay, what Jain had told him about Pahwa.
Nagarvala later told my mother, who worked closely with him, that he had immediately asked Morarji for permission to arrest VD Savarkar, and that Morarji had angrily denied this permission, exploding in anger to Nagarvala: "Are you mad? Do you want all of Bombay to go up in flames?"
Nagarvala managed to convince Morarji of Savarkar's involvement, but Morarji was still hesitant to arrest Savarkar, fearing uncontrollable violence.
However, Nagarvala managed to obtain Morarji's reluctant consent to place Savarkar under surveillance. Morarji then rushed to Ahmedabad to meet Sardar Patel.
In the trial court in Red Fort, Morarji Desai was questioned by Savarkar's lawyers as to why he had placed Savarkar under surveillance, two days after the bomb was exploded by Pahwa.
Morarji replied: "Does Savarkar really want me to answer? Let Savarkar carefully reflect on its implications."
Savarkar signalled to his lawyers to withdraw this question.
Morarji's reply on oath would have blown the lid that the Indian government was in violation of its Standstill Agreement with Hyderabad, and thereby of international law, for conducting a proxy war against Hyderabad using the Hindu Mahasabha.
According to my mother, Morarji Desai had his reservations about the wisdom of Sardar Patel's using the Mahasabha against Hyderabad, but reluctantly went along, recognising the strategic compulsions.
Justice Atma Charan refused permission to have this question withdrawn, remarking that it was central to the prosecution's case against Savarkar. Only after elaborate arguments by both Savarkar's lawyers, as well as by the prosecution team, was this question expunged from the official record.
To return to the numerous lacunae in investigating the leads, UH Rana, Deputy Inspector General of the Criminal Investigation Department of Pune, happened by chance to be in Delhi on a personal visit. A copy of Pahwa's interrogation report, naming Karkare and the owners of the newspaper Hindu Rashtriya, was given by TG Sanjeevi Pillai, director of the Intelligence Bureau, to Rana on 25 January 1948.
But Rana declined to fly back to Mumbai immediately to pursue the leads, claiming that flying harmed his health. He instead took a train to Prayagraj, prayed overnight in the Ganga, and only then did he take a train to Mumbai, arriving only on 27 January.
The interrogation report of Pahwa by the Delhi police was in heavily Persianized Urdu, and it could not be understood by Nagarvala's team.
It is not clear now as to why Nagarvala did not immediately arrest the Godse brothers, Apte, Karkare, and Badge. My mother said that Nagarvala was a very diligent and capable police officer. But Rana and Nagarvala disagreed about the extent of the conspiracy and arresting the suspects.
Strange Sympathies
Most of the Mumbai and Delhi police were sympathetic to the ideology of the Hindu Mahasabha and the RSS,  and were in a position to tip off the conspirators. This aspect was emphasised by Jawaharlal Nehru in his correspondence with Sardar Patel.
The Delhi police sent two constables to Mumbai, but Nagarvala immediately ordered them to return, saying that their presence would alert the masterminds. Sardar Patel too confirmed in his verbal reply to a question in parliament that arresting them would tip off the other conspirators.
The Godse brothers, Apte, and Karkare had a meeting at Thane on the night of 26 January 1948, where they planned the second attack. On the morning of  27 January, Nathuram and Apte flew to Delhi, giving false names of V Vinayakrao and D Vinayakrao while booking their air tickets. From Delhi, they took a train to Gwalior, arriving on the night of 27 January 1948, where they stayed overnight with Dr DS Parchure.
Dr Parchure refused to give his personal weapons to Nathuram and Apte. However, Gangadhar Dandavate, the second most senior leader of the Mahasabha in Gwalior, promised to locate a suitable revolver.
The 9 mm M1934 model Beretta revolver originally belonged to a senior Italian army officer in Ethiopia during World War II. The Fourth Gwalior Infantry regiment, led by Colonel VV Joshi, captured this Italian commander in Ethiopia, who ceremonially surrendered his weapons to Colonel Joshi. After the war, Colonel VV Joshi became military secretary to the Maharaja of Gwalior, Jiwaji Rao Scindia.
The persons who brought this revolver from Colonel Joshi and sold it to Nathuram Godse for Rs 300 included the biggest weapons dealer of Gwalior, Jagadish Prasad Goyal, and three senior leaders of the Mahasabha – Gangadhar Dandavate, Gangadhar Jadhav, and Surya Deo Sharma.
However, Colonel Joshi and JP Goyal were never even named in the charge sheet filed in the trial court of Justice Atma Charan. JP Goyal was crucial to Sardar Patel's strategy against Nizam's Hyderabad, since he clandestinely supplied armaments to the Hindus in Hyderabad to protect themselves against the pogrom launched by the fanatic Muslim Razakars.
Gangadhar Dandavate, Gangadhar Jadhav, and Surya Deo Sharma were listed as untraceable in the charge sheet filed in the trial court, even though they were openly moving around in Gwalior. They were expected to become cabinet ministers if a Mahasabha government had been sworn in with Dr Parchure as the premier, according to the intelligence received by my mother.
Dr Parchure was questioned on 3 February, and was formally arrested on 18 February 1948 under the Indian Penal Code. The same day, he gave his statement before the magistrate of Gwalior, RB Atal, confessing to supplying the Beretta revolver to Nathuram Godse and Narayan Apte.
The trial court of Justice Atma Charan sentenced Dr Parchure to life imprisonment. However, on appeal, the High Court of Punjab in Shimla acquitted him because he was a British citizen, and proper procedures had not been followed to extradite him from Gwalior to Delhi, adding that his confession to the Gwalior Magistrate could not be used by the prosecution.
On 4 March 1948, Jamshed Nagarvala questioned Savarkar's bodyguard, Appa Ramachandra Kasar, and Savarkar's secretary, Gajanan Vishnu Damle. Both Kasar and Damle confirmed  to Nagarvala about numerous visits paid by Nathuram and Gopal Godse, Apte, Karkare, and Parchure to Savarkar Bhavan for years. Surprisingly, two senior employees of the Hindu Mahasabha, whose office was on the ground floor of Savarkar Bhavan, ( their names were Bhide and Shinde ), were never questioned at all by the CID.
Kasar and Damle specifically confirmed to Nagarvala that the two Godse brothers, Apte, and Karkare had long meetings with VD Savarkar on 14, 17, and 24 (after the blast) January 1948.
Circumstantial evidence requires independent corroboration from two different sources. However, other than the approver Digambar Badge, the prosecution team, led by Advocate General Chander Kishan Daphthary, did not introduce any other significant witnesses against Savarkar.
In particular, Kasar and Damle were never summoned as witnesses by the prosecution, in spite of their admissions to Nagarvala on 4 March 1948 confirming numerous visits made by Nathuram and Gopal Godse, Apte, Karkare, and Parchure to Savarkar. The Justice Jeevan Lal Kapur Commission castigated this lapse, stating that the evidence against Savarkar would have been complete if they had been produced in the trial court.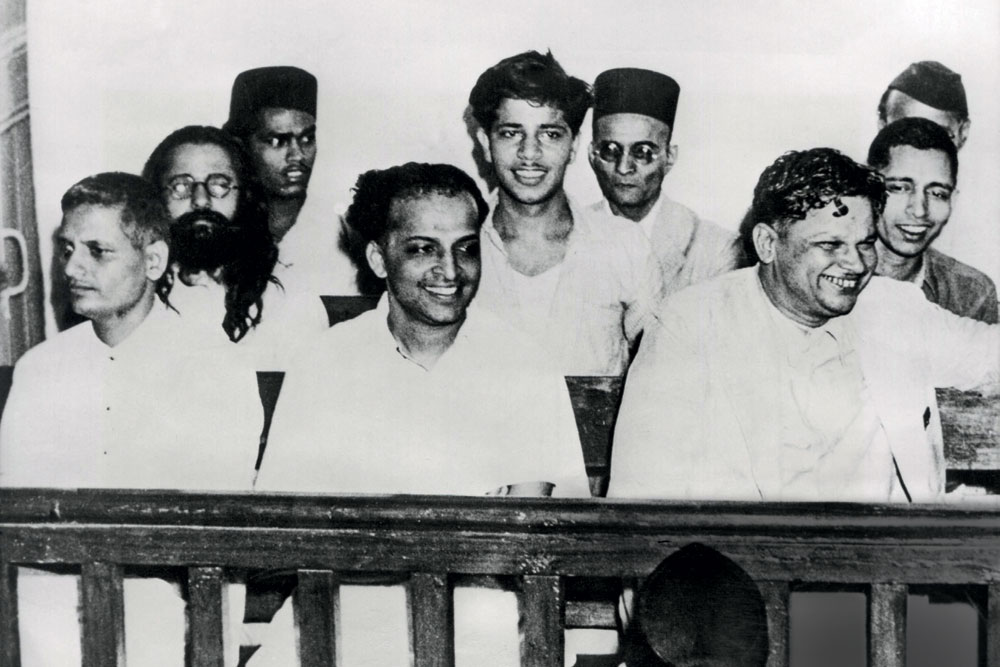 Sloppy Work
The diluted evidence presented by the prosecution against VD Savarkar was that on both 14 January and 17 January 1948, Nathuram V Godse and Narayan D Apte, accompanied by Badge, visited Savarkar at his residence, carrying a bag filled with explosives and armaments. On both occasions, Nathuram and Apte went upstairs, while Badge was made to wait outside.
Badge's statement in prosecution evidence was that after the first meeting on 14 January 1948, Apte told Badge, in the presence of Nathuram and Gopal Godse, that Savarkar had "decided that Mahatma Gandhi, Nehru, and Suhrawardy should be finished", and had "entrusted the work to them".
Badge's next statement was that after the second meeting on 17 January 1948, Savarkar, while seeing off Nathuram and Apte, told them in Marathi: "Be successful and return". Further, on their way back in their vehicle, Apte remarked that Savarkar had predicted that "Gandhi's hundred years are over", adding "there was no doubt that their work would be completed successfully".
My mother had developed a good rapport with the affable Badge and the friendly Karkare, and had won their confidence, while they played badminton together in the evenings in Red Fort.
Badge, who had a flowing beard and long hair, demonstrated to my mother how he hid pistols in his beard and hair, and he showed her how he concealed cartridges in his mouth, and still spoke normally.
Vishnu Karkare, head of the Hindu Mahasabha in Ahmednagar, was an absolute stickler for the truth. He just could not tolerate anyone telling a falsehood, even if it was to save their own lives.
Karkare was chatty and forthcoming, and would often whisper to my mother during the testimonies of the accused and of the witnesses, whether what they said was true or not, even when it was inimical to their defence.
Savarkar had been asked, under Section 364 of the Code of Criminal Procedure:
"– It is in evidence as below :–
About 2-3 days after the end of the first week of January 1948 Madanlal told Dr. J.C. Jain that when you heard of his (Madanlal's) exploits at Ahmednagar you sent for him, had a long talk with him for about two hours, patted him on his back and said 'carry on'. Would you like to suggest anything ?
– This is all false."
Vishnu Karkare whispered to my mother that Savarkar was lying, because he himself had taken Madanlal Pahwa to meet Savarkar.
Savarkar further asserted on oath that he had not met Nathuram, Gopal Godse, Apte, or Karkare since 1946, because he was in poor health and was not receiving any visitors. Karkare whispered to my mother that Savarkar was lying, and he scribbled out a note, and slipped it to her.
But this note was confiscated by judge Atma Charan before my mother could open it, and they were both reprimanded by the judge for disturbing the court proceedings. Could this note have contained important information about the assassination?
Most significantly, Karkare told my mother while they were playing badminton that evening that Badge's statement in court that day that Savarkar had ordered that "Gandhi, Nehru, and Suhrawardy should be finished", was absolutely true.
Karkare added that he was very disappointed by Savarkar's cowardice in lying in order to save himself.
My mother passed on this information to the lawyers in the prosecution team, but this was never followed up on, was not placed into the formal evidence, and she was ordered to confine herself to her assigned task of obtaining evidence from Shankar Kistayya alone. And the simpleton Shankar did not know anything at all; he was blindly following the orders of his master Digambar Badge, without realising their implications and consequences.
When my mother persisted in informing the legal team led by CK Daphtary that Karkare had confirmed to her Badge's allegation that Savarkar had ordered that "Gandhi, Nehru, and Suhrawardy should be finished", she was threatened with disciplinary action "for hobnobbing with the accused persons". Which was preposterous because her assigned task was to elicit evidence. A psychologically trained interrogator could have exploited Karkare's abhorrence for falsehood and cowardice to unearth the whole truth about the conspiracy.
After VD Savarkar starved himself to death in February 1966, the Justice Jeevan Lal Kapur Commission, which examined fresh evidence unearthed by Nagarvala, stated:
"Karkare was also well-known to Savarkar and was also a frequent visitor. Badge also used to visit Savarkar. Dr. Parchure also visited him. All this shows that people who were subsequently involved in the murder of Mahatma Gandhi were all congregating sometime or the other at Savarkar Sadan and sometimes had long interviews with Savarkar. It is significant that Karkare and Madanlal visited Savarkar before they left for Delhi and Apte and Godse visited him both before the bomb was thrown and also before the murder was committed and on each occasion they had long interviews."
Justice Jeevan Lal Kapur concluded: "All these facts taken together were destructive of any theory other than the conspiracy to murder by Savarkar and his group."
My mother stated that Justice Kapur's report was substantially correct. Both Nagarvala and Morarji Desai stated numerous times that they were certain that Savarkar had ordered the assassination, although he might not have been involved in the minute details of planning it.
Professor Jain maintained that Gandhiji would have been saved if Kher and Morarji had acted on his warnings. For years, Jain investigated the conspiracy using his own resources. However, Morarji harassed Jain greatly and destroyed his life.
Going through Sardar Patel's papers gives me the impression that he was very careful to distinguish the extremist Hindu Rashtra Dal from the remainder of its parent organisation, the Hindu Mahasabha.
My conclusion is that once the Mahasabha had served its purposes in Hyderabad and other princely states, Sardar Patel intended to neutralise its top leadership and get its foot soldiers to join the Congress party.
My impression is that while both Sardar Patel and Morarji Desai were certain that VD Savarkar had ordered the assassination of Mahatma Gandhi, they wanted to ensure that Savarkar was given the benefit of the doubt.
Sardar Patel wrote to Prime Minister Jawaharlal Nehru on 27 February 1948:  "… All the main accused have given long and detailed statements of their activities…It clearly emerges from these statements that the RSS was not involved in it at all. It was a fanatical wing of the Hindu Mahasabha directly under Savarkar that hatched the conspiracy and saw it through …Of course, his assassination was welcomed by those of the RSS and the Mahasabha who were strongly opposed to his way of thinking and to his policy. But beyond this, I do not think it is possible, on the evidence which has come before us, to implicate any other members of the RSS or the Hindu Mahasabha…"
Syama Prasad Mookerjee, who had been president of the Hindu Mahasabha, and was then a cabinet minister in the government of Jawaharlal Nehru, wrote to Sardar Patel on 4 May 1948, well before the charge sheet was filed:  "…I understand Savarkar's name is being mentioned in this connection. I do not know what evidence has been found against him. I have not the least doubt that you will satisfy yourself that nothing is done which may give rise to the suggestion later on that he was prosecuted on account of his political convictions. I hope the records will be placed before you before any decision is taken. His sacrifices and suffering in the past have been considerable, and unless there is some positive proof against him, he should not, at this age, be subjected to charge of conspiracy to commit murder. I leave the matter to your decision…"
Other Considerations
Sardar Patel replied to Mookerjee on 6 May 1948: "…As regards Savarkar, the Advocate-General of Bombay ( CK Daphtary ), who is in charge of the case, and other legal advisers and investigating officers met me…. I told them, quite clearly, that the question of inclusion of Savarkar must be approached purely from a legal and judicial standpoint and political considerations should not be imported into the matter. My instructions were quite definite and beyond doubt and I am sure they will be acted upon. I have also told them that, if they come to the view that Savarkar should be included, the papers should be placed before me before action is taken. This is, of course, insofar as the question of guilt is concerned from the point of view of law and justice. Morally, it is possible that one's conviction may be the other way about…"
Regarding the involvement of the Hindu Rashtra Dal and the Rashtriya Swayamsevak Sangh, it is significant that Sardar Patel wrote to Mookerjee: "…I quite agree with you that the Hindu Mahasabha, as an organization, was not concerned in the conspiracy that led to Gandhi's murder, but at the same time, we cannot shut our eyes to the fact that an appreciable number of the members of the Mahasabha gloated over the tragedy and distributed sweets. On this matter, reliable reports have come to us from all parts of the country. Further, militant communalism, which was preached until only a few months ago by many spokesmen of the Mahasabha, including men like Mahant Digbijoy Nath, Prof. Rain Singh and Deshpande, could not but be regarded as a danger to public security. The same would apply to the RSS with the additional danger inherent in an organisation run in secret on military or semi-military lines…"
Sardar Patel again wrote to SP Mookerjee on 18 July 1948:  "As regards the RSS and the Hindu Mahasabha, the case relating to Gandhiji's murder is subjudice and I should not like to say anything about the participation of the two organizations, but our reports do confirm that, as a result of the activities of these two bodies, particularly the former, an atmosphere was created in the country in which such a ghastly tragedy became possible. There is no doubt in my mind that the extreme section of the Hindu Mahasabha was involved in this conspiracy. The activities of the RSS constituted a clear threat to the existence of the Government and the State. Our reports show that those activities, despite the ban, have not died down. Indeed, as time has marched on, the RSS circles are becoming more defiant and are indulging in their subversive activities in an increasing measure…"
There were whispers that Jawaharlal Nehru wanted Maharaja Jiwaji Rao Scindia himself to be investigated, but it is not known if Sardar Patel did so.
However, Sardar Patel strongly suspected another president of the Hindu Mahasabha, Dr Narayan Bhaskar Khare, who was then premier of Alwar, of being involved in the assassination of Mahatma Gandhi, and had him placed under surveillance, together with the Raja of Alwar, Jai Singh.
Sardar Patel and Dr NB Khare had a tortuous association. In 1937, Dr Khare, who was a prominent medical practitioner in Nagpur and who came from a family of leading lawyers in Nagpur and Jabalpur, became the Congress premier of Central Provinces and Berar. In 1938 Sardar Patel dismissed Khare as premier and expelled him from the Congress party. Khare soon was made a member of the Viceroy's Executive Council.
At the time of partition, Khare informed Sardar Patel about the overtures made by Pakistan to numerous Rajput kingdoms, where Muslims comprised over 25% of the population. Patel worked together with Khare to stymie Pakistan's plans in Rajputana. But Khare then ordered a massacre of 80,000 Muslims in Alwar and Bharatpur.
On 7 February 1948, Sardar Patel dismissed Khare as premier of Alwar, and had him placed under house arrest, together with Raja Jai Singh of Alwar. However, detailed interrogation of both of them found that they were totally ignorant of all the attempts to assassinate Mahatma Gandhi.
Several junior members of the prosecution team speculated that Sardar Patel's concentrating investigation personnel on probing Khare was a feint to draw them away from investigating the leads in Pune, Ahmednagar, and Gwalior. Khare was arrested several days prior to Gopal Godse, Narayan Apte, and Dr Parchure being arrested.
Sardar Patel's strategy to first exploit and then neutralise the top leadership of the Hindu Mahasabha appears to have been successful.
Serious differences soon broke out between Savarkar and SP Mookerjee, over membership criteria of the Mahasabha, and Mookerjee left the organisation of which he had been the president. Dr NB Khare was expelled from the Constituent Assembly, but he managed to get himself elected from Gwalior.
Sardar Patel used the opprobrium over Gandhiji's assassination to quickly install Congress administrations in the Hindu Mahasabha strongholds of Indore, Dewas, and Dhar, and incorporate them, together with Gwalior, into what became the state of Madhya Pradesh.
Similarly Sardar Patel installed Congress administrations in the Hindu Mahasabha strongholds in the Matsya Union kingdoms of Alwar, Bharatpur, Dholpur, and Karauli, and incorporated them into Rajasthan. The Mahasabha was wiped out as a political force.

The author, an alumnus of Carnegie Mellon and Indian Institute of Technology-Kanpur, is a technology consultant and defence analyst. The opinions expressed in this column are those of the author