DAS SENSED A COUPLE edge into the seats behind him. He straightened his back and looked sideways so his profile was visible to them. He put on his most benign expression and waited for them to ask him with a breathless laugh, "Aren't you Bhasha-Bhumi Das, the literary critic? I have been reading your column for 10 years now sir…"
He waited for them to ask if they could take a selfie with him.
Instead they both looked at their mobile phones as if it held the secret to eternal youth and happiness. Philistines, he thought with a snort. But not everyone who was going to assemble here would be lacking in literary sensibilities like these two block heads, he told himself. The seats were only just filling up.
He had expected a full house. In fact, he had expected a great deal ever since the morning he had received the call from the Literary Forum Festival organisers.
It had been a Friday morning. He had just finished reading that first line from Orhan Pahmuk's My Name Is Red: 'I am nothing but a corpse now, a body at the bottom of a well.'
It had drawn forth all the ire that resided in the base of Das' skull.
Now Das' medulla oblongata was a rather peculiar thing. In the rest of the human population, the brain stem looks like a swollen tip to the spinal cord and is in charge of involuntary functions like breathing and digestion, sneezing and vomiting. However with Das, as it is in crocodiles, alligators and monitor lizards, the medulla oblongata was enlarged. As big as a tennis ball, maybe. And it caused a certain aggressiveness that in the crocodile's case manifested as wanting to bite the limbs off a swimming human or attacking cattle that had come to drink water. In Das, it expressed itself as a bilious attack that Das, the poor soul, had no option but to spew on papers.
Das read the line again. This fellow, Orhan Pamuk, he had thought studying the bespectacled serious-looking author photograph, ought to know better. How can a corpse talk? Let alone think?
Das didn't need to read any further. He had already made up his mind. The rest of the world may rush to deify this fellow Pamuk, but he was not so easily swayed.
Das took a sip of his tea and opened page 146 randomly: 'There was no one in the street, not even cats.' There he knew it. Das' medulla oblongata almost hissed as it demanded: And this is what they gave him the Nobel Prize for!
Das now knew there was nothing to do but show the world what an impostor Pamuk was. He had only 300 words to do it in but if he didn't, no one else would. All self-indulgent literature ought to be dealt with an iron hand. And who better to do it than him?
That was when the phone rang. He looked at it as it rang. He refused to use a mobile phone and so if anyone had to reach him, it had to be the old-fashioned way. The phone's incessant ringing echoed through the house. He let it ring. To pick it up immediately would show the caller, he was hanging around waiting for the phone to ring.
Das no longer had the weekly 1,500-word column in the literary supplement Bhasha-Bhumi that he used to work for. But it didn't mean he was any less busy or important within the literary establishment.
He saw his daughter Indu give him a reproachful glance as she ran towards the phone. "Don't," he barked. "Let it ring."
She had murmured under her breath, "How do you know it is for you?" and sauntered away. The phone stopped ringing.
"Why can't you use a mobile phone like everyone else?" She asked.
He pretended not to hear her.
The phone rang again. This time Das picked it up on the eighth ring.
"We are calling from the Literary Forum Festival!"
Das sat up. The Literary Forum was the most important literary body in all of Kerala. He had had heard there was some talk of his name being put up for this year's committee. "Yes," he said remembering to modulate his voice into a deeply ponderous tone.
"As you must know sir, we started the festival a few years ago and today it is the most important literary event in Kerala."
Das grunted. They hadn't ever invited him to the festival. Not that he would go even if he was invited. It was a well known fact that there was no literature at literary festivals. Only actors, activists and manufacturers of popular tripe holding forth on everything but literature.
The disembodied voice continued. "This year we have instituted an annual award for various forms of writing and we are extremely pleased to inform you that you are one of the winners this year. For your book Laboured Lightness. Congratulations from all of us."
The voice had droned on about the mundane details culminating in the Golden Leaf coming to rest in his hands.
It had been a Friday morning. He had just finished reading that first line from Orhan Pamuk's My Name is Red: 'I am nothing but a corpse now, a body at the bottom of a well.' It had drawn forth all the ire that resided in the base of Das' skull
When Das put the phone down in its cradle, the corners of his mouth stretched in a smile, which made his mouth ache. It had been a while since he had last smiled. He leaned back in his chair pleased. Not merely pleased. Ridiculously pleased. True, for many years he had criticised the Literary Forum while questioning their choices. The Literary Forum championed writers like NS Madhavan, Mukundan, Zachariah, Sara Joseph and KR Meera. God knows what they must be thinking of. In fact, they veered towards lightness and Das didn't approve of that.
Literature, Das was convinced, had to lie like a brick in the pit of your stomach. Inviolate, insoluble and heavy with incomprehensibility. He liked to see the effort worked into the narrative. That was literature with gravitas. Lightness was a crime as much as accessibility. If everybody were to understand every word that was written and fathomed all the complexities of the plot, what was the role of the intellectual? What was he to intellectualise?
Nevertheless they were perhaps finally veering towards literary worthiness by recognising his work. Finally, after all these years, he was being celebrated for being who he was—the custodian of literature in Kerala. The trouble with the literary world was that there were too many people writing and all of them like this Pamuk fellow made a virtue of lightness. And none more than G Menon.
"Indu," he called out. "Come here…"
His daughter came into the room holding a book. He frowned on seeing the cover.
WHEN SARADA, DAS' wife died of a cardiac arrest two years ago, Das had to invite his daughter and husband to come live with him. "This house will be yours when I am dead. Besides I can't devote myself to literature if I have to worry about whether the electricity bill is paid or if there are enough groceries in the kitchen."
Sandeep his son-in-law had risen from the chair in a hurry as if his house was on fire. Where was he rushing to? Das wondered. But Indu held Sandeep back by his arm. "That's fine, Accha, I will run the house for you. But on one condition, you are not to ever question what we do—what we eat, what we drink, who we meet and especially what we read."
Das agreed. He was relieved. If Indu hadn't, he wondered what he would have done.
"Have you read this new book by G Menon? It's brilliant!" She said caressing the book as if it were a pet cat.
"Throw it into the waste basket. That's where it belongs!" He snapped in irritation. Then unable to suppress his excitement, he said proudly, "The Literary Forum conducts a festival every year. They are giving me an award this year."
"I am so pleased for you," she smiled and went to sit at his side. "Have you told your friends yet? I am going to make a payasam. I am sure all your friends will be here soon to congratulate you and we need to offer everyone who comes a sweet."
Das felt a flush of happiness. He knew his daughter didn't very often agree with his point of view. But even she couldn't fail to be proud of her father now.
"What is the award for?" Indu asked suddenly.
"For Literary Criticism, I suppose."
"Is it a lifetime achievement award?"
"I don't know about that," Das said wondering why they weren't giving him that. "All I know is it is for my book Laboured Lightness."
"But it was such a vicious attack on G. Menon's writing. How could they?" Indu whispered, her hand going to her mouth.
Das frowned. He hadn't expected this. A traitor in his family.
"I don't care. I like him. I will continue to read him no matter what you think or what the Literary Forum believes," Indu said with a belligerent tilt to her head.
Das shook his head in sorrow. Like that fraud Pamuk, G Menon drew a certain kind of person's devotion. Boors. That's what they all were. That's what she was. He had named her Indulekha after Chandu Menon's novel. He had nurtured her in an almost rarefied air of literature. He had made her read Tolstoy and Thomas Mann; Kafka and Camus and his icon James Joyce. He had ensured that she didn't ever come in contact with the books of Austen, DH Lawrence, Jorge Amado or Steinbeck and none of the Indians writing in English, but she in her headstrong manner had dug them out from libraries and devoured them with an appetite that had made him suspect a tapeworm lived in her brain. It also explained why she grew up to worship that charlatan G Menon. And Das believed literary ambition had to be made of sterner stuff.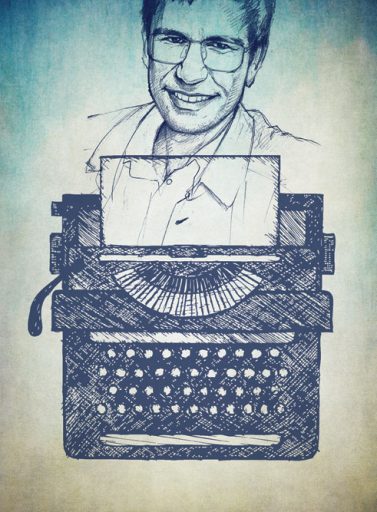 Das snapped out of his reverie when the music began. He recognised the tune. And each time he heard it, his medulla oblongata sizzled. If he could, he would have bitten off the arm of the man who had inserted the CD into the player. It was a song from a movie made from one of G Menon's books. Why were they playing this song?
Das detested many things. He detested dogs and English vegetables, women with their hair loose on their backs and men on motorbikes. He couldn't stand cinematic dance or cook shows on TV. He disliked actors who spoke their dialogues like they were talking to a friend in their living room. He hated mobile phones and technology. But most of all he detested G Menon and the unbearable lightness of his writing. Actually that Kundera was one of his pet hates too. But G Menon was in his face and aggravated his spleen more than anyone else.
"But Accha, why do you dislike him so much?" Indu had remarked reading a vitriolic diatribe a few years ago.
Those days he had had his 1,500-word column and Sarada was alive to fuel his life and venom. Das remembered that day rather well.
He had come home to discover that Sarada had forgotten to make the aviyal she had promised to cook for lunch. Instead she served him a carrot thoran and said without the faintest trace of apology in her voice or manner, "I was engrossed in this new novel by G Menon. Once you start his book, you can't put it down…That man is a delight to read even after all these books he has written. There isn't a single trace of fatigue."
That evening when Das wrote his column, he had one of his bilious attacks. Indu had read the handwritten sheets with growing agitation. Das didn't reply to Indu's question. He wondered how to phrase that tumult of emotion G Menon raised in him. It would involve a confession that Das was reluctant to make.
Das had been working on a novel when G Menon's first book appeared. Das had just begun working as a subeditor in the literary weekly Bhasha-Bhoomi. The editor had asked Das to interview G Menon. "He's being hailed as the next Thakazhi," The editor said. "I would like to see what you think. By the way, he's from your part of Kerala." he had added.
Being the methodical journalist that he was Das read the book carefully pausing at every word and stop, and making notes as he went. Then he tore up his novel and literary dreams.
Everything Das had hoped to make his very own G Menon had colonised. The bastard had poached his territory. The little village and the tea shop, the hills and pala trees, the river and paddy fields, the yakshis and the gandharvas and the old decrepit houses in which ancient crones sat pounding their areca nut and chewing their betel leaves. Thakazhi had made the fishermen and coir workers his. Basheer had his Muslims and Mukundan had his Mayyazhi. OV Vijayan had created a Khazak out of Palakkad, and MT had set his stories within the confines of a 'nalukettu' building and psyche. But Valluvanad where Das had his childhood familiars to draw from was available and this was the literary landscape he had chosen, but G Menon had usurped that as well. What was left for Das?
That was the first time Das had intimations of his medulla oblongata's special powers. Thus was born the literary critic: Bhasha-Bhoomi Das.
He deconstructed G Menon's novel with the same application he had read it. And then he slaughtered the novel. But in one of those quirks of fate, the book went into a reprint almost instantly. And it seemed with each new book, G Menon's reputation only grew while Das marveled at the idiocy of the reading world that devoured all of what G Menon produced. Self-indulgent fluff that masqueraded as literature.
Das tried to introduce who, he thought, were stalwarts to the reading public. But they, fools that they were, wanted none of his brick and mortar. Instead they were enchanted by only lightness.
Das couldn't speak of this to his daughter. He couldn't explain to her the moral indignation he felt to see a man violate all rules of literature and get away with it.
And there was something else. Das couldn't understand that either. That G Menon wore his content like a layer of fat. Not a crease, not a wrinkle seemed to gouge its way into that blubber. It was as if the man had a congenital smugness. Over the years, Das had routinely attacked each one of G Menon's books exposing them for the silly vacuous stuff they were. And such was the power of his pen that his wrath had influenced some of the other eminents of the literary establishment too. They had joined hands with him in telling the world about what they thought of G Menon.
A few months ago, G Menon's most recent book had been translated into English. Such was the long arm of his wrath that he had been able to prevail upon critics in Bombay and Delhi to attack the English translation.
He had chuckled holding the English newsweekly pages reading the dismissive review.
"What is so funny?" Indu asked surprised to see the laughter in her father's otherwise grim eyes.
He thrust the magazine into her hands. That should show her. She always condemned him for being vicious about G Menon. There were others who thought the same.
When she finished reading the review Indu had flung down the magazine with a snort. "I don't understand it! This is G Menon's memoir! Why would he write about anyone else? This isn't a treatise on literature. It seems to have completely missed these literary biddies! I guess it is resentment that's surfacing, not literary criticism. In fact, Sandeep thinks all of you are jealous of G Menon's success. I agree with him."
Das frowned at the mention of his upstart son-in-law. What did he know of literature? Just because he read a book a week didn't make him anything more than a mere reader. What did readers know of books? Leave literary criticism to intellectuals like him.
Nevertheless Das had to have the last word. So he pushed his glasses up his long bony nose, flicked aside an imaginary fly from the surface of his cooling tea and muttered, "Me jealous of that strutting self-indulgent idiot! You must be out of your mind."
Das then buried his nose in a book to signal end of discussion.
Das took a deep breath and glanced at his watch. Soon it would be his moment of triumph. He hadn't bothered attending the talks and panel discussions at the literary festival. What were these writers going to tell him that he didn't already know? Instead he had chosen to attend just the award function. He had heard the chief guest was to be MF Koya or Bhanumathi Teacher. Now they were writers that Das admired from the bottom of his heart. Each word stayed with you like a rock. No matter how you tried to crack a phrase, it remained impenetrable and Das glowed thinking only he had been able to actually understand their minds or literary vision. Meanwhile the collar of the new shirt cut into his neck. He had bought a new shirt for the occasion.
Das tried to introduce who, he thought, were stalwarts to the reading public. But they, fools that they were, wanted none of his brick and mortar. Instead they were enchanted by only lightness
"About time," Indu had said when he asked her to go with him to choose the shirt. "Why do critics have to look unwashed? Would a decent shirt make you look any less intelligent?
There was a rustle in the now bursting-at-the-aisles hall as the audience craned their necks. Das turned as well. He watched the goings on with a touch of acid in his mouth. No matter what anyone claimed, there was always a hierarchy.
HE HAD EXPECTED a car to be sent to pick him up. Instead he had been told that the taxi fare would be reimbursed. He had expected the committee to receive him with full honours. Instead a preoccupied volunteer had led him to a front row and asked him to choose a seat for himself. [Out of sheer perversity Das sat himself in one of the Reserved rows.] He had expected to see other literary heavyweights like himself there and had found a sparsely occupied auditorium and a bawling baby.
But now they were laying out the red carpet for someone. He heard the Panchavadyam from outside, the music rising to a crescendo…
Were they expecting a Minister?
The organisers were milling at the door and a bunch of girls with too much makeup on their faces and wearing Kerala saris on which peacocks cavorted with elephants stood flanking the passage that led from door to dais. The thalam in their hands glowed from the little lamp that sat at its centre. The TV crew with wires and cameras walked backwards capturing each second of the moment. Who was it? Das wondered. Then he caught a glimpse of the curly head towering and felt a blow to his medulla oblongata. Not him. Not that popinjay G Menon. All this for him?
The corpse rose from his well with a grin slashed across its face. So Mr Literary Critic, it asked with a leer, now you know what Pamuk meant when he wrote: 'I am nothing but a corpse now.' A corpse can think too!
Das sunk deeper into the chair. The evening sped. A Prayer. Poetry recitations. A new journal unveiled. Several short speeches. Lightness everywhere. Only in Das' soul, a darkness gathered, the heaviness of a slab of concrete that wouldn't budge.
Then it was time for the awards. And as each name was called out, Das's spirit slowly revived. It seemed G Menon wasn't nominated for anything. So what was all that kerfuffle about? He probably paid for it, the tennis ball at the base of his skull sent a coded message to his brain.
He heard his name being called. He saw one of the girls come to his side to lead him up the steps. He felt the hushed air of appreciation in the audience. Das smiled.
"What's wrong with them? How could they?" A loud whisper.
Das looked around. Then he saw G Menon on the stage and told himself that they must be referring to his presence on the stage.
"Exactly! What's wrong with them? How could they?" He wanted to turn and shake hands with the owner of that whisper.
G Menon smiled at him. A blubbery smile even though he must be wailing within, Das sneered. For this was the last award for the evening and G Menon had been given none. Even that Pamuk had been awarded a prize for best foreign fiction.
"I call upon G Menon sir to address the audience before he gives the award to Shri Das," the MC gushed.
Das cringed. Didn't they ever stop? This adulation and why was that fool being asked to give him the prize. I suppose they had to give him something to do. Half of Kerala worshipped at his feet and they would boycott the forum otherwise.
G Menon cleared his throat. "Das and I go back a long way. Our literary lives have been intertwined in a peculiar manner. In fact, my first book and Das' birth as a critic happened at the same time. Over the years, I have read each one of Das' critiques of my books carefully. In fact, if he doesn't review me, I feel my book has been a failure and that my readers won't appreciate me… For he leads my readers in the direction of what to look for in my writing."
Here he waited for the laughter to die down and then continued. "They say that behind every successful man is a woman. I would like to change that to behind every successful writer is a critic. In my case, it is Das."
More laughter.
"Laboured Lightness is not just a treatise on literature. It is a work of imagination. Any reader who reads it will see for sure how within the critic Das lies a storyteller of dizzying talent."
Das looked up suddenly. Was he being mocked?
"Here is a man to whom literature is a very serious occupation. Which is why this year, the jury and I decided on a special award and it gives me great pleasure as the President of the jury to hand over the Golden Leaf for 'The Best Work of Imagination' to Das for his book Laboured Lightness!"
Two mornings later, G Menon sitting in the Intercity Express from Kozhikode to Kochi read Das' guest column in one of the top dailies. It was all about the literary festivals and their service to literature, on prizes that unearthed hidden talents, the long friendship between Das and himself and world literature finding its truest voice in Pamuk. It was titled 'Orhan Pahmuk, G Menon and I…'
G Menon smiled. Everyone has a price. Even crocodiles like Das, and perhaps now he would leave him alone.

Anita Nair is an author. Her latest novel is Eating Wasps