TWO DAYS BEFORE a nationwide lockdown was imposed on March 25th to slow the spread of the pandemic, Prateeksh Mehra's phone started ringing off the hook. For the first time in the five years that Mehra, 36, had been supplying to Mumbai restaurants, his clients were calling to cancel orders. Hanging up on a major client, he turned to his brother Agnay, 34, and said, "What the hell just happened?" It hadn't occurred to them that restaurants would become irrelevant overnight and remain unviable for months to come. The Mehra brothers were sitting on hundreds of kilos of cheese that was to have made its way into weekend cheese boards and wood-fired pizzas, and filled many a pastry—and Instagram pages—with gooey goodness. The Spotted Cow Fromagerie sells about a tonne of cheese in a month—down to 400-500 kg now because of the persistent slump in the food and hospitality industry—which means holding and ageing at least twice the quantity. Their 'Tomme de Bombai', an oozy raclettish take on the Tomme de Savoie from the French Alps, is aged for two months; the 'Bombrie' and the 'Camembay', the names a hat-tip to their home city, for several weeks. "Going into the lockdown, we were a B2B-focused cheesemaker. We were selling at select retail stores, too, but even those were shut now. We were very worried. It would have been criminal to throw all the cheese away," says Prateeksh Mehra, who was a food photographer before he became a full-time cheesemaker. "Suddenly, we started getting a lot of orders on our website. People who could no longer eat out wanted good cheese delivered at their door. As gourmet stores slowly re-opened in April and May, many approached us, instead of us approaching them. Places that were selling coffee, bread and chocolate online wanted to carry our cheeses. Word of mouth spread quickly." If overseas travel and cooking shows like MasterChef Australia that sowed the seeds of the buy-local culture in India helped homegrown cheesemakers make inroads into the hospitality industry in 2014-2015, the lockdown, Mehra says, has made the average urban consumer more aware of the provenance of food. "By May, when we resumed production, all our cheeses were sold out, inspiring us to persist with R&D. We are proud of our traditional cultured mozzarella, for instance, which we make without citric acid and took a long time perfecting. We don't want anyone to taste our cheeses and say they are mediocre."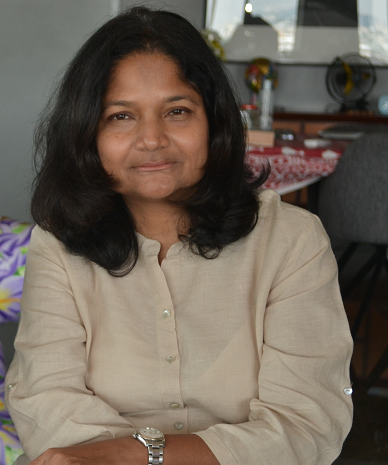 In an industry where shortcuts abound—from spray-can cheese and pizza crust fillings to analogue cheese slices and powders added to instant noodles and popcorn—artisanal cheeses are a labour of love. Much of the effort that goes into the making of a cheese with character—let alone bringing out the distinct character of a terroir—goes unappreciated in a country that lacks a cheese culture. The hulking wheels in the imported cheese aisle, we know, are better than locally mass produced emulsifier-and-vegetable-oil-laden processed cheese or the vacuum-sealed cheddar from the US. We would even pay top dollar for a sliver of Parmigiano-Reggiano to grate into our pastas, for briny feta from Greece to make summer salads with. But are we ready to lap up a wheel of a washed-rind Gruyere made in Mumbai, a soft pyramid of ash-coated Valençay from Chennai, a parcel of mulberry-leaf-wrapped Banon a la Feulle matured in wine at a Pune farm, an annatto-infused blue cheese with copper veins dreamed up in Bengaluru, a Montasio aged for a year in a cave in Kodaikanal?
"A handful of fromagers in India are making some world-class cheeses today. But the question to ask is how often is good cheese consumed in Indian homes? If it is for a party platter, then price is no issue. But if you were eating cheese regularly at breakfast and dinner, you'd think before stocking up on a product that costs Rs 2,500 a kg," says Christopher Albuquerque, who ran a cheese shop in Bengaluru named '10 Cuts of Cheese', where he stocked Indian and imported brands, until early this year when he shut it down to rethink the business. There are many reasons why the cost of artisan cheese in India is often on a par with what one ends up paying for imports—sourcing quality milk is not easy, urban real estate costs and imported equipment add to the overheads, cold-chain logistics are non-existent, not to mention the challenge of safely ageing cheese in a warm country. Over the past few years, even as discerning consumers switched to buying fresh pasta-filata-style cheeses locally—most famously from Bengaluru's Vallombrosa cheese shop run by Benedictine monks—not many were yet convinced India could produce good aged cheese. Cheesemakers who were experimenting with crusty rinds, goat milk and bold savoury flavours, considered too sharp for the Indian palate, were dismissed as hobbyists who had allowed their passions to run amok. "I don't think Indian cheesemakers have yet got the hang of making a Stilton with the right texture, for instance," says Albuquerque. "While we have a long way to go in aged cheese, there are exceptions that stand out and instantly win you over."
"We have had our hands full with orders since the lockdown. We produce 30 kg of cheese a day and we can hold inventory of up to about 2,000 kg. The idea is to slowly scale up and supply across the country," says Shruti Golchha, co-founder, Begum Victoria LLP
A fromagerie in Bengaluru that has developed a cult following over the past year could contribute to a change in perceptions, he says.
BEGUM VICTORIA CHEESES, made with high-quality A2 milk and wrapped in wax paper printed with chic silhouettes of native cattle breeds, are Instagram favourites. They are definitive in their category and taste even better than they look. Some have netted chef Manu Chandra, fromager at the Bengaluru startup, compliments from a French Consul-General and British chef Marco Pierre White, among others. While the brand was a cheesehead's delight, the pandemic, says Chandra, helped it "segue into people's homes". Despite being billed as artisanal, a chunk of Begum Victoria's customers are regular consumers of processed cheese who leapfrogged overnight, he says, on a conference call with Open and Shruti Golchha, a partner and fromager in the venture. "We have had our hands full with orders since the lockdown," says Golchha. "We produce 30 kg of cheese a day and we can hold inventory of up to about 2,000 kg. The idea is to slowly scale up and supply across the country."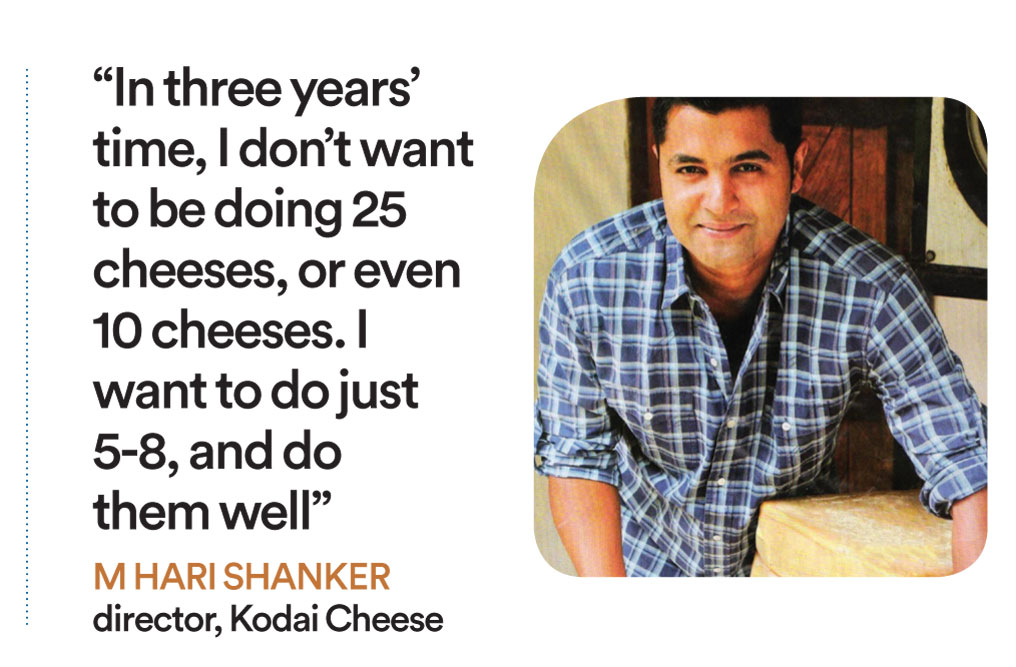 They are proud of the state-of-the-art cheese 'cave' in the heart of Bengaluru, especially the exclusive cave just for their by-now-iconic brie where a Penicillium fungus that imparts a special characteristic flavour to the cheese is allowed to thrive, forming a downy white crust over weeks. Among European cheeses, the brie is arguably the most popular in India, possibly because it is the easiest to pronounce, but also because it is approachable, with its warm mushroomy flavour, bloomy rind and luscious centre. Not that Begum Victoria has only made safe bets. "At one level, cheesemaking is like reinventing the wheel," says Chandra, who made a blue cheese only to find that it was a cave management nightmare. "The Penicillium roqueforti is an aggressive bacteria that will climb on to everything. It's a little like Covid," he jokes.
One of the testimonials on the website of Caroselle Cheese, a fromagerie in Tamil Nadu that started operating in 1990, is that of an expat chef at an Italian restaurant exclaiming in disbelief at the brand's Parmesan and Edams. "It is all made in India, unbelievable," he notes. "Chefs and restaurateurs know we make some of the best Parmesan and Montasio in the country. No one else has a natural cave in the hills that makes ageing for over a year possible," says Dinesh Kumar, business head, Tulya Foods, which acquired the Kodaikanal-based cheesemaking brand in 2018. With cheaper preservative-laced cheeses competing for shelf space, selling B2C hasn't been easy for the brand, which makes a tonne of cheese in a month. "Local producers don't get as much shelf space and display at retail stores as imported cheeses. You have to pay a listing fee and build relationships with store managers," says Sharad Madiman, the Caroselle distributor for Bengaluru. "Without a clear B2C strategy, it is hard to build scale."
Scale is a double-edged sword, says M Hari Shanker, director of Kodai Cheese, a half-century-old family-owned dairy in Kodaikanal that makes natural cheeses. While scale means that he can refuse to pay a listing fee and price his cheese competitively, it also meant making compromises. "In 2010 or so, we had grown to a point where we were going through nearly 1 lakh litres of milk in a day. We had factories in Maharashtra; we had a tie-up with Domino's. We could no longer control the quality of milk we bought, or the processes. We decided then that we would go back to being a quality-based company," says Shanker, 40, who has a Master's in cheesemaking. By 2014, Kodai Cheese had scaled back to just 4,000 litres a day. Now they have a throughput of 5,000 litres a day and make 15,000 kg of cheese a month, with 70,000 kg in stocks. "In three years' time, I don't want to be doing 25 cheeses, or even 10 cheeses. I want to do just 5-8, and do them well," he says. To that end, Shanker has blacklisted retailers who didn't stock his cheeses at the right temperature, and even de-listed from Big Basket for six months following a customer complaint. Among his personal favourites from Kodai's menu is the Parmesan, priced affordably at Rs 350 for 200 g, the Camembert, flavoured Goudas and some of the ambitious new goat's cheeses he has been developing. "I want to be proud of every cheese we make. Then the pricing will change," he says. Shanker has set up a factory in Nashik that processes milk from 18,000 goats and works with distressed women. After Covid struck, Kodai, too, began selling directly to consumers through online channels, but it also exported 40 per cent of the hard cheeses at hand to the US. "In the specialty segment, we will never be able to compete with, say, Dutch cheeses because quality milk is much cheaper there. But as the Indian artisan cheese market blooms, we expect to play a big part."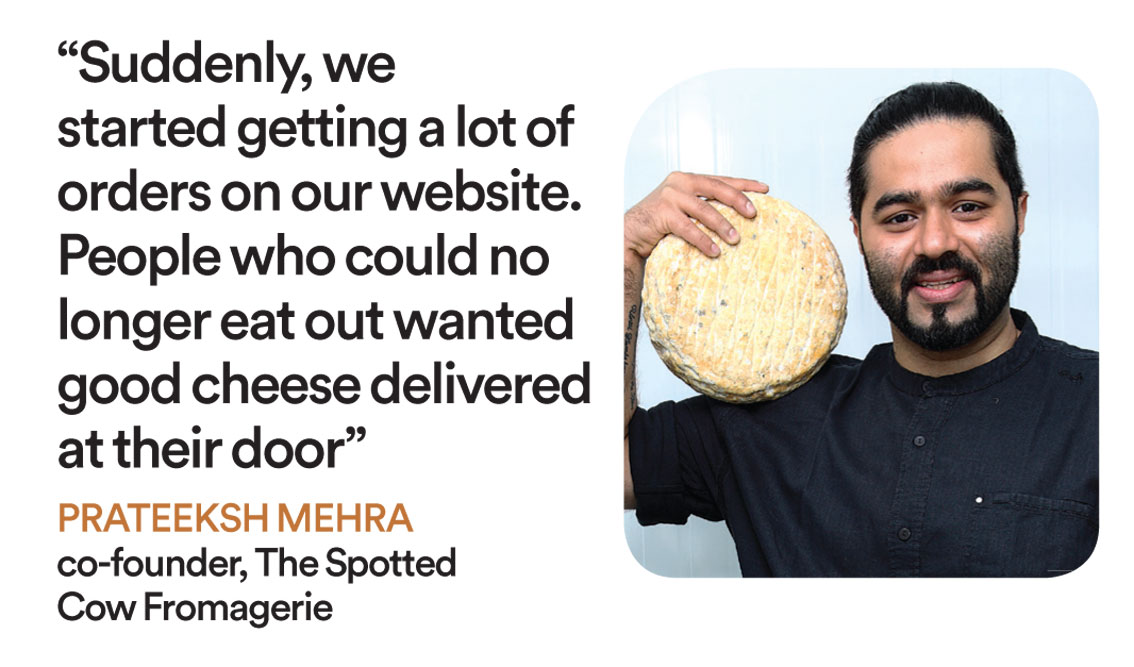 If the pandemic forced larger natural cheesemakers to rethink their priorities, it jolted small urban creameries out of their comfort zones. Käse, a small, four-year-old fromagerie in Alwarpet, Chennai, that works with clean, ethically sourced milk from micro dairies, had to halt operations for two months. "Orders have gone through the roof since we re-opened in mid-May. We are seven of us, but we are just working with three now. Volumes have almost doubled since July—from 150-200 litres of milk a day pre-Covid to 300-350 litres now," says Namrata Sundaresan, who along with Anuradha Krishnamoorthy, runs Käse. Their most popular cheese is a 10-day-old cheddar coated with molagapodi, the quintessential Tamil condiment served with idli. "We debuted it at a pop-up event where we called it Ode to Chennai [OTC]. OTC became all the rage on social media. We got a lot of flak for it, but also, customers wanted more of it," says Sundaresan, who has experimented with over 30 cheeses and stocks about 1,000 kg at any given time. With customers increasingly seeking transparency, she is hopeful that the artisan cheese market will expand in the coming years. "We have had young moms calling to ask if we have unsalted cheeses suitable for their kids. This only goes to show that people want to know where their dairy products come from and what they contain." According to Sundaresan, 11,000 new visitors landed on Käse's website in the past month, from just 4,000 before Covid.
Dhananjay Singh, the man behind Nutoras, a cheese company with a focus on nutrition, says the pandemic has only accelerated a shift in the urban Indian diet that was already afoot. A former investment banker, Singh, 40, says he has been tracking the changes in Indian consumer behaviour since 2012, when the country's per capita income crossed the Rs 50,000 mark. "With more money to spend on food, and a better understanding of why fats and proteins are better sources of energy than carbohydrates, people were consuming dairy protein, eggs and chicken," he says. Nutoras' high-protein cottage cheese is a staple among sportsmen—it even travelled to the IPL in Dubai—and those on a ketogenic diet. From Gouda and smoked cheddar to Mozzarella di Bufala and American-style cream cheese, Nutoras makes quality cheeses that are affordable, and more importantly, available across the country. "We are building a mass premium brand that bridges the gap between the processed cheese market and small artisanal players. The way we do that is by keeping the focus on quality and functioning like an FMCG distributor at a very crude level." Singh's company, based in Panchgani in Maharashtra's Satara district, makes 30 tonnes of cheese, of 25 kinds, in a month. "My guess is we control 25 per cent of the quality cheese market in the country," he says. Nutoras, which as a policy was built as a B2C brand, retails across India, from Puri and Patna to Gangtok and Mysuru. While it has scaled back production of its soft cheeses temporarily, the brand has been getting requests from small supermarket chains across metros and smaller cities in what Singh says is a sign of changing consumption patterns.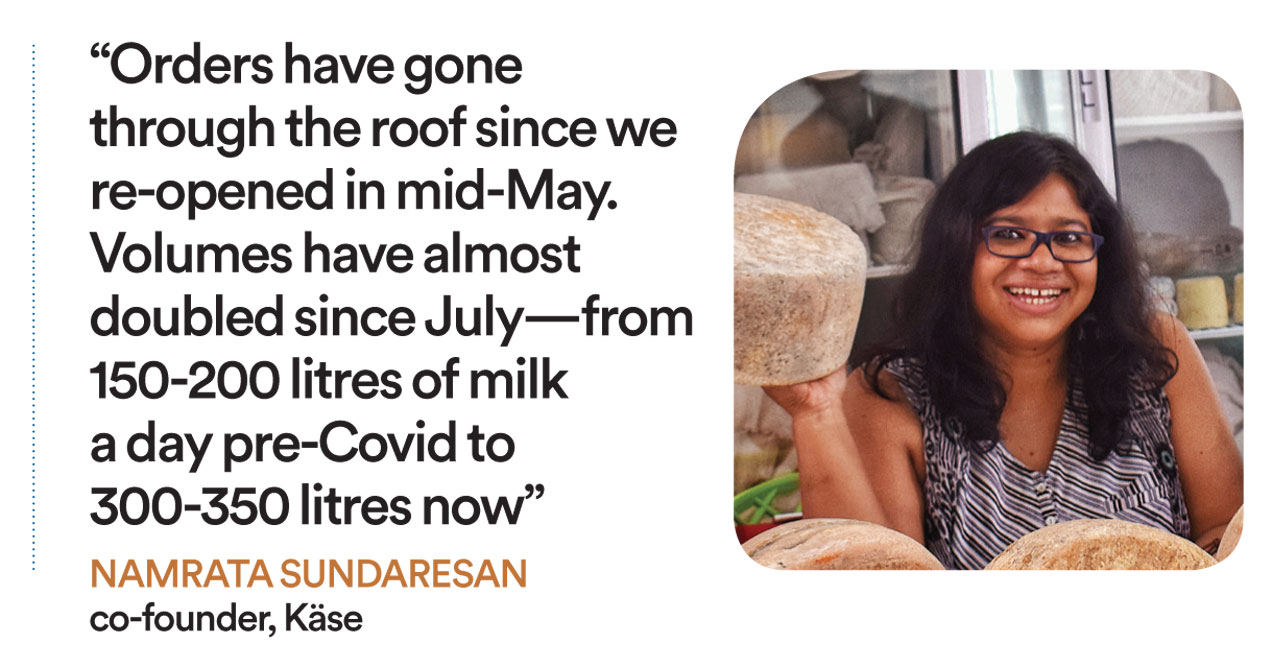 "I sense a conservative streak in the market," says Dhvani Desai of Casa del Cheese, a micro-fromagerie in Mumbai. A former financial journalist, Desai, who had been dabbling in cheesemaking, started a full-fledged business in 2017 largely catering to restaurants and hotels. "In 2019, the restaurant industry in Mumbai was already in a slump, with credit lines extending from one month to four-five months. Orders had halved. It was getting harder to sustain, so I moved the operation to my mother's garage," she says. After shutting down for Covid, she re-opened three weeks ago in response to demand from home cooks and a new breed of individuals who are discovering cheese. Her buffalo feta in brine continues to be popular, but she wants to move on to Swiss-style cheeses with a longer shelf life. "B2C demand is definitely growing. It's a question of making your unit economics work," she says.
Eleftheria, another artisan creamery from Mumbai's central suburbs, took a hit as B2B sales collapsed. "We were already working on launching a website and B2C branding, and got it up and running immediately," says Mausam Narang of Eleftheria, who specialises in fresh Greek-style cheeses. "With deliveries resuming, we soon went back to doing pre-Covid volumes. We are at two tonnes a month now," she says. Narang's clientele is well-travelled and likes to experiment. So while her moneybag-style burrata remains a hot seller, she also makes offbeat cheeses like a Norwegian-style Brunost made of evaporated caramelised whey.
From cheddars with a satisfying bite and a natural rind that you'd want to slice like a good communist, equally cutting into the crust and the golden interior, to soft milky cheeses that dance lightly on the palate like a belle of the ball, the local artisan cheese scene is gathering confidence and scale. Here is hoping that given the hot market, Indian cheese matures even faster.