In early 2010, when noted artist Riyas Komu suggested that we travel together to South Africa to watch the complete FIFA world cup, I was initially hesitant because my employer at the time rejected my leave application for a month away from work. But deep in my mind, I had decided that I would go because of multiple reasons: Nelson Mandela was going to be at the stadium for the final match and Diego Maradona was going to be there as Argentinian coach with Lionel Messi as the star player of the Latin American team. I recklessly concluded that these three Ms – Mandela, Maradona and Messi – were more important than anything else. Jobs come and go.
I quit my job and, with Komu, flew down to Johannesburg for a month-long discovery of not just football, but a global confluence around the most watched sport, and a country that we felt was home away from home despite the negative image it had of being crime-infested. In fact, even the mafia there decided to take a break, resulting in a significant drop in crime during the 2010 football World Cup.
On June 27, at Soccer City in Johannesburg, I hungered to see Maradona, the legend I had seen in newspapers in Espana 1982, on TV in the first televised world cup for many of us in 1986 in Mexico City, in Italy in 1990 and the US in 1994 besides all those Napoli, Boca Juniors games on VCRs – cassettes then were smuggled in from the Gulf in the late 1980s and the poor video quality was the least of our concerns. The game was beautiful nonetheless.
I expected him to have become a shadow of what he was earlier. But Maradona the coach in 2010 in South Africa in Argentina's match against Mexico looked like he belonged there more than any other place in the world. In fact, he looked the happiest then compared with all recent photos and videos of his I had seen since 1990. For someone who had identified himself with the marginalised, for someone who grew up in the impoverished slums of Buenos Aires to become arguably the best football player of all time, he seemed to love the idea of the world converging in the Rainbow Nation where the iconic living symbol of resistance and freedom in flesh and blood, Mandela, was still around.
At the stadium that day, he arrived much earlier than the game was to begin because he knew he was the biggest treat of the day. He walked into the ground before the officials came in and headed towards the army of cameras. People were still looking for their seats in the stadium, but the lensmen were waiting for the occasion as if it was expected of Maradona to walk up to them. He walked in with a swagger and a wide smile as the crowds erupted. We surged forward closest to where you could reach the ground from the gallery to get a glimpse of the man close, and since people were still filing in, we were lucky.
Back in my seat shortly afterwards because the security guards wanted us to return, I saw even the Mexican fans do 'namaste' at the waving Maradona with a mix of veneration and contained sarcasm that came from patriotism on the day their team was to meet his. Mexico lost 3-1, but the scenes from the match are as memorable now as on that unfairly and unexpectedly cold night in Johannesburg in my thin sweater. Before the match began, Maradona ran alongside Messi dribbling and passing the ball along the sidelines. Every time Messi came near his side, and whenever he got an opportunity, he made it a point to pat him on the back. When Messi came to take a kick or throw the ball, Maradona was there, almost petting him as though they were father and son or even lovers. Komu was able to take some stunning photographs from that match hopping from one place to another looking for the right angle (see photographs).
On our return to our hotel that night in a bus that contained people of most nationalities in the world, I had a discussion with Komu about Argentina's chances in the tournament and we had disagreements. But we agreed about Maradona: that he was more than a soccer legend and that he is a great artist, a fish in water in free South Africa for a reason that we all know. He literally wore his politics on his body: Che on his left biceps and Fidel on his left calf muscles.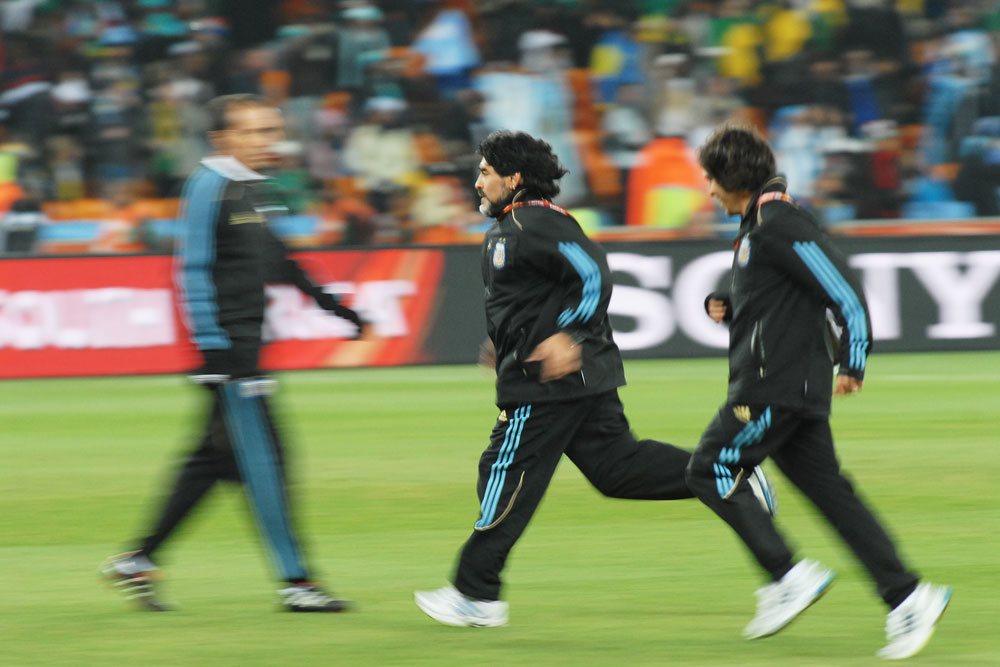 MY FASCINATION with the Maradona I met literally face to face at Soccer City in 2010 had started decades earlier, when all that we had were newspapers and magazines. I was too young to be listening to radio except to songs that played in the afternoons. We cousins in our joint family already knew of the Spain World Cup of 1982. The older ones among us spoke of many names that I don't remember. A day or two after he scored two goals against Hungary in a 4-1 win for Argentina, the young man with a stubble was in a local newspaper. It was a name difficult to forget although my cousins informed me that the young, short player received a red card in the game against Brazil. He had to exit the tournament. There was a photo of him leaving the ground that appeared in a sport magazine whose name I don't remember. It had an interesting caption to understand which I had to look up in the dictionary: "Maradona commiserated by Alberto Tarantini", a tall Argentine player. I can never forget this photo. Certain memories stick hard. Maradona's face was crestfallen and his teammates were distraught. Somebody in the football ground near my home made fun of his exit that evening when I showed him that photo. He said these people behave like "English film stars", acting rather than playing. He is a friend, but I still hate him for that comment. It was horrible of him to have said that – to have shown such insensitivity to a tragic moment, especially for a team that learnt of their country's resounding defeat at the Falklands War against Britain only after they reached Europe.
Year 1986 came soon enough. By then I was in a boarding school and we had begun gorging on Sportstar and similar publications. We had gone beyond Pele, Ferenc Puskás, Eusebio, Franz Beckenbauer, Johan Cruyff and Zico, and Maradona was already feted as one of the most promising players to watch out for. Before the televised event started, Pele threw his weight behind Platini's France. It disappointed me. How could he do that? When the French team came to play, Pele went to the ground to greet them. It was on TV and in print publications. I had nothing against Platini, but how could Pele do this? How could he underestimate Maradona? It was unfair, I thought. There were arguments that besides Maradona, the Argentinian team was filled with average players. Well, Pele being Pele may have seen something, a senior in school consoled me. By then I was already a football player, having trained at the prestigious Football Friends Coaching Centre in Kannur. Having watched local and international games tirelessly, there was no way I could not admire Maradona. It was also the time when older people, especially our teachers in school, started bragging about Pele being the ultimate and irreplaceable great. "Maradona is not Pele," went the argument. In some interviews, Beckenbauer, whom I disliked back then for trouncing my favourite Cruyff at the 1974 World Cup, came on TV to say football was no longer a one-man game, suggesting that only team play wins. His target, of course, was Maradona, and he was a contender this time as coach of West Germany, which, to my great joy, met Argentina in the final match and lost 3-2.
A word about Beckenbauer. Looking back, I think he was a master of the game in his peak and a great coach who led his team to World Cup glory in 1990 against Argentina. But in my teenage years, I had a fascination for Dutch player Cryuff because my contention was that, just like the Hungarian Puskás in the 1954 World Cup, both their teams lost to West Germany because of sheer bad luck. Cryuff and Puskás had earned their tragic hero status, which gave them a halo. The same is true of Maradona although he was a lucky winner and his life became a tragedy of his own circumstances and making.
1986 was the year of Maradona in world football. He was simply irresistible, ahead of all others. Those who talk about his 'hand of god' goal against England's Peter Shilton or the most beautiful of all goals, the second one in the same match against England in the World Cup quarter finals, had better look at his other goals in the tournament, especially the ones against Italy and Belgium. I recall the commentary of the time on Doordarshan when Maradona scored that difficult goal from the left corner against Italy: the thrust was on how the great player of La Albiceleste preferred "accuracy" over "power" to score that impossible goal. It was a game in which early on commentators were projecting Italian player Alessandro Altobelli (our interest in him was spurred by the fact that I have a cousin nicknamed Belli, another football nut) as a potential Paolo Rossi who in 1982 led Italy to the World Cup title with his goals. Then there were two superb goals against Belgium. In the second and the more famous one, after scoring the goal, he almost fell, we thought, but he didn't, and picking up momentum, he was back on his feet running, waving to the crowds in jubilation.
So much has been said about the goals against England and the political message it had. I think the way Martin Amis wrote about it many years ago in Guardian, reviewing the autobiography of Maradona, perfectly captured what it meant for Maradona, or El Diego, who attained a status that was powerful enough to convince any human being that he had acquired divinity. After playing the junior side for the Argentine team at 15, his rise was inescapably swift.
Wrote Amis, "His ascendancy, thereafter, was perfectly designed to detach him from reality – and reality, then, included the Dirty War and the terror and the 30,000 desaparecidos [disappeared]. At the age most kids hear stories, read one headline, he hears ovations. Three months after his debut he was training with the national team, up against Daniel Passarella and Mario Kempes. At 18, after a win over US Cosmos, he swapped shirts with Franz Beckenbauer; at 19, he scored his 100th goal. He was already the face of Coca-Cola, Puma, Agfa. Marginal and relatively impoverished, South American leagues act as a training and recruitment ground for the clubs of Europe, and in 1982 Maradona duly moved to Barcelona for $8m. When he went to Napoli two years later, he was on $7m a year, plus $3m from Italian television (there was also $5m from Hitachi). An International Management Group poll named him 'the best-known person in the world', and he was offered $100m for his 'image rights'; he turned it down, for patriotic reasons (IMG wanted him to take out dual nationality). 1986 brought him his nationalist apotheosis: he captained Argentina in the World Cup, and they won it. He was 25."
The rest, as they say, is history. 1990 and 1994 were much-talked-about World Cups. Although I admit being in great pain after Argentina lost to Germany in 1990, I mourned his exit in 1994 for days over reasons that continue to generate conspiracy theories. His return as coach wasn't very impressive either, but he made history in a way no other footballer made in the history of football, both on the field and outside. He became too big and attained a status so early in life that there seemed no way he could go, but down. The cliché acquires great relevance as regards Maradona who did not know what to do with the fame and glory. Self-destruction was the route he took instead of being a role model for people of poor slums like the one he came from. He took to cocaine and alcohol, fought on the streets with cops, picked fights with anyone and everyone. Even in South Africa, in a match I was not able to get tickets for, he fought with crowds that cheered for his opponents and his daughters had great difficulty in dragging him back to the coach's stand (this happened on July 3, 2010, when Argentina was thrashed by Germany in Cape Town. The previous day we were at Port Elizabeth watching Brazil bow out to the Netherlands).
It is unkind and unfair to say it, but writers such as Naipaul and Amis feel that there is something about Argentina of the time that made him act the way he acted. Naipaul has written about why sodomy is something Argentinians brag about even if it is about their wives. Similarly, Amis says that Argentinians celebrate Maradona's hand-of-god goal against England more than the second one. While it is easy to dispute these pronouncements as stereotyping, as even Naipaul's Argentinian girlfriend herself had done, it is incontestable that Maradona had divinity thrust on him and he had no clue what to do with it. His display of vivid emotions on and off the field – something that forced my childhood friend to make his cruel "English actor" comment – was proof of his frailty and fragility as a god of football.
The late Eduardo Galeano – that superlative chronicler of Latin American history in Open Veins of America and of soccer in Football in Sun and Shadow – made the most apt comment about Maradona's predicament – that he was "the most human of the gods." Commentators have said that Argentinians thought him slightly differently, "as the human among the gods". And it went to his head.
Like many of those iconic players who self-destructed – the other being Brazil's Garrincha who never even bothered to train before playing matches and finally died a premature death from alcoholism – Maradona appears to have been in constant self-conflict and fought a battle between his ordinary human self and his larger-than-life persona. Unlike others, Maradona did leave a legacy surpassing perhaps all. It is well known: that the Brazil team of 1970 – which gave Pele his current stature as one of the best players of all time – was full of skillful, experienced players. In 1962 and 1958, he had Garrincha, the likes of Vava and Didi, and other smart men under the leadership of Carlos Alberto in 1970 to complement his efforts. In the first two tournaments, Pele played fewer games than Garrincha did (Brazil, in fact, lost no game both Pele and Garrincha played). Again, some what-if thoughts linger: what would have been Maradona's destiny if, like Pele in 1958, he was also pitched at age 18 to play the 1978 world cup that Argentina won against the Netherlands? Strange as it may sound, it was Argentinian manager César Menotti's word and that was final: Maradona was too young to handle the pressure of the game.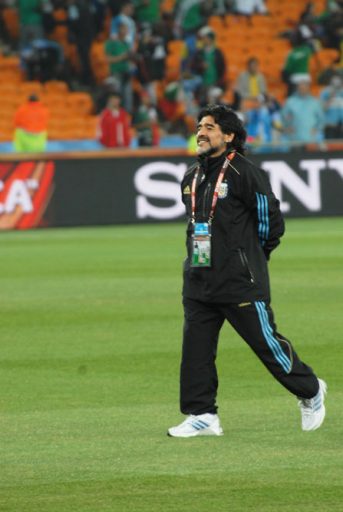 Team support was crucial for all champions, including Zinedine Zidane, who, after watching Maradona play in 1986, is said to have noted as a teenager that the Argentinian player was "at a different level". That is quite similar to the language English commentators in the 1986 quarter final said of his second goal – that this man needs to be placed on a pedestal in the football hall of fame and that he is of a "different class", notwithstanding the trauma of their national loss and humiliation. That agony may never go away. Former English footballing legend Gary Linekar's tweet as the news of the demise of Maradona came in attests to that: "Reports from Argentina that Diego Armando Maradona has died. By some distance the best player of my generation and arguably the greatest of all time. After a blessed but troubled life, hopefully he'll finally find some comfort in the hands of God." We all know what his "some distance" means. Ruder Englishmen have called him a "handballer"! But more Englishmen have grudging respect for his skills.
Last night, in a moment of grief, I wrote a mail to Simon Kuper – the author and football guru whom Riyas Komu and I had met several times in South Africa in that journey of discovery of the three Ms and later in India – asking what he thought of Maradona as a player and an icon. His comment may not be as reverential as a diehard fan of football players would be. After all, Kuper is an analytical man whose display of passion for the game comes only at the mention of 1970s Dutch players. He replied, "Messi has been a genius every week for 15 years. The infinitely less professional Maradona was a genius only occasionally, but he did it when it mattered, overcoming the pain of a busted ankle to lead a mediocre team to the World Cup of 1986 almost single handed. Messi was the better player, Maradona the bigger legend."
About the first part of his comment, I might agree with him in the future, but not today.
Goodbye, Diego. Deep gratitude for all that magic with feet, head (and hand, regrettably) without which football would have been a lesser sport.