AFTER HOURS OF STAKING OUT AND SCOUTING the coastline off Porbandar, the Indian Navy, Coast Guard and Narcotics Control Bureau (NCB) officials struck pay dirt close to midnight. The tip-off was that a fishing boat carrying massive quantities of illegal narcotics was lurking off the Gujarat coast. Based on the intelligence inputs, the Navy intercepted a suspicious boat around 11.30PM on the intervening night of February 10-11, 2022. The information was that a huge cache of drugs sourced from Baluchistan, Pakistan, was being carried on board the boat. The drugs seized that night in international waters included some 528.7 kg of charas (cannabis indica), 221.1 kg of methamphetamine (meth) and 13.3 kg of heroin, according to the panchnama by NCB on February 12 at the GMB Jetty, Porbandar, Gujarat. The chemical examination report of the Central Excise & Customs Laboratory, Vadodara, confirmed that the seized dope included charas, meth and morphine.
This wasn't the first time such a massive haul of drugs by NCB had happened in the recent past. Just about a year ago, in March 2021, a fishing boat named Ravi Hansi was chased and intercepted by the Indian Coast Guard near international waters, with six Sri Lankans on board. Intel inputs on that occasion had said that the drugs carried on the boat were sourced from Afghanistan and Iran. For the intervening night of March 25-26, NCB's Cochin sub-zonal unit records at Vizhinjam Port in Kerala show that 300.32 kg of heroin was seized from the boat. That was not all, though. That this was an entrenched and well-planned operation was clear from the arms and ammunition and communication units seized from the boat. These included five AK-47 assault rifles, 1,000 rounds of 9mm ammo, five smartphones, and one Thuraya satellite phone—among the world's most advanced and rugged satellite phones equipped with a long battery life—a GPS receiver and an HF/MF trans-receiver. The boat was intercepted by the Coast Guard near international waters and the Sri Lankans on board arrested. According to NCB, the main handler for the arrested Sri Lankans was LY Nishantha, alias Rithi Suddha, who coordinated with both the Sri Lankan boat and their main supplier who was based in Iran. The RAVI HANSI had started its long and dangerous journey from Sri Lanka's Kudawella harbour on March 7. The starting point also appeared to have been carefully chosen for its relative seclusion. The Ravi Hansi, setting sail from this small port, reached a predetermined location on the high seas and once there, was handed the drugs, arms and ammo by the suspected Iranian supply boat. The handover by the supply vessel was intimated by GPS coordinates mid-sea.
However, this, too, was not a one-off haul of huge caches of narcotics, arms and ammunition. In fact, a steady and highly alarming pattern of huge drug hauls off the Indian coast, from the west to the south, were being intercepted quite regularly. But for every big catch, there were clearly many more that slipped through the dragnet of the Coast Guard and NCB. It was time to change the ballgame and put in place a solid framework that would, at the very least, emerge as a strong deterrent to drug smugglers carrying large quantities of life-threatening illicit drugs to India and pumping them into thousands of youth.
In November 2020, another southern harbour had come in the spotlight for a huge drug haul. Eight Sri Lankans, including six crew members, on the Shenaya Duwa fishing boat were accosted by the Indian Coast Guard in international waters. NCB's Madurai sub-zonal unit recorded at Tuticorin harbour on November 26 that 95.8 kg of heroin, 18.3 kg of methamphetamine and a clutch of arms and communication units were seized from the boat. The haul included five pistols, 10 empty magazines, five smartphones and one advanced Thuraya satellite phone. During interrogation, it came to light that the drugs were sourced from Pakistan and delivered on the high seas by an Iranian passenger ship. The main handler of the drug smugglers was MMM Nawaz. Nawaz, it appeared, was running a drug syndicate in Sri Lanka through a steady supply of heroin and meth from Pakistan and coordinating the logistics in detail, incredibly enough, from inside a Sri Lankan prison.
It was clear that India's western and southern ports were the destinations for well-entrenched drug smuggling cartels involving Sri Lankan, Pakistani and Iranian operators which had been established over time. And that a homegrown network also transported and distributed the narcotics throughout the country regularly, with the intent to ensnare the youth in various states, including the border state of Punjab, in a vicious trap of addiction. That became clear in April this year when, far away from the ports of Tuticorin, Porbandar and Vizhinjam, NCB received top-secret intelligence on illicit drugs at Jamia Nagar in Delhi's Okhla. A special team from NCB, Delhi rushed to the address mentioned in the intel input, "F 86, 3rd Floor" of Abul Fazal Enclave in Jamia Nagar, Okhla, New Delhi 25. From there, on April 27, the team seized 50 kg of heroin, 47 kg of suspected narcotic drugs/psychotropic substances and ₹30 lakh in cash after grilling six individuals on the spot, four of whom were arrested during the investigation. Among those interrogated and later arrested by the NCB team was Razi Haider Zaidi. Under pressure, Zaidi confessed to his role in manufacturing heroin in one of his go-downs, taken on rent, in Muzaffarnagar in western Uttar Pradesh (UP). He also admitted to working with Afghan accomplices, Qari Hamidullah Yusufi and Mohammad Hakim Salimi, based in Bhogal in Delhi. Both Yusufi and Salimi were later arrested. With the arrest of the other four at Jamia Nagar, the entire drug trafficking network was busted.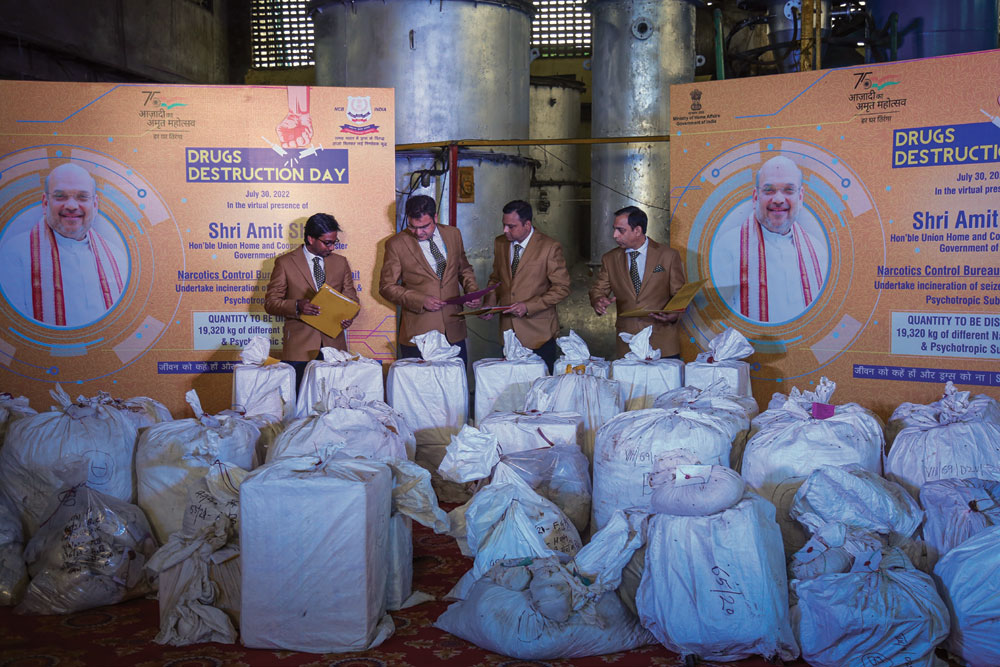 More recently, an even more alarming dimension to drug manufacturing and smuggling made big news for its shades of 'Heisenberg', almost like a reprise of a scene from the American television series Breaking Bad. Based on intel inputs, the Anti-Narcotics Cell (ANC) of Mumbai Police arrested a chemistry graduate and seized 700 kg of mephedrone worth a whopping ₹1,403 crore, going by the international valuation of narcotics. The accused, a student of organic chemistry, used his knowledge to cook mephedrone to supply clients whom he contacted on social media, according to the ANC. The case itself unfurled like a thriller, with the ANC first arresting three of the dramatis personae from the Ghatkopar-Mankhurd Link Road and getting a lead on the involvement of a woman, who was one of the suppliers. When she was finally arrested in end-July, the interrogation of all four led the ANC to the chemistry graduate at Worli who, it emerged, was the main cook and source for the suppliers.
In a development this week, on August 16, the Mumbai ANC's Worli unit busted a drugs factory in the Ankleshwar area of Bharuch district in Gujarat and recovered about 513 kg of MD (methylenedioxymethamphetamine) drugs, estimated at a value of ₹1,026 crore in the international market. The seven accused include a woman.
Recently, there had been another alarming imitation of Breaking Bad in real life. A chemistry student, a PhD holder—this time from Hyderabad—was nabbed red-handed by the police while delivering 3.15 kg of mephedrone that he had himself manufactured to a customer in Telangana's capital. At international valuation, the drugs were worth ₹63 lakh. It transpired during interrogation that the chemist had earlier worked in the pharmaceutical sector.

That proved to be just the tip of the iceberg and real-life Breaking Bad stories simply refused to die down, making it obvious that manufacture, sale and distribution of narcotics and psychotropic substances were widely prevalent and carried on easily below the radar of law enforcement authorities throughout India. In August this year, days after another organic chemistry graduate was arrested in Mumbai with 700 kg of mephedrone, Rachakonda Police (Telangana) arrested a B Pharmacy graduate-turned-drug peddler along with a chemistry graduate. The latter worked as a scientist with private companies. The duo was suspected of manufacturing meth at a private chemical company at the IDA, Uppal. The Rachakonda Special Operations Team arrested Srinivas Reddy of Tarnaka and a businessman, Lenin Babu, of Nampally and seized some 3.6 kg of ephedrine, cocaine, LSD blot and a chemical substance thought to be meth.
THE PAN-INDIA NARCOTICS trade has been growing exponentially not just in the physical sphere, smuggled through ports and mailed through courier, but also, of late, on the internet. The web, especially the dark web, has emerged as the biggest driver for a significant jump in the sale of illicit drugs and psychotropic substances among the youth. With the rapid growth in state-of-the-art communication technology in India, so has the use of darknets for drug purchases by the youth.
Darknet refers to a hidden internet network or platform that is used for, for instance, narcotics sale, exchange of pornography, and other illegal activities. Owing to its end-to-end encryption, it is considered very tough to crack. A darknet, above all, makes the right to privacy real. Indian laws do not make surfing on the dark web, whose content exists on darknets, illegal, unless illegal content is bought or sold. Email services like the erstwhile SIGAINT or the extant ProtonMail and others allow users to send and receive emails without their location or identity being revealed. The dark web, in short, was manna from heaven for those who wanted to access drugs and other illegal stuff. As far back as 2017 or even earlier, it was already being used to access drugs. In Mumbai, for instance, one user admitted to switching to darknets for the needs of his addiction when he tired of the relatively poor quality of local drugs and ordered 'stuff' from the US, paying for it through the increasingly popular cryptocurrency.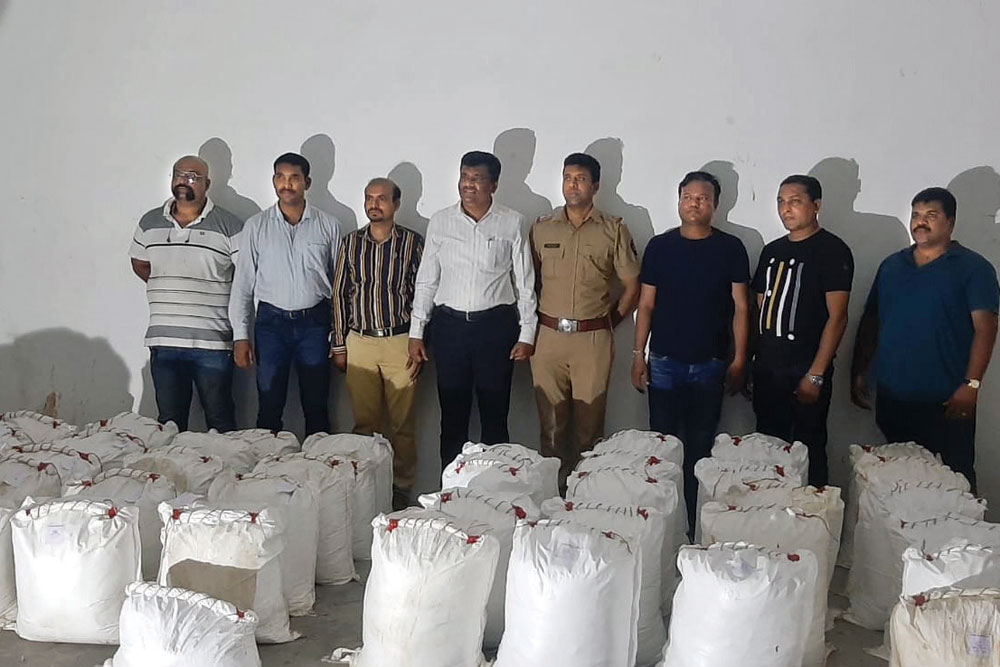 NCB itself marked its entry into nabbing illegal sales of narcotics on the dark web when, in 2020, it arrested 21-year-old Dipu Singh, the son of a retired Army officer. Singh became the country's first narcotics operative nabbed for actually selling massive amounts of psychotropic drugs abroad under the pretext of selling sex stimulation medicines, all on the dark web.
NCB's Delhi zonal unit arrested Singh from Lucknow in early 2020. NCB Deputy DG (Operations) Rajesh Srivastava said at the time that Singh was a "major player on the darknet", with listings on the biggest markets on the dark web like Empire Market and Majestic Garden. His arrest was part of the global Operation Trance launched in 2019, based on joint intelligence gathering and sharing on psychotropic drugs sales by mail, courier, and so on worldwide. Some 12,000 tablets of various psychotropic drugs were seized from his residence on his arrest. NCB said that Singh was a "mastermind" who secretively couriered drugs to the US, the UK, Romania, Spain and other European nations using the dark web. Singh had started off as a seller of sex toys on the dark web but soon switched to illicit dope as a more lucrative and quicker way of making money. His arrest had come as part of Operation Trance, under which a total of 55,000 psychotropic tablets, such as tramadol, zolpidem, alprazolam were seized over two months.
Early this year, in consonance with the speedy and wide growth in trade of illicit dope on the dark web and through mail and courier, a worried NCB announced a 'Darkathon' to help cyber experts crack the specifics of anonymous markets on the web. This, even while asking for suggestions and solutions from ethical hackers to detect such acts on the internet, about 99 per cent of which is still categorised as the deep web, of which the dark web, hosted on darknet platforms, forms a part. That announcement came just days after NCB announced the arrest of 22 youths from 11 states in connection with a pan-India drug trafficking network operating via darknets. There was an underlying urgency: two years of the Covid pandemic had boosted illicit drug sales on the net and there was no longer an option of taking it easy.
Amit Shah directed the setting up of a nationwide information system dealing with drugs and the dark web. Never attempted before, this will mean intense and real-time coordination among Indian drug enforcement agencies and exchange of information with other countries
The 'Darkathon' was aimed at unravelling the anonymity of darknet markets. According to the 2021 World Drug Report, about 74 per cent of the darknet transactions or about 90 per cent of darknet sales were drug-related. The two years of lockdown during the pandemic had, according to NCB, made this situation worse in India, with drug-related transactions going up by almost 250 per cent.
The dark web is home to thousands of anonymous buyers and sellers of mostly illicit goods (such as child pornography, sex toys and narcotics but also personal data, automatic rifles like Kalashnikovs, state-of-the-art communications units, ammunition, etc across borders), with end-to-end encryption that safeguards personal details on transactions.
In India, it is not illegal to access the dark web, making it that much easier to use it anonymously for sale and purchase and promotion of illegal products and services. Here, an internet user gets solid benefits such as user anonymity, virtually untraceable services and sites. So, while accessing and browsing the dark web is totally legal, it is, in reality, heavily associated with illegal activity. A 2019 study, 'Into the Web of Profit', conducted by Michael McGuire at the University of Surrey, showed how these activities have become worse, with the number of dark web lists that could harm an enterprise up by 20 per cent since 2016.
The increasing use of cryptocurrencies worldwide, including in India, has meant that paying for such goods and services has become easier, although guarantees are not foolproof even now, with only intermediaries resolving issues on sales and purchases. Drug-related transactions worth several crores of rupees on the dark web were rising steadily and dangerously. Determined to come down with a heavy hand on illicit drug sales, both online and offline, the Narendra Modi government declared its resolve to ensure a Nasha Mukt Bharat (Drug-Free India), which gathered momentum after New Delhi adopted a zero-tolerance policy towards narcotics. Structurally, this meant viewing dark web transactions that were drug-related as direct threats to national security. This was a radical change in both online and offline monitoring of drug sales. Especially in the case of the former, agencies were more focused on suspicious terror-linked activities, such as the purchase of arms and ammo. Now, though, officers were being trained to view illicit drug transactions as directly threatening national security, the economy and society.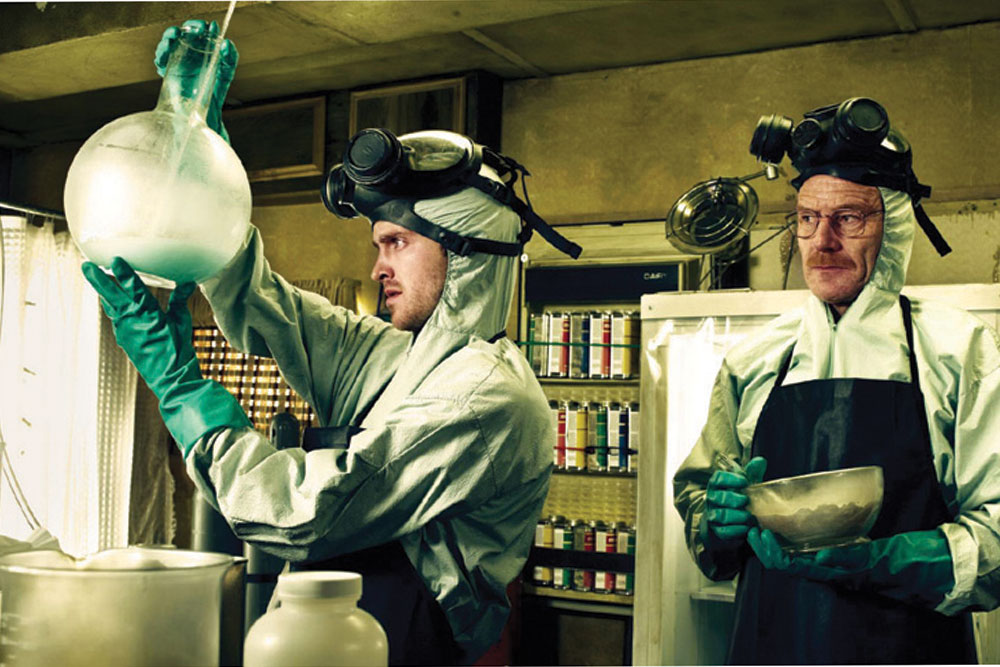 In a recent interaction with law enforcement officials working on the drug trade, both physically at ports—still accounting for the largest hauls—and through mail, courier and the dark web, Union Home Minister Amit Shah took priority cognisance of the growing use of darknets and cryptocurrencies in illegal drug transactions and directed the setting up of a nationwide information system dealing with drugs and the dark web. Never attempted before, this would mean intense and real-time coordination among drug enforcement agencies across the board, such as NCB, and intelligence services. The information accessed would be shared with drug enforcement agencies within India, between the Centre and the states, and with other countries directly affected (on a strictly need-to-know basis), such as the US and EU nations where shipments were mostly aimed through transactions on the dark web. Towards this, formal coordination networks have been set up with international agencies like the US' Drug Enforcement Administration (DEA), the Australian Federal Police (AFP), the UK's National Crime Agency (NCA), the Royal Canadian Mounted Police (RCMP), etc to take action against international drug-trafficking networks, offline and online. Wherever foreign connections are found, the information is shared with foreign authorities for immediate follow-up in their respective countries.
A three-point formula was adopted at Shah's meeting to crack down on narcotics, which began showing results within a short period compared to 2014. Simultaneously, it became clear that the actual transactions were likely to have grown manifold since then and needed strong action on the part of the state, in terms of public awareness, strengthening a nationwide framework to deter such acts, information sharing between key agencies and actual punishment after seizures of illicit drugs.
An alarming dimension to the drug trade made news for its shades of Breaking Bad. Mumbai Police arrested a chemistry graduate and seized 700 kg of Mephedrone worth ₹1,403 crore. the accused, a student of organic chemistry, cooked Mephedrone for customers he contacted on social media
Several interesting but equally alarming factors have come to the fore in the cases registered and monitored by enforcement agencies during this period. In March this year, the International Narcotics Control Board (INCB) released in Vienna its Psychotropic Substances 2021 technical report presenting the consolidated global data on the illicit manufacture, trade and consumption of internationally controlled psychotropic substances for 2020. The report said that there was a noticeable increase in illegal activity during the pandemic. Some of it involved midazolam, a benzodiazepine sedative-hypnotic used as an anaesthetic and made in India, Israel and Italy. Some 40 countries reported higher consumption, another 40 doubled imports.
The pandemic has given a major momentum to the sale of traditional psychotropic substances like ganja, charas and heroin, already noticeably high in recent years. In tandem, new drugs have been added to the menu, including cocaine, ketamine, mephedrone and others, all of which are deadlier and more potent than the old ones. This development has forced the government to notify new psychotropic substances in the last five years between 2016 and 2021. This has paid off significantly, with the enforcement agencies seizing up to 14,000 kg of buprenorphine, alprazolam, tramadol, etc in 2021 alone.
As a result of the government's determined action to curb the growing drug trade, there were several big hauls that have made news in recent times.
The Shaheen Bagh case, in which one of the biggest seizures was made, was one such whereby almost 150 kg of heroin and ₹30 lakh in cash were seized. The drugs had come from Afghanistan and the money was sent through hawala. NCB has also registered 55 cases in the recent past for drug trafficking via darknet markets, encrypted messaging services and cryptocurrencies. The alarming smoothness of operational coordination between cartels in the US and in India became clear when the agencies bust a drug-related internet pharmacy operation in Hyderabad in May 2022 which serviced customers in the US. These developments forced the home ministry to urgently deal with the problem and work in multi-pronged ways against the drug trade, including strengthening the legal structure and empowering all narco agencies.
Heightened awareness about drug abuse was flashed onto the public consciousness in a major way in 2016 with the release of the crime film Udta Punjab, written and directed by Abhishek Chaubey and co-written by Sudip Sharma.
AS PART OF A CONTINUOUS public awareness effort, the government has now set up drug-related call centres and de-addiction (rehabilitation) centres countrywide. The efforts of the government to combat drug abuse (and misuse) paid off handsomely to nip many aspiring Pablo Escobars in the bud, especially post-2014.The most important action taken was to direct NCB to speedily set up a comprehensive national narcotics database to store details on drug smuggling at ports, mail and courier-based drug trade, as well as online transactions on the dark web, details on hawala transactions related to these activities, and so on. Authorised on a priority basis by Amit Shah, the database aims at capturing and storing all details on narcotics, narco-terror-related cases, analyses of drug trafficking trends, and information on all criminals involved in the network.
The home ministry also gave the green light for setting up the NCORD mechanism (Narco Coordination). This was put in place in 2016 to ensure better coordination and adjustment. The NCORD portal will now serve as an effective mechanism for information exchange among various institutions/agencies, showcasing integrated drug data, monitoring information management, mapping and putting out the latest data on best practices, court orders, related laws, government orders, rules, SOPs, and reporting systems.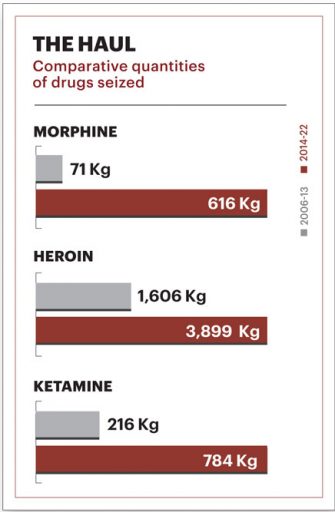 To make it stronger and more effective, NCORD was upgraded to a four-tier system in 2019, including the apex-level NCORD panel, the executive-level panel, and the state and district-level panels. NCB worked as the nodal agency to streamline the functioning of joint coordination committees to investigate drug trafficking.
Among the most important steps taken was to order special operations by the enforcement agencies to put a full stop to drug smuggling by sea, which still accounts for anywhere between 60 to 70 per cent of narcotic drugs supply and transactions. All coastal states and Union territories have been given special instructions to scale up detection mechanisms. Stakeholders like the Coast Guard, Ports Authority, even the Navy, have been instructed to attend all meetings of the state coordination committees. A comprehensive, consolidated policy will now be made by the stakeholders and arrangements made at all ports, government and private, accordingly. Multiple ministries, including the shipping and health ministries, have been roped in.
Financial investigations and mapping the trails of financial transactions involving drug trade form a crucial part of the efforts to curb these activities and, just as crucially, terror funding through hawala transactions. All financial documents are now analysed separately and financial investigations are carried out in appropriate cases. Properties built with drug money are seized forthwith by enforcement agencies. Hawala transactions are also monitored to unearth money-laundering channels linked to drug trafficking. The relevant information is shared with the Enforcement Directorate (ED) and other agencies for their analysis and action. With newer and deadlier drugs emerging with clockwork regularity on the market, the entire list of psychotropic substances is updated constantly. A thriving and entrenched drug network worldwide has made this imperative. The World Drug Report, for instance, provides a global overview of the supply and demand of opioids, cocaine, cannabis, amphetamine-like stimulants, and new psychoactive substances (NPS) and their impact on health, taking into account the potential impact of the pandemic.
At the core of empowering enforcement agencies at the state and Central levels in their all-out battle against the drug trade is a well-planned anti-narcotics training module prepared at the Central level by multiple experts. In line with other nations aggressively combating drug trafficking and misuse of substances, such as Colombia and the US, the zero-tolerance towards drugs policy will now include a well-trained and dedicated narco-canine pool at the national level. But, most importantly, Prime Minister Modi has ensured that every citizen, especially the youth, has a direct stake in that zero-tolerance policy: a door-to-door campaign now ensures that Indians, for the first time, make a public pledge against drug abuse and misuse. When India flies high now, it will be because the sky is the limit for its youth, not because it's reaching for the needle.

PR Ramesh is Managing Editor of Open