WORN DOWN BY disease, 65-year-old Pochavva Potharaju is the lone patient at the desolate 25-bed female cancer ward. Away from her village and her family, she feels time, the necessary axis of convalescence, passes slowly. At least she has Ramavva, her daughter-in-law and constant companion. It has been a month since Pochavva and Ramavva boarded a bus from Sarvapoor to Nizamabad, about 70 km away, with just enough money to cover the fare. They did not expect to stay long. "We have two acres of paddy back in the village. Since it costs too much to go home on weekends [when there is no treatment], the family has sent us bags of rice and clothes for our stay here," says Ramavva, who cooks for both of them in a community shed put up by the hospital for families of inpatients.
Whatever the other variables, Ramavva and Pochavva can be sure of one thing: that as long as they have a 'White Ration Card', treatment wouldn't cost a penny. For the poor, critical illness is often a dance of displacement—they fall out of their lives and into disease with everything they have. Since YS Rajasekhara Reddy, the then Chief Minister of united Andhra Pradesh, launched the country's first public health insurance scheme, Rajiv Aarogyasri, in 2007, to provide cashless corporate medical treatment free of cost to the poor suffering from heart, kidney, brain and other 'catastrophic' ailments, emphasis on tertiary care has become the third rail of public health policy in India. For a Stage 2 cervical cancer patient, however, the scheme, now known as Aarogyasri in Telangana, is a reinforcement of her faith in the state. Ironically, state-run hospitals are not the ones instilling this faith.
Since she first complained of a white discharge a year ago, Pochavva has been on a tiresome quest for a diagnosis. After several visits to and subsequent referrals from a neighbouring primary healthcare centre, a private hospital in Mudhole and a nursing home in Yellareddy, she eventually landed up at the Indur Cancer Hospital in Nizamabad, one of a handful of rural private hospitals empanelled under Aarogyasri for oncology. Super-specialty hospitals are largely concentrated in and around Hyderabad and in Warangal. Indur is perhaps the only privately run institution in a rural area that caters almost exclusively to Aarogyasri patients. It was one of over 230 hospitals across the state that suspended services under the scheme on August 16th demanding the clearance of dues to the tune of Rs 1,500 crore that have been pending for a year. The state government had empanelled 237 private hospitals, besides 90 government-run centres, to implement 938 procedures, ranging from dialysis and urological surgery to organ transplants, with fixed rates for each 'package'—an all-inclusive sum for end-to-end care under Aarogyasri, subsuming surgical implants and consumables, post-operative follow-up, drugs and meals for the patient. Volumes were intended to make up for the slim margins built into these packages, and claims were supposed to be processed as soon as the post-op documentation was submitted by hospitals. In the past three years, however, hospitals time and again sent out signal flares of financial duress and alleged that the Telangana Rashtra Samithi Government was starving the health sector of funds, diverting them instead to flagship projects in irrigation and drinking water. "We are owed over Rs 5 crore. The last payment came in December 2018.
Hospitals sent out signal flares of financial duress, alleging that the Telangana government was starving the health sector of funds
Between our monthly EMIs towards the Linear Accelerator we use for radiation treatments, a monthly electricity bill of Rs 1.5 lakh, salaries and running expenses, we are left with no money to pay visiting surgeons, radiotherapy maintenance and vendors who supply chemotherapy drugs," said Dr Kandra Prasanth Reddy, CEO, Indur Cancer Hospital. Despite running a lean operation with five full-time doctors, two visiting surgeons and bare-bones infrastructure, the hospital averages 60 radiotherapies and 20 chemotherapies a day, and 25-30 surgeries a month. "The rural population cannot afford to pay for cancer care, so all the cases we get are covered under Aarogyasri. There is also the problem of the issue of white cards to well-to-do families, with the result that people refuse to pay for any expensive procedure covered under the scheme," Dr Reddy said. "We are working at deeply discounted prices already. A radical hysterectomy, the most common surgical procedure in oncology, costs about Rs 1 lakh at a private hospital. We get Rs 60,000 from the government." After several failed attempts at a compromise between the Telangana Network Hospital Association (TANHA) and the state government, an agreement was finally reached on the evening of August 20th and the strike was suspended. The government has reportedly released Rs 560 crore towards Aarogyasri and Employee Health Scheme (EHS) dues. A committee is set to be appointed to troubleshoot payment delays.
In Telangana, which reports a higher incidence of morbidity and acute diseases than the national average, especially in rural areas (9.8 per cent against 8.9 for rural India) and among women, the cost of private healthcare is prohibitive. Childbirth costs Rs 13,320 in rural hospitals in Telangana and Rs 18,969 in urban ones against the all-India average of Rs 5,544 and Rs 11,685, respectively. And yet, government hospitals in the state serve only 29 per cent of inpatients as against 42 per cent in the rest of India, as per National Sample Survey data from 2014. The high reliance on private hospitals points to the gaps in the government health network. It is also a legacy of a scheme that has placed financing for curative care at the centre of public health policy. "Unlike the visibility of hospitalised patients, the beneficiaries of primary care are mostly nameless and faceless. The anonymity of prevention does not carry the appeal of visible hospitalised patients getting expert care—even to the media. Yet, it is the investments in health promotion, disease prevention and early primary care of ailments that will yield maximum health benefits across the population and translate into tangible economic gains," says Dr D Srinath Reddy, President, Public Health Foundation of India (PHFI), and former head of the Department of Cardiology at the All India Institute of Medical Sciences (AIIMS). "Barring a few states, primary care is not getting the attention it needs. The maximum number of beneficiaries in any health system will be in primary care. It is the foundational basis of universal health coverage, which we are to achieve by 2030."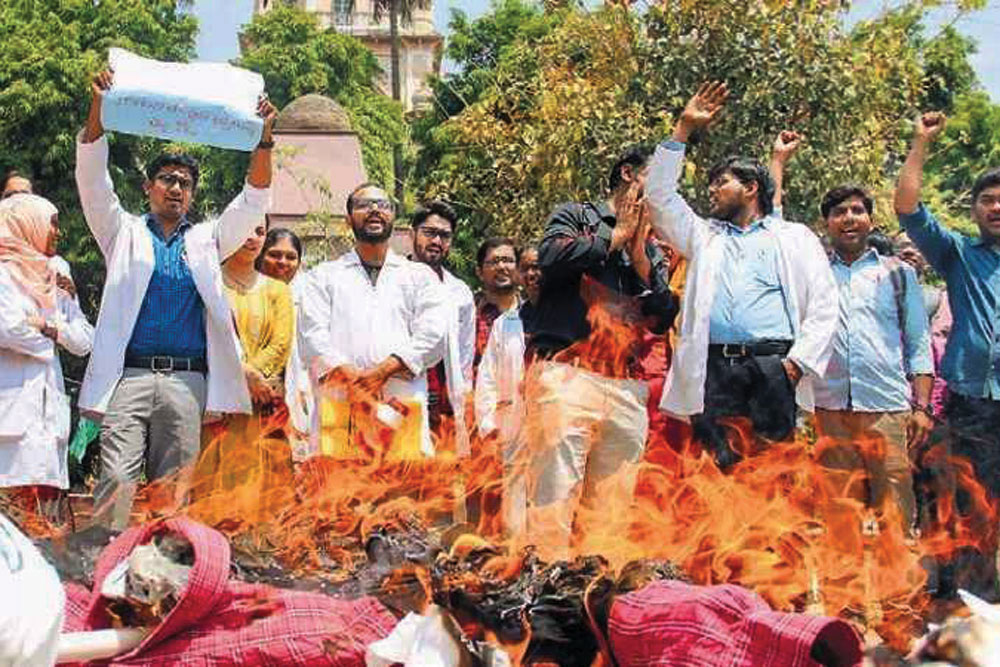 THE NARENDRA MODI Government's ambitious Ayushman Bharat-Pradhan Mantri Jan Arogya Yojana (AB-PMJAY), launched last year to provide 40 per cent of the population—based on deprivation and occupational criteria recorded in the Socio-Economic Caste Census (SECC)—a health cover of Rs 5 lakh per family, is an amalgamation of various state government health schemes, including Aarogyasri. Delhi, Odisha and Telangana have opted out of the scheme, which is funded by both Central and state governments (60:40). The AB-PMJAY is modelled along the lines of Aarogyasri, empanelling over 16,000 hospitals to implement 1,393 benefit packages. Where it differs is in the ratio of government to private hospitals—1:1 as compared to 1:2.6 in Telangana—besides the number of procedures covered. An oncologist with a leading pan-India multi-specialty hospital chain says that the low rates fixed for treatment packages under the Central scheme have scared off large corporate healthcare players. A Federation of Indian Chambers of Commerce and Industry and EY report published a couple of weeks ago points out that the tariff fixed under PMJAY for most procedures falls alarmingly short of costs. The quote for knee replacement surgery under the scheme, for instance, is Rs 92,000—less than half of the market price. "Existing private tertiary care hospitals looking at improving capacity utilisation through empanelment with the Ayushman Bharat scheme are likely to witness a significant drop in profit margins and return on capital employed even beyond the current dismal levels if their current operating model remains unchanged," the report says.
The scheme also aims to set up 40,000 Ayushman Bharat Health and Wellness Centres (AB-HWC) for primary healthcare by the end of the current financial year, but as with Aarogyasri, the focus appears to be on inpatient care. A projection by researchers at the Institute of Economic Growth, Delhi University, for 2019-2023, estimates that the PMJAY alone could account for 75-100 per cent of the Centre's annual health budget—Rs 6,400 crore has been allocated to the scheme this year—starving other primary and secondary health initiatives of funds.
Telangana, which spends about Rs 800 crore a year on Aarogyasri, has been working on schemes like KCR Kits for new mothers, a direct cash transfer of Rs 12,000 to pregnant women, Basti Dawakhanas and funding for diagnostics and other medical infrastructure to attract patients to state-run health institutions. The Aarogyasri Health Care Trust has also set aside 135 procedures to be performed only by state-run hospitals and by medical colleges. The state's expenditure on medical and public health and family welfare at 4.1 per cent of its total capital and revenue expenditure in 2017-2018 was less than its average of 4.7 per cent, amounting to about 0.9 per cent of the state GDP.
In the four days that the Aarogyasri scheme was offline, government hospitals across the state were overwhelmed with patient traffic they were clearly not equipped to handle. "The Aarogyasri scheme covers over 80 lakh people. It is impossible to make it work without the active involvement of the private sector. People are used to a certain level of care at private hospitals," says K Mahesh Kumar, a pharmacologist at Osmania Medical College, Hyderabad, and president of the Healthcare Reforms Doctors Association of Telangana. The debilitating shortage of resources at top-ranked government hospitals is worrying: Niloufer Children's Hospital is running out of a certain antibiotic, Vitamin A drops are not in stock at any of the hospitals that are part of the Osmania Medical College constellation, biomedical equipment is being neglected because maintenance contractors haven't been paid in months and the absence of portable X-Ray machines is causing deformities in fracture surgeries. Doctor recruitments, too, are pending and the state faces a shortage of 5,000 nurses.
At a closed-door meeting with private hospitals, a state minister is said to have advised them to reduce, over time, their exposure to Aarogyasri to a fraction of their total revenues. "There used to be a green channel for payments through which a percentage of dues got cleared every month. Now smaller hospitals are not able to meet operating expenses. What's compounding the situation is that the packages for procedures have not been revised since 2007. Cardiac surgeries involving long hospital stays, follow-ups and expensive consumables are no longer viable and several private hospitals have been referring patients back to government hospitals. A dozen hospitals dependent on Aarogyasri have shut down in the past couple of years," says T Hari Prakash, secretary, TANHA, who bought an ailing Aarogyasri-centric hospital unit in Hyderabad a couple of years ago.
"The smaller hospitals that came up to cater to the demand for healthcare under Aarogyasri have been hit the hardest," says Dr Venkataswamy Boorgula, a joint replacement surgeon who returned to his home district of Karimnagar in 2013 after 17 years in the UK to establish a service-oriented multi-specialty hospital. With premium infrastructure and doctors, Adarsha Hospital became a household name in Karimnagar but its dependence on Aarogyasri, EHS and other government health schemes for 75 per cent of its revenues spelt its doom. It has been a year-and-a-half since Dr Boorgula pulled the plug on his dream venture, in which he had invested Rs 20 crore and some of his most productive years as an FRCS practitioner, and he still drives down from Hyderabad on Thursdays to meet patients. "It felt like a personal loss to abandon the project. When I called it quits, the government owed the hospital about Rs 1.5 crore. I am yet to see some of that money," he says.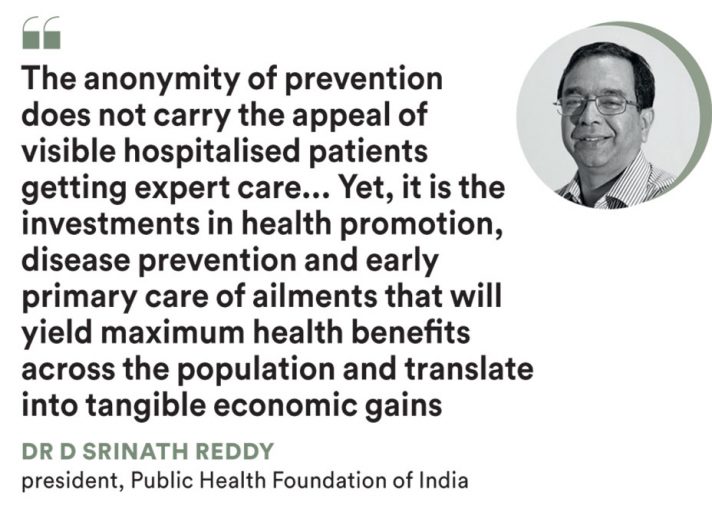 ENTIRE DEPARTMENTS AT corporate hospital chains with a substantial Aarogyasri caseload are hanging by a thread. A cardiac surgery department at a Hyderabad hospital has thus far managed to meet the revenue shortfall by actively raising money on crowdfunding platforms like Milaap. "The consumables for even a simple cardiac procedure number over a hundred—from tubings for oxygenation to central and arterial lines and cardiopulmonary bypass circuits. The average post-op recovery period is seven to 10 days. There have been instances where one case cost us over Rs 40 lakh, when the government package offered was just Rs 1.2 lakh. We met the shortfall through charities," says a surgeon at the department, requesting anonymity. Doctors are underpaid and overworked, he says, and unlike in government hospitals where some of the Aarogyasri money trickles down to the surgeon, they enjoy no special incentives. "I have to work 16-18 hours because the department cannot afford another surgeon. We handle about 50 cases a month," he says.
At government hospitals, 80 per cent of the funds from procedures claimed under Aarogyasri are ploughed back in the form of incentives for doctors and staff and hospital development. But with inordinate delays in payments from the Aarogyasri Healthcare Trust, government hospitals are slipping up in filing claims. "It is a lot of paperwork for me to file a claim under Aarogyasri. Why should I? We don't have a data entry operator. I'd rather make use of my time to treat another patient for free," says a junior neurosurgeon at Osmania General Hospital. "The documentation isn't as rigorous for government doctors but they must file claims within 48 hours of completion of a pre-authorised procedure. The hospital is fined for every day that they delay filing claims," says Aarogyasri Healthcare Trust administration officer B Venkateswara Rao.
At Nizamabad General Hospital, where a data entry operator files documentation and tracks claims, the number of cases under Aarogyasri has been on the rise—a growth of about 20 per cent per year. But it hasn't translated into improved infrastructure for the hospital. The dues under Aarogyasri, pending since August 2018, amount to Rs 1.32 crore for 566 procedures. Eighty more cases have been added to the list recently. "We provide special food for Aarogyasri patients and give them preference. They have access to a wider range of medicines. The Trust should be considerate towards government hospitals. They keep dues pending for the smallest reasons," says Dr Prathima Raj, the deputy superintendent and head of the department of general medicine. The hospital has applied for an upgrade from 500 to 750 beds. "The obstetrics department is overburdened. We need a cath lab. We are a reputed teaching hospital and we don't even have an ambulance or a dedicated power line," says Dr Raj.
"We don't tolerate foul play," says E Vineeth Kumar Reddy, the Nizamabad district Aarogyasri coordinator, pausing to glance through the list of 38 cases refused by the 13 empanelled private hospitals in the district citing the TANHA strike. The 1,200 Arogyamitras stationed at private and government hospitals across the state are entrusted with the responsibility of ensuring that the patient does not have to spend from his pocket for procedures, transport to and from the hospital, medicines and food. "The MoUs with private hospitals are signed year after year only if they perform satisfactorily. For instance, we stopped payments to Thirumala Hospital in Nizamabad, which was empanelled for oncology, because of irregularities." Private hospitals may be asked to upload up to 40 before and after photos of the procedure along with scans. "In rare cases, we have even asked for Webex video conferencing," Reddy says.
"Aarogyasri was designed to be a highly dynamic programme. You need 24×7 monitoring, a smooth workflow that clears payments within a week and a robust system of penalising fraud," says an officer involved in drawing up the scheme for the YSR government. "The Telangana government, and any government that looks to implement an ambitious public health insurance scheme, must be able to marshal the system into stern competence. Otherwise, they will only leave a legacy long on ambition and short on positive results."