HOW APPROPRIATE THAT the person I'm visiting in London today lives in a neighbourhood called Angel. And what an odd coincidence that it's Bastille Day, a most secular celebration considering I'm here to discuss the importance of spirituality in saving the environment. It's summer in Britain, so the sky is stereo­typically grey as I ring the bell of a charming red-brick row house.
The lady who opens the wooden door had an intriguing life. She entered the convent of the Sisters of the Holy Infant Jesus at the age of 17. At 24, she left, denouncing physical and psychological abuses: she was forced to mortify her flesh with whips, wear a spiked chain around her arm, and sew at a treadle machine with no needle for a fortnight. Her revealing memoir about these experiences, The Spiral Staircase: My Climb Out of Darkness, launched her career as an author in 2005.
However, we are not meeting to chat about Christian techniques on the path of devotion, but rather to discuss the ideas in Karen Armstrong's most recent book, Sacred Nature: How we can recover our bond with the natural world.
After her unfortunate experiences as a nun, Armstrong sought answers in books, becoming a successful essayist with bestsellers like A History of God: The 4000-Year Quest of Judaism, Christianity and Islam, a text that revolves around compassion—the golden rule of not doing to others what you would not want done to you. Armstrong, who sports a 1920s-style bob cut, walks and talks with the energy of a 17-year-old novice, despite being on the cusp of 80.
Skipping the ritual tea, I'd like to get straight to one of the most inspiring topics in her book—the idea that silent contemplation can lead to an enhanced perception of the sacred and this could ultimately help the environment where rationality has failed to move us into action.
"When we discuss nature," she tells me, as we sit by the window in her elegant drawing room, "we often frame the issue in terms of the danger we face, leading to a sense of impending catastrophe. This only paralyses us. The problem we perceive is so vast that we feel we don't know what to do. Of course, we know what we should do, but we don't do it. We drive cars, we travel by plane… all things we shouldn't do…"
At this point, I realise I should feel guilty about my carbon footprint, since I have flown to London to meet her, but luckily, I have become somewhat immune to the Judeo-Christian mechanism of guilt. What she seems to be saying is that at times this feeling of guilt, instead of promoting action, freezes it. Why is it that we don't take things seriously when it appears clear to us that increas­ingly extreme climate events are affected by human impact? As environmental militants like Greta Thunberg keep reminding us, we could do something about it. Why don't we?
"We don't take things seriously because we feel helpless. Reacting would require dismantling the deeply entrenched way of life we developed over the past 100 years or so. It's not about making grand strides to change our behaviours, but about reconnecting with nature in a way we haven't done in recent years. We must start with ourselves in order to rebuild our relationship with nature. We have a thousand ways to disconnect from nature— headphones, phones…"
It's true that we often embark on expensive travel to reach exotic locations only to hoist the mechanical barriers of our screens in front of them, mediating our experiences through a pervasive digital eye. Instead of engaging in a direct and silent dialogue with nature, we feel the need to continuously docu­ment every experience. If it's not archived on our smartphones, it feels like it didn't happen. Even in the face of danger, in the sudden presence of tornadoes, landslides, or floods, we see witnesses so absorbed in recording videos on their phones that they get swept away.
"Exactly. There's no awareness of the sanctity of nature. Yet we are entirely dependent on the divine. I don't mean a God sitting up in the heavens watching over us. I mean the sacredness we carefully cultivated in the past. It's not something we understand rationally; we understand it with our hearts, like when we listen to music. We need to engage in feeling the music of nature once again. There's no more time. We can't be paralysed by hopeless­ness. We need calm, determination, and the ability to plan actions that can change our mindset. The poet William Wordsworth, for instance, said he had learned to look at nature. When you're a child, it's easy to look at it with wonder. But then you have to re-learn how to look at it differently, step by step. If we don't do that, we can't change things. Recycling trash isn't enough. The problem is that as we're scaring people away from polluting, the result is only irritating them and immobilising their response."
This is a punctual analysis of the immobilising fear many feel today around the globe. But Armstrong, in her book, is actually suggesting practical solutions, simple spiritual exer­cises to lead our attention back to the sacredness of nature, a feeling we are losing, obsessed as we are with the need to consume nature as a two-dimensional backdrop to our vanity.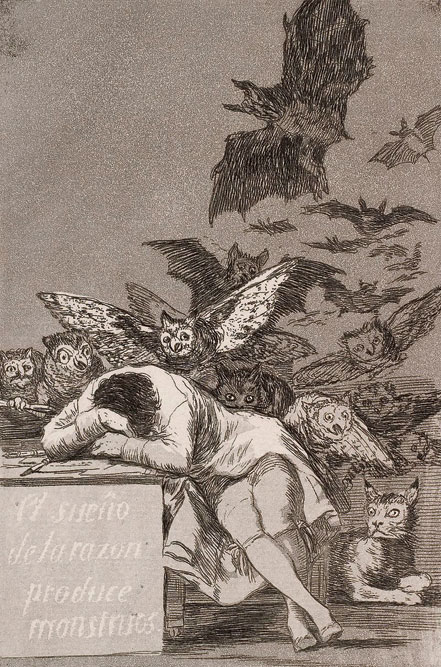 "Daily rituals are needed to reconnect with nature, and that's what I try to explain in Sacred Nature. Rituals are impor­tant. And I don't mean memorised prayers or hymns; all those texts won't work. But there needs to be a theatricalisation of ritual to touch the heart."
Armstrong believes we need to overcome the fallacy that myth is false or that it represents a mode of thinking inferior to rationality. This reminds me again that today is Bastille Day, the symbolic high point of the French Revolution and at the same time a milestone of the Enlightenment, as it represents the end of a king who considered himself divine.
THE AGE OF REASON, which resulted in the techno­logical society we live in today, made it a point to resist all kinds of misguided ideas like the Earth being at the centre of the universe, for example, that some religions had strenu­ously defended. Philosophers like Voltaire or Descartes accused the Church of obscurantism when faced with the mythology of religion.
I tell Armstrong that it evokes in my mind an aquatint by the Spanish painter Francisco Goya created at the end of the 18th century, portraying a man who has fallen asleep at his desk. As in an oneiric manifestation, large owls, gigantic bats, and other winged creatures flutter allegorically in the darkness above him, as feral cats sit menacingly by his chair. In Spanish folk tradition, owls were symbols of folly, bats symbolised ignorance—all creatures of mystery and evil. On the side of the desk Goya penned his message: El sueño de la razón produce monstruos. The sleep of reason produces monsters, the manifesto of the Age of Reason against what it perceived were just the invented stories of mythology, the monsters created by irrational fears.
"Myth isn't random thinking that comes to us; it's not a product of imagination. Myth is a story that happened once but continues to happen. The life of Jesus is a myth. It still happens that people are tortured, crucified, and die in agony. And myth must lead to action; it's not a daydream. Myth has to give us a task. It must be embodied in action, as rituals help activate our imagination, generating stories, music, dance, and poetry—everything that takes us beyond what is purely rational. And every good religion is like a myth. Again, like the myth of Jesus: suffering, new life, generosity. This means helping others face their pain, not staying stuck praying in a monastery. Facing pain, seeking it out, absorbing it, and offer­ing comfort, feeling the pain."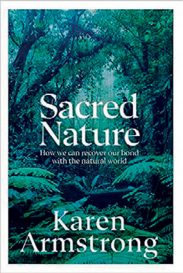 Fascinating message, but given her experience with the Catholic Church as a novice first and then a nun, and given her reflection on the history of religions and how they have impacted our reality, I wonder if she doesn't find that perhaps Christianity bears a greater responsibility than other religions in creating a disconnection between humanity and nature.
The idea that humanity should dominate nature instead of caring for it has been challenged by Pope Francis himself in the encyclical Laudato Si', where His Holiness explains there has been an error of translation and of interpretation in the Bible. Humanity should not have "dominion" over animals and nature; it should "care for" them. So, considering that colonialism—the holy dominion over "savage lands" and "savages"—was sanctified by the Catholic Church, standing on religious grounds, one wonders if there shouldn't be offi­cial apologies from the Church to Nature itself and also to the indigenous populations, often animists in deep and respectful touch with the environment that European powers massa­cred in the name of this sacred dominion.
"Certainly, that's true. We've seen it here with the coronation of King Charles in the UK, all the pomp and luxury. Where did they get all those precious stones? The spoils of the Empire. When they arrived in India, the Brit­ish went along with and even promoted the traditional caste system. It was useful to them. There is a responsibility, of course."
In Sacred Nature, Armstrong dives into an articulate analysis of the Tao and of Confucian­ism and New Confucianism and how they lean more towards a global political view than monotheistic religions. And, of course, Indian philosophy also centres on a feeling of union with the universe, not on individualistic separation, as such.
Western philosophy and society seem to have chosen to follow the ancient Greek maxim of the Seven Sages, "know thyself", inscribed on the Temple of Apollo in Delphi. This individualistic path today leads to the "be yourself" philosophy, to the concept of devel­oping your potential, improving yourself: it's all about oneself, and less about society.
It's a view of life that distances us more than ever from what Armstrong defines as ekstasis—the ability to reach a state outside of oneself, not the opposite. This leads us to believe that New Confucianism and other Eastern philosophies are better suited to saving the planet than Western thought.
"One could say that, yes. These philosophies are more global because they involve humanity, not just a group of individuals; it's a more collective idea. There's also this message in Christi­anity, like in the Book of Job, which looks at nature, but people in the West don't read the Bible as much, and they don't focus on that part as much as they should."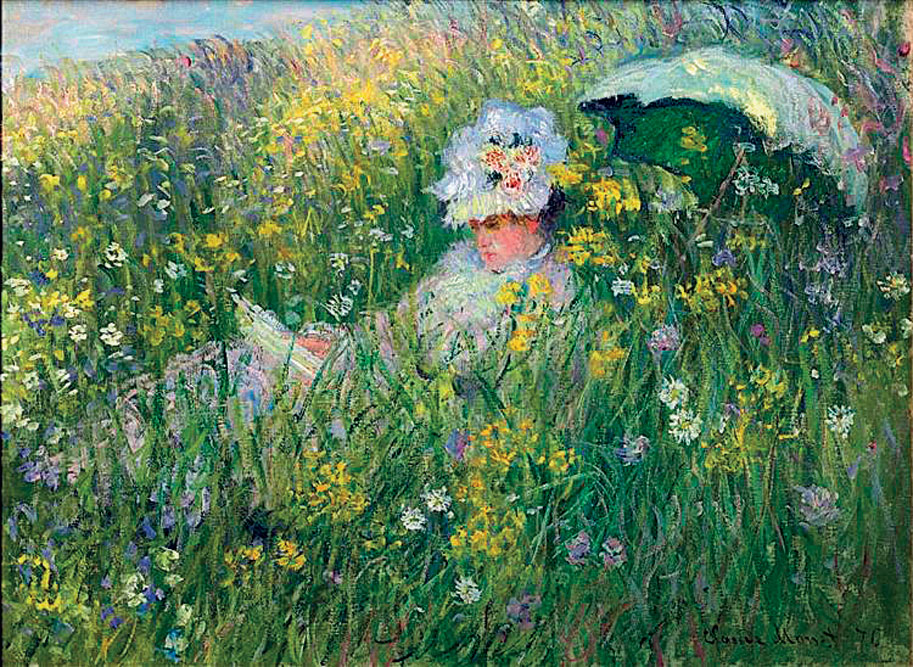 We have talked for a long time, lost in the pleasure of our conversation. But it's time to go. I decide to walk back to my part of the city. Healthier for me and for the planet. As I stroll through the busy metropolis, hood up, I make an inventory of what this book and this conversation have given me.
We are witnessing more and more traumatic climate events. We have data telling us that we are at least partially responsible for them. We could do something about it. But we don't. Rationality is not enough to make us act, curtailing our lifestyles, changing our consumeristic system, demanding stronger political action to protect the environment. Although the pandemic proved we can indeed live differently, we have gone back to our full consumption-polluting mode.
We have lost the silent dialogue with nature. If we sit in the woods, by a water course, in the mountains, near nature, if we try to reconnect in the contemplation of what Nature is, we might nourish back a sense of sacred which could help us finally act in order to diminish the impact of our activities on climate change.
It seems like a small step, a walk in the woods, a stroll by the river or the sea, or even in a park, for lack of anything else. Turn­ing off the phone, trying to listen to the sounds of nature, and hearing what they say. Not just to alleviate our daily stress but to reconnect and start a silent dialogue leading to greater respect. The beginning of salvation might just be as simple as that.