The Khalistan movement may be practically dead in India but it is alive and kicking in sections of the Sikh diaspora living in the five Anglosphere countries thanks to those nations tolerating the operations of extremist Sikh groups that are promoting or glorifying terrorism against the Indian state and its diplomats and citizens. These English-speaking countries, which are tied together by the so-called Five Eyes intelligence-sharing partnership, receive the bulk of Indian students studying abroad and also are home to large Indian immigrant communities.
Notwithstanding the absence of any real support for Khalistan in India and the rejection of religious secessionism by the majority of overseas Sikhs, violence-espousing separatism has grown among Sikh radicals sheltered by the US, Britain, Canada, Australia and, to a smaller extent, New Zealand. Worse still, these foreign-based militants are aiding, financing or orchestrating violence in Punjab and elsewhere in India. In cases where such extremists entered India to stage terror attacks, a number of them were arrested or killed by police in shootouts.
Abroad, the modus operandi of Khalistanis is to take control of cash-rich gurdwaras, using them as a base both for stoking militancy among other Sikhs and for funding terrorist activities by diverting proceeds from narcotics trafficking and worshippers' donations. To win political protection, such foreign-based militants also contribute, at times generously, to political parties' electoral campaigns, especially to help preferred candidates win. Canada is a prime example of that.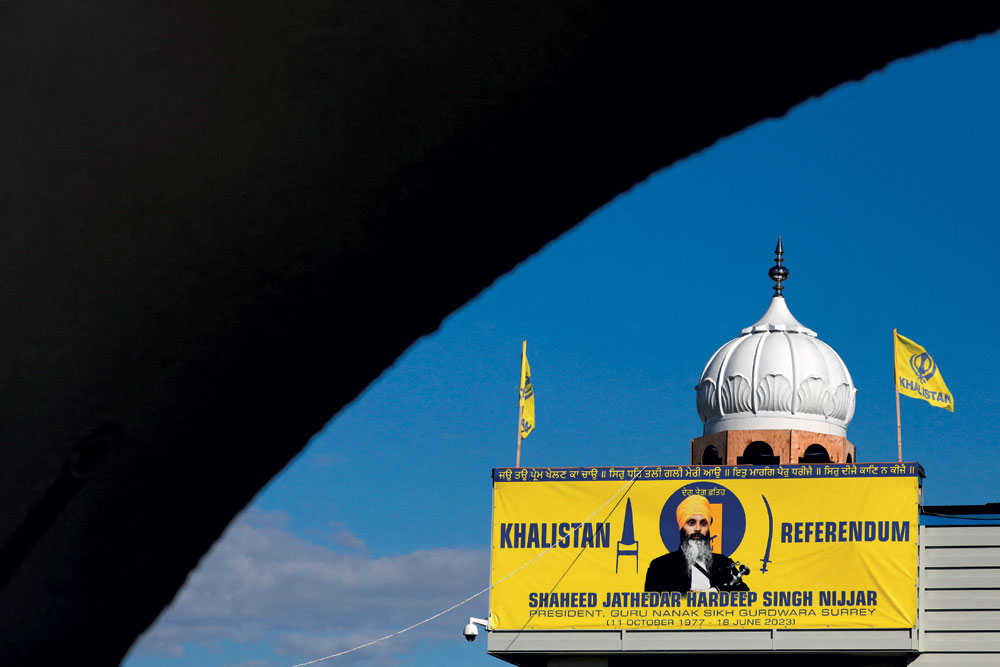 Control of gurdwaras, no less importantly, gives such militants cover as supposed religious figures. For example, the slain Canadian terrorist, Hardeep Singh Nijjar, who had an Interpol Red Corner Notice against him since 2014 in connection with multiple terrorism cases in India, has been described in the Canadian media as "president" of a gurdwara and "a Sikh preacher". Such labels help obscure the fact that Nijjar was a terrorist fugitive from India when he entered Canada on a fake passport under the name Ravi Sharma, before he eventually become the Canada-based head of the Khalistan Tiger Force.
The foreign-based Khalistanis also draw recruits from Punjab by financing their emigration or non-immigrant relocation to an Anglosphere country. Malleable youths in Punjab are sponsored for non-immigrant visas, including for work in gurdwaras. Once abroad, the youths, after indoctrination and financial help, serve as 'foot soldiers' of the local Khalistan brigade.
Making things murkier is increasing evidence of an unholy nexus between some Anglosphere security or intelligence agen­cies and prominent Khalistanis. Key extremists are not just being shielded by such agencies; some also serve as intelligence assets, including possibly Gurpatwant Singh Pannu, an American-Ca­nadian citizen who recently made headlines by ordering Hindu Canadians, on pain of punishment, to flee from Canada. It is tell­ing that Pannu, like some other Anglosphere-based Khalistani terrorists wanted in India, continues to operate with impunity.
After Nijjar's killing in June, Khalistanis in the US, especial­ly those residing in California (where many Sikh radicals are based), received warnings from the Federal Bureau of Investiga­tion (FBI) about potential threats to their lives. According to one report, FBI agents individually contacted such radicals to warn that their lives could be at risk.
It is such shielding of the militants, without reining in their growing violence-endorsing extremism, that resulted in twin at­tacks on the Indian consulate in San Francisco this year. The first occurred in March, just hours after Khalistani militants stormed the Indian High Commission in London and pulled down the Indian flag. And the second attack came less than four months later, with the Khalistani arsonists quickly posting online a video of the blazing fire they set inside the consulate compound.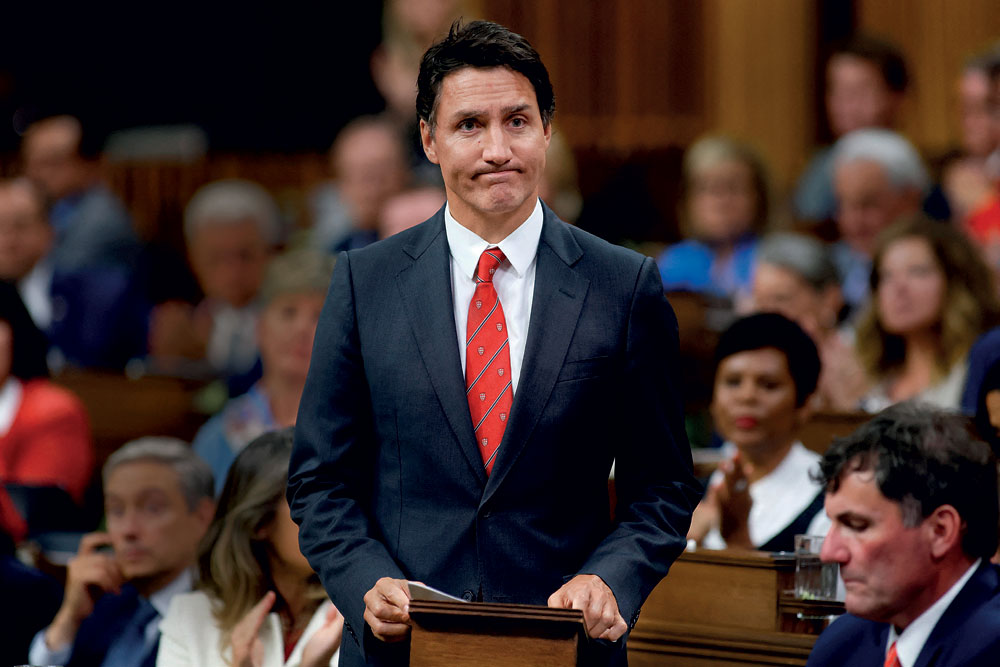 Yet, having failed again to protect the consulate, the US merely condemned the attack. And, despite the fire the militants set in­side the compound, it qualified the attack as "reported vandalism" and "attempted arson".
How would the US have reacted had some militants staged twin attacks on one of its consulates in India, setting ablaze some structures, and India did little more than condemn the attack, including seeking to downplay it by calling it reported vandalism and attempted arson? Or how would Canada react if India shel­tered gun-toting Quebecois who pursued violent anti-Canadian separatism from Indian soil?
The US inaction, for example, has led India's anti-terror agency to issue a reward for information over the attacks on the San Fran­cisco consulate. And the Indian government has been constrained to issue a travel advisory warning Indians of the "growing anti- India activities and politically condoned hate crimes and political violence in Canada".
Meanwhile, Britain, despite an Indian-origin prime minister at the helm, remains a hotbed of anti-India Sikh and Islamist mili­tancy. As if seeking to emulate its colonial-era 'divide-and-rule' policy in India and elsewhere, Britain has long hosted Sikh and Kashmiri secessionists from India, doing little to contain their violent separatism.
Today, Britain has become a safe refuge for Indian financial fraudsters and those accused of terrorism and other crimes in India. London's failure to protect Indian diplomatic missions and diplomats from militant assaults has led to copycat attacks elsewhere in the Anglosphere, including in San Francisco. The attack on the Indian High Commission in London in March was not the first storming: On India's Independence Day in 2019, for example, extremists from India and Pakistan attacked the high commission, smashing windows and causing other damage.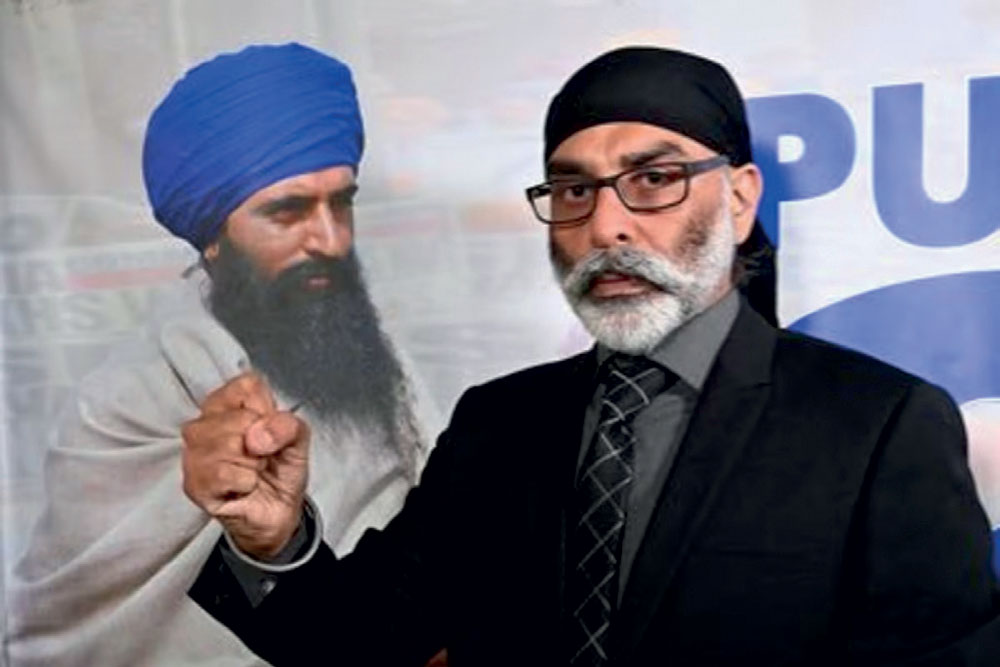 Oddly, in shielding leading Khalistanis, Western intelligence services are implicitly aiding Pakistan's efforts to destabilise India. Pakistan's rogue Inter-Services Intelligence (ISI) agency has actively aided the Khalistan movement, including facilitating military training. For example, the ISI-trained Nijjar went on to establish a training camp for new recruits near Mission, which is about one hour east of Vancouver by car. At this camp, new re­cruits were trained to use AK-47 and other weapons.
India's concerns about the operations of Sikh and Kashmiri terrorists from the Anglosphere countries actually go back to the 1980s, when an Indian diplomat was murdered in Birmingham in Britain and a bomb downed an Air India flight from Toronto, killing all 329 people on board. Organised by Khalistani extremists operating out of Canada's British Columbia province, the Air India bombing, until 9/11, was the worst act of terrorism in the sky.
Today, by continuing to shield dangerous Khalistani terror­ists or extremists, the Anglosphere countries are imperilling In­dian interests and security. It is as if some Western governments wish to employ the Khalistan card as political leverage against India. Allowing provocations from the Khalistani diaspora in the Anglosphere to go unchecked could even impinge on the inter­ests of Sikhs in India by affecting the traditionally harmonious Hindu-Sikh relations and close bonds.
 CANADA IS GROUND ZERO FOR KHALISTAN MILITANCY
Canada is both a refuge and a haven—a refuge for migrants from many countries, and a haven for activists, militants and even international terrorist fugitives, including from major democra­cies like India.
On India, Canada has come full circle: From the early 1980s, it ignored India's protests over the growing operations of violent Khalistanis from Canadian soil, including the evidence it received from New Delhi, thereby emboldening the extremists to carry out the 1985 Air India flight bombing and a couple of other attacks. In more recent years, by disregarding the detailed intelligence dossiers New Delhi has presented about how Canadian Khalistanis are fomenting terrorism in India, Ottawa brought bilateral ties under increasing strain, before Prime Minister Justin Trudeau dealt a grievous blow to the Indo-Canadian relationship by hurl­ing a bombshell accusation at New Delhi.
Trudeau's wilful tolerance of violent Khalistanis has followed similar indulgence of Sikh terrorists by his late father. In 1982, then Prime Minister Pierre Trudeau turned down the request of the Indian government headed by Indira Gandhi to extradite Babbar Khalsa chief Talwinder Parmar. Permitted to stay en­sconced in Canada, Parmar went on to become the mastermind of the Air India flight bombing.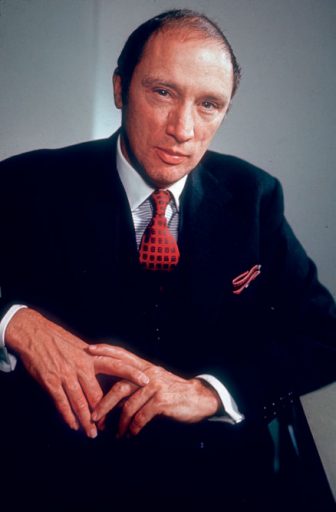 Two separate Canadian probes identified Parmar as the chief ter­rorist behind the bombing of Air India Flight 182. The main probe, a commission of inquiry led by former Supreme Court justice John Major, submitted its report in 2010—25 years after the bombing. The commission of inquiry was set up belatedly—only after a probe led by Bob Rae, an independent adviser to the minister for public safety, submitted its report in 2005. Ottawa extended little coopera­tion to New Delhi in investigating a bombing whose victims were largely Indian-origin Canadians and Indian nationals. In fact, in the period after the bombing, damning evidence about Canada's sins of commission and omission was destroyed.
Despite the findings of the two inquiries, Justin Trudeau's partner in keeping his minority government afloat, New Democratic Party leader Jagmeet Singh, told CBC Television in 2017 that he doubted that Parmar was the true architect of the Air India bombing. He also refused to denounce Canadian Khalistanis who glorify Parmar as a martyr. Jagmeet Singh—"a committed Khalistani," in the recent words of another prominent Canadian Sikh politician, Ujjal Dosanjh—was denied an Indian visa in 2013 over his "anti-India" activities.
The growing nexus between Sikh militants and criminal and drug networks, in the meantime, has contributed to increasing gangland killings in British Columbia. Indeed, Nijjar's murder came amid sharpening inter-gang rivalries among Khalistanis, largely driven by mounting profitability from the drug trade and easy availability of guns.
Against this backdrop, Canada today serves as ground zero for Khalistan militancy, with British Columbia the global headquar­ters of Sikh extremists promoting or glorifying terrorism. In per capita terms, there seem to be far more Khalistanis in Canada than any other country, including India, Britain or the US.
Ominously, money and muscle have helped the Khalistan movement to rapidly enlarge its footprint among Sikhs in Canada, currently estimated to number about 7.7 lakh. Indeed, such is the growing sway of Khalistanis that they already dominate Sikh politics in Canada, drowning out the voices of moderate Sikhs who do not support secessionism. The majority of Canadian Sikhs, however, remain peaceful and uninterested in violent religious separatism.
But, with Canadian authorities looking the other way, the Khalistani extremists have incited hate and violence, held a Khalistan-linked referendum, and glorified former Prime Minister Indira Gandhi's 1984 assassination through a parade float in Brampton, Ontario, that sought to immortalise her assassins. The Khalistanis have also issued death threats and announced cash rewards for attacks. Their targets include Indian diplomats, not just in Canada but also elsewhere, including the current Indian ambassador to the US, who is a Sikh.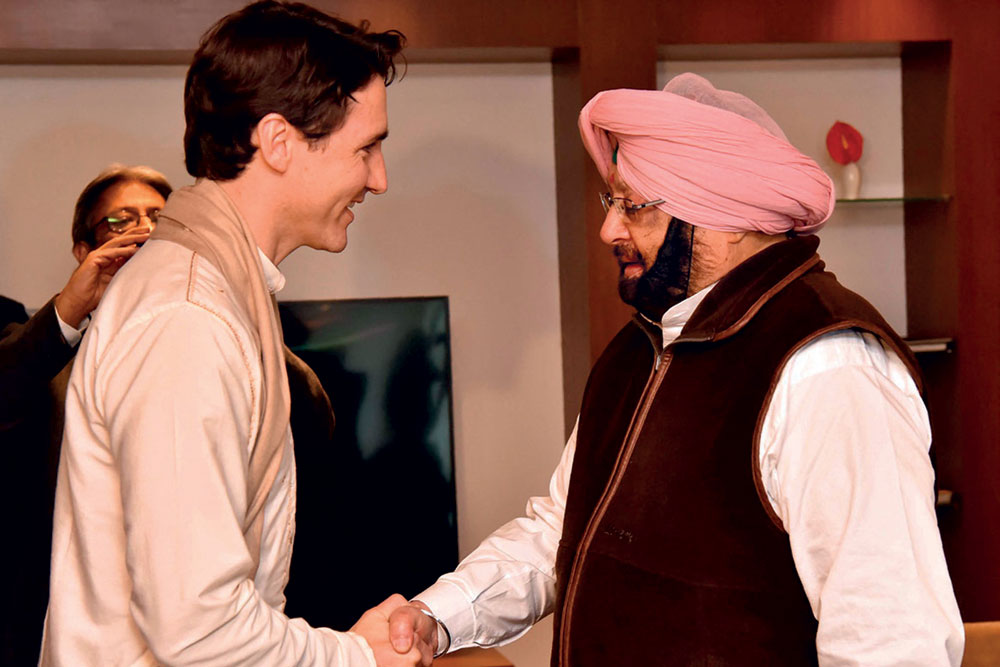 Still, internecine infighting among rival factions continues to plague the Khalistan movement in Canada. The toxic intersection of violent separatism, drug trade and gun culture holds significant implications for Canada's own long-term security. Yet, Ottawa remains reluctant to crack down on this nexus.
Trudeau's political blunders, including cultivating the vote of radical Sikhs and turning a blind eye to the hate and violence they incite, have now extended to personally meeting with and honouring a Nazi war criminal, before arranging for this Canada-based Nazi veteran from Ukraine to receive a standing ovation in the Canadian parliament in the presence of a cheering Ukrainian President Volodymyr Zelensky.
The tribute to the Nazi veteran, without vetting his background, and the Trudeau-initiated diplomatic spat with India are both helping to shine a spotlight on Canada's unenviable status as a safe haven for terrorists, war criminals and other extremists from multiple countries. Canada has long been home to international fugitives, with Pierre Trudeau once famously saying that he chose not to prosecute Nazi war criminals in Canada lest it inflame European expat communities.
Meanwhile, on Justin Trudeau's watch, there has been a steady diminishment of Canada's place in the world, thanks to his missteps and blunders.
For example, Justin Trudeau inadvertently highlighted his cosy ties to Khalistanis by including a convicted Sikh terrorist, Jaspal Atwal, on his 2018 trip to India. The visit was marred by revelations that Atwal, who went to prison after being convicted in 1986 of the attempted assassination of an Indian state cabinet minister visiting Vancouver Island, was formally invited to a reception in honour of Trudeau at Canada House, the official residence of the country's high commissioner in New Delhi. During the earlier Mumbai leg of the visit, Atwal was photographed posing with Trudeau's wife, Sophie Grégoire Trudeau (now separated), as well as Canadian cabinet ministers and MPs.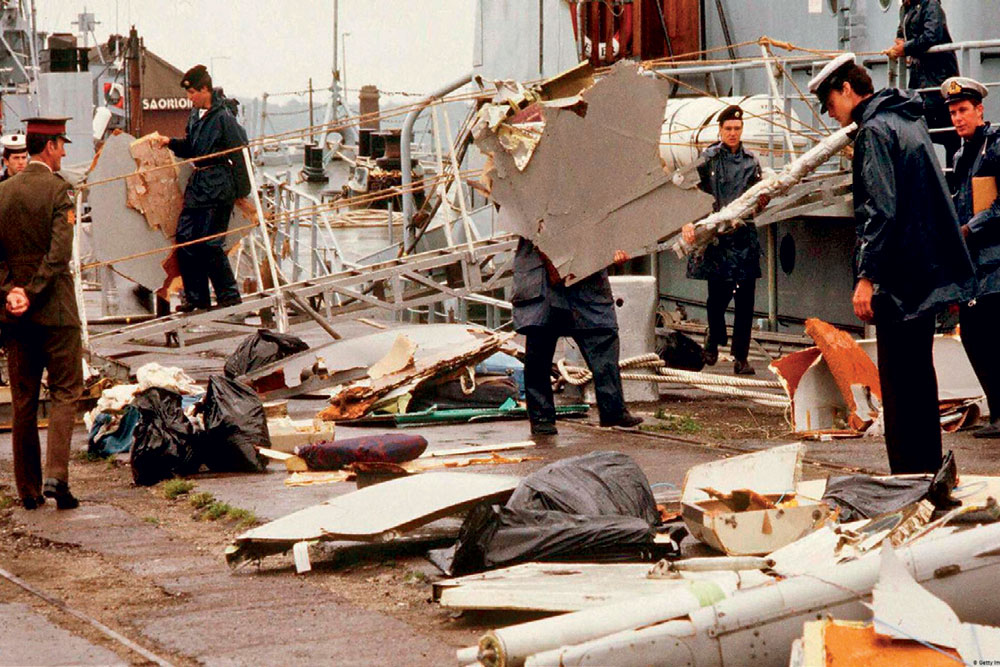 In fact, during Trudeau's disastrous 2018 trip to India, then Punjab Chief Minister Amarinder Singh made it a point to hand the Canadian prime minister in Amritsar a list of terrorism-promoting Khalistani operatives based in Canada. Nijjar was one of the names on the list. Earlier, while voicing concern that Sikh extremists were "infiltrating" Trudeau's cabinet, Amarinder Singh famously snubbed Trudeau's then defence minister, Harjit Sajjan, when the latter visited India in 2017.
Take another disquieting example: Canada has given refuge to a key assassin of Bangladesh's founding father, Sheikh Mujibur Rahman. Bangladesh Prime Minister Sheikh Hasina has repeatedly urged Trudeau over several years to extradite Nur Chowdhury, who is thought to have personally fired the bullets that killed her father. Chowdhury was convicted in absentia. But Trudeau continues to drag his feet over the issue.
The latest blunder in Ottawa in honouring a Nazi war crimi­nal further dents Canada's international image—and Trudeau's standing at home.
Canada must start cleaning up its act at home, or else its growing reputation as a sanctuary for international fugitives would become indelibly etched in the collective consciousness of the world. India has already officially labelled Canada as "a safe haven for terrorists, for extremists, and for organized crime", as the Ministry of External Affairs spokesperson put it.
TRUDEAU BITES OFF MORE THAN HE CAN CHEW
Let us be clear: Trudeau's September 18 statement in the House of Commons was not about Canadian security agencies finding evidence of India's role in Nijjar's killing but, as he put it, "credible allegations" of a "potential" India "link" to the murder. Months after Nijjar's killing, Canadian police have not been able to arrest a single suspect in connection with the shooting.
With no arrests, let alone any evidence, Trudeau aired just allegations, knowing that such a step would seriously damage Canada's relations with the world's fastest-growing major economy. The phrase "credible allegations", in fact, is an oxymoron. There is credible evidence, but any allegation is simply an allegation.
When India sought to share intelligence with Canada after 2014 on the violent Sikh separatists operating from Canadian soil, Ottawa refused to take it, contending that "intelligence is not evidence". That contention is correct: Intelligence is not evidence but mere information whose authenticity and evidentiary value must be established.
Yet, in an ironical twist, Canada's prime minister has now levelled serious allegations against India on the basis of intelligence that Ottawa will not even share with India. As the Indian External Affairs Ministry has categorically stated, "No specific information has been shared by Canada on this case, either then or before or after".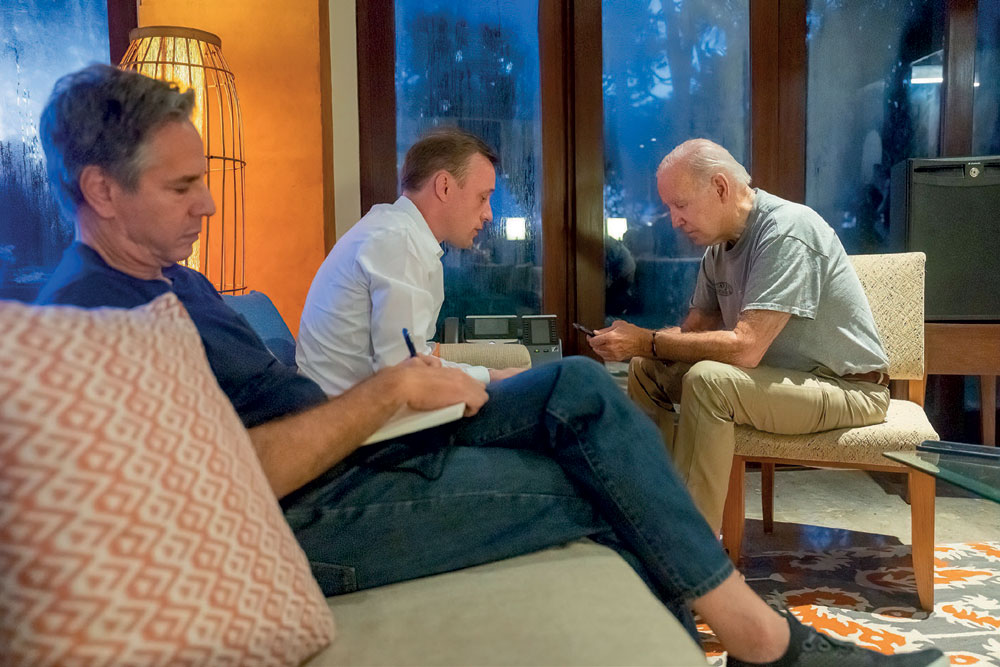 Look at another jarring paradox: Since taking office some eight years ago, Trudeau has refused to cooperate with New Delhi to help address longstanding Indian concerns over the growing Canadian Sikh extremism directed against India. But Trudeau now, with US backing, insists that India cooperate with Canada in probing the Canadian government's allegations, without Ottawa declassify­ing the claimed intelligence about the India link to the killing or confidentially sharing the intelligence with New Delhi.
If Trudeau had any convincing intelligence linking India to the killing, he would by now have declassified it, instead of repeatedly airing mere suspicions. The absence of hard evidence, in fact, has led the Trudeau government to plant stories in the Canadian media about intercepts of communications between Indian diplomats after Nijjar's murder. The intercepts might be about celebratory chatter over a dreaded terrorist's death, but such conversations can hardly attest to an Indian government's role in the killing.
Indeed, with Trudeau having already rushed to a conclusion before Canadian security agencies have managed to collect evidence, we may never know the truth about Nijjar's killing. One critical eyewitness to the murder, Malkit Singh, who was Nijjar's gurdwara aide, has suggested that the killers were Sikhs. "He described them as wearing 'a Sikh get-up', with hoodies pulled over small pughs [pagris] on their heads and masks over their 'bearded faces'," according to a Washington Post report.
Contrast Trudeau's evidence-free allegations against India with the video, audio or forensic evidence other countries have presented in the past while linking foreign agents to a killing on their soil. And also contrast Trudeau's direct linking of the Indian government to the killing with the restraint other countries have often exercised, casting the blame on foreign agents for a murder but not the governments they represent so as not to preclude the involvement of rogue elements.
For example, when 11 Israeli agents assassinated Hamas commander Mahmoud al-Mabhouh in a Dubai hotel room in 2010, the United Arab Emirates painstakingly collected a trove of investigative evidence before publicly releasing compelling surveillance footage and photographs of the agents—but without accusing the Israeli government or Mossad of involvement.
The US government's reaction to Trudeau's allegations against New Delhi was initially muted to help protect America's relation­ship with India. But after the American and Canadian media re­ported that Canada had received no support from its Western al­lies in its diplomatic spat with India, US National Security Adviser Jake Sullivan and Secretary of State Antony Blinken chipped in. But their grating words for New Delhi could only have ruffled Indian feathers.
Sullivan, for example, stated that was no "special exemption" for any country in the matter of extra-territorial killings and that there has to be accountability, which is why the US, he said, was in touch with India at "high levels". But why would India, to defend its interests, seek any "special exemption" from the Big Daddy of extra-territorial assassinations? While India has never before been accused of assassinating anyone on Western soil, the US is the longstanding world record holder in extra-territorial assassinations.
Here is a reality check: America's siding with Canada shows that its relationship with any of its Five Eye allies will always take precedence over its ties with India. After all, the Five Eye countries are America's closest allies and bound together by treaty arrange­ments, while India is just a strategic partner.
But the fact that the intelligence Washington shared with Ottawa, however sketchy, which helped embolden Trudeau to pick a geopolitical fight with India could have a bearing on the di­rection of US-India ties, not least by reinforcing India's imperative for preserving its strategic autonomy, makes the task of building mutual trust harder.
Less clear is what Ottawa and, implicitly, Washington have sought to achieve against India through allegations arising from the murky world of espionage, where the line between informa­tion and disinformation gets easily blurred for geopolitical ends. Can vague, unsubstantiated allegations about a "potential" India link to a terrorist killing serve any purpose, other than to make New Delhi rethink its nascent foreign policy tilt toward the West?
More fundamentally, Trudeau's gambit, instead of putting India in the international dock, appears to have boomeranged. At home, Trudeau has faced increasing pressure to come clean and present hard evidence to back his allegations against India.
Furthermore, his allegations, instead of creating international solidarity against India, are only helping to focus global attention on what prominent Canadians have long expressed concern about—Canada's role as a safe haven for terrorists, war criminals and other extremists. India's longstanding concern over Ottawa's reluctance to rein in the Khalistan movement and extradite extremists wanted in India for terrorist acts is now getting attention even in the Canadian media.
New Delhi, however, should not expect Trudeau to back down. Trudeau's track record shows that he never admits that he was wrong. Instead, he seeks to palm off blame to someone else. Even in the tribute-to-a-Nazi case, he has refused to take responsibility, with the House of Commons speaker becoming the fall guy.
The truth about Trudeau, however unpalatable, is that he is a serial hypocrite. For example, while shedding crocodile tears over the killing of a dreaded Sikh terrorist that his government long shielded, including by rebuffing New Delhi's demand to send him over for prosecution, Trudeau has cited the importance of a "rules-based order". But in August 2022, Trudeau extolled the US assassination of Ayman al-Zawahiri, a 71-year-old retired terrorist living with his children and grandchildren in a Kabul apartment, hailing the hit-job as "a step toward a safer world".
Trudeau has accused New Delhi of interfering in Canada's internal affairs. Yet, illustrating his blatant interference in India's domestic affairs, Trudeau in 2020 cheered on anti-government Indian farmers blockading highways near New Delhi. While defending protesters' rights half-a-world away, Trudeau declared a national emergency in Canada last year to crush peaceful protests against his mandatory Covid-19 vaccination policy, calling their blockades a security threat akin to terrorism. The gun-toting terrorists in Canada, meanwhile, remain untouched by his government.
It is such stunning hypocrisy that has contributed to plunging Indo-Canadian relations to their lowest point ever. Not surpris­ingly, India today identifies terrorism as the core issue troubling its ties with Ottawa, with its travel advisory warning Indian na­tionals that Canada is plagued by "politically condoned" violence.
Canada's indulgence of Sikh separatists, in general, and Sikh terrorists, in particular, has increasingly rankled India. During his term in office, Trudeau has employed freedom of expression as a cover to allow rising anti-India activities of Sikh extremists, as if Canada has no laws against hate or incitement to violence. The extremists openly espouse political violence as a legitimate tool to achieve Khalistan.
With the Paris-based Financial Action Task Force (FATF) content to look the other way, Canada has done little to ensure that its territory is not used for terrorist financing. Former Canadian Security Intelligence Service (CSIS) Director Ward Elcock has raised the question whether Ottawa is wilfully "tolerating terrorist groups operating from Canada". As Elcock put it, "There is a history in this country of Sikh extremism verging into terrorism". Cutting off terrorist financing would help choke the Khalistan movement in Canada.
But make no mistake: The rising concern over Canada's har­bouring of terrorists and extremists is not just about Indo-Canadian relations or Indian security; it also holds implications for wider security. A day may come when Canadian Khalistanis carry out a major terrorist strike in Can­ada or a third country.
After all, Ottawa appears to have learnt no lesson from the 1985 Air India flight bombing. Nor is there recognition in Ottawa that it is easier to damage a bilateral relationship with a fellow democracy than to rebuild it.
The emergence of Canada as the in­ternational epicentre of Khalistan mil­itancy, however, should not obscure the broader role of the Anglosphere in sheltering and shielding Sikh extremists fomenting terrorism in India. Still, good relations with the Anglosphere countries are pivotal to the wider pursuit of India's diplomatic interests. India must leverage access to its huge market, including trade deals, as well as geopolitical and military cooperation to bring the Anglosphere countries under sustained pressure to stop tolerating violent Khalistanis.