IT WAS THE SUMMER OF 2010 and Barack Obama's military surge into southern Afghanistan was ramping up. Having inherited a losing war from his predecessor, the Democratic president was determined to turn the country around. It was going to be a tall order. A decade after American jets had bombed them from power, the Taliban were rampant. Yet, having talked up the importance of Afghanistan endlessly on the election trail, Obama felt he had little option but to try. He had dispatched or promised 47,000 extra American troops to the fight, doubling the size of the NATO-led force in Afghanistan. In the southern provinces of Kandahar and Helmand, which the new American strategy was to occupy and police, the conflict was already fierce. It was claiming thousands of lives, of soldiers, insurgents and civilians, every month.
Not that it was in any way apparent from your correspondent's perch in Kabul one sultry evening that summer. Having recently returned, unshaven and with nerves jangling, from a trip to the violent south, I had joined friends at a French restaurant in Kabul, L'Atmosphere, to unwind. "L'Atmos", as the local expats called it, was one of the city's most salubrious hangouts. After being frisked for hidden guns or bombs at the door, its diners entered a neon-lit walled garden, where trance music played, attractive young aid workers, mostly European and American, chatted and flirted around an azure swimming pool, and wine flowed in rivers. The booze and food were excellent; the restaurant was reputed to have a deal going with the local French peacekeeping contingent to fly the stuff in from Paris. It was about as removed from Afghanistan's continuing violence and hardship as it would be possible to imagine.
Indeed, this decadent oasis in the Afghan capital seemed to encapsulate the hubris, fantastical idealism and jolting cultural dissonance that had defined the ill-fated American-led reconstruction effort in Afghanistan. My companion in L'Atmosphere, another hard-travelled British journalist, leant over towards me, with a grim look on his face, swept his arm around the restaurant, then shouted into my ear: "All of this, all of this madness, this can't go on." The only surprise, a decade later, as Joe Biden prepares to withdraw the last remaining American troops from Afghanistan, is that it lasted as long as it has.
During the dozen or so years in which I was a frequent visitor to Afghanistan, 2003-14, I experienced many such moments of clarity. The strange mismatch, the glaring incongruities, between naïve Western efforts and tough Afghan reality, were endemic and unignorable. There was the time, after I had first driven up to Kabul from my house in Islamabad, when I learned that a former university friend, now working as a British diplomat, had been responsible for designing a propaganda poster to warn illiterate Afghan farmers against growing opium. My pal, a talented artist, had sketched an opium poppy for the poster; yet when it came back from the printers, the poppy had somehow morphed into a lovely pink rose. The poster was distributed across southern Afghanistan anyhow.
And then there was the time I had chatted through the rationale for the Obama surge with a senior British officer who had helped make the case for it. A brilliant soldier, who had spent much of his career in the elite Special Air Service, he had been sent to Helmand to investigate local sentiment, the strength of the local Taliban and the prospects for a redoubled Western peacekeeping effort in the province. And to hear his report, almost nothing that he had found there suggested those prospects would be bright.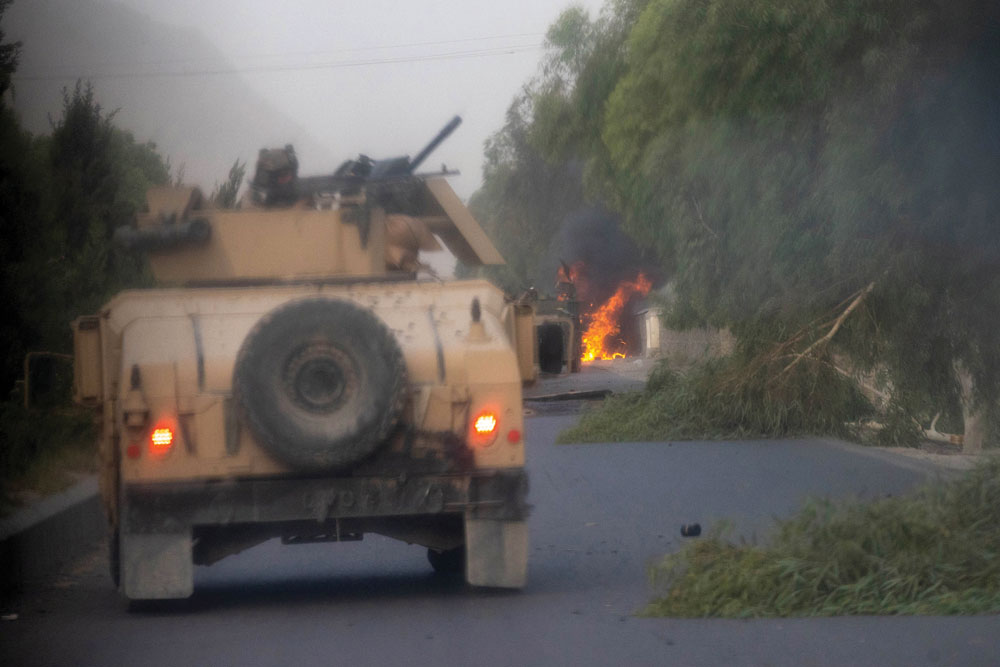 Years of light-footprint American counter-terrorism missions, in one of the Taliban's original strongholds, had caused untold misery and turned many of the local leaders against the Western effort. The Taliban were well-organised and thickly involved in Helmand's flourishing opium production. The local representatives of the elected Afghan government were corrupt and no less bullying or violent than the Talibs. I therefore put it to my officer friend that dropping 10,000 British and Americans into this mess was likely to lead to a lot of violence and perhaps nothing good. He agreed that that was possible. "But we have to do something for the Afghan people, they're so marvellous," he said. The impending deployment, to be clear, did not sound like a well-conceived plan.
I could go on. Illustrations of Western misunderstanding and bungling in Afghanistan were everywhere. There were the concrete palaces of the Tajik and Uzbek drug lords mushrooming around Kabul; the extortionate rents those same gangsterish powerbrokers charged Western NGOs for their downtown office space; the Utopian plans hatched by the agencies, in their over-priced rented offices, to catapult Afghanistan's war-shattered economy into the 21st century. One day you would meet an earnest Westerner, fresh out of grad school in London or Washington DC, who was working on Afghanistan's "potential for horticulture" (the potential was always enormous). The next day a World Bank official would describe his nascent plan to develop the country's financial sector. (What financial sector? You wondered. Less than 10 per cent of Afghans had a bank account.)
And then, too, there was the continual violence, the habitual indictment of the Western effort, the hard edge of its collision with reality. Thinly spread, and so heavily reliant on air power, the US-led force was from the start responsible for an apparently unending litany of atrocities. A few of these bombed wedding parties and bombed festivals made headlines. Subsequent investigations, by a handful of journalists brave enough to carry them out, suggested many more escaped the attention of the Western taxpayers funding the war. Indeed, it seems many were not even recognised by their American and British perpetrators.
In his horrifying chronicle, No Good Men among the Living, Anand Gopal of the Wall Street Journal and Christian Science Monitor describes one such disaster. In January 2002, a US special forces team was dispatched to two mud-walled buildings in Uruzgan province after they had been identified as "al-Qaeda compounds." The team duly slaughtered 21 people, took another 26 prisoner, blew up most of what remained of the compounds, and left a note in the wreckage that read: "Have a nice day. From Damage, Inc." Weeks later, the prisoners were quietly released. They were not members of Al Qaeda or the Taliban. The compounds were the offices of two pro-government district governors, one of whom was executed by the Americans during the raid.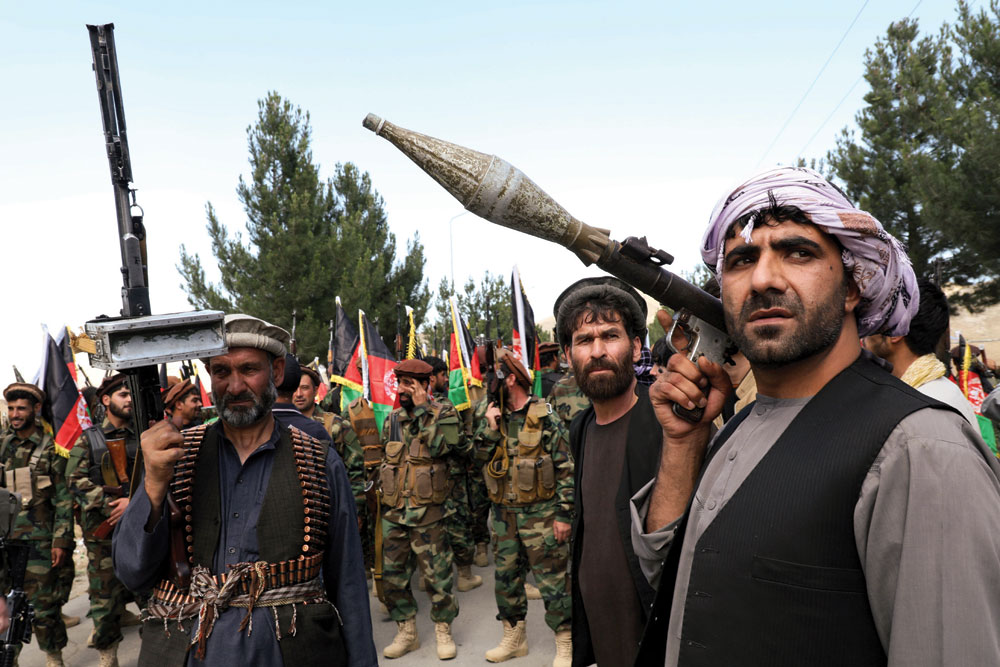 There has been little more reckoning for these terrible Western blunders than there has been for the many victims of Taliban brutality. Members of the American special forces squad that carried out the slaughter in Uruzgan left Afghanistan as war heroes. Yet, as the Western chapter of the war concludes (the Afghan chapter is certainly ongoing), a bigger reckoning is possible.
RESEARCHERS AT BROWN UNIVERSITY suggest the 20-year debacle of America in Afghanistan has claimed almost a quarter of a million lives. That includes some 50,000 Afghan civilians and a similar number of Afghan militants. Almost 70,000 Afghan soldiers and police have been killed; and 3,500 American and allied troops. Another 67,000 people, including 24,000 civilians, have been claimed by the war's spillover into Pakistan. Almost seven million Afghans—one in six of the total—have been internally displaced by the fighting or driven into exile.
Those are big numbers. So is the $2.25 trillion America is estimated to have spent on the war. At the height of the Obama surge, it burned through $100 billion in military spending in a single year. It has spent well over half-a-trillion dollars merely to pay the interest on its enormous war debts. America's return on this colossal investment, by contrast, is not very big at all.
Its state-building effort has not been all in vain. Over nine million Afghan children are in school, including 3.5 million girls. A basic road network and electricity grid have been built or rebuilt—thanks in part to India's $2 billion contribution to the effort. Life in the cities is far better than it was before the American intervention; only 16 per cent of city-dwellers had access to clean water then, now almost all do. In Kabul, an educated new Afghan middle class has taken root. And the government of Ashraf Ghani, an honest technocrat who has presided over the country with little success since 2014, should in theory have more than sufficient firepower to defend the capital and other main cities. The Afghan National Army, 18 years and many more billions of dollars in the making, is 180,000-strong and better equipped than its enemies.
Yet the wastage in the Western effort has been enormous. According to a report by the US inspector general, billions have been squandered on canals, dams and highways for which there was little demand, or no capacity to provide upkeep, or which now lie abandoned in Taliban territory. Hospitals and schools have been built by the score, then left empty. The open-spigot of Western funding has been a huge contributor to the corruption that has rotted Ghani's government from within, undermining its capacity to govern the country's new facilities and institutions.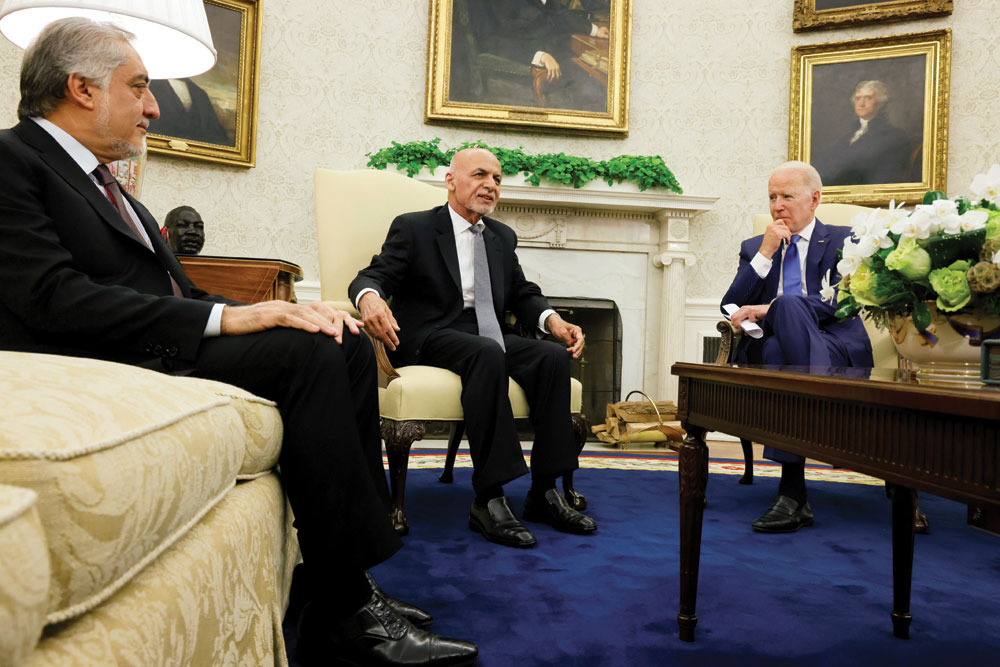 Due to insecurity and weak governance, the economy remains in a pitiful state. The unemployment rate is around 25 per cent. The poverty rate, at 47 per cent, has risen appreciably since the World Bank started counting it in 2007. And in the past couple of months—or since Biden confirmed that he would follow through on Donald Trump's plan to end America's involvement in the war—the insecurity has got much worse. Shorn of their former American mentors and close air support, the Afghan forces have folded at an astonishing rate, often leaving piles of American-provided vehicles and kit at their deserted posts. Morale in the army has crashed. Even as the last American troops were earlier this month quitting Bagram airbase—the citadel of the American military effort—over 1,000 Afghan soldiers were fleeing across the border into Tajikistan.
Last month, according to the official American estimate, the Taliban controlled 81 of Afghanistan's 419 district centres. This week, that estimate was revised sharply upwards—the insurgents now have about half the district centres, and there is no sign of their advance slowing. "Strategic momentum appears to be sort of with the Taliban," acknowledged America's top general, Mark Milley. Indeed it does.
As yet another round of peace talks between the government and the Taliban ended in failure this week, the insurgents fired a salvo of rockets at Ghani's presidential palace in Kabul. The latest US intelligence assessment is that his government could fall to the Taliban within six months of the impending American withdrawal.
It is hard to assess how likely that is. In the early 1990s, the pro-Soviet government of Mohammad Najibullah hung on for three years after the Red Army withdrew. It folded only after the Soviets cut off the funds that were putting fuel into its fighter planes. As things stand, America and its allies will continue until 2024 to contribute $4 billion a year to the government's forces. America has also promised to provide "over-the-horizon" air support—whatever that might mean—from its naval vessels in the Asia-Pacific region. This should still be sufficient—albeit with a diminishing degree of certainty—to prevent Kabul or any other major city falling to the mullahs.
Even if that proves to be correct, the moment when the Afghan war became, yet again, a full-blown civil one, pitting the country's mutually hostile ethnic groups against one another, may already have passed. As his army has crumbled, Ghani has called on many of the group's old militia commanders—such as the Uzbek warlord Abdul Rashid Dostum in the north, and Ismail Khan in the western city of Herat, for armed support. They are now busy recruiting and arming their militias, just as they did during Afghanistan's last full-blown civil war, in the 1980s and early 1990s. The chances of a rerun of that terrible history are mounting by the day.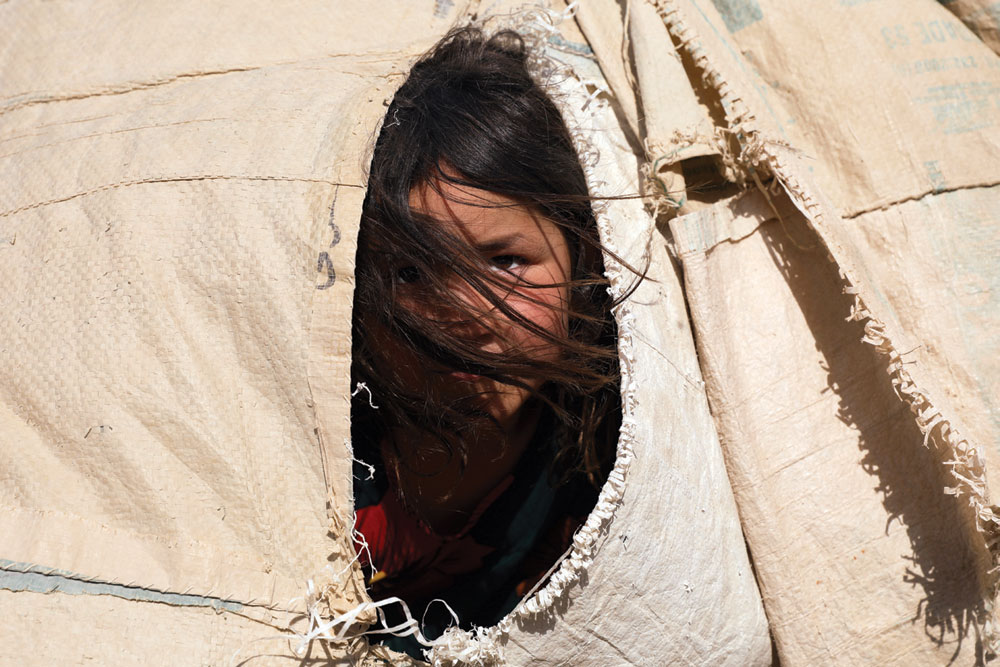 And America will not prevent it. By withdrawing its last troops, even as the Taliban advance on Kabul, Biden has indicated that he, like Trump before him, no longer cares all that much who controls Afghanistan.
WHY, IF ITS COMMITMENT was so fragile, did America spend so long in the country, at such enormous cost? Many Afghans assume it must have had some secret motive—to destabilise neighbouring China, perhaps, or loot Afghan resources. The truth is more prosaic. America's effort in Afghanistan was not merely woefully ill-informed about the country; it was to a certain extent not even about Afghanistan.
After bombing the Taliban from power in 2001, the administration of George W Bush was advised by some experts to reach an accommodation with the mullahs in order to fill the vacuum that their removal had created. The Taliban were not a threat to America. Their rear bases in Pakistan also meant they were not about to melt away. Indeed, they retained a following across much of the Pashtun south of the country.
The Bush administration nonetheless ignored that advice because, in the raw aftermath of the 9/11 attacks, it could acknowledge no distinction between terrorists and their facilitators. It considered that this would be out of keeping with its expansive vision of a global war on terror, in which Afghanistan would soon play only a supporting role, as the administration's attention duly shifted to Iraq.
This cardinal mistake goes a long way in explaining the haplessness of America's efforts in Afghanistan. Its mission—an effort to build a modern Afghan state while fighting an unwinnable war—was never rooted in local realities. The ensuing 20 years of costly American military endeavour have essentially been an exercise in paying for and then very belatedly trying to correct this misjudgement. America launched its first serious negotiations with the Taliban only last year, by which time Trump had already made clear his intention to withdraw from the country. That in turn ensured the Taliban were in no mood to negotiate a settlement to the war. They considered that they were about to win it.
This is why Biden's commitment to withdrawing his last handful of troops from Afghanistan by September 11th makes sense for America. The withdrawal will draw a line under a strategic priority, trying to rid the world of terrorism, in which American strategists have long since lost confidence, or even much interest. America's "over the horizon" strikes might not save Ghani; they should be perfectly sufficient to keep Afghanistan's small Al Qaeda pockets on the run.
For America's part, that would be an acceptable conclusion to its longest war. Afghanistan's part is a tragically different case. Afghans always suspected that the unloved yet tolerated Americans would one day leave them in the lurch. The country's recent history is not ground for optimism. Yet few could have predicted a situation as dire as the one they now face.