The Directorate of Enforcement (ED) evokes deep fear in India. Fear deeper than ever for financial offenders who might have been treated with kid gloves in the past. What is more ter­rifying is that ED officials on a raid always know where the cash is stashed away inside a bungalow or a building. They always seem to know which room to search and which to walk past. In Bihar recently, ED officials demolished a toilet where unac­counted money was hidden in the home of an accused, and did not bother to search any other part of the house. Such informa­tion and perfection during raids, interrogation, and in mining data—an outcome of sleepless nights and hard work—is nothing short of dazzling. No wonder, the mental fatigue of those under its scanner can be excruciating.
Nothing captures ED's transformation from the perfunctory body it once was to the well-oiled machine it is now more than the swanky new office at Pravartan Bhawan off Delhi's APJ Abdul Kalam Road, which is in sharp contrast to the run-down old office at Lok Nayak Bhawan in the Khan Market area of the national capital. The hard-to-miss booze outlet, a decades-old salon by Chinese-origin naturalised Indians, and a shop that sells lights were the only attractions in the old headquarters which was surrounded by garbage and reeked of urine and hydrogen sulfide.
The agency has doubtless acquired a halo thanks to its handling of high-profile cases of financial crime, most of which involve irregularities worth many crores of rupees. And certainly more teeth as well, having attached numerous properties owned by the felons, then typically selling them, and reimbursing the proceeds to the banks that were owed the money. In some cases, ED handed over properties snatched from conmen to the banks swindled by them so that they could sell them and make up for the losses. An example of this is a palatial four-storey bungalow situated on one of the main roads of Delhi's posh Vasant Vihar neighbourhood. The imposing property was seized from the owner, a telecom magnate. Once his glittering family home, the building, now vacant and barren, is up for auction by the banks that his company allegedly defrauded.
According to the latest figures available, of the close to ₹23,000 crore that the trio of Vijay Mallya, Nirav Modi and Mehul Choksi owed public-sector banks (PSBs), assets worth ₹19,000 crore could be attached as a result of investigations conducted by ED. This means 85.5 per cent of the total defrauded funds in their cases was seized. Besides, ED handed over assets to a consor­tium of banks led by the State Bank of India (SBI) and recovered ₹8,000 crore through their sales. To top it all, ED played a pivotal role in the unearthing of ₹1.25 trillion in unaccounted wealth under the Prevention of Money Laundering Act (PMLA) which came into force in 2005.
As evident from the numbers, ED, under the leadership of its chief Sanjay Kumar Mishra, now in his fifth year in the post, is on an overdrive to probe cases taken up under PMLA. ED, which is part of the Department of Revenue, Ministry of Finance, has high targets to meet as the country looks to enhance its Financial Action Task Force (FATF) score at a review due later this year. FATF is a global money laundering and terrorist financing watchdog with influence in 200 countries and jurisdictions. A high FATF score is imperative to aggressively integrate with global financial systems. In fact, the Reserve Bank of India (RBI) recently turned down an application from a homegrown com­pany to enter the Philippines market for lending activities be­cause that country is on FATF's grey list.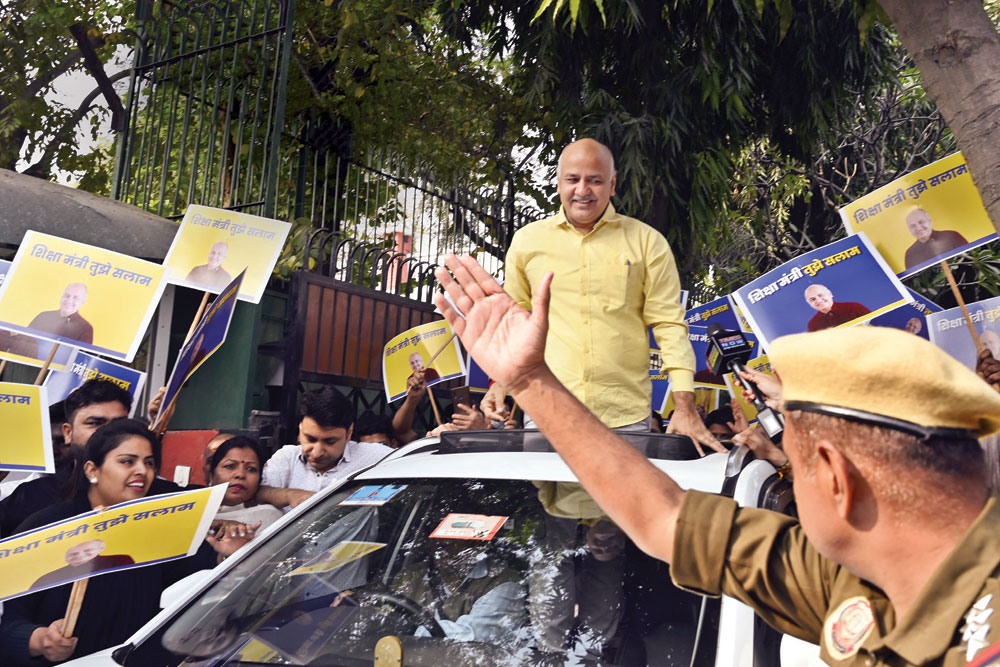 The price of being in the spotlight means ED has villainy, too, thrust upon it, especially by wrongdoers and those targeted by investigation. This list includes politicians who accuse ED of being manipulated by the government to settle political scores. ED officials regret this image but view it as par for the course for an agency that has to perform the job of digging up others' dirt in the most meticulous manner possible, aided by state-of-the-art technologies that facilitate dystopian-like surveillance of suspects and the accused in order to ferret out wrongdoing. No mode of communication—not even WhatsApp messages or calls—is beyond the reach of these technologies, making ED awe-inspiring for many and dreaded for some. However, con­trary to the perception that it is being used against rival politi­cians, only 127 of 5,000-odd cases involve politicos—merely about 2.5 per cent of the cases ED handles. Yet, the rigour that ED shows on each mission makes it appear like an entity with a ten­tacular grip that strikes only when it is totally sure of the catch.
This attention to detail is a huge departure from the past when politicians and businessmen had a more symbiotic exis­tence, a relationship often referred to in these circles as a 'cosy arrangement' that benefited both. Quid pro quo deals to conceal financial misappropriations and related crimes were struck in the leafy bungalows in Lutyens' Delhi. Avenues to walk away with impunity despite laundering money and violating for­eign exchange laws were many if you had friends in places of power. ED never appeared out of the blue as it does now, with prior and detailed knowledge of places in a bungalow where cash is hidden. Such thorough sweeps get more visibility and generate fear, officials concede, and yet they point out that raids account for a "small" percentage of its modus operandi for detect­ing economic crime, most of which is done through scrupulous behind-the-scenes work that includes combing of financial data and transactions.
An official close to the matter says that the political opposi­tion's attack on ED is unfounded and that it is the tainted and the troubled that are apparently blaming ED for a witch hunt. They state that a standard operating procedure (SOP) is in place now at ED so that nobody can play dirty—or even hope to beat the rap.

It is often the experience of feel­ing humbled by the system in place that earns the wrath of politicians, this official asserts. For instance, anyone who enters the ED office has to state their name and other details, be it Congress leader Sonia Gandhi, who pulled the strings of the Congress-led government from 2004 to 2014, or other grandees who had influence and power to flaunt in the past. It is understandable that it would feel like a punch to their egos because their movements and words are all recorded on camera from the moment they step in until they leave the building. Whoever is summoned for grilling is, of course, treated cour­teously. They are ushered in and then questions are put to them. Whoever is questioned has to hand-write the answers and sign them in view of the camera so as to rule out any chance of claiming in court later that they were coerced to say so. If they cannot write on their own, they can request assistance and then sign the papers. In between, they are offered lunch, or else they can leave for lunch. In the past, those arrested were kept in a lockup at the Tughlaq Road police station, but the accused are currently placed in a lockup frighteningly like the one at police stations, with its iron grills and cement bed, inside the ED office. Aam Aadmi Party (AAP) leader and Delhi's former Deputy Chief Minister Manish Sisodia was detained in such an ED lockup after he was questioned in the money-laundering case related to the al­leged Delhi excise scam, also called "liquorgate". Sources close to the matter say that ED did not leave anything to chance in Sisodia's case and had interviewed close to 100 people, including businessmen and intermediaries in the scam before they zoomed in on him. Similar is the style of operation followed by ED in most cases because they do not want to be caught on the wrong foot. That's why ED took care to take an elaborate version of what transpired from Hyderabad-based businessman Arun Ramchandra Pillai before eventually interrogating Bharat Rashtra Samithi (BRS) MLC and Telangana Chief Minister K Chandrashekar Rao's daughter K Kavitha. Pillai, also arrested in the Delhi ex­cise scam, is considered a frontman of the liquor cartel referred to as the "South Group" which paid kick­backs of almost ₹100 crore to AAP to secure a larger share of the market in the now-scrapped Delhi excise policy for 2021-22. It is learned that he had provided incriminating evi­dence of political links. Meanwhile, Pillai's wife's complaint that he was coerced into making these crucial statements is expected to go against him because of the video evidence that ED possesses to prove otherwise. Such proof will likely go against Kavitha, too, for making apparent attempts to influence wit­nesses, officials aver.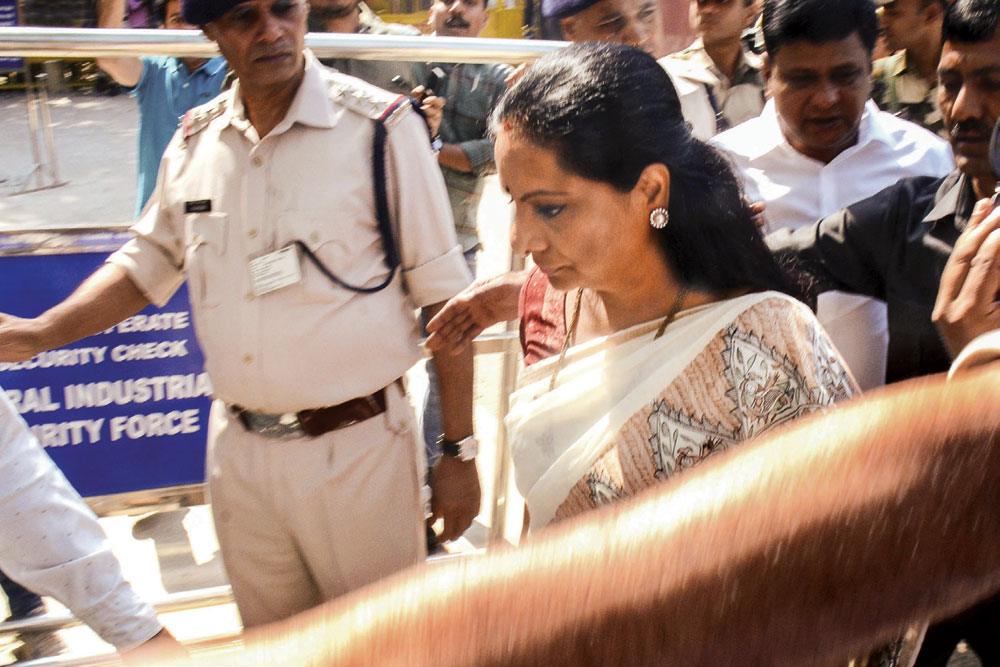 In a riposte to the charge that there has been a sharp rise in ED cases against politicians, officials contend that it has to be attributed to PMLA that grants the agency powers to arrest and attach prop­erties and assets of the accused. Thanks to this legislation, ED is bestowed with additional powers. Besides PMLA, the statutory func­tions of ED include enforcement of other laws too, including the For­eign Exchange Management Act (FEMA), 1999, which is "a civil law enacted to consolidate and amend the laws relating to facilitate exter­nal trade and payments and to pro­mote the orderly development and maintenance of foreign exchange market in India". There are others, such as the Foreign Exchange Reg­ulation Act (FERA), 1973; and the Fugitive Economic Offenders Act, 2018, which was enacted five years ago "to deter economic offenders from evading the process of Indian law by remaining outside the jurisdiction of Indian courts". The Supreme Court had said that showing the Enforcement Case Information Report (ECIR) in every case to the person concerned is not mandatory. ECIR is ED's equivalent of a police FIR.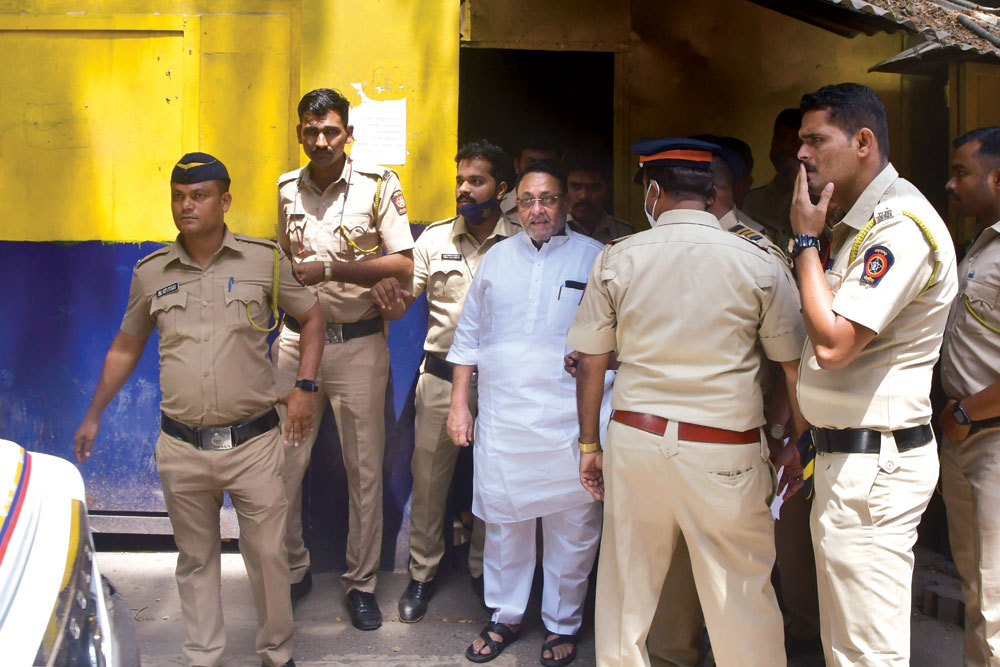 oliticians coming under ED's radar draw immediate attention because of the drama and the 'wow' factor involved, especially when big players such as the Gandhis are called in for grilling. Some of these politicians are unused to the style of questioning and make efforts to feign ignorance. Since ED does its homework well, such people end up spending more time until they decide to offer more inputs about the case being probed. That ED's ways take many of these politicians by surprise is clear from how shocked they become when specific questions about their alleged misdeeds are raised during interrogation. The exhaustive nature of the inquiry procedure eventually tires them out. Many officials within the government credit ED chief Mishra with making its operations more tech-savvy than similar agencies even in the West.
The number of ECIRs recorded by ED so far is upwards of 5,900 since 2005 and searches were conducted only in 531 of them. There has been an uptick since 2014. Again, according to the sta­tistics available, the percentage of ECIRs recorded against existing and former MPs, MLAs and MLCs out of the total ECIRs is a mere 2.98 per cent. The number of people arrested in all these is 513.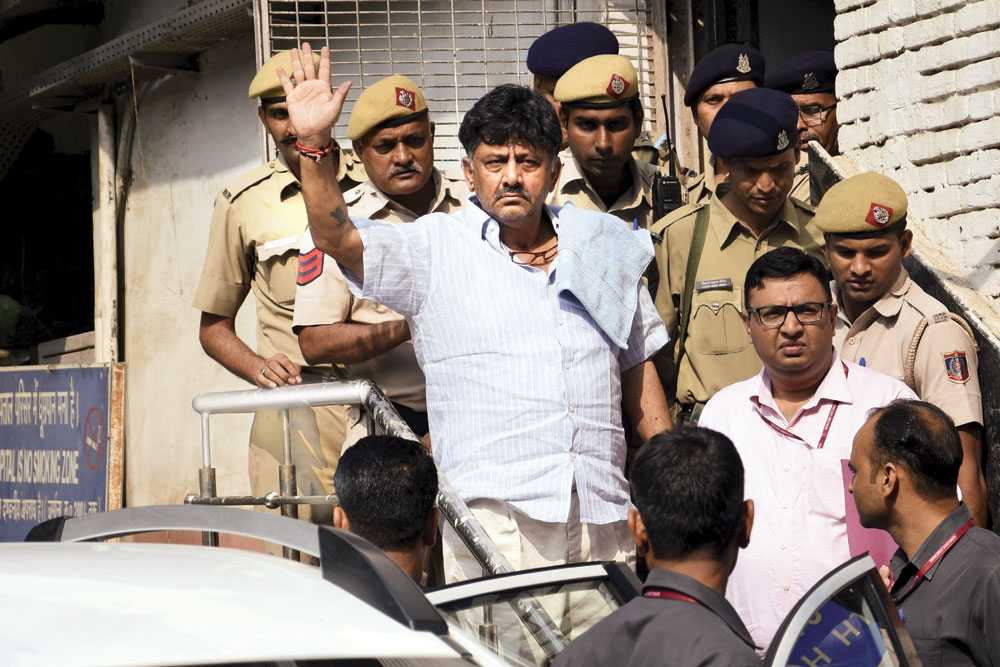 Therefore, overall, the anxiety about ED's knock on the door is thanks to its efficiency and the amplification in the media that high-profile arrests produce, contend officials close to the matter who take pride in agencies such as these going after those who launder money and engage in financial crimes.
When Nationalist Congress Party (NCP) leader Nawab Malik was arrested last February, he showed a 'V' sign to his partymen while being taken to court. Although there were cries of targeting an opposition leader who was then a minister vocal against the Union government, little focus was placed on ED's chargesheet which ran into nine volumes and 5,000 pages. Malik was charged with grabbing property in Mumbai's Kurla area worth ₹300 crore by paying just ₹55 lakh in 2005 with the help of fugitive underworld don Dawood Ibrahim's sister Haseena.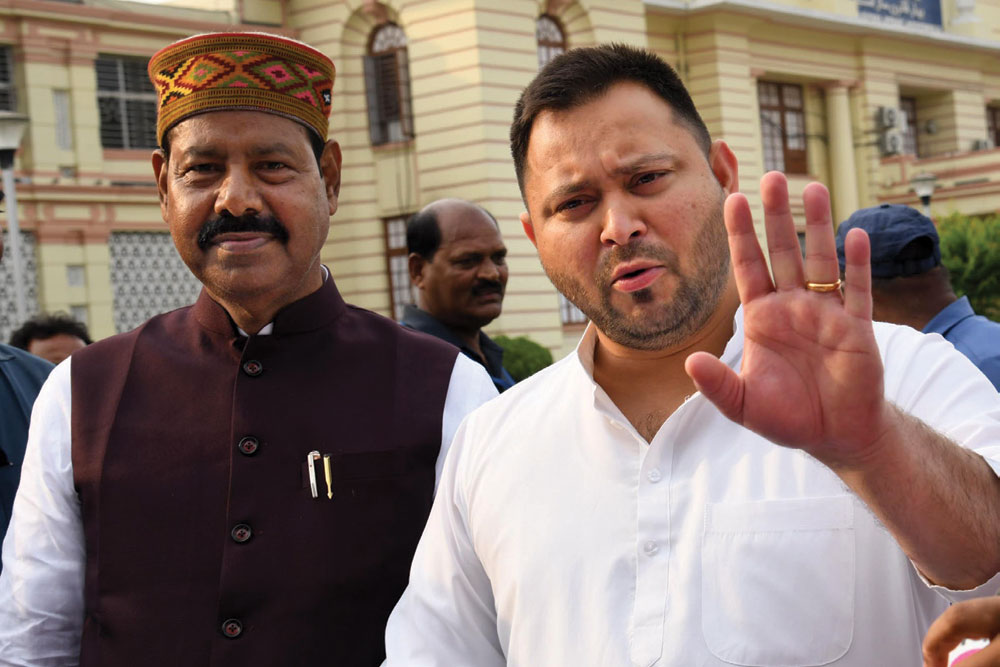 Malik, interestingly, was not in his official residence but in a Kurla ghetto where he was woken up by Central Reserve Police Force (CRPF) personnel and ED officials at 4AM. He asked to be permitted to take a bath which was promptly granted. Then he had a strange demand: that he be allowed to state that he gave himself up on his own. ED officials did not object to his display of vanity either, people close to the matter said. Malik later said that he was arrested out of political vendetta. He was not the first NCP leader to fall under the ED net. Former NCP home minister of Maharashtra, Anil Deshmukh, currently in jail, had gone un­derground for months and, notably, various courts had turned down his plea for bail.
n the liquorgate case, although Sisodia is the one to fall on ED's radar, the agency appears to have enough proof of his senior colleague, Delhi Chief Minister Arvind Kejriwal, being in the know. According to ED's version of events, which has been widely re­ported, Kejriwal, on a video call, told Sameer Mahendru, busi­nessman and prime accused in the case, to trust Vijay Nair, an AAP official who is also an accused in the case. ED said in its chargesheet that AAP used the money generated from the al­leged Delhi liquor scam for election campaign purposes.
Similar to Kejriwal and Kavitha, ED is confident of the extent of proof it has against those involved in the alleged coal levy scam in Chhattisgarh where it had last month raided govern­ment offices. So is the case of prominent Congress leader and state president of Karnataka, DK Shivakumar, an accused in multiple ED cases. The ED chargesheet mentioned an illegal levy of ₹25 per tonne for each tonne of coal transported in the state. It had also alleged the formation of a 'cartel' comprising politi­cians, bureaucrats, businessmen, and middlemen. ED came un­der sharp attack there, too, with Chief Minister Bhupesh Baghel claiming the Centre misused agencies to crush political dissent. But the procedure that ED followed was, again, comprehensive. It had dug through WhatsApp messages and other communi­cations of bureaucrats and businessmen following multi-city raids and arrests under various sections of PMLA. That the use of high-tech and surveillance methods gives ED a clear edge in its probes is an understatement.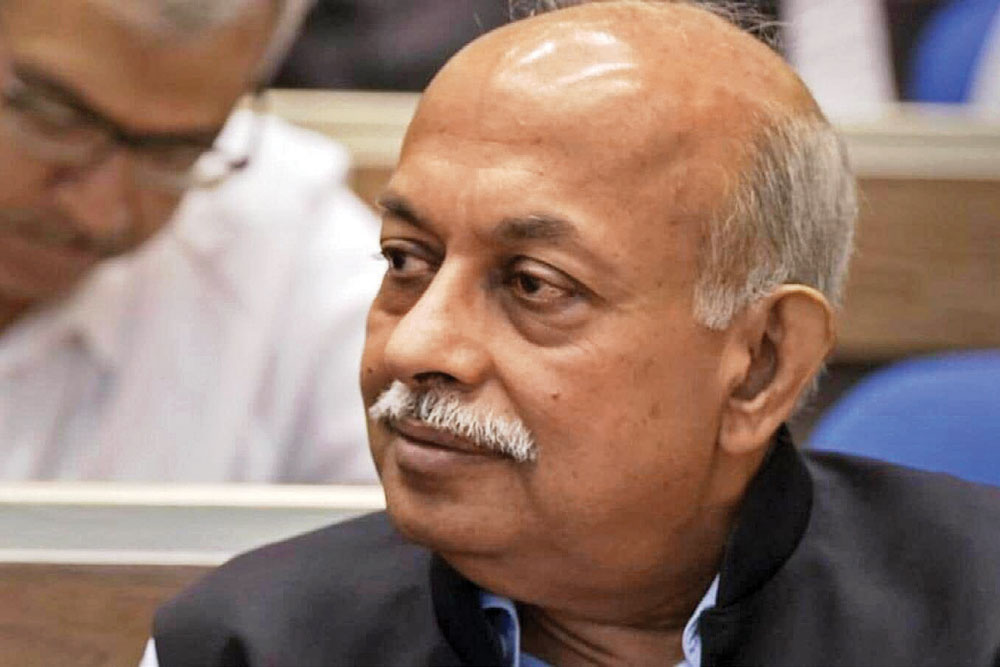 FATF has used former Yes Bank CEO Rana Kapoor as a case study in its report 'Money Laundering and Terrorist Financing in the Art and Antiquities Market'. It covers how conmen use art and cultural objects as a vehicle to transfer illicit funds. Rana Kapoor was arrested in a ₹466 crore money-laundering case.
Officials say that high and mighty financial defaulters fall into the ED net because, unlike earlier, nobody dares warn them of impending inquiries, thereby allowing them to flee India—as it had happened in the case of various millionaires who heavily owed money to Indian banks. "This ED is not the old ED," one of them quips, stressing that financial offenders, irrespective of po­litical affiliation, will be in a soup shortly. He does not elaborate.
ED is also in an advanced stage of inquiry into the land-for-jobs scam allegedly involving the family of Lalu Prasad, former Bihar chief minister and Rashtriya Janata Dal (RJD) patriarch. This reportedly took place when Prasad was railways minister in the Congress-led United Progressive Alliance (UPA) govern­ment. The scam pertains to handing out jobs to people in ex­change for land plots that were transferred at nominal prices to the relatives of the RJD leader. The candidates who got jobs in railways, directly or through their immediate family members, allegedly sold land to the family at highly discounted rates. Of­ficials joke about the naiveté of those behind this 'scam', the same reason why Prasad landed in trouble in the fodder scam of the 1990s when he was chief minister of Bihar. Back then, an official report had noted with shock: "Cattle were transported on scooters, police vans, oil tankers, and autos by the suppliers."
While it appears that some people never learn the tricks of deception, ED has proved that, thanks to high-tech, Mishra's leadership, and the collective detective skills of its dexterous of­ficers, it is empowered enough to go after the most sophisticated and smartest of financial offenders. Various officials argue that fear can actually be a deterrent against corruption. Well, it could be. But then, what fear does best is keep you awake at night.