ONLY IN AMERICA could the verdict have been in much doubt. Derek Chauvin, a 45-year-old police officer with a violent history, was last May filmed close up asphyxiating his victim in a Minneapolis street. He knelt on the neck of George Floyd, a Black man who had been accused of using a counterfeit $20 bill, for 9 minutes and 29 seconds. For the first few minutes Floyd, who had not threatened or seriously resisted Chauvin and three other officers sent to arrest him, gasped and told them he could not breathe. He then called out for his dead mother, and became unresponsive. Still Chauvin, with an impassive expression, ignoring the pleas of the crowd of onlookers who had gathered to witness and film the killing on their phones, pressed his uniformed knee into Floyd's windpipe. Not even after paramedics arrived, not until several minutes after Floyd had elapsed into unconsciousness, did he remove it.
Mass protests and sporadic rioting against Floyd's killing swept the country. Tempers rose with the summer heat; so did the political temperature, in what was already an unusually fraught election year. Chauvin was, meanwhile, charged with two charges of murder and one of manslaughter. His defence team sought a plea deal with the government, under which he would have accepted a 10-year prison sentence; it plainly did not like his chances. His former employer, the city of Minneapolis, announced ahead of Chauvin's trial this month that it was paying $27 million in compensation to Floyd's family. But still, this being America, where police killers are rarely prosecuted and hardly ever convicted, the verdict on Chauvin still seemed uncertain—right until he was found guilty on all three charges. He now faces a prospect of up to 40 years in jail.
Floyd's killing did not change America—as many expressed a fervent hope that it would, during last summer's protests, the biggest in history. Police killings continue; African Americans are disproportionately likely to be the victims. In the middle of Chauvin's trial in Minnesota this month, Daunte Wright, a 20-year-old Black man, was shot dead in the state after being pulled over for a minor traffic violation. The policewoman who killed him said she had meant to use a taser but accidentally used her gun instead.
There is also little prospect of Congress passing a law to make police officers more liable for prosecution in such cases; or to outlaw the sorts of deadly clinch hold that Chauvin used on Floyd. Democrats have introduced such a bill. But their Republican opponents will not pass it.
Even so, Floyd's murder looks like a milestone in America's fraught racial politics. It led to the founding of a vast network of social justice activists, under the Black Lives Matter slogan. Its members tend to be young, multi-racial and remain active in left-wing protest politics. Chauvin's conviction has also chipped away at the impunity police officers previously enjoyed. And if the case has not transformed America's racially polarised politics, it has at least clarified where the two parties stand.
Almost every significant Democratic politician in the country issued a statement applauding Chauvin's conviction—including, naturally, President Joe Biden. "At least, God, now there is some justice," the president told Floyd's tearful relatives, in a phone call to the court, straight after the verdict was delivered there. No president has been more tightly bound to Black voters than Biden—not even the first Black president, Barack Obama, for whom Biden deputised.
Disdained in the early rounds of last year's Democratic presidential primaries, the 78-year-old Biden was rescued from impending defeat by Black voters in the southern states who had little appetite for the left-wing promises of his main rivals. Biden's choice of Kamala Harris, a mixed raced woman who identifies as Black, as his vice president, was an acknowledgement of that debt. So was his commitment to nominate a Black woman, when a vacancy arises, to the Supreme Court bench.
THE RACIALLY CHARGED politics of the post-Trump right is even more conspicuous. The former president sought to define last summer's racial justice protests, and Democratic support for them, as a vengeful attack on law-abiding whites. He had already shown himself to be the most racially divisive (and, indeed, openly racist) president in many decades. And the protests, coinciding with his increasingly ill-favoured re-election campaign, afforded him an opportunity to take his race-baiting up a few notches. The violent insurrection he instigated on Capitol Hill in January, in which white supremacists came to the fore, was a direct result of it. And though Trump is a quieter figure now, thanks to social media companies' decision to ban him from their platforms, he has implanted his style and politics into the Republican Party.
Since his defeat, most Republican-controlled states have passed electoral reforms, ostensibly to prevent the sorts of electoral fraud that Trump (mendaciously) claimed to have fallen victim to. Many of these measures are, in fact, intended to make it harder for pro-Democrat non-whites to vote. In the run-up to Chauvin's verdict, most Republican-run states introduced a second flurry of legislation to constrain the rights of protestors. After the verdict was handed down, Republican leaders such as Florida's Trumpist and ambitious governor, Ron DeSantis, promptly suggested the jury had been intimidated by a threat of leftist mob violence. "If that's something that can potentially happen, where you basically have justice meted out because the jury is scared of what a mob may do—and again I'm not saying that's what happened here… [but] that's completely antithetical to the rule of law," said DeSantis.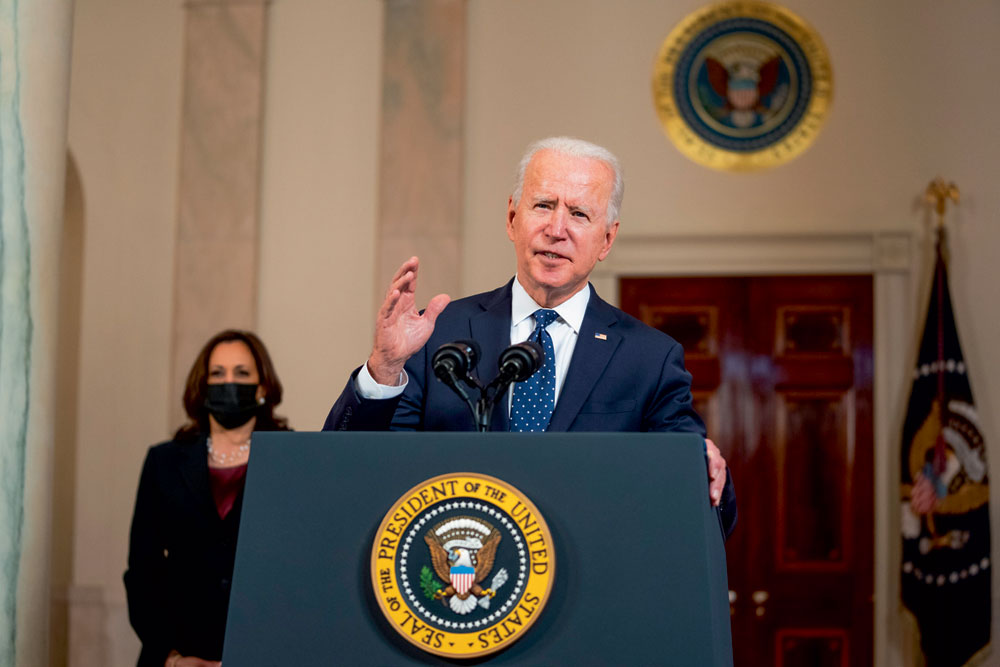 Looking back to 2016 and the popular debate over what was propelling Trump's strange rise, it seems almost comical to recall how many pointed to the economic anxieties of underserved workers. It was not so. Race, not economics, was Trump's preoccupation and the currency of his politics. He exacerbates the racially accented fears of America's shrinking white majority, openly and at every opportunity. This is his method. It is what Floyd's murder and the protests it sparked may ultimately be most remembered for. Either way, America, which was deeply polarised on race even before Trump, will be living with the consequences of his divisive politics for a long time.
One immediate effect is that, where the two parties previously went through the motions of policy debate, they are now so starkly opposed to each other as to have essentially abandoned that effort. Biden's experience of Obama's long and fruitless effort to win Republican congressional support for his plans also underpins the shift. The result is a Democratic administration quite unlike the one committed to bipartisanship that Biden promised on the trail. Having secured just enough power in the election to pass laws on a narrow partisan basis—the Democrats control the Senate by a single vote—they are trying urgently to do so.
The slenderness of their majority dictates the sorts of bills they can hope to pass. Senate rules determine that most legislation require a 60-vote majority. Yet, there is an annual and sometimes, as currently, biannual opportunity to pass budget-related bills with the simple majority that the Democrats have. The Biden administration is aiming to exploit this dispensation, known in congressional jargon as 'reconciliation', to launch the most ambitious fiscal programme since the 1930s.
The administration has so far used it to pass a $1.9 trillion Covid-19 relief package, including generous cash transfers to most families and an extension of unemployment benefits. This took America's emergency Covid spending to a staggering $5.3 trillion—or around 27 per cent of GDP. That is almost four times greater than its fiscal response to the financial crisis of 2008. And Biden is not done yet.
He wants to splurge an additional $2 trillion on infrastructure, including a makeover of America's long-neglected highways and bridges, and all manner of environmental schemes. He would install half-a-million public charging-stations for electric vehicles; he would devote an additional $180 billion to research and development of low-carbon technologies. He would cover this enormous cost by partially reversing his predecessor's deep cut to the corporate tax rate. It was the Trump administration's single legislative achievement; it has predictably failed to spur the higher rates of investment and growth that its cheerleaders said it would.
There are several impulses behind this fiscal boldness, starting, most obviously, with the Covid-induced crisis and longstanding opportunity for greater borrowing that record low interest rates have presented. In the past, Democrats sought to restrain their urge to spend in fear of being denounced by their opponents as big-spending socialists. But the Republicans' abandonment of fiscal conservatism under Trump (a self-styled 'king of debt') has made that less of a concern. The Democrats' justified pessimism about their prospects of passing legislation in the regular way—after a decade of Republican hostility to governing—has also led them to recast many of their ambitions in fiscal terms. Where they once aimed to mitigate America's emissions through a carbon tax or trading scheme, they are now focusing on subsidising low-carbon technology.
It is early days. But this constitutes as good a start as Biden could have hoped for. He is popular and seeking to do popular things. America appears to be emerging from the crisis. And his Republican opponents still seem unsure how to attack him
This looks like shrewd politics, in a couple of ways. Biden's spending plans are popular. They are also steering his administration off cultural issues—including the preeminent issue of race—that its opponents would rather attack it on. Biden wants economics, not race, to be his preoccupation. Recent history suggests the president's party is highly likely to lose ground at the mid-term elections—next due in November 2022. That would restore the Republicans' ability to paralyse the government. Yet, the Biden administration reckons its burst of spending and efforts to downplay the culture wars, where possible, could upset that pattern. It has a few additional reasons to think that.
BIDEN APPEARS TO have lucky timing. The Trump administration had handled the pandemic incompetently in every way except its heavy investment in Covid vaccines, which started to become widely available just as Biden took office. Merely by managing vaccine distribution efficiently and talking about the disease sensibly, the Democrat was able to strike a favourable contrast with his predecessor. Trump was wont to moot treating Covid with injections of disinfectants; Biden suggested wearing a face mask and practising social distancing. Even most Republicans currently approve of his handling of the pandemic.
And over 40 per cent of Americans have had at least one vaccination dose. Over a quarter are fully vaccinated. There is still plenty of room for setbacks—the vaccines are, to some degree, still being tested; the virus is mutating. Yet, even before this modern miracle, there were signs that the economy was rebounding. And as the vaccinated population, in all likelihood, resumes its normal habits, there is a good chance of a pronounced economic boom. GDP growth is predicted to be as high as 10 per cent for the first quarter. That would restore all of the output lost during the pandemic. Naturally, Biden would be happy to take credit for that, too.
The contours of his foreign policy, at this early stage, are also coming into view. It represents in many respects a return to the conventions and good intentions of Obama—as illustrated, for example, by the 40-nation climate change conference that Biden hosted virtually from the White House. Biden has also sought to make good on his pledge to restore and strengthen America's alliances. The Europeans, who his emissaries are working with to restore the Iran nuclear containment agreement that Trump sabotaged, are beyond relieved by the change of American tack.
Yet, Biden has retained more than an edge of his Republican predecessor's hard-edged realism—as he showed recently in announcing his intention to withdraw the remaining few thousand American troops from Afghanistan. More important, instead of easing up on America's current adversarial footing with China, he has affirmed it. He endorsed the Trump administration's parting shot that China's mistreatment of the Uyghurs amounted to a genocide. He has raised the level of America's diplomatic engagement with Taiwan. He has shown no willingness to scrap American tariff on Chinese goods.
His administration's particular eagerness to deepen America's partnership with India (even compared with its uniformly pro-India predecessors) is yet another expression of its concerns about China. Thus, for example, its support for the gathering of the Quad, a group that constitutes India, America, Japan and Australia, in March. It should also be noted that the administration's foreign policy team, led by Antony Blinken, the secretary of state, and Jake Sullivan, the national security advisor, has more high-level experience of India than any of its predecessors.
Again, it is early days. But this constitutes as good a start as Biden could have hoped for. He is popular and, by and large, seeking to do popular things. America appears to be emerging from the crisis. And, to boot, his Republican opponents still seem unsure how to attack him.
Trump spent two years calling Biden senile. But that is hard to square with the purposefulness his presidency is exuding. It has at the same time made it harder for the Republicans to attack the president as an overweening socialist, their usual gripe. Senator Ted Cruz, another ambitious Republican, demonstrated this dilemma with a tweet in which he described the grandfatherly Biden as 'boring but radical'. That was a fairly accurate description of the 46th president. And it is not altogether unappealing.

James Astill is the Washington bureau chief and Lexington columnist for The Economist. He is a contributor to Open