YOU COULD BE forgiven for mis­taking the N72, India's most talked about coffee of the year, for a piece of personal protective equipment. For home brewers who practise the rit­ual of the pourover, this coffee from Riverdale Estate in Yercaud, Tamil Nadu, fermented for 72 hours before being sundried for several weeks on raised beds, has become such a must-have that 1.5 tonne of it, roasted by Blue Tokai Coffee Roasters, India's largest specialty coffee company, flew off the shelves in under two months. The plum and berry notes that cascade across the palate with every sip of the semi-precious liquid are not typical of an Indian coffee, or even a cup from your neighbourhood café. For three-to-four years now, an artisanal coffee movement, ushered in by the likes of Blue Tokai, Koinonia Coffee and Third Wave Coffee, and small but influential roasters including Corridor Seven in Nagpur and Curious Life in Jaipur, has been dispensing beans with character and advice on how to brew them right. But redeeming the Indian coffee experience from the bitter sludge of dark-roast espressos, nondescript supermarket blends, and the chicory-and-milk-laden concoction from the southern states, is easier said than done. "Ev­ery once in a while, a coffee comes along that can open people's eyes to a range of flavours. That coffee, for us at Blue Tokai, came from Harley Estate in Sakleshpur, Karnataka, where the Pichia yeast was introduced in the fermentation process to yield a com­plex fruity cup with strawberry, blood orange and green apple," says Tyler Ritchie, head of roastery for Blue Tokai, which released it very early, in May, to rave reviews. When the roastery followed through with the natural 72, the market was primed and ready.
The Riverdale N72 represents a watershed moment for spe­cialty coffee in India. Launched not just by Blue Tokai but also by half-a-dozen other Indian roasters this year, each of whom has carefully light-roasted different lots—some fermented with watermelon and papaya—it is among a handful of coffees in India remarkable enough to be rated over 90 out of 100 points. The 100-point grading system is an objective and universal sen­sory standard used by certified 'Q graders' to evaluate coffees on parameters like aroma, flavour, acidity, sweetness and unifor­mity. Subjectively, of course, the well-travelled aficionado has an
affinity for a Ratnagiri—also known as Pearl Mountain Es­tate—or a Riverdale because of their global reputation. And this is the first season India has sampled a number of coffees from these estates. "Riverdale grows the best Indian coffee I know of, and it is a joy to be roasting it for the local market. Part of the reason I moved to India was that it was deprived of its own good coffee and I wanted to ride this new wave that was trying to change this," says Ritchie, who had sourced Riverdale coffee for The Little Marionette, a boutique coffee roastery from Sydney, Australia, where she worked before join­ing Blue Tokai last year.
An experimental grower specialising in naturally processed coffee that is dried in the cherry—as against washed and de-pulped coffee which is the mainstay of the commercial indus­try—Prakashan Balaraman, who runs Riverdale with his brother Mohan, was naturally apprehensive of launching his coffees in India. Indians who expect nutty, caramelly coffees from dark roasts tend to be put off by the fruit and tang of an expressive cof­fee that is best roasted light and brewed in a manual filter. In fact, it was only three years ago, in Sydney, that Prakashan had told Ritchie that India wasn't ready for his coffees, which invoke the cherry rather than the bean. A lot has changed in the interim. Coffee drinkers trying out traceable, artisanal coffee in India are not only more accepting of the light roasts that Blue Tokai had burned its hands with early on, they are also consuming more. The specialty coffee market, according to Blue Tokai, has been growing in size by at least 50-60 per cent year-on-year since 2015.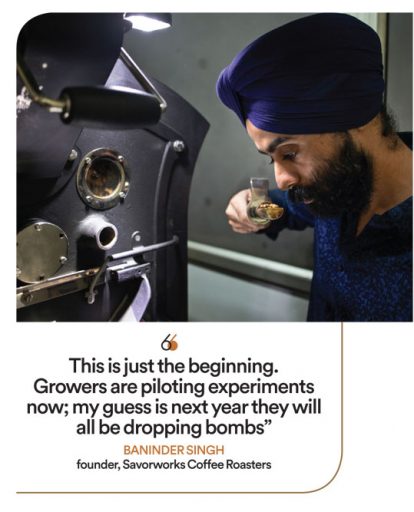 While Riverdale exports most of its beans to Australia, one of the largest markets for artisanal coffee in the world where the founders originally picked up the nuances of the trade, Mithilesh Vazalwar of Corridor Seven Coffee Roasters, among the first roast­ers in the country to crack the door open into the world of spe­cialty coffee, was able to talk them into saving him some. The collaboration got the bean scene a-jumping and it has encouraged Prakashan to set some of his coffees aside for India year after year. "Indian coffee is at a stage where people are getting familiarised with estates and processes, and experimenting with coffee that is different from what they are used to drinking. Roasters must be credited for bringing about this change," says Prakashan, 38, who has slashed prices for the Indian market. The secret to good coffee, however, begins with the crop, says the progressive farmer who employs 45 full-time workers on his 60 acres. "I am perhaps the only planter in the country who has no labour problem. We pay our workers double for specialty coffees and do cupping sessions with them so they understand the coffee they grow, and how our farming techniques and conditions affect its flavour profile."
Since a naturally processed coffee better preserves the fidelity of the terroir, much of the magic lies in the soil. At Kerehaklu, a 270-acre plantation in Chikmagalur, Karnataka, that has taken the specialty coffee scene by storm in its debut season—more than half of its Corridor Seven roast sold out before Vazalwar could get around to publicising it on social media—Pranoy Thipaiah, the fifth-generation planter running the show with his father Ajoy Thipaiah, credits the success partly to the trees intercropped with coffee. "We know that in sections of the plantation where we have native shade and fruit trees, the coffee is the healthiest. This is one of the reasons I work with 300 kg microlots—they improve traceability and tell stories about the microclimates in the plantation," says Pranoy. All of 26, he is big on transparency, showcasing every detail of growing—down to the pomelo and avocado harvests in the off-season—and processing coffee on In­stagram. Kerehaklu harvested 70 tonnes of commercial coffee and 20 tonnes of specialty coffee in 2019-20. "I had 12 tonnes of processed specialty coffee this year and I was hoping to ship much of it overseas but the pandemic made me rethink the decision," says Pranoy, who has experimentally processed his coffee and worked with eight Indian roasters. Also in the works is an experimental Li­berica coffee, a rare, overlooked species, that a new artisanal roaster is launching later this year.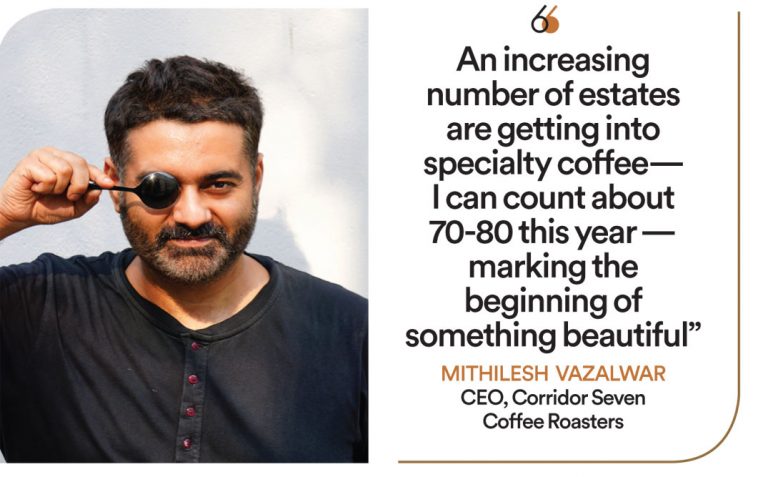 "An increasing number of estates are getting into specialty coffee—I can count about 70-80 this year—marking the beginning of something beauti­ful," Vazalwar says. Change is brew­ing at every step of the coffee chain, from specialty coffee pioneers adding experimental lots to their repertoire and planters upgrading their processing infrastructure, to micro-roasters who are launching hidden plantations, indie spots online and offline compiling the wackiest coffees and gear available, aficionados trending delicious cups of joe on Insta­gram, and home brewers who have invested chunks of time and money in setting up a rig, or upgrading one. "There are 120-130 specialty roasters across India today. Three years ago, there were a dozen," says Nischay Nath, a private equity professional who runs Project22coffee.com, where he reviews coffee and profiles growers and roasters. "With many of the estates producing great coffee now, it is a flywheel effect. All of this did not happen over­night or because of the lockdown. It is the result of relationship-building and investments over the past year," says the 27-year-old who is an influencer in the specialty coffee industry. The lockdown did result in a surge in the number of estate-focus coffees in the Indian market, he says. "With exports suffering and demand in the international market generally down, coffee remained in the curing box for two or three months, and estates decided to work with Indian roasters."
THE ROASTING SCENE in India, as anywhere else in the world, is very fragmented, leading to further differentiation in the coffees entering the market. "This is just the beginning. Growers are piloting experiments now; my guess is next year they will all be dropping bombs," says Baninder Singh, 31, of Savor­works Coffee Roasters, a startup roastery in Delhi that launched an online store on April 1st. Singh had plans to launch a café in September-October but decided to tap the home brewing market that was finally blooming. He played it safe, sourcing from some of the best growers, including Stanmore Estate in Yercaud. Singh's take on Stanmore's anaerobically fermented coffee, which he launched under the name 'Fruits Bomb', was a raging hit. "I did not expect such numbers," he says. "We have been doing 20-30 per cent more volumes every month, starting with just 100 kg in April." That is a drop in the ocean of Indian coffee, a tasty drop.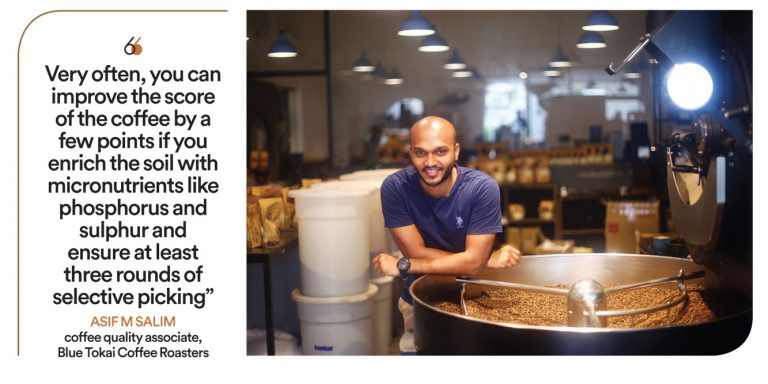 "We cannot keep up with the demand," says Shravan DS, a coffee grower whose family owns two of India's best-known estates, Kalladevarapura and Harley. The two estates produce a chunk of specialty coffee consumed in India, much of it roasted by Blue Tokai. Until four-five years ago, they were selling 5 per cent of their specialty coffee in India. Today, they sell 30-40 per cent locally, with an additional 10 per cent wiggle room this year for microlots. "Like most planters, we have export commitments and we cannot suddenly scale up domestic supply," says Shravan, 37, who is also a roaster and a consultant. To bridge the gap, Shra­van started Beanrove, a Bengaluru-based direct trade company that works with estates to help them produce better coffee. "I have kept some microlots aside to be roasted by Beanrove but I am just as excited to see what small artisanal roasters like Bloom Coffee, Alchemist in Jaipur, and Handcrafted Café in Bhopal—it has one of the best new espresso machines in the country—do with our coffees."
"The roasters who will stand out are the ones who build rela­tionships with farms, visiting season after season, encouraging them to do better," says Komal Sable, who co-founded The South India Coffee Company (SICC), with her husband Akshay Dash­rath in 2017 to source Indian coffee for the UK market. "My hus­band's family are fifth-generation planters from Coorg. When we started SICC, though, we didn't see a lot of potential for specialty coffee in India. I'm happy to be proven wrong," says Sable, who spent the lockdown at Mooleh Manay, the family's sustainable plantation in northern Coorg where the coffee is intercropped with wild jack and other native trees. The tad-too-trendily-named 'Mind=Blown', a medium-roasted take on their sundried coffee by Akshay Vaidyanathan, a chitravina player from Chennai and the man who runs Kapi Kottai roastery, was one of the most interest­ing coffees of 2019.
Known as the 'toaster guy' in coffee circles, Vaidyanathan started roasting coffee in a modified convection oven at his house in Kilpauk and bought himself a pro roasting machine only recently, when he couldn't keep up with the orders. "In January, I toured the estates and bought what I thought was cof­fee for eight months. By the end of June, it was sold out—130 kg of it," says the 29-year-old. When word got around that he had bought a roaster, even more orders started pouring in. Vaidya­nathan, who believes equipment is secondary to good coffee, is a rarity in a world littered with Probat roasters, Baratza grinders, Acaia scales, and gear that looks like it belongs in a lab. "If this frenzy continues, I will go through the 300 kg of coffee I am sit­ting on pretty quickly," he says. He wants to stick his neck out even farther this year—with a double-fermented, slow-sundried coffee from Mooleh Manay's Excelsa, a boundary plant that is almost never taken seriously.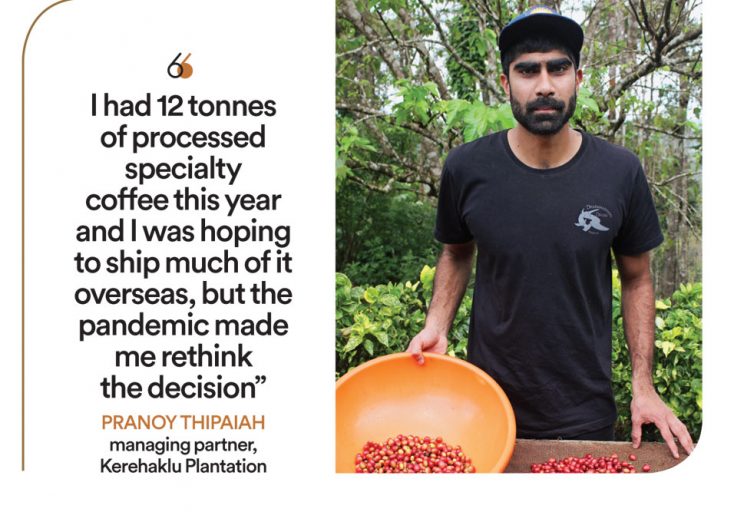 "As coffee appreciation goes, we have skipped a crucial step in India. The third wave of coffee is about telling a story, and educat­ing the customer about provenance. Here we are already at the cusp of the fourth wave, with new roasters popping up all over the country trying to source from unknown estates, but at the same time, even discerning customers are not asking questions about terroir and altitude and why we put that information on every bag of specialty coffee they buy," says Vazalwar. "Indian coffee drinkers are not exactly geeky," says Ritchie. "A lot of times, at our Bangalore cafés, I come across people who just enjoy a good brew, but are still not that curious about where it came from or how it was processed. The lockdown, I think, has inspired people to understand coffee better so they can brew themselves a good cup." Blue Tokai saw equipment sales soar by over 50 per cent since March and at one point they had run out of the Hario V60, a classic manual pourover device, and the Aeropress, a manual pressurised plunger-based coffee brewer. In the coming months, the company plans to organise brewing classes, interactions with planters and community-building events for specialty coffee.
For café chains like Blue Tokai, bean sales are no longer a side hustle but an important business vertical—and 40-50 per cent of it has been wholebean, indicating that consumers are also investing in home grinders. "Instagram has played a key role in making home brewing cool. Single estate coffees, especially, have really captured the popular imagination," says Manvi Gupta, who founded the Delhi-based El Bueno Coffee Roasters in late 2018. Originally a B2B-focused roastery, El Bueno pivoted to a direct-to-consumer model during the lockdown, focusing on trends like nanolots and whisky-barrel-aged coffees. "Our coffees have names like Bloom Bae and Black Jagg and they appeal to a new generation discovering specialty coffee," says Gupta. "But origin and the story behind the coffee are just as important for customers."
There are infinite ways to end up with a bad cup of coffee, but just as many to make it better—and it doesn't always have to mean upgrading to the latest gadgetry. "Very often, you can im­prove the score of the coffee by a few points if you enrich the soil with micronutrients like phosphorus and sulphur and ensure at least three rounds of selective picking. If all the cherries picked are ripe, the coffee is bound to be good," says Asif M Salim, 31, a roaster and Q grader who heads quality control for Blue Tokai. Salim visits each of the 16-18 farms the com­pany sources from, as much to super­vise the harvest as to build trust.
"Consistency is a big issue in India. Two packets of the same coffee don't taste the same, month after month. And this does not usually happen in­ternationally," says Vardhman Jain, a 31-year-old from Bengaluru, who trained as a weekend barista at Third Wave Coffee Roasters in 2017. With a day job as an operations manager at Uber, Jain spent all his free time learn­ing about and then educating startups on artisanal coffee. "I am very excited about the home brewing movement and I hope it inspires Indian estates to launch flavourful natural coffees locally," says Jain. With a monthly Nordic coffee subscription, a V60 tattoo, and a fully-kitted-out home brew bar, Jain, who is part of the founding team of an edtech startup that is all set to go live, is every bit the coffee snob, but he is not one to disparage you for not testing the pH level of your water before brewing. "My journey started with a Philips drip machine, so I understand that coffee education is a lifelong pursuit."
Lenold Vaz, the founder of Beandeck, an artisanal coffee marketplace, couldn't agree more. He aggregates not just the best experimental beans from roasters, but also artisanal brew-bags and instant coffees that are beginning to scratch the surface of a convenience-led pursuit of good coffee. "Since the launch of the webstore on July 18th, we have had over 200 sales," says Vaz. "Some of them have taken me by surprise. People are brewing barrel-aged coffee in south Indian filters, investing in a good old moka pot and using the Aeropress a million ways. It's a crazy time to be selling or brewing coffee in India."