When he co-authored Supreme Court on Forest Conservation in 2005, he may not have imagined that 16 years later he would represent India at the international climate conference in Glasgow. The new Minister of Environment, Forest and Climate Change had set the ball rolling for India at the summit. He spoke to Open about the tone set at COP26 by Prime Minister Narendra Modi, India's ambitious targets and how it is now part of the solution
Do you see India's stand at COP26, as spelt out by Prime Minister Narendra Modi, as a turning point in climate change negotiations?
Prime Minister Modi's intervention at the World Leaders Summit at the beginning of COP26 has made a remarkable difference. On the one hand, he addressed the concerns of well-meaning people across the world, including all Indians, who want India to be a leader in meeting the challenge of global warming. On the other hand, he also set at rest all the criticism emerging from some quarters claiming that India was not doing enough. The prime minister's intervention made it very clear that India, having gone through one stage of climate change commitments which it was on track to meeting successfully, was ready for the next stage of upgrading it. These were not one set of unfulfilled commitments being replaced by another that was even more doubtful, but exactly the opposite—of going from success to the next stage of upgraded commitments.
India's ambitious targets as set out by Prime Minister Modi reinforce the country's intent to address climate change in a comprehensive manner. The enhanced climate finance commitment sought has challenged developed countries to rise to the occasion and address the elephant in the room—access to adequate, predictable and accessible climate finance. In that sense, the focus is now on expanding scope, augmenting speed and achieving scale of climate finance, as never before. It puts the pressure on countries that do not live up to their promises made on climate finance. Having made these announcements, the prime minister also lay down a challenge. He was very clear that greater ambition in mitigation by developing countries meant that the ambition in finance too should be intensified, finance that is to be provided by developed countries to developing ones. The $100 billion per year goal by 2020 was then. With greater ambition, that cannot be enough and has to be much more. The announcements and the challenge put the ball back immediately in the court of developed nations and that has had a decisive impact on the mood of negotiations at COP26.
You had said last month that India would focus on pushing for a new collective long-term climate finance goal and finalisation of the Paris rulebook at COP26. How far has that been achieved?
At COP21, the decision mandated that parties shall before 2025 set a new collective quantified goal from a floor of $100 billion per year, considering the needs and priorities of developing countries. It is imperative that the COP agreed to establishing a structured process to reach an ambitious new collective quantified goal by 2023. The negotiations are still in progress and we hope that we can agree on an approach beneficial to Mother Earth and thereby to all of us. We must remember that global climate action rests on access to adequate climate finance. These are being negotiated right now and we are hopeful of a positive outcome. India has been pushing very strongly on both these aspects, together with our friends and partners, and will continue to do so based, of course, on principles of common but differentiated responsibilities and respective capabilities.
For a developing country that depends heavily on fossil fuels, will giving up traditional sources of energy for the green option not be a big sacrifice?
As Prime Minister Modi has pointed out, India's historical responsibility is very low. We make up over 17 per cent of the global population but have contributed less than 5 per cent to the total cumulative emissions from pre-industrial times till now (2019). As opposed to this, developed countries have used up a disproportionately higher share of the total carbon budget. And this use of the carbon budget through the burning of fossil fuels, such as coal, oil and gas, has allowed them to develop so that their incomes are today much higher than those in the less developed countries. So, far from being "dirty energy", coal has always been a very important resource for every country, and has fuelled industrial development. It has played a historic role. Even in India, coal has been, and continues to be, an important energy source. However, even if we have not caused the problem of climate change, a large country such as India cannot and should not say that it will do nothing and not be part of the solution. We have to use coal responsibly. We are already moving to clean coal technologies and ensuring that we use this resource very efficiently in supercritical and ultra-supercritical thermal power plants. We are also developing advanced ultra-supercritical technology. And as the energy access of our people increases, we will use the resource we have in abundance, which is coal, to propel us into a non-fossil fuel future. We will do so, however, without disproportionately using another precious resource, which is carbon space. Unlike developed countries, we will not use more than our fair share of carbon space and respect scientific evidence that tells us that the carbon budget to keep global warming in check is limited. It will be challenging, but as a large and responsible country, we will have to take up this challenge even as we ask developed countries, which have much more capacity, to do more to reduce emissions and help developing countries through finance and technology transfers.
Among the "panchamrit" presented by the prime minister is the ambitious net-zero emission status by 2070. It implies intention, but how do you propose to attain this target in concrete terms?
The question has been answered to some extent already. We have pledged to achieve net-zero emissions by 2070 and we have to plan our way for the future carefully. We have to protect our people from the impacts of climate change, increase their resilience, ensure improvements in income and energy access. We will therefore use the resources that are available to us to meet this developmental challenge. But we are a responsible country and will not exceed our fair share of the carbon budget. In declaring this target of net-zero emissions India has demonstrated great ambition. It is now for developed countries to not only enhance their ambition but also follow through with action in this decade itself. Like India, developed countries must also remain within their fair share of the carbon budget. And they should help developing countries with financial support and technology transfers as they have an advantage due to their overconsumption of atmospheric carbon space in the past.
India has also pledged to meet 50 per cent of its energy requirements from renewable sources by 2030. Considering that renewable energy remains costly and in limited capacity, how will the costs be factored in?
India's current Nationally Determined Contributions (NDC) already have a pledge that 40 per cent of our installed power capacity will be non-fossil fuel-based by 2030. The non-fossil fuels will include renewable energy, such as large hydro and nuclear energy. However, we have already achieved the target this year itself, that is, nine years before we had pledged to. The prime minister has therefore enhanced this 2030 target to 50 per cent from the current 40 per cent. We have more non-fossil fuel capacity (solar, wind, hydro and nuclear) than coal capacity already in the pipeline to come up before or by 2030. As prices fall, renewable energy addition may increase further. We have launched the hydrogen mission. Additionally, India also has a strong nuclear programme which must be strengthened further. We are already well placed to meet existing NDCs and the enhanced targets on installed capacity and emissions intensity reduction demonstrate India's willingness to expand its ambition in keeping with its commitment to be part of the solution to climate change. The Central Electricity Authority has come out with a report on optimal generation capacity mix for 2030. The report indicates a likely generation capacity of 817 GW by 2029-30. With solar at 280 GW, wind at 140 GW, biomass and small hydro at 15 GW, PSP at 10 GW and large hydro at 61 GW, the total generation capacity from renewable energy sources including large hydro and PSP will be more than 500 GW. In terms of installed capacity, the renewable energy capacity would be over 60 per cent. The cost of renewable energy generation is well below the cost of power from conventional energy sources. There will be challenges on the grid integration and managing intermittency of renewable sources. However, these will be met through demand-side management, promoting decentralised renewable energy generation and energy storage, integration of diversified renewable energy generation, etcetera.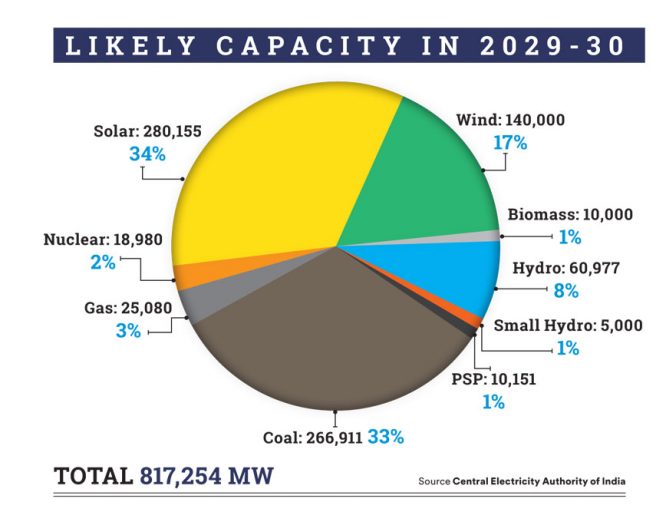 Environmentalists say that the challenge will be to ensure growth is equitable and the poor are not denied their right to development in this new energy future.
Equitable growth is always a challenge, with or without climate change. The new dimension is that, unlike what many think, the new energy future is not necessarily cheaper. Expansion of renewables requires investment in the transmission and distribution system, and as its share in total energy rises, storage is also required. Though they are getting cheaper, batteries are still not cheap. And there are other aspects, such as the preferential treatment of renewables. Hence, all of these costs have to be borne and we have to ensure that this burden does not disproportionately fall on the poor. So, one way to do it is to bring in renewables in a steady manner and not abruptly and use the cheaper power from our thermal power plants alongside. For this we need to be able to continue our emissions for quite a while to ensure a smooth transition. This means we need our fair share of the global carbon budget. Otherwise, a dramatic increase in renewables poses the danger of increasing considerably the burden on the average consumer.
You were in Glasgow when the prime minister spoke for the developing world, taking many by surprise. What was the reaction? How can countries that have not lived up to their climate commitments be pressured to do so?
I think the reaction to the prime minister's speech was very positive, after the initial surprise. Everyone, everywhere was trying to understand its contents and commenting very favourably on its substance and tone, and the mood that it set for COP26. It was also very clear from his intervention that India was taking on far more than its fair share of the burden and the pressure immediately shifted to asking what the developed countries were going to do. What can we do to pressure them? One thing, of course, is to be relentless and pointed in our criticism of the shortfalls in their performance. We must hold up a mirror to them, constantly, saying that this is all you have done. Second, every time they change the goalposts, we must remind them to fulfil the promises they have already made and what progress they are making in this regard before making new promises about 30 years from now. The biggest challenge is to keep them focused on specific action and not wander off with promises and speculation and to ensure that over this decade this action actually does take place.
How do you propose to mobilise finances for implementing future expansion programmes (beyond 2023) in renewable energy? Will we go for off-shore borrowings?
It cannot be one source of financing. It has to be from many sources and yes, certainly investment from outside will be important. Several developed countries with which we are discussing matters closely for years have suggested strongly that such investment will be forthcoming. For instance, John Kerry, when he met us before COP26, was quite confident about this. But we still have to see how much will flow and on what terms. We will need to create the right conditions for such flows that will come on our terms and to our benefit. We will also have to balance this with raising our own resources in domestic terms. The Union Government will take all measures necessary to ensure that sufficient resource is mobilised for our target of 500 GW of renewable energy by 2030. In the context of the United Nations Framework Convention on Climate Change (UNFCCC), the objective is to get financial support from developed countries in mobilising resources to meet India's climate ambitions.
What are the International Solar Alliance's (ISA) initiatives on technology transfer and climate finance mobilisation?
ISA and Bloomberg Philanthropies have announced a partnership to mobilise $1 trillion in global investments for solar energy across ISA member countries. The two organisations will kick off the partnership by working with the World Resources Institute (WRI) to develop a Solar Investment Action Agenda and a Solar Investment Roadmap which will be launched at COP26 and in 2022, respectively. The roadmap to $1 trillion in solar investment will build off high-impact opportunities identified through research, technical consultations and senior policy engagements.
ISA will be guided in these activities by an investment advisory group consisting of largescale institutional investors. At COP26, we have announced an advisory committee of leaders from the financial community, including multilateral and commercial organisations, to inform ISA's strategy to address energy access, energy transition, and energy security. The advisory committee will provide guidance to ISA, in consultation with leaders across sectors and regions, on its objective of mobilising investments of $1 trillion dollars by 2030. Confirmed advisory committee members include senior representatives from Africa50, CDPQ Global, IFC, Development Bank of Southern Africa, Capricorn Investment Group and Temasek. We have also joined forces with CONCITO, Investment Fund for Developing Countries, Denmark (IFU), and World Climate Fund to mobilise $1 trillion for investment in solar by 2030.
The shared vision is to make ISA's $1 trillion roadmap a useful tool in creating the conditions for an expanded flow of institutional capital into solar energy in emerging and developing economies across the priority themes of energy access, decarbonisation of the power system, and providing opportunities for emerging solutions like green hydrogen.
The objective is also to accelerate public-private ambition loops, and the engagement will have: one, dialogues between investors, public and private financial institutions, and governments on concrete measures that can help generate pipelines of investment opportunities, including through enabling planning and regulation; two, identification of targeted investment vehicles and platforms that can channel finance through to tangible assets; and three, deployment of risk mitigation instruments backed by blended finance.
ISA is also a delivery partner with the Global Energy Alliance for People and Planet (GEAPP) to bring together preeminent philanthropic, government, donor, MDB, FDI and private sector partners to build a new a global financing facility to accelerate a green transition in over 50 emerging economies backed by an initial $10 billion of committed capital. Under the partnership, ISA will provide technical support to emerging economies looking to take advantage of GEAPP financing for in-market solar projects. ISA will also seek to promote GEAPP among its members to build a strong pipeline of investable solar projects.
ISA provides direct funding support of $50,000 for technical and financial assistance for demonstration projects in 47 LDCs and SIDS member countries. We are also working on a proposal to understand viability gap funding facility to offer $150,000 for 10 projects, up to 10 per cent of the project costs. ISA has also mobilised $2 million from the India Brazil South Africa (IBSA) fund to provide technical assistance for solar water pumps in 10 member countries in Africa. The Asian Development Bank is offering $2 million technical assistance for ISA in five South Asian countries for developing solar projects. ISA has worked with the World Bank and AFD (France) to mobilise $300 million from the Green Climate Fund to implement risk mitigation instruments for solar projects in member countries. Two ISA founding members, India and France, have committed more than $3 billion dollars for solar projects in ISA member countries.