THE COUNTDOWN HAS BEGUN at Arivalayam, the Dravida Munnetra Kazhagam (DMK) headquarters in Chennai, heralding in red LED signage the arrival of MK Stalin and the Rising Sun. As Tamil Nadu inches closer to the date of polling, the opposition front led by DMK reigns ascendant in opinion polls and surveys despite the All India Anna Dravida Munnetra Kazhagam's (AIADMK) populist schemes and slick promises of free washing machines, solar-powered cooking stoves and cable TV. A confident DMK has made safe bets from a vantage point: from running a campaign focused on Stalin's leadership with help from—and despite—Prashant Kishor's IPAC, to choosing worthy candidates for the 174 seats it is contesting out of 234 and convincing its alliance partners to acquiesce in fewer seats, and drafting a manifesto with restraint. "Candidates were ranked by metrics of winnability, social justice and representation, familiarity and connect with the people; age and professional qualifications were considered value-adds," says party spokesperson and Rajya Sabha MP TKS Elangovan. Besides fielding veterans, sitting MLAs and sons of party leaders, including Udhayanidhi Stalin from Chepauk-Triplicane in Chennai, DMK has also rewarded politicians who have switched over from the opposite camp—notably three-time MLA from Vedaranyam, SK Vedharathinam, who lost from the constituency in 2016 after joining the Bharatiya Janata Party (BJP), and Thanga Tamil Selvan, former Amma Makkal Munnetra Kazhagam (AMMK) leader who was the losing candidate from the Theni Lok Sabha constituency in 2019. This election, Tamil Selvan will lock horns with incumbent Deputy Chief Minister O Panneerselvam (OPS) in Bodinayakanur, while Vedharathinam will once again try his luck from Vedaranyam, where AIADMK has fielded sitting MLA OS Manian.
Bodinayakanur in the southern district of Theni is the former chief minister's home ground, but this time round, it presents an unusual wrinkle. Not only is there concern in the constituency over rising land prices and OPS' flagging control over the party, even the caste equations don't quite balance. The town is a Babel of languages and communities, and even the Mukkulathor (Kallar, Maravar, Agamudaiyar) vote is likely to split between OPS, a Maravar, and Tamil Selvan, a Piramalai Kallar. Consolidating their votes is not easy for OPS, who must bear the cross of the AIADMK government's controversial decision to introduce 10.5 per cent internal reservation for Vanniyars within the existing 20 per cent reservation for MBCs and De-Notified Communities. "If OPS cannot retain his seat, his influence within AIADMK will shrink further," says political journalist and writer Tharasu Shyam. "AIADMK's list is an outcome of a quota system agreed upon between Chief Minister Edappadi K Palaniswami (EPS), who chose a majority of the candidates, and OPS. By looking after their respective interests, they have played right into DMK's hands," Shyam says. DMK, Congress and BJP have each fielded some of their best prospects, especially in Chennai and in the western and southern districts.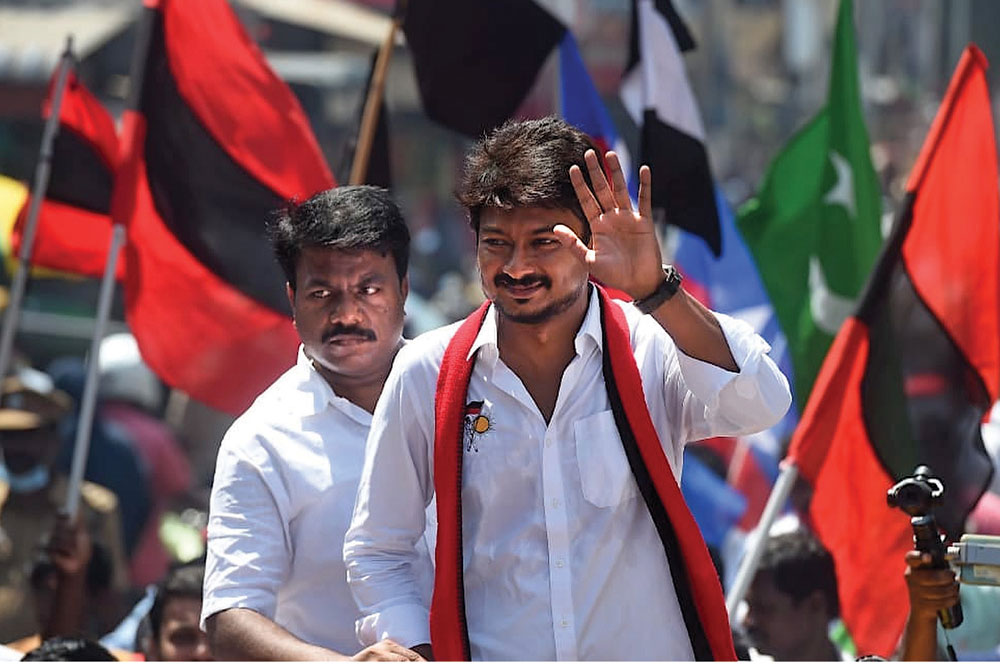 An election predicted to be nail-biting, with the score shifting this way and that as in a good basketball game, is increasingly getting harnessed to the failures of the ruling party. AIADMK's choice of candidates and appeasement politics betray a dwindling morale and desperation to keep the party afloat in case of an unfavourable electoral outcome. While the party may have lost track of its Dravidian ideals a while ago, it has now watered down the legacy of former Chief Minister J Jayalalithaa. Besides making compromises in policies, settling into an alliance with BJP, and playing divisive caste politics, AIADMK has awarded tickets to old-timers like Madhavaram V Moorthy, TKM Chinnaiah, Agri SS Krishnamoorthy and Natham R Viswanathan who had been sidelined by Jayalalithaa. Like a surfer catching the wind in whichever direction it blows, the party's election manifesto revisits its support for the Citizenship Amendment Act, promising to 'urge' BJP to scrap the legislation. It also matches and raises DMK's promise of a monthly allowance for stay-at-home women to help run their households—originally actor-politician Kamal Haasan's idea—and co-opts other popular narratives in its 163-point agenda, such as housing for all and one government job for every household. "It is the longest manifesto in the history of the party," says senior AIADMK leader and former minister C Ponnaiyan. "It directly follows from Amma's policies and sends the message that AIADMK will always be for the people."
Rhetoric aside, can welfare schemes clinch the deal for the ruling party when DMK is not far behind with its promises? Doles are almost a postulate of the electoral process and this time, the EPS government has cited the damage caused by the pandemic as the reason for its generous farm loan waiver of Rs 12,110 crore.
With EPS now relying on Vanniyars to back him in his home district Salem and OPS favouring Maravar candidates in the southern districts, any claims to caste neutrality in AIADMK are moot
Another waiver in the works—of gold loans of up to six sovereigns given by cooperative banks to farmers and the poor—is matched by Stalin's promise to strike off loans taken by self-help groups and students. While AIADMK has announced a 7.5 per cent reservation in medical colleges in the state allotting government school students over 400 seats, other parties have seized by the horns the issue of unemployment, which they attribute not just to the lack of jobs and the state of the economy but also to the fact that there is no law giving locals a share in jobs created in Tamil Nadu. With one of the highest Gross Enrolment Ratios in higher education in India (49.2 per cent in 2018-2019), Tamil Nadu is making a case for employing its youth. The Viduthalai Chiruthaigal Katchi (VCK), which is contesting six seats as part of the DMK alliance, was among the first to bring up the issue, notes party MP from Villupuram, D Ravikumar. The DMK manifesto promises 75 per cent reservation for locals across all jobs generated in Tamil Nadu. It also proposes increasing maternity benefits, a cut in fuel prices, banning NEET and an assistance of Rs 25,000 to one lakh Hindu pilgrims, among other things.
"I was the first to say jobs in Tamil Nadu should be reserved for Tamils. Now everyone has followed suit," says Senthamizhan Seeman, the 54-year-old Tamil nationalist ideologue who hopes to turn a corner in his political career this year. His party Naam Tamilar Katchi's vote share jumped from 1.1 per cent in 2016 to 3.9 per cent in the 2019 General Election. If it doubles in the coming Assembly polls, Seeman would have crossed into the mainstream. His manifesto is short and includes prohibition, a subject that the major Dravidian parties can only play softball with. He steers clear of poll alliances with other parties and has fielded as many women as men across 234 constituencies. So, if indeed the people are looking for an alternative to the Dravidian parties, as he claims, he is it. "I have mellowed with experience. I am practical but I still won't descend to coalition politics. Look at the VCK's Thol Thirumavalavan. Since he leads a Dalit party, he is a victim of social circumstance and has to necessarily ally with a party with a broader base. But in the process, he has lost his individuality," he says, over idli-chutney at his residence in Chennai, which is bustling not just with visitors and staff but also chickens, ducks and pet cats and dogs. He denies allegations of a secret pact with BJP or AIADMK. "If I become chief minister, I will be endless trouble to BJP. Unlike AIADMK, I won't shamelessly toe their line in the name of good Centre-state relations. I will not allow their Hindutva and Hindu imposition, and I'll be the first to question their collusion with large business houses," he says, in a not-too-subtle reminder that he is a chief ministerial candidate. "It is because I am not part of a coalition that I can freely say that Stalin, if he comes to power, will be the most inept chief minister in all of India. He cannot even read out a speech without mistakes. In a state where even BJP does not have the guts to contest alone, I believe I will stand out."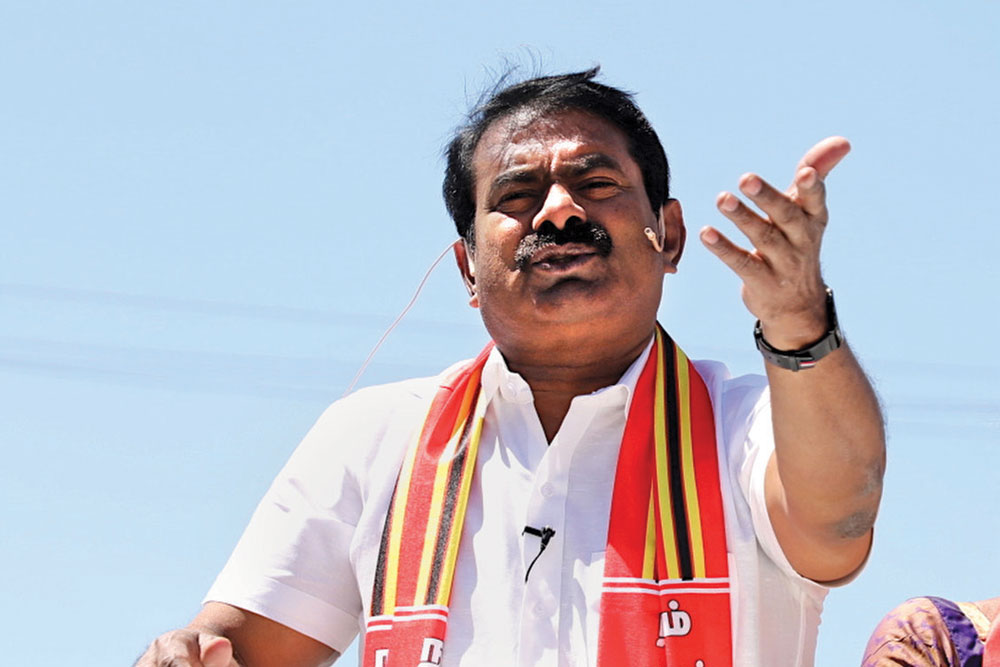 For all his talk of reviving the rural economy and promoting animal husbandry, Seeman is contesting from Tiruvottiyur in north Chennai. "I'll be honest. I wanted to contest from Karaikkudi (in Sivaganga district), where I have my roots, but I have had reason to reconsider—as the chief coordinator of the party, a smaller urban constituency would be more convenient for running a state-wide campaign, and our party did secure almost as many votes in Tiruvottiyur (17,000) in the last elections (out of a total of about 17 lakh votes) as in Karaikkudi. Besides, I am a boy from the south, and if I contest there they will reduce me to a caste leader." In Tiruvottiyur, where he is pitted against KP Sankar, brother of the late DMK MLA KPP Samy, and K Kuppan of AIADMK, he is campaigning against a proposed extension of Adani's Kattupalli Port at Ennore, and industrial pollution. Seeman's eccentricities include a fascination for unworkable green energy prototypes, combing his hair each time before stepping out of the campaign car, and referring to himself as 'annan' (brother) with the swagger of a mafioso. He makes two valid points, however. A key reason for Seeman's popularity among youth is his refusal to embrace a caste identity. Second, the nippings and gnawings of coalition politics are not slight, as DMK knows from its experience running a "minority government" in the past with the support of Anbumani Ramadoss' Pattali Makkal Katchi (PMK). In the upcoming Assembly elections, PMK is contesting 23 seats as the second-largest party in the AIADMK-led alliance—the Vanniyar internal reservation bill having been a prerequisite for this arrangement, as evident from the viral clip of Ramadoss' tears at finally getting 'justice' for his people. With the passing of the Special Reservation Act of 2021, the remaining 9.5 per cent reservation within the MBC and DNC category will now be shared by over a hundred other communities. In the absence of caste-wise population data, it is anybody's guess if internal reservations are fair to all communities. In December 2020, the AIADMK government constituted a commission headed by retired judge, A Kulasekaran, to collect caste-wise data in Tamil Nadu, but this is seen as an exercise in deferring blame.
CASTE APPEASEMENT IS A BLADE THAT BEARS the maker's name, and often cuts straight to the bone. On the several occasions that Jayalalithaa and M Karunanidhi, both wildly popular leaders from small, non-dominant communities, attempted it, they were rewarded or reproached, but they could not be accused of being daft. With EPS now relying on Vanniyars to back him in his home district Salem, and OPS compensating for the loss of Kallar votes to AMMK by favouring Maravar candidates in the southern districts, any claims to caste neutrality in AIADMK are moot. Under Jayalalithaa, VK Sasikala's prominence in the party had ensured the support of the Mukkulathor communities but this came at a cost: castes such as the Yadavas and the Mutharaiyars went under-represented. These half-concealed fissures have now broken open thanks to the AIADMK-BJP front's attempts at social engineering. If AIADMK fears special reservation for Vanniyars may backfire, it is also worried about the consequences of BJP wooing Devendra Kula Vellalars in the southern districts, says political analyst Raveendran Duraisamy. The Narendra Modi Government had moved a Bill in Parliament recommending bringing all seven sub-castes of Pallars, who are classified as SCs, under one name: Devendra Kula Vellalar. It has been a longstanding demand of the community to be identified by this dignified name, but they cannot agree about staying in the SC list versus asserting their status in society, and may swing either way in the polls.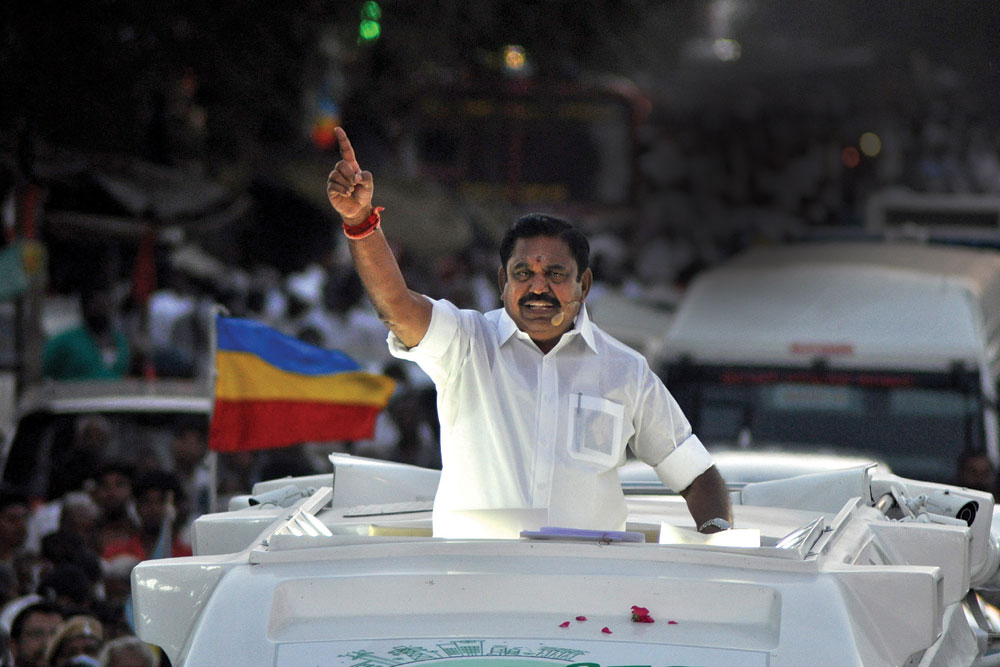 The Mukkulathor, who call the shots in 50-60 constituencies from Thanjavur to Tirunelveli, are reportedly unhappy with AIADMK's preferential treatment of Vanniyars. Another group who feel cheated are the Mutharaiyars, who, according to Duraisamy, constitute 3 per cent of the state's population (the community claims a population of 1 crore across Tamil Nadu). A group of 29 castes, including Valaiyars who are freshwater fishermen, they can influence outcomes in the delta districts. The Veera Mutharaiyar Munnetra Sangam's KK Selvakumar, who had organised a massive event in Madurai in support of AIADMK and BJP in the hope that all Mutharaiyar communities would get DNT status and special reservations—right now, many are classified as MBCs—in addition to representation in the coalition, is a disappointed man. "We are pious Hindus. We haven't converted and we trace our lineage to Kannappa Nayanar and Thirumangai Alwar. Yet, BJP and AIADMK have not fulfilled our demands. We have always voted for AIADMK, but now we are waiting for an assurance that it will fulfil its promise of setting up a Valaiyar Reclamation Board," says S Panneerselvam, a Tiruchirappalli-based Mutharaiyar community leader.
While caste consciousness continues to penetrate far below the plane of conscious thought even in a state with a history of movements to uphold social justice, voters this time are also likely to weigh other factors. No longer blindly hitched to the Jayalalithaa or Karunanidhi bandwagon, they will think for themselves and hopefully choose candidates with a clean reputation, an impressive report card in the constituency (for sitting and past MLAs), and an education. "It is unfortunate that as polls draw near, DMK has stopped talking about the many scams the ruling party has been involved in," says Jayaram Venkatesan of Arappor Iyakkam, a Chennai-based independent organisation working towards transparency in governance. Earlier this year, Arappor Iyakkam called attention to massive irregularities in the Tamil Nadu Generation and Distribution Corporation's tender process, and alleged, in a complaint to the Directorate of Vigilance and Anti-Corruption, that its power purchase agreements with private producers have cost the state Rs 1 lakh crore in the past 15 years. "Though widely reported in the media as a major scam, neither DMK nor AIADMK has offered to cancel these agreements in an attempt to win the confidence of voters," says Venkatesan. Has weeding out corruption become a Gradgrindian pursuit in Tamil Nadu? Or will the people vote out leaders implicated in scams, including ministers P Thangamani, SP Velumani and R Kamaraj? We will know on May 2nd.