ABOUT TWO HOURS west of Madurai, the highland scenery of Theni district, quilted with plantations and the waters of the Kottagudi river, rolls by. This landscape has backlit epic electoral moments in Tamil Nadu—AIADMK founder and former Chief Minister MG Ramachandran's victory in absentia from Andipatti in 1984 as he lay recovering in a hospital in the US; and his successor J Jayalalithaa's maiden election win from Bodinayakanur in 1989 cementing once and for all her position as the sole leader of the party. It was in Theni that she found and nurtured her two cover candidates—men she fielded to keep the seat warm for her when she fell afoul of the law. Today, O Panneerselvam, the soft-spoken man from Periyakulam who stood in for her as chief minister twice and assumed office once again upon her death, and Thanga Tamil Selvan, who had vacated the seat of Andipatti in 2001 when she needed to win her way back to the Assembly, are locked in a close contest in Bodinayakanur. "I suppose my party thought we are natural adversaries," says 60-year-old Tamil Selvan, emerging from the Taluka office after a successful scrutiny of his nomination as the DMK's candidate in the constituency. It is March 20th and with just two weeks to polling day, he is off to a slow start. "It is just as well. My opponent has been MLA of the constituency for 10 years. But I need only 10 days to win people's support." A former Rajya Sabha member and three-time MLA from Andipatti, Tamil Selvan was disqualified for supporting Jayalalithaa's close aide VK Sasikala and her nephew, former AIADMK treasurer TTV Dhinakaran, in the power struggle within the party following the former chief minister's death. In 2019, he unsuccessfully contested the Theni parliamentary seat on behalf of the Amma Makkal Munnetra Kazhagam (AMMK), founded by Sasikala and Dhinakaran as a breakaway faction of AIADMK. Panneerselvam's son P Ravindranath Kumar emerged victorious against him, winning the sole face-saving MP seat for AIADMK. AMMK did play spoiler in the Andipatti and Periyakulam Assembly seat bypolls, however, enabling DMK to win both. DMK is counting on the formula this time round too.
That Selvan, who joined DMK in 2019 after a public fallout with Dhinakaran, has an axe to grind with Panneerselvam makes for a good backstory, but it does not give him an advantage. "It is not him—it is the party symbol that is the star of the campaign in Bodinayakanur this time," says a DMK functionary. Located on a market street, the small office with a red oxide floor and carved wood pillars is packed full of partymen seated on green plastic chairs. They are planning events, assigning booth agents, lining up meetings with community leaders. There are civic issues to address, to be sure—notably, demands for better sanitation and water management, and a road from Bodinayakanur to Top Station in Kerala that would cut travel for tourists as well as cardamom plantation workers by 75 km—but also, social equations to balance. "AMMK could rack up about 20,000 Mukkulathor (Kallar-Maravar-Agamudaiyar) votes, but we are best positioned to consolidate votes across communities," says Rathina Sabapathi, a DMK organiser from Veerapandi, at whose expansive residence Tamil Selvam is about to address a gathering of supporters. He opens with a largely fact-free excoriation of his opponent, alleging that Panneerselvam's family had amassed Rs 75,000 crore in assets, including 1,500 acres of land in the district. But these are not the charges that will stick. Consolidating votes across a spectrum of communities, including Mukkulathor, Chettiars, Pillais, Pallars and Naidus, is key to winning the constituency, and here, Panneerselvam has been pushed to the backfoot thanks to the AIADMK coalition's controversial attempts at social engineering. Even as the granting of 10.5 per cent internal reservation to Vanniyars within the 20 per cent quota for Most Backward Castes and De-notified Communities has angered other castes who fall under the category, Pallars, who have now been recognised by the Central Government under the new head of Devendra Kula Vellalar, await special reservations to enable them to shed their Scheduled Caste status. Meanwhile, Mukkulathor discontent against Panneerselvam's perceived betrayal of Sasikala, a Kallar, and his falling in line with the strategies of Tamil Nadu Chief Minister Edappadi K Palaniswami, a Vellala Gounder—another dominant caste—have imperiled the poll prospects of other ministers from the delta and southern districts, including Dindigul C Sreenivasan, Sellur K Raju, RB Udayakumar and C Vijayabaskar, who now remain pinned to their constituencies.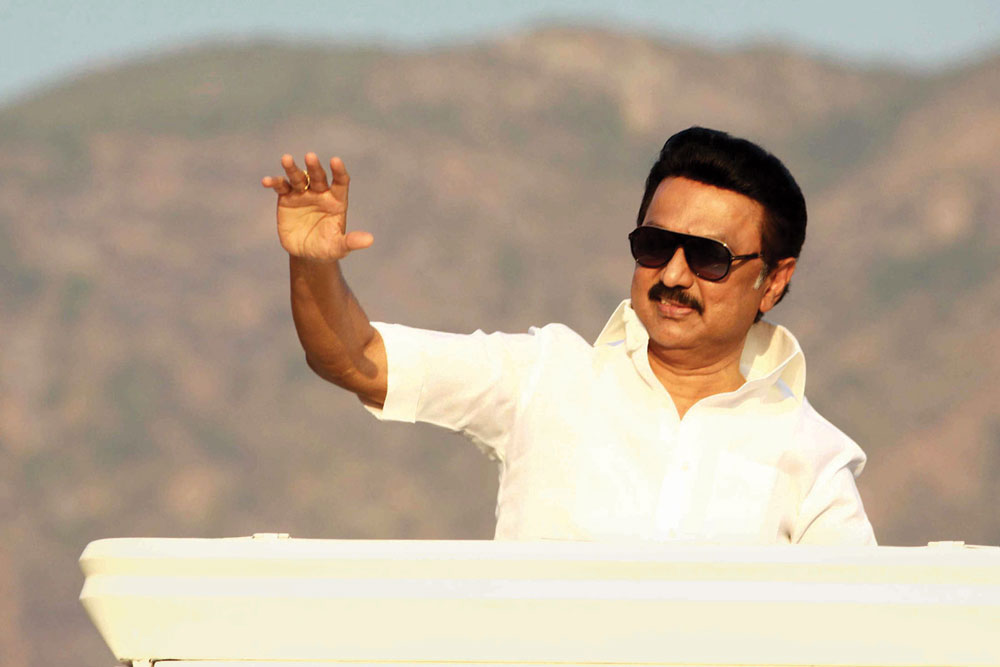 IN AN ATTEMPT to paper over the fissures and to revive his reputation, Panneerselvam has now claimed in a newspaper interview that the Vanniyar reservation is a "temporary" and "provisional arrangement" and subject to re-evaluation after a caste census. Facing the polls from 23 seats as part of the AIADMK alliance, Anbumani Ramadoss' Pattali Makkal Katchi (PMK), which is eyeing a windfall in the northern and western districts based on the new quota, has reacted strongly to the statement and taken up the matter with Palaniswami. While Palaniswami's silence on the Vanniyar issue is tacit acknowledgement that the genie cannot be bottled back, he has meanwhile turned his attention to a larger constituency of voters—women. Fortuitously, AIADMK's flagging campaign has been bolstered by DMK MP A Raja's garrulous comparison of opposition leader MK Stalin's political career to "a full-term baby born legitimately" and that of Palaniswami to "a premature baby born out of an illegitimate relationship". The chief minister's tearful j'accuse at a Chennai rally may well colour the campaign and generate sympathy, but broader attempts by AIADMK and allies to virtue-signal against misogyny are unlikely to fly. On March 30th, addressing a public meeting in Dharapuram, a reserved constituency in Tiruppur district where the BJP state party president, L Murugan, is trying his luck, as Prime Minister Narendra Modi channelled the sexist narrative against DMK and warned the opposition to "control" its leaders, Stalin countered the charge by casting an ironic eye on the ruling party's own skeletons—which include police attacks on women who protested against the Sterlite plant in Thoothukudi, glaring lapses and inaction in the Pollachi sexual assault case, and the alleged harassment of a woman IPS officer by Special Director General of Police (DGP), Law and Order, Rajesh Das.
With women voters in Tamil Nadu re-evaluating their political allegiance for the first time in the absence of Jayalalithaa, every party manifesto is a breathless panoply of promises to help women find their feet amidst inflation and unemployment, including monthly cash doles, free washing machines and LPG cylinders, and gold loan waivers. But what of winning their respect? Having exhausted its histories, AIADMK is facing this election without an overarching narrative while DMK, under Stalin, has made it a fight for self-respect and social justice. The DMK campaign has cut to the core of the fundamental values by which Tamils have defined themselves for over half-a-century. Indeed, this election is not about the charm and smarm of the Indian Political Action Committee's (I-PAC) theme song heralding the arrival of Stalin, or the speeches and assurances that lack the verbal brio and iconoclasm of his father, former Chief Minister M Karunanidhi. "More than the hubris of AIADMK, it is the people's distrust of its affinity with BJP that is driving a massive trend in favour of the DMK coalition," says a source who is part of Stalin's campaign, which in its last leg has included creative montage videos about BJP's perceived hold over AIADMK. To be sure, the Puthiya Thalaimurai TV-APT pre-poll opinion survey, which puts DMK and allies at 151-158 seats out of 234, found anti-incumbency against the chief minister to be low, with over 36 per cent respondents awarding 6-10 marks for his tenure. A vast majority of those surveyed, however, said AIADMK's alliance with BJP was opportunistic. Opinion polls by Malai Murasu TV—blacked out by Arasu Cable for not favouring the ruling party—and Thanthi TV, too, have predicted a clear lead for DMK across the state except in the western belt where AIADMK and allies have the advantage.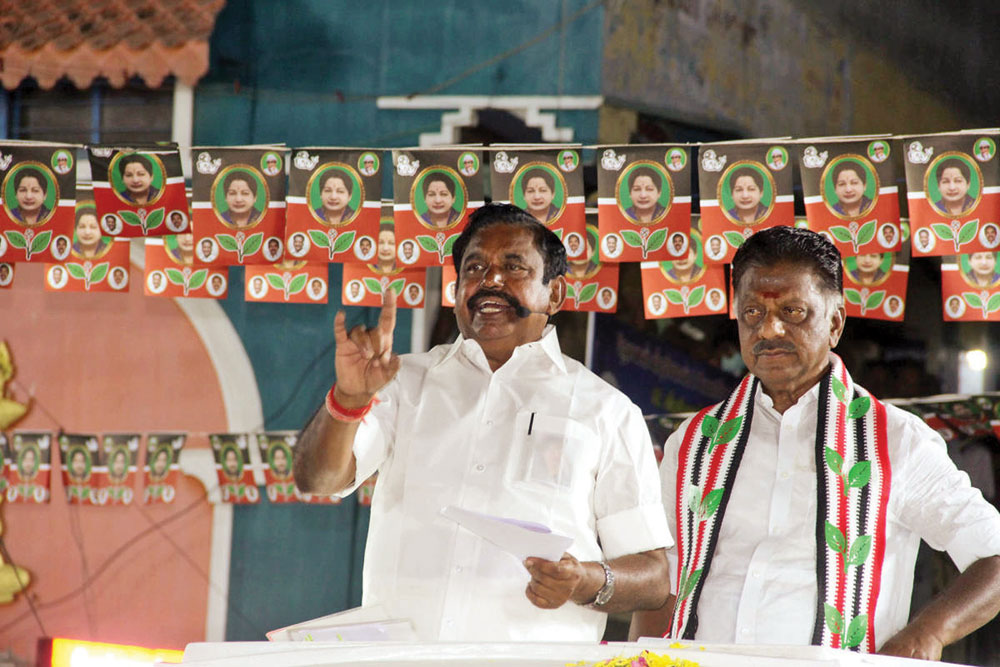 It is true that AIADMK's coalition with BJP has alienated a section of its traditional vote base, admits Information Minister Kadambur C Raju, canvassing for votes in Kayathar, a revenue block in Thoothukudi district that comes under Kovilpatti Assembly constituency. His house is about 15 km away in Parumbu Kottai, a beige structure overrun with toys, party memorabilia and photographs of Jayalalithaa, set in a Telugu-speaking neighbourhood with beautiful carved doors and pastel walls. "There is no anti-incumbency against the twin leadership of OPS and EPS. What I am fighting are two different forces: attempts to equate AIADMK with BJP at the state level and those by my rivals to derail my campaign in the constituency," he says, referring to an altercation with AMMK functionaries the previous evening. A two-time MLA from Kovilpatti, Raju is on shaky ground against his former mentor TTV Dhinakaran, who has picked the constituency for the organising might of local political impresario SVSP Manickaraja, a former zamindar and the chairman of the Kayathar panchayat union. Manickaraja, who was AIADMK's trusted lieutenant in the Mukkulathor-dominated region, is now in charge of the southern districts for AMMK. Raju claims his proxy campaign and class barrier will backfire on Dhinakaran, but his own hopes of improving upon his margin—it slipped from 26,480 votes in 2011 to 428 in 2016—hinge upon a promise to create a new district.
A small crowd shakes hands with K Srinivasan, the unassuming CPM candidate from Kovilpatti, outside a temple in Iluppaiyurani, where several matchstick factories bit the dust during the lockdown. A former councillor who has worked in Kovilpatti for three decades, Srinivasan set up a coaching centre in 2012 to help locals prepare for TNPSC exams. "Jobs are the one real issue in Tamil Nadu today," says Srinivasan, whose chances of snagging the legislator's post are just as bleak. Despite a traditional leftist vote bank, and DMK's ardent electioneering, the puissant might of money and caste affiliations are likely to determine the outcome in Kovilpatti. Take, for instance, the people of Asoor, a poor village of about 150 Mukkulathor families located off the Kovilpatti-Kayathar road, who have in the past voted with fanatical certainty for AIADMK. "Half of us will vote for AIADMK this time, and the other half for Dhinakaran. Both represent our people and both will pay for votes. For daily wagers like us who work in agriculture and construction, earning Rs 500-1,000 a day, if we get a few thousand rupees per vote, we can stay home and rest for a few days," says Mariappan Thevar, 55. He even makes excuses for the dug-up street that runs the length of the village: "They have just laid new water pipes." The people of the village have lost about Rs 1 lakh per household to a chit fund scam, but they are yet to petition their candidates to take up the matter in court.
Panneerselvam's perceived betrayal of Sasikala, a Kallar, and his falling in line with the strategies of Tamil Nadu Chief Minister Edappadi K Palaniswami, a Vellala Gounder, have imperiled the poll prospects of other ministers from the delta and southern districts
Darkness drops fast over Kovilpatti. Manickaraja's entourage is preparing to set out from Ango Plaza hotel, with PAs, family, local media and party workers in tow. There is a laidback air about the campaign despite the candidate's absence. In the neighbouring constituency of Sattur, in Virudhunagar district, the AMMK campaign is more frenzied. An old theatre-turned-matchstick unit and printing press serves as the campaign office of MSR Rajavarman, the sitting MLA who, after being denied a ticket by AIADMK, is contesting on behalf of AMMK. Having won the seat in a byelection in 2019 after the disqualification of the sitting MLA SG Subramanian, Rajavarman blames Milk and Dairy Development Minister KT Rajenthra Balaji for denying him a ticket. Balaji himself has shifted constituencies—from Sivakasi to Rajapalayam—in the hope of bucking anti-incumbency. "My team had worked to ensure we won all 20 local body seats in Sattur, but the minister in charge of the district runs it like his personal fiefdom and it is going to cost him," Rajavarman says, on the sidelines of a raucous campaign in Salvarpatti where he promises voters that he would serve them like their "own personal household servant" if re-elected. Rajavarman is expected to split the votes of AIADMK's RK Ravichandran, brother of former Assembly speaker K Kalimuthu, giving AR Raghuraman of the Marumalarchi Dravida Munnetra Kazhagam (MDMK) from the DMK front a slight edge. Across key constituencies in southern Tamil Nadu, AMMK, which bagged 5.4 per cent votes in the 2019 Lok Sabha polls, is quietly consolidating Mukkulathor votes against AIADMK, political observers say. At a public meeting in Thirumangalam—it was here, in a 2009 byelection, that the then enfant terrible of DMK, MK Alagiri, drew a straight line from voters' wallets to polling booths—where the DMK coalition's candidates from several constituencies in Madurai district await Stalin's arrival, clusters of AMMK supporters, yellow leaflets imprinted with the cooker symbol in their pockets, make victory signs. Despite the AMMK factor, however, Madurai is unlikely to be a clean sweep for DMK and allies, with the Melur, Thirumangalam, Madurai West and Thirupparankundram segments gearing up for a close finish.
"A massive anti-Gounder, anti-Vanniyar consolidation is underway across the state," says analyst Raveendran Duraiswamy. "In the southern districts, where Panneerselvam has over-compensated in favour of Maravars, other communities like Nadars, Yadavas and Mutharaiyars may consolidate against AIADMK." After the Greater Chennai zone, comprising 18 constituencies, it is the 78 seats spread across the northern districts that are expected to give the DMK coalition its biggest lead over AIADMK. While a majority of Gounders and Vanniyars, who are present in sizeable numbers across a hundred seats in the north and the west, are expected to vote in favour of the AIADMK alliance, DMK could walk away with the votes of Parayars (SC), Mudaliars (a forward caste) and other communities. It has also been making systematic efforts to break into PMK strongholds by getting the late Vanniyar leader Kaduvetti Guru's daughter to campaign for the DMK alliance. "Reservations are a risky political manoeuvre, and nothing proves this better than the drubbing we got in the Vikravandi bypoll in 2019 (DMK had promised exclusive reservations for Vanniyars ahead of the election)," says S Senthilkumar, the DMK MP from Dharmapuri. "To cut through the emotive mobilisation, the point we are making is that Vanniyars, who are the most populous MBC in the northern districts, in effect, enjoy up to 14-15 per cent reservations, and Dr Ramadoss has needlessly restricted this to 10.5 per cent." While coordination between PMK and AIADMK cadres has been smooth in the past when the parties faced the polls together, this time PMK cadres in Vanniyar constituencies, like Pappireddipatti in Dharmapuri district, are reportedly wary of enabling a Vellala Gounder.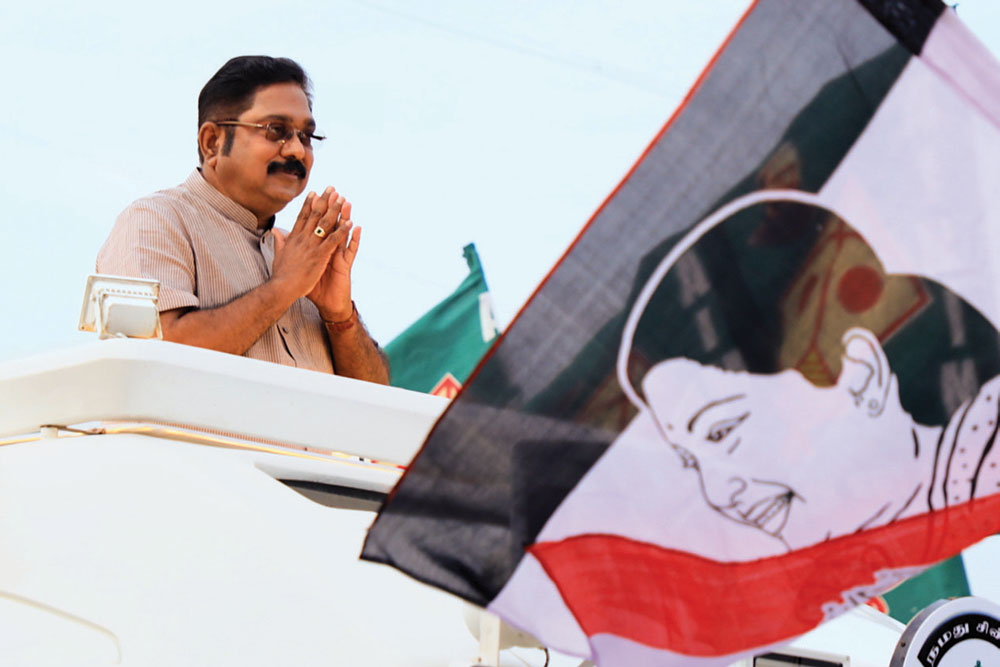 The spectre of caste looms larger than ever on the hustings, says D Ravikumar, Villupuram MP and general secretary of the Vidhuthalai Chiruthaigal Katchi (VCK), a Dalit party that is contesting six seats as part of the DMK alliance. "There is a reason AIADMK's core SC base is drifting away. Instead of genuinely empowering a community, the AIADMK-BJP coalition has been feeding people lofty origin stories from the Hindu epics, and hoodwinking them into bargaining away privilege for pride," he says. VCK is contesting two general category constituencies this time, including Nagapattinam on the southern coastline, where Aloor Shanavas' charisma and oratory stand him in good stead.
Meanwhile, in the far western corner of the state, not far from Coimbatore South, where it is a high-stakes fight between the ideological banality of Makkal Needhi Maiam President Kamal Haasan and the aggrieved moral superiority of BJP Women's Wing President Vanathi Srinivasan, with Congress' repeat challenger Mayura S Jayakumar offering a third alternative, is another bellwether constituency that is set to decide on the political future of a sitting minister whose power and wealth have made him an outlandish figure in Tamil politics. It may be DMK candidate Karthikeya Sivasenapathy's maiden election, but the articulate environmentalist and pro-Jallikattu activist from Kangeyam has emerged as one of the fancied runners in the poll race this season. The reason: he is pitted against the sitting MLA of Thondamuthur, Municipal Administration Minister SP Velumani, whose name has become synonymous with graft charges. For DMK, the contest is doubly precious, offering as it does a chance to gain a foothold in the Kongu belt, an AIADMK bastion, and a shot at taking down a key power centre in the party. The dominoes are starting to fall all around, even as Chief Minister Palaniswami holds on to his aura of invulnerability in his home district of Salem.