IT IS NOT YET FIVE IN THE MORNING, AND VARANASI is awash in a kind of inky blue darkness. An oppressive humidity, without any rain, has tormented the city for days. And suddenly, in this dawn's half-light, the sky has started to leak. The streets that lead to Assi Ghat, always crowded by day, is nearly empty. But the ghat is brim­ming with activity. The air is heavy with the smell of in­cense and flowers, and the sound of bells and chants on a loudspeaker. Men and women are walking barefoot, whispering sacred syllables. A few are setting off little floating lamps in the river. Others, with clasped hands, submerge themselves fully in the water. A little later, once the morning's aarti, performed by a group of seven men atop a wooden platform, comes to a halt, the many boats that have been filling with devotees and tourists start taking off to the river.
A group of five from West Bengal, presumably three generations of a single fam­ily, board a creaky large wooden boat. They fold their hands and murmur prayers, except for the youngest, a teenager possibly in college, who is recording videos on his mobile phone. "Multi-purpose trip," the oldest in the group, perhaps the grandmother, says when asked what they are doing so far from home. As the boat glides through the river, several ghats, some crowded, some almost empty, come and go. "Darshan karne aye hai (we have come on a pilgrimage)," the woman says and then, glancing at the teenager who is still fiddling with his phone, she adds chirp­ily, "ghoomne bhi (and to travel, too)."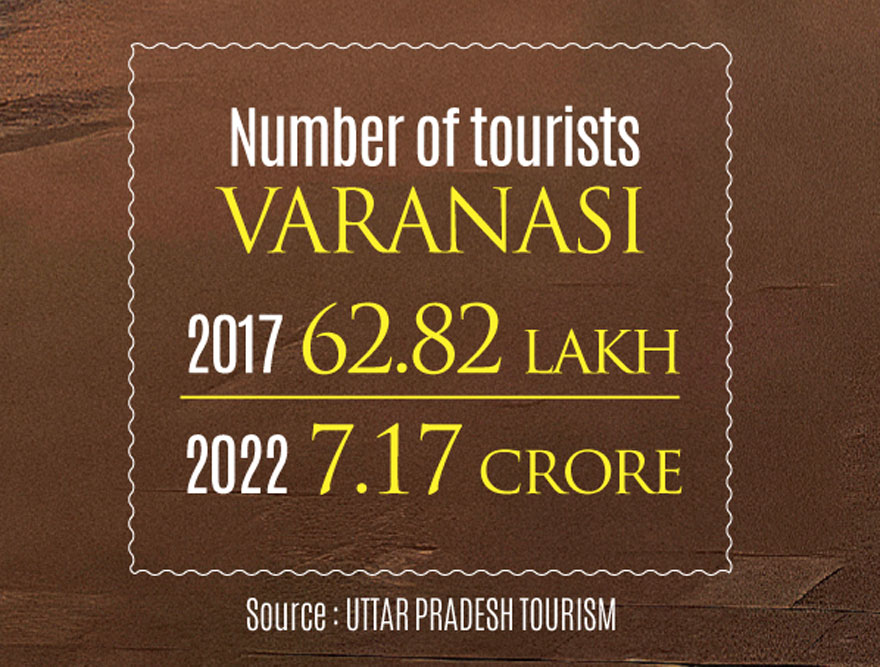 The darkness has by now entirely lifted, and the sun, as it probably has for centuries, casts the ghats, and the ancient temples upon them, in a warm glow. It is an engrossing visual, and multiple boats are moving to and fro, filled with both darshan seekers and selfie-takers, gazing at these very ancient sights.
Varanasi, as important as it is, is but just one part of an extensive network of Hindu pilgrimage spots across the country. Each of these sites has always attracted vast numbers. But in recent times, these numbers are beginning to witness an explosive growth. According to a report published by Uttar Pradesh Tourism, the state body that promotes tourism in the state, Varanasi received over 7.17 crore tourists last year. Back in 2017, this figure, according to statistics published by the board, was just 62.82 lakh. Mathura, another important site associated with Krishna, received 6.53 crore tourists last year. This, back in 2017, was just 72.53 lakh. Ayod­hya, whose main attraction, the Ram temple, has been attract­ing huge numbers even though the temple is not yet complete, lodged a footfall of 2.39 crore tourists last year, according to the tourist board. In 2017, when the site was still under dispute at the Supreme Court, the city did not get even three lakh tourists. Goa, often viewed as the country's most attractive tourist destination, is believed to get around 80 lakh tourists annually. Destinations like Goa and Kerala, with their beaches and backwaters, may have been early to the game of tourism marketing, but now oth­ers, with their temples, seem to be entering the fray as well. And while the spending capacity of the average traveller to Goa will probably be higher—since it attracts a lot of foreigners and well-to-do Indians—the sheer explosion in numbers for these spiritual destinations is somewhat astonishing.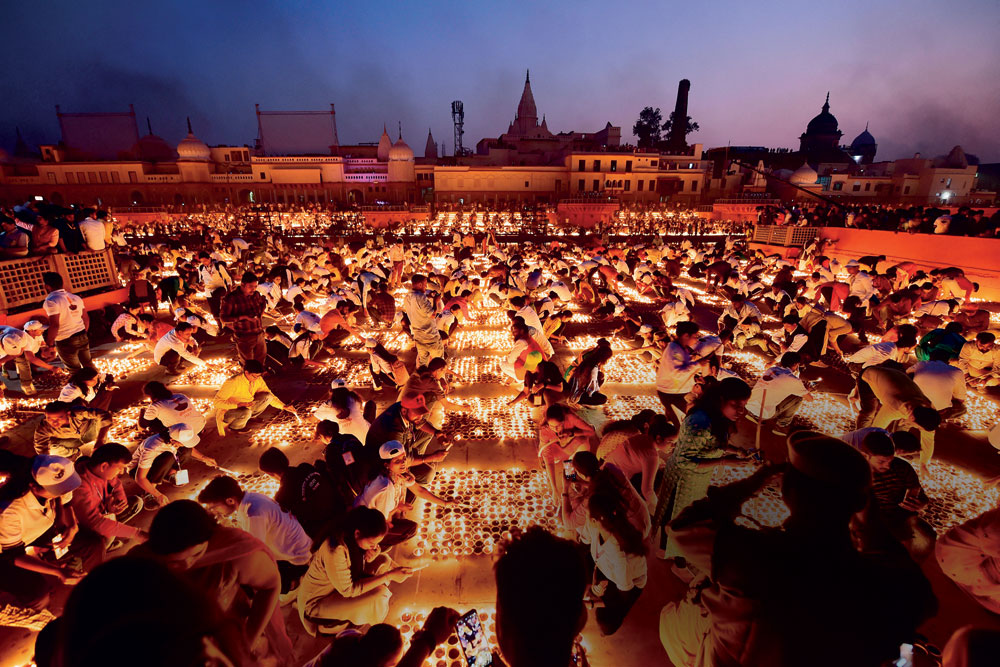 The boom in religious tourism is not limited to just Uttar Pradesh (UP). Ujjain, in the adjacent state of Madhya Pradesh which houses the revered Mahakaleshwar temple, for instance, has been witnessing large droves of devotees, ever since the Mahakal Lok Corridor was opened to the public in November last year. According to one report, the Mahakaleshwar temple now attracts about one lakh devotees on weekdays, and between 1.5 and two lakh devotees at weekends and on holidays, and the surge in numbers is having a spill-over effect on nearby areas, such as Omkareshwar, Maheshwar and Mandu, with devotees including them in their itinerary. Last year, according to the Union tour­ism ministry, some 1,433 million domestic tourists undertook pilgrimage to various sites, earning the economies surrounding these places of worship about `1.3 lakh crore. Over 60 per cent of tourism in India, according to reports, is now in the religious and spiritual tourism category.
"Varanasi features among the topmost booked religious desti­nations on our platform this year, and its bookings and searches are significantly higher than some other popular leisure destina­tions like Jammu, Leh and Udaipur. This signals a major shift in the trend of travellers leaning more towards wellness and spiri­tual getaways over leisure breaks," says Aloke Bajpai, Group CEO and co-founder of the online travel firm ixigo, as he points out how pilgrimage spots across India—from Kerala's Sabarimala hill, where the Sree Ayyappan Temple is located, Madurai where the Meenakshi temple is located, to places like Uttarakhand, the site of the Char Dham, Amritsar which has the Golden Temple, and many others—are seeing a massive surge in visitors. "There has been a post-pandemic boom in religious travel and we have seen a spike in bookings for spiritual getaways across trains, flights and buses. Our bus platform AbhiBus (part of the ixigo group) has seen a substantial rise in religious travel bookings in the last year. We have seen a 48 per cent growth in flight travel for religious, spiritual destinations in January-July 2023 versus the same time last year. Despite high airfares, flights have been the most popular mode of travel for spiritual getaways this year, followed by bus and then trains," he says.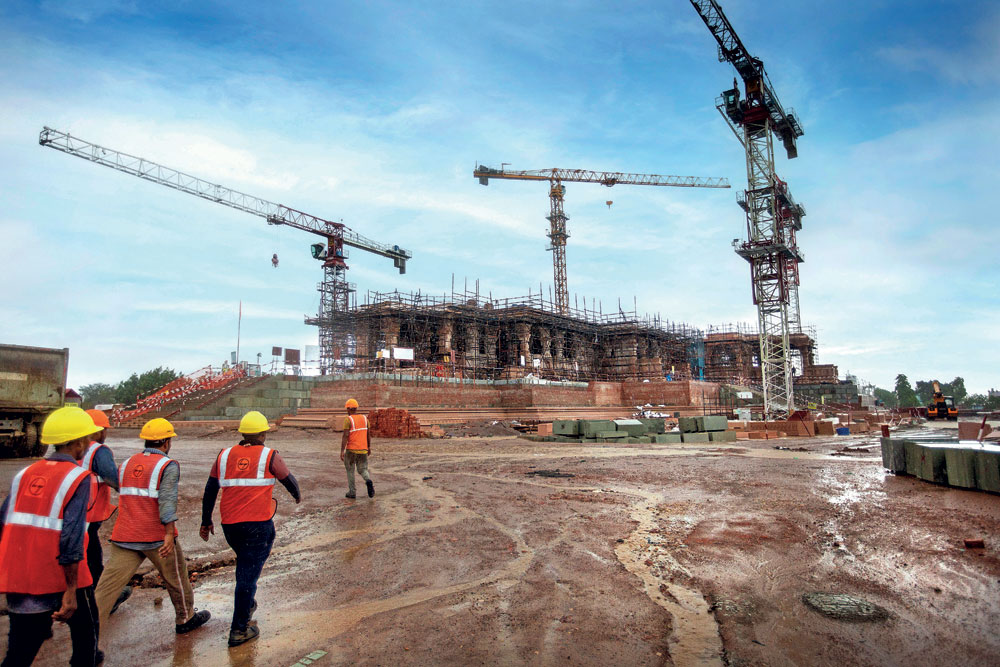 SO WHAT IS fuelling the growth at these sites? One big aspect is the government's push to promote these religious sites, whether it is the infrastructural devel­opment, from the building and expansion of airports to the building of massive highways linking distant corners to these towns, such as in UP, or the development of projects around these temples like the Kashi Vishwanath Corridor or the Mahakal Lok Corridor. "Varanasi always got a lot of tourists. But what you are seeing now was unthinkable some years ago," says Gokul Sharma, president of the Banaras Hotels Association, point­ing out how most hotels have high occupancy now throughout the year. "Ever since the Kashi Vishwanath Corridor was opened, the numbers of visitors have gone up significantly." Another is the distinct assertion of religious identity. Even young Bollywood celebrities—who often ensure they are seen dropping by the lat­est 'it' thing, now, either driven by a spiritual impulse or as part of a crafted brand image or a combination of both—are routinely found visiting these revered sites.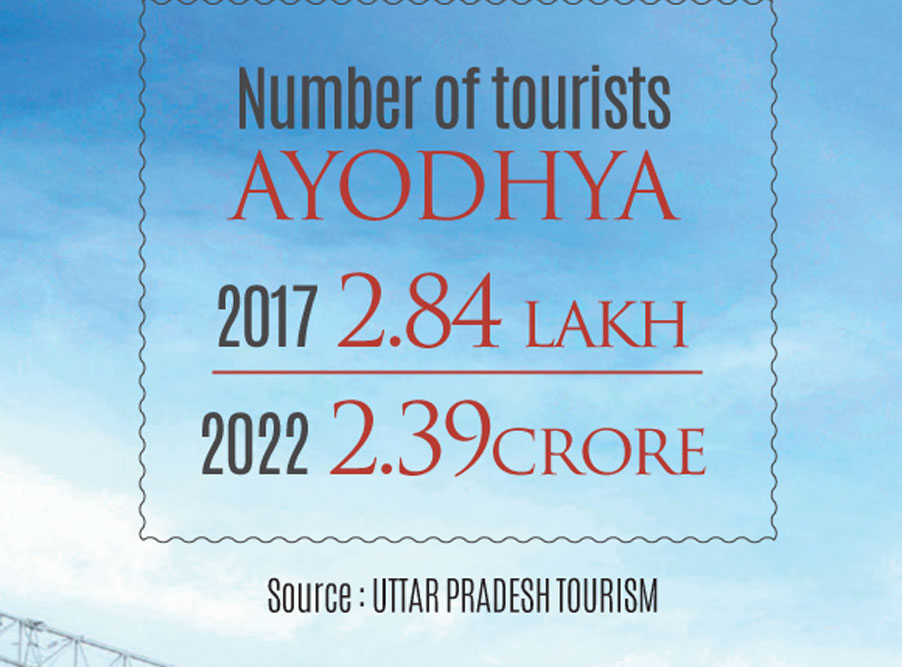 Pilgrimage tourism in India tends to be dominated by smaller hotels and travel agents. But with the growth in this category, and the growing spending power of those travelling to these desti­nations, larger and more organised players are moving in, from hotel chains to travel agencies, either expanding their existing establishments or developing entirely new ones. The Indian Hotels Company Limited (IHCL), which owns the Taj chain of hotels and which already runs many hotels in several pilgrim­age spots like Varanasi, Amritsar, Ajmer, Rishikesh, Tirupati and others, for instance, is looking to strengthen its footprint in this segment across markets and price points. "In the recent past, IHCL has signed two hotels in Ayodhya and a hotel in Vrindavan, the historic city which is a significant part of the Krishna pilgrimage circuit. In response to the increasing demand, we are adding a 100- room tower to Taj Ganges in Varanasi. We have also signed a hotel in Makkah, close to the Great Mosque," says Suma Venkatesh, executive vice president of IHCL's real estate and development wing. She points out that they opened a Vivanta hotel in Katra last year, a destination where it already runs a Ginger hotel, and will be opening one more hotel, an IHCL SeleQtions branded hotel, in Tirupati this financial year (the company already runs a Taj hotel in this city). "A critical factor pushing demand (in religious tour­ism) is better infrastructure development in these cities. Travels to these ancient holy places didn't have today's logistical support. With better infrastructure support now, this segment is growing rapidly," she says.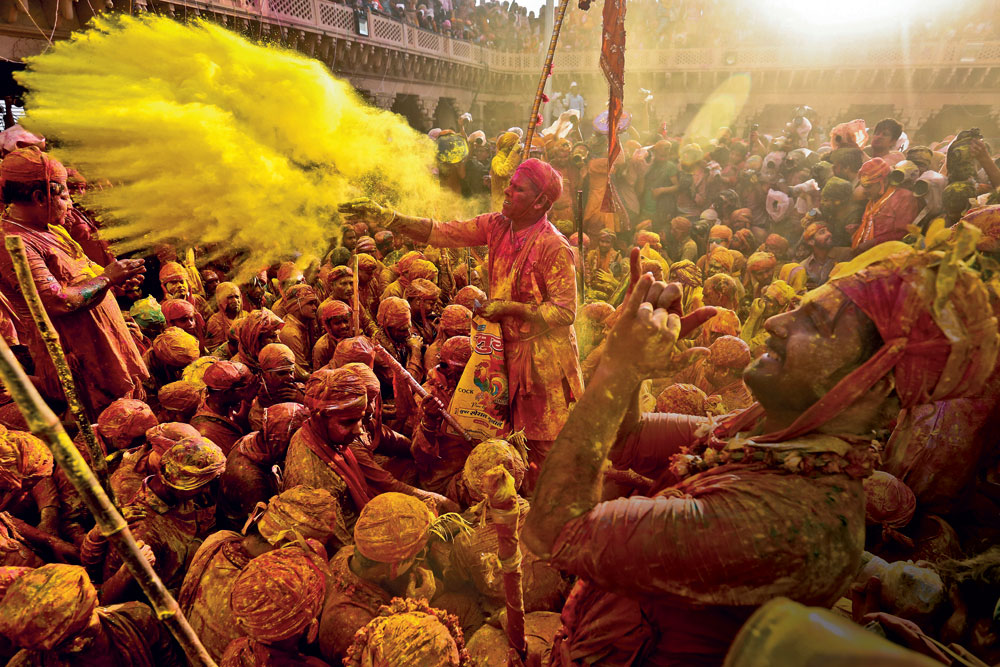 IN AYODHYA, WHERE devotees have been thronging the city even though the Ram temple is still under construc­tion, many big hotel chains have been rushing in, hoping to capture the tourism boom that many believe will follow once the temple is opened to the public. According to some re­ports, mass bookings have already begun at hotels in and around Ayodhya for January, during the time the temple is supposed to open. IHCL is one such firm which has announced it is develop­ing two properties in the city (their Vivanta and Ginger hotels).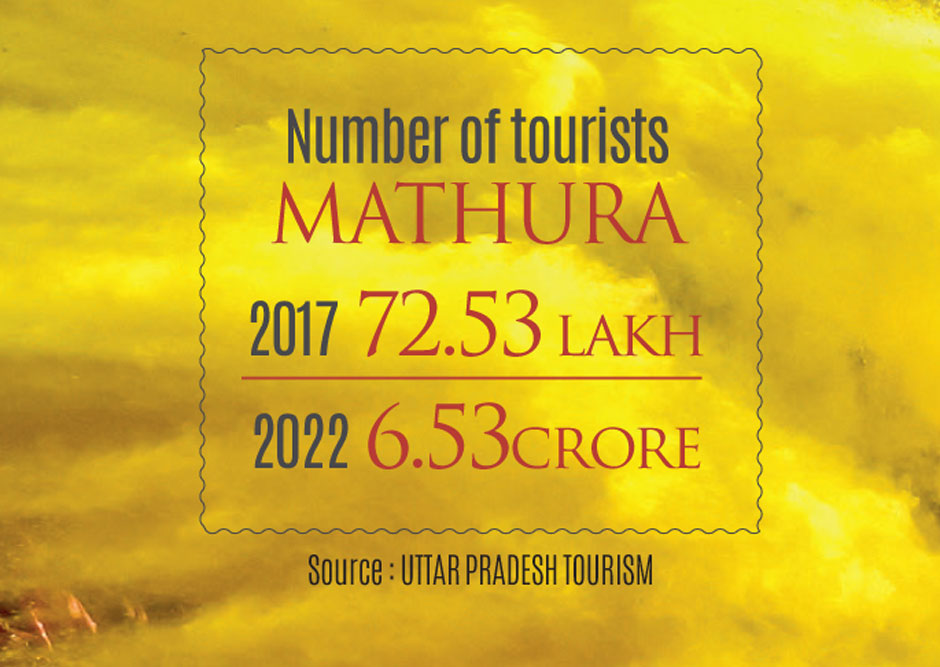 While religious tourism as a category has grown, the religious tourist of today is not necessarily a retired government official or shopkeeper taking a bus or train on pilgrimage. Many are now younger professionals. They are flying in, combining pilgrim­ages with leisure, clubbing yatras with rafting expeditions, live recording their Ganga snaans (baths), and doing darshans with, as the grandmother on the boat in Varanasi said, a bit of ghoomna. "We have currently witnessed a strong 80-100 per cent (year-on-year) growth in religious tourism and what is noteworthy is that Young India is driving this growth trend. India's millennials are displaying a growing appetite for religious tours in combination with outdoor adventure, authentic local culture and culinary experiences," says Rajeev Kale, president and country head of Holidays, MICE and Visa at the travel services firm Thomas Cook (India). "Our religious product portfolio offers a range of custom­ised options that include religious elements together with options of wellness and unique local experi­ences—across culture, cuisine and outdoor adventure. Some of the thrilling experiences that inspire our Gen Z customers to explore religious journeys include white-water rafting and night trekking in Vaishno Devi, Kathadi (close to Rameswaram—an emerging hub of water sports), Badrinath's famous valley of flowers trek; bungee jumping in Rishikesh, etc," he elaborates.
According to Daniel D'Souza, president and country head of Holidays at SOTC Travel, the young pilgrim today, apart from participating in traditional activities like the Ganga aarti in Varanasi and Haridwar, the Rath Yatra in Puri, and the Bhasm aarti at Ma­hakaleshwar in Ujjain, also looks at combining it with their unique interests like river rafting in Vaishno Devi, mountaineering, hill cycling, camping and trek­king in Mathura, or rappelling, bungee jumping, cliff jumping, mountain biking in Rishikesh. "Spiritual tourism today has moved beyond the historical pilgrimage and we are witnessing a clear shift in consumer behaviour with a growing demand for wellness and hence our products offer spiritual experiences coupled with rejuvenating yoga retreats and Ayurveda spas, for instance in Puri and Varanasi," he says.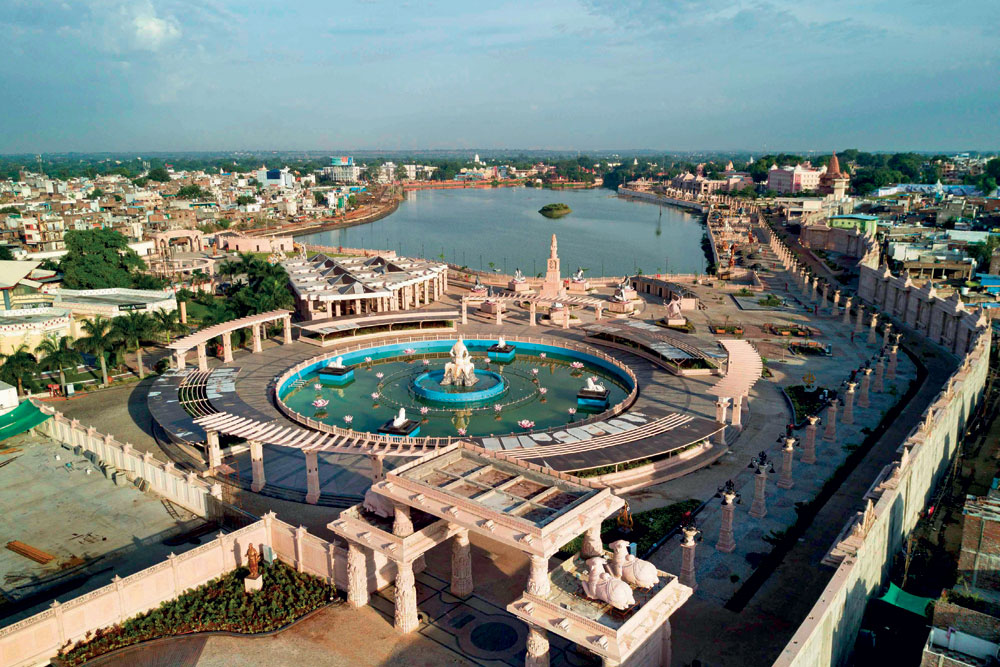 The growth in religious tourism does not come without its fears. A few weeks ago, several boats that operate from Varanasi's many ghats formed a cordon around the four large cruises that have be­come operational on the river in recent years. The boatmen, who belong to the Nishad community, haven't taken kindly to the sight of these cruises on the river. The news that about 10 newly acquired motorboats, brought from outside the state, would be pressed into service as water taxis soon, made them call a day-long strike.
"We cannot allow it," says Pramod Majhi, the leader of the group and the head of the Maa Ganga Nishad Seva Samiti. "Oth­erwise we will all be out of jobs soon."
It is close to sunset now at the Shivala Ghat, and Majhi, whose ancestors have been operating from this ghat, he says, for hun­dreds of years, has long brought his boat back. Most boatmen don't set sail late in the evenings anymore lest they strike one another or get hit by one of the cruises that operate in the evenings. Majhi agrees that the boom in tourism has meant more business for everyone, including them, but he worries what it would mean for them once more modern boats from outside are allowed.
"We are about 6,000 boatmen, and we have some 1,700 boats with us. Each one of us operates from our own ghats. I have al­ways been here at Shivala Ghat; I saw my grandfather row his boat here, and he saw his," he says. "We are linked to this place, do you understand?"
It is now close to dark. In the sky, a full moon has crept up silently. Shivala Ghat is one of the relatively smaller ghats of Varanasi. By comparison, Assi Ghat nearby, with the large crowds it gathers for its sunset aartis, would have turned into nothing short of a carnival. There is only a group of four women here by the river who sub­merge themselves soundlessly in the water. Not far from them, a woman approaches the water, holding a little oil lamp as though it were a frail bird, and sets it floating on the river.