In a week from now, a 215-strong Indian contingent will march out in Birmingham in its quest for athletic excellence and sporting glory. The spectacle, which will be telecast on satellite television and will be consumed digitally, is being perceived in Indian sporting circles as a moment of reckoning for Indian sport. The Commonwealth Games (CWG), many say, will determine if Indian sport can build on the gains made in Tokyo. It will demonstrate if preparations are on track for a better performance in the forthcoming Asian Games in 2023 and the 2024 Paris Olympics. For already established stars like Neeraj Chopra, it is a stage to add to their legacy. For youngsters like Jeremy Lalrinnunga, it is an opportunity to turn the spotlight on them and remind sponsors of their potential.
The other question to ask is about CWG itself. Is it a competition that still has real relevance in a hypercompetitive sporting world? Can we, on the basis of a CWG showing, argue that Indian sport is on the right track? Finally, is the multi-million dollar expense on this humongous spectacle worth the effort after all?
Anju Bobby George, one of the legends of Indian sport, summed it up right: "It is easy to dismiss CWG. But when you look at some sports, you see the field is just second to the Olympic Games. In long jump, for example, we have more than half of the world's best in the fray. And long jump isn't an aberration. So, it is only fair that we give the competition what it deserves," she argued.
At the time of the inception of CWG in 1930, it was pitted as an alternative to the Olympics. Organised to challenge the growing American sporting hegemony in the summer Olympiad, the standard of competition in CWG was on par with the Olympics till the 1960s. A CWG gold was looked upon as a major achievement and the winner immediately earned the tag of favourite for the next summer Olympics. Politically too, CWG was relevant. In the context of the non-aligned movement and Bandung, the Commonwealth was considered a shaping force in the new global world order emerging in the decolonisation era of the 1940s and 1950s. This explains Nehru's determination to continue as a member of the Commonwealth and use the Games to showcase India's growing stature in the new order.
In 2022, however, things are different. The Commonwealth isn't as relevant politically and is now a somewhat outdated organisation. That's where sport assumes importance. To stay relevant, the Commonwealth needs sport—and sport of the highest quality. That's what is expected to keep it relevant in the near future.
In a sport like badminton, the competition is of a decent standard with the Indonesians and the Malaysians populating the field. Cycling, women's cricket and boxing, too, will see very stiff competition.
Most importantly, athletic achievement at one level is very personal. For example, if Neeraj Chopra is able to cross the 90-metre mark in Birmingham, it is not relevant if the field has the Germans or the Czechs. It is Neeraj pitted against Neeraj. It is about the distance that his javelin is able to cover. A distance of 90 metres makes the throw one of the best and immediately elevates the standard and enhances the significance of the competition. That's what it takes—athletes trying to excel and better their own records and script legacy. Get better in their quest for excellence and inspire people back home. Even without shooting India is expected to do well and if that happened, we would have added to our gains from Tokyo and taken a major step forward.
Interview: Neeraj Chopra
'When you see fans back in the stands, it gives you a sense of normalcy. Automatically, it makes a difference. I can't wait to see Indians cheering us in Birmingham'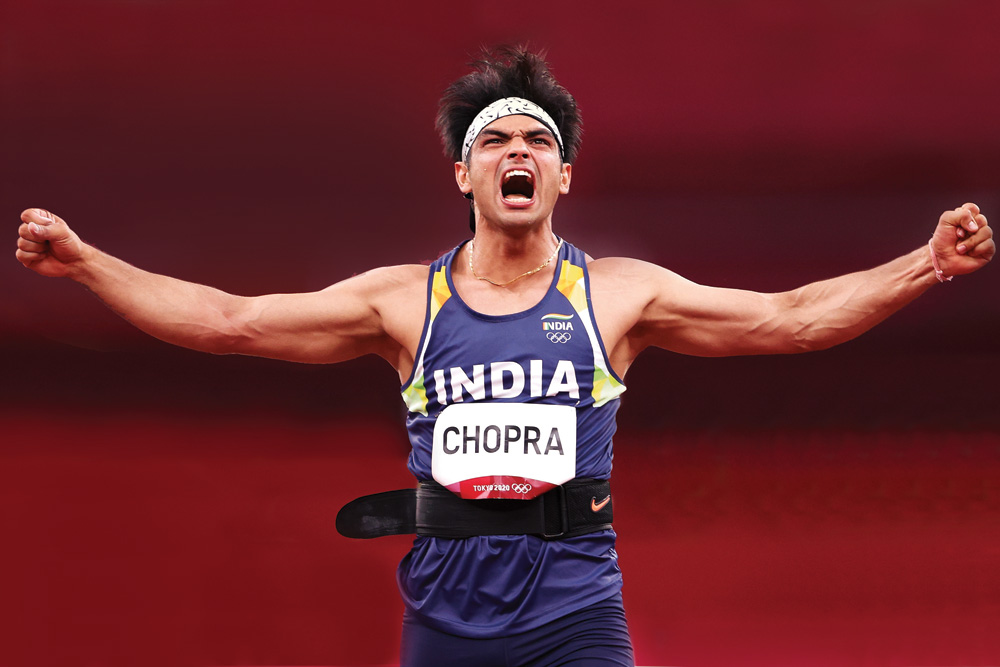 Tokyo changed it all. The throw of 87.58 metres to win an Olympic gold catapulted him to greatness in the echelons of Indian Olympic sport. Wherever he goes, whenever he throws, people follow. That's the change he has brought about. And yet Neeraj Chopra hasn't changed. That's why he says, "Main competition mein yeh manke nahi jata hoon ki main Neeraj Chopra, Olympic champion. Main just khelta hoon. Mera poori koshish hain achha karna. Bas itna hi. (I don't enter a competition thinking I'm Neeraj Chopra, Olympic Champion. I just compete. That's all.)" That's what makes him the champion he is. He has stayed humble and is aware of his responsibilities. He knows he can repeat Tokyo in Paris. That he can do even better. Speaking from the US where he has been training for the World Championship and CWG, Neeraj opens up about pressure, being Neeraj Chopra, his expectations from the forthcoming events, and a lot more
Neeraj, Tokyo changed it all. Since that gold medal winning effort, each time you throw, the nation follows you. Your every throw trends on social media. How do you see all this?
Yes, that's true and it feels good that the sport has become popular. People have started following athletics in India. They are speak­ing about it. Not just me. People are following Olympic sports and talking about it. That's where the real change has come and Tokyo helped us in bringing about that change. Having said that, we need to keep performing to be able to sustain this momentum and that's what all of us need to do now. It's not about one Neeraj Chopra. When you see Indians across the board start to do well, you know things will only get better from hereon.
Spot on. In fact, it wasn't easy coming back after Tokyo. All of a sudden you had it all. Everyone wanted a piece of you. To refocus and make it back again couldn't have been easy.
I am an athlete. Throwing the javelin is what I do. And I know that's why people want to be with me. Because I have done rea­sonably well in my field. But if I ever ignore the basics, and that's my training and my preparation, I am no one. At no point did I lose focus. We always had an eye on training, how we needed to restart, plan things and get back. My world is on the field and with the javelin. That's where I belong. While everything else feels good, I can tell you it's all because of my efforts on the field. And I will always be conscious of that.
What has stood out for me is that ever since you came back, you have improved consistently. First, you broke the national record and then braving the weather you won gold at the next meet and followed up with the 89.94-metre throw in Stockholm. That speaks for serious consistency.
That's what sport is all about—consistency. Unless you are able to do it consistently, it is impossible to sustain it at this level. Everything has to be in order. Your training, your diet, your health, your mental focus. And I am pleased that each of the other throws was also good and that tells me I am in my zone. If I am able to throw well consistently, it means things are going in the right di­rection. To be able to break the national record felt good and then I was close to the 90-metre mark in the Diamond League. Now it is time to improve further and build on these performances. If we can do that, there is no reason why we can't do well in the forthcoming competitions.
Now that you mention the forthcoming competitions, let me get to the point. Two huge competitions coming up— the World Championship in Eugene, US, and then CWG in Birmingham.
Both of these competitions are very important. You need to do well at this level and in these competitions for that's when you can make a difference to the sport in your country. You are judged by your efforts in these competitions and for me it's no different. I can certainly tell you that as far as my training and preparation are concerned, I am very well prepared. Now it's about execution and I am optimistic I will be able to deliver on competition day. If I am able to do well in both these competitions and win medals for India, I will be mighty pleased.
Do multi-discipline games mean more to you? Say, CWG or Asian Games or Olympics, for example. When you compete in the Diamond League, you compete as Neeraj Chopra. Yes, you are representing India but there is also the fact that you are performing as Neeraj. But when it comes to multi-discipline games, you are part of the Indian contingent.
Multi-discipline games mean a lot to me and to my country. These are times when people follow the sport very closely and want you to do well. And if you are able to deliver at these games, you do feel very good about yourself. When you are performing in the circuit you can be relaxed and perform but when you are playing for India at these multi-discipline games, things are always dif­ferent. You are aware people are expecting much from you and that your country is looking at you to do well. That does serve as an extra incentive for sure.
While we keep referring to Tokyo, the one thing that was missing in Tokyo was the fan. Because of Covid, there were no people in the stands. In Birmingham it will be different. I have been in Birmingham for a month recently and can tell you that a lot of Indian fans will be coming to watch Neeraj. Does that make a difference to you?
Absolutely, it does. At the end of the day, we are performers. We perform for our people, for our fans. For our country. And when you see people in the stands with the Indian flag shouting your name, it makes a huge difference. I am delighted that fans will be allowed into the stadium in Birmingham and if our people come in numbers to support us there can't be anything better for an athlete. May I also say it is good for the games and for the fans? Fans make the games and for them to be allowed means a lot to everyone associated with the competition. We just hope Covid stays in control and things go smoothly. When you see fans back in the stands it kind of gives you a sense of normalcy. And automatically it makes a difference to you. I can't wait to see Indian fans cheering us in Birmingham.
You won the gold medal in Tokyo on August 7. The javelin final in Birmingham is also on August 7. Do you think of such things?
Every athlete is superstitious. It just adds to the occasion. You have a good feeling about some things. When I think back to August 7, 2021 in Tokyo, the prediction was for heavy rain in the afternoon. We were all wondering what impact it would have on the event. If you remember, it was very hot and humid in the evening. And it did not rain. In fact, it rained much later in the night. The condi­tions were such that they helped me. You do tend to think about these things. And when I think that the javelin final is on August 7 in Birmingham, I just feel something good will happen again that evening.
Tell me a little about your training. How have you gone about your preparations?
We had started putting plans in place after we returned to India from Tokyo. I started training in earnest from December and started implementing the plans that were put in place. And when you start training, it is about everything—your sleep, your diet, your training regime. Everything was planned. And my support team has been fantastic. I have been given every facility; we have had the best access to facilities around the world. It all helps an athlete to prepare. When you know that you have the best peo­ple surrounding you, who will take care of everything needed, it automatically makes you feel good. All you then need to do is follow the plan and train. That's what I have done.
Another thing that intrigues me is that you have back-to-back competitions in the World Championships and CWG. How difficult is it to peak twice in a matter of two weeks?
It is difficult for sure, but that's what you train for. It is not as if we were unaware of this schedule. We knew what we were up against. We had to plan for it. You mentioned two important competitions in two weeks. Add the fact that they are not in the same place or the same country. There is a major time difference between the US and the UK. All of these things matter. However, we have dealt with such situations before and we are ready to deal with them again. That's what planning and preparation are all about. It's not simply about turning up and throwing. All the work that goes on helps you in doing so.
You are just 24 and you are one of India's biggest sporting icons. How is it being Neeraj Chopra? When you go into a competition, all of India wants a medal from you.
I don't go into a competition thinking I am Neeraj Chopra, Olympic champion. Such things don't even occur to me. I enter a competition wanting to do well. I go in just as an athlete who has come here to compete. Do his best and throw the best he can. It is about keeping things simple and enjoying what you do. So all this talk about my being one of India's biggest stars, etc isn't something I carry with me. While the love and af­fection and the blessings of my people mean a lot to me, it is also important to be in my zone when I am going into a competition. That's what I have tried to do.
You are reportedly being considered for India's flag bearer in Birmingham. It is indeed an honour to carry your coun­try's flag in the opening ceremony of a major event. Do these things matter to you? Of course, you have already carried the flag at the closing ceremony in Tokyo.
It certainly does. But may I say that while I have also heard the same, and there is some talk about it, I haven't yet been notified formally? It also depends on my travel schedule after finishing the World Championships and my travel itinerary to Birmingham. Having said that, if I am indeed given the opportunity, there is no debate that I will cherish it. To lead India and carry the Tricolour is always an athlete's dream and it will mean a lot to me.
What's the biggest change you have seen since Tokyo?
The biggest change is in people's perception. All now believe that we can do it on the world stage. And not simply in javelin. If you take a look across sports, you will see Indians doing well. We won the Thomas Cup in badminton, for example. It was a first for Indian sport. Seeing these successes, people have started to believe in us and follow Olympic sport. And this is what will result in real change. Youngsters will want to take up sport and throw the javelin. They will want to play badminton or hockey for they know they can be the best and that Indians have done it in the past. The other change is in the interest levels of people. Each time I go into a competition, I see people wishing me on social media, following every competition in detail. This wasn't the case in Tokyo and I have to say it feels great to see sport being followed so closely back home.
How difficult was it to motivate yourself again? After all, you won the Olympic gold medal. Nothing can be bigger or better.
Honestly, it wasn't difficult. If you take a look at some of the world's greatest ath­letes, they are the greatest because they have been able to do it time and again. They have done it over years and across Olympic cycles. That's what it is all about. Tokyo is now a thing of the past. Yes, it is a great memory and will forever live with me. But it is the past. Paris 2024 or Birming­ham 2022 is the present. And the motiva­tion is to do well in every single competi­tion, in multiple Olympic Games, and leave behind a legacy one can be genuinely proud of. That's what motivates me all the time.
Finally, may I tell you that I am quite tired of these virtual interviews? While I appreciate your making the time and speaking to me, I do hope that after you win in Birming­ham we can do an in-person interview over a meal. Again, I am aware you will be back at the Diamond League in a week, so a cheat meal isn't on the cards but at least we can celebrate the medal together.
Sure. If things go according to plan, we will speak again and celebrate the medal. But as you know, it's important not to focus on the result when you are going into a competition. It's about the process, the training, the preparation, and your mental frame­work. For me, all of that looks to be in place and that's what gives me confidence. If things go as planned, we will certainly meet and celebrate in Birmingham.
Interview: Nikhat Zareen
'I am determined to win the Gold and leave a mark'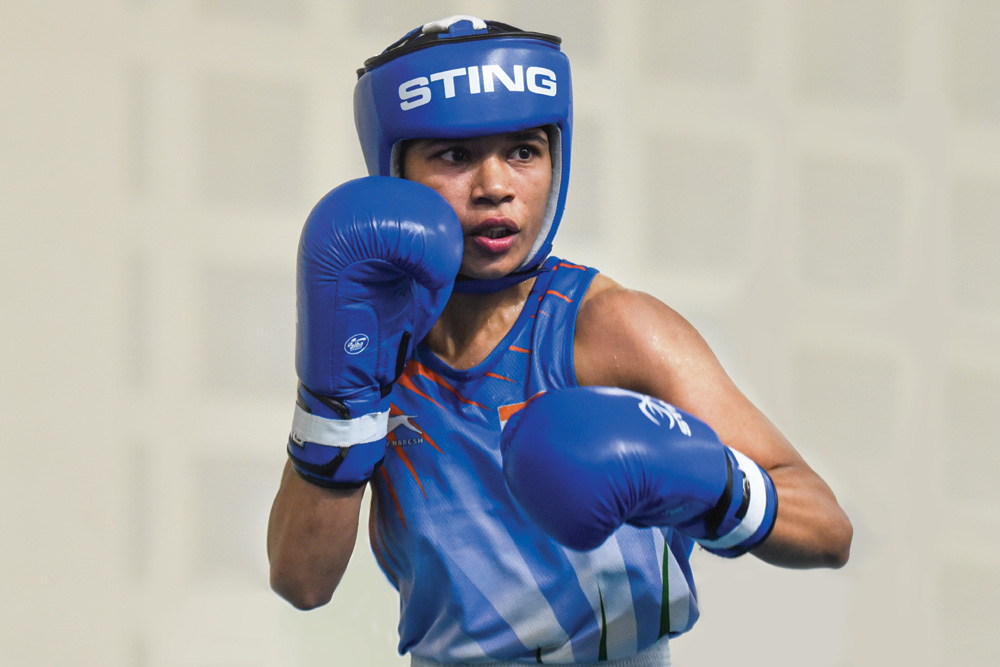 She had been waiting in the wings for long and now that she has got her opportunity, she will not let it go. Nikhat Zareen, reigning world champion, looks ahead at CWG and says she wants to win every competition that she takes part in and the eventual goal has to be Paris 2024
Nikhat, now that you have won the World Champi­onship, there will be a lot more eyes on you in Birmingham. How are you looking at the challenge?
I actually look at this as a major opportunity. I have fi­nally got the chance to represent my country in front of people supporting us and there will be millions back home cheering. I am not going to let this opportunity go. Having won the World Championship gold, I now have the confidence to do well at big events. CWG is yet another event on the calendar. I want to win everything and the eventual goal has to be the Paris Olympics of 2024.
In Tokyo, we had a relatively underwhelming campaign. The only medal was from Lovlina Borgohain. CWG offers us a platform to turn things around.
Each one of us in the squad has trained well and prepared well. Each one of us is deter­mined to do well and win. As for myself, I am determined to win the gold and leave a mark. We have the potential and the ability to do well and it is time to deliver for India. So, you can rest assured we will do our best in Birmingham.
Your story is hugely inspirational. Given your background, the struggles you have undergone, the effort you have put in. How do you see things at the moment?
Things haven't come easy. So, when they come, you know how important or valuable they are. We have got here the hard way and life has been full of struggles and challenges. But you know that's what allows you to en­joy the success a tad bit more. I have waited for years to represent India on the biggest stages. Each day, I went to sleep dreaming of playing for India. Each day was a wait. But now it's over and that's why we have to persist. If you are honest, you will get an opportunity.
You had a training camp in Ireland. Are you happy with the way you have prepared?
Yes, totally. We have worked very hard in the last few months. And even after winning the World Championship, we didn't take a break. Training has been as per plan and now it's time to go and deliver for India. Hopefully, we will be able to do so in Birming­ham. Boxing at CWG is competi­tive and it will be important to be at our best to deliver a podium finish.
Interview: Savita Punia
'We won respect after Tokyo. But we must never forget that we did not win a medal'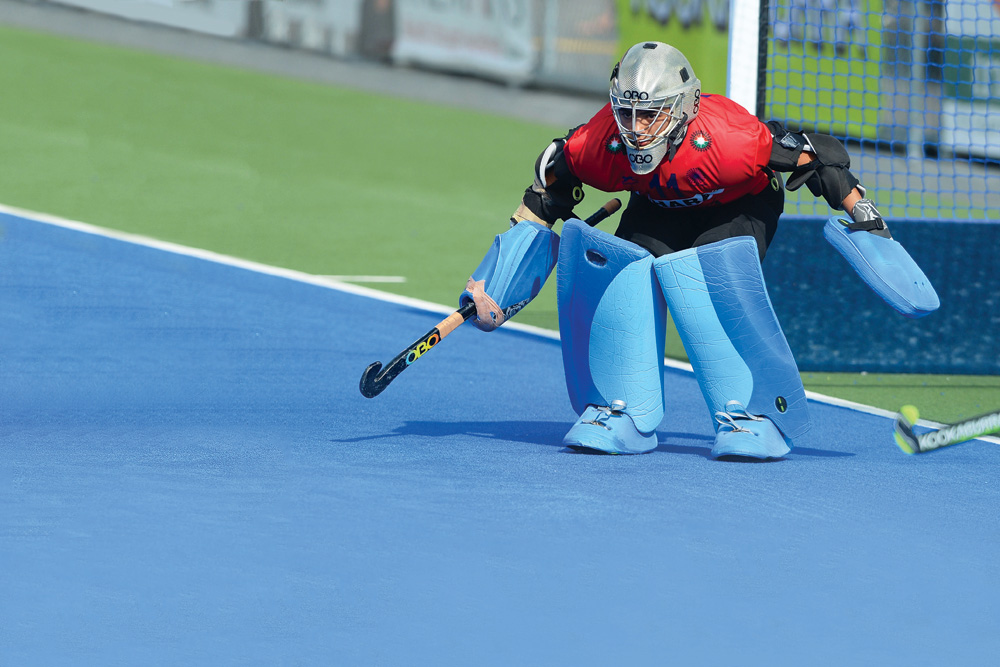 If there ever was a game that the Indian women's hockey team would never forget it would be the Tokyo Olympics quarter-final against Australia. And the star of the contest was goalkeeper and current captain Savita Punia. She will yet again have to lead from the front if India is to create history and win a medal in Birmingham. Savita emphasises how important it is for the team to earn a podium finish
Savita, expectations will be high after Tokyo, the World Cup notwithstanding. What's the mood in the team?
Everyone is focused and upbeat. We came close in the World Cup and lost some very close matches. We know we can win from tough situations and that's what we had done in Tokyo. When you play in a multi-discipline event for your country, it is only natural people will expect you to do well. But that's what we should welcome and use as an opportunity—to do something for India. Each of us in the team is keen on doing that.
A lot has changed since Tokyo. You are now much respected, celebrated and followed. The sport is richer.
Yes, everything changed after Tokyo. While we did not win a medal, what we did win was respect. Everyone realised that India can beat any team. Having said that, we must never forget that we did not win a medal. There is always a degree of pain that will stay with each one of us. Every time we get to play in a multi-discipline event, we must look at it as an opportunity. We need to and must win a medal for India. That's when things will change even more.
It's interesting that you say that. How important is CWG to you?
It is very important. Our predecessors have a CWG medal but we don't. And we must do everything to win one. There are some very good teams at CWG, so the competition will not be easy. That's where we need to push ourselves and do what we are capable of. We are capable of winning matches from tough situations, scoring more goals, holding on in the later stages of a contest. It's time we did these things in match situations.
And for you, personally? No Rani (Rampal) and as captain you will have additional responsibility. How do you see the challenge?
To captain India in a multi-discipline competition is an honour and for me it is no different. It just feels unreal at times that I have been given this responsibility. It is my turn to ensure everyone in the team is comfortable and in good spirits. The juniors need to feel welcome and my job will be to get the best out of everyone.
Interview: Kidambi Srikanth
'We know the courts will be slow and we will have to adjust. It's about keeping these finer points in mind'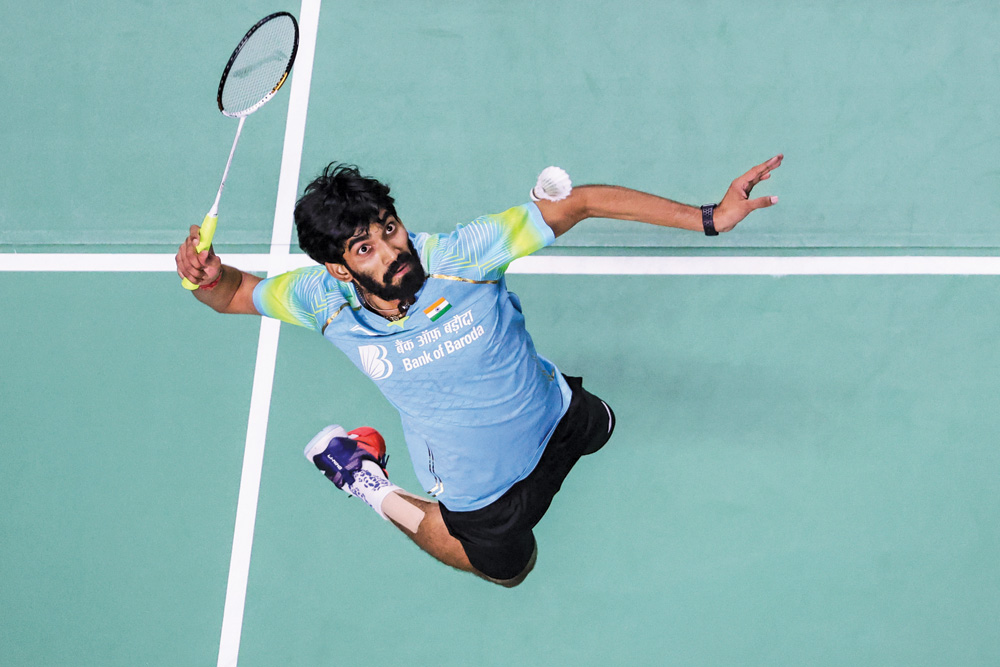 It was an incredible achievement for India when the boys blanked out Indonesia 3-0 in the final of the Thomas Cup to script India's first ever triumph in the tournament. One of the stars, Kidambi Srikanth, speaks about his CWG preparations, how the sport has changed, and more
Delighted to see you back at full steam. Injuries had impacted the Tokyo cam­paign but with the Thomas Cup, we could see the Srikanth of old.
Yes, it feels good to be speaking to you after a major tournament win and ahead of an­other major tournament. I had done well in the World Championships and can tell you that I have now started to play at my best. Fitness-wise, I am in good physical shape and that is of utmost importance at this level. Now it is time to make the most of the next few months and deliver some good results for India.
Gopi (Pullela Gopichand) has always told me that you are someone he fancies in difficult situations. We had seen that in 2017 when you won multiple super series titles. Do you now feel confident enough to deliver on the big stage in crunch situations, as you did in the Thomas Cup?
There is no special formula. I have the expe­rience of knowing what awaits me. I have now played the sport at the highest level for many years and that experience helps. Take CWG, for example. Each of us has played the All England and CWG will be at the same venue. So, we know the courts will be slow and that we will have to adjust. It is about keeping these finer points in mind when you play the crunch points.
Over the course of your career—and you are instrumental as well—we have seen the sport completely transformed in India. Gopi was saying that we now have 4,000 courts in Hyderabad and some 6,000 courts in Bengaluru. These are staggering numbers.
There's no doubt that the sport has changed. Look at the way the Thomas Cup win was re­ceived back home. We had the entire coun­try celebrating. And the more we win on the biggest stages, the better things will get. We now have the best facilities, there is money in the sport, and all we need to do as players is focus on our game. All the rest is in place as it should be and I want to credit the Association and Gopi Sir who was fronting this change.
You won a silver last time. This time round, we will all be expecting a team gold and an individual yellow medal.
No one will be happier if I am able to deliver on both. Having said that, I can assure you there will be no dearth of effort. I will be do­ing everything I possibly can to win medals for India. For, winning in these competitions is why you play sport. So please keep sup­porting us.
Interview: Mirabai Chanu
'If you get me pizza, we will do the next interview after I win the Gold'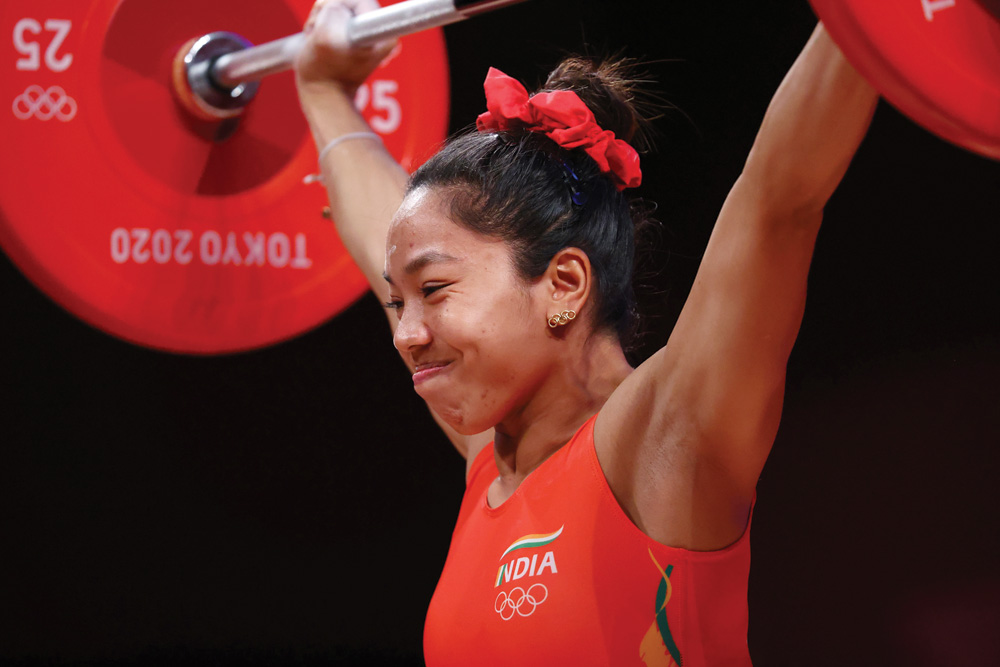 She had ignited the hopes of a billion people when she won a silver medal in Tokyo. Since then Mirabai Chanu has changed weight categories, gone up to a high category and now she is back again to her favourite 49 kg category for the Birmingham CWG. If there is a competition where an Indian is a big gold medal favourite, it has to be Mirabai Chanu in Birmingham. Does it add to the pressure and how is she dealing with it?
There was much talk about you competing in the 55 kg category. But then you are finally competing in your staple 49 kg. What really happened?
It was initially decided that I would be competing in a higher category to give India most chances of winning a medal. As a result, I had started training to compete in the 55 kg weight category. I had also added a couple of kilos to my weight. But then there were some issues with our participation in the 49 kg category and I was asked to go back to my original weight class. That's what happened and now I am all set for the 49 kg category.
How confident are you? There is no question that you are a huge favourite. Let's agree that we will do another interview when you win the medal.
I am very confident. It is because I have trained the hardest, done ev­erything that I needed to do, and I am in very good shape. There is no reason for me to not do well. And yes, we will certainly do the interview provided you get pizza for me to the stadium. If you get me pizza, we will do the interview after I win the gold (laughs).
No athlete has ever told me she would win the gold medal ahead of the competition. That's what you are saying. Will this not add to the pressure?
I think this is good pressure. You want such pressure from your people back home for only then can you make them happy. Unless they are ex­pecting things from you what's the point in being an athlete? And while I am confident, I can tell you that I am certainly not overconfident. I am confident because I have trained very well. I know what I am capable of and feel optimistic I will be able to deliver on my promise to my people.
You will be in action on the very first day of the competition. A gold for you will set things up for India.
Yes, if you win an early medal it gives the entire contingent hope that we can all do well. So it is very important to begin well. That's exactly what happened in Tokyo and we ended up having our best ever Olympics. In Birmingham, I will be hoping for the same. If I am able to win, it will help the entire team to do well and raise the bar.