ONE evening, as I stepped on my dusk-dappled terrace to breathe in the rain-washed freshness of Lahore's indescribable August breeze, I saw a flag, stripped in green and white, with orange and green rectangles, aglow with a crescent and a star, fluttering on the patio of the house on the other side of the street. For the first time ever, there it was, in a regular street of, for lack of a better word, an 'upscale' residential area of Lahore. Hoisted next to the August 14th Pakistan's flag, in a gentle sway, was the flag of Kashmir—also known as Azad Kashmir, and in India, as the Pakistan-Occupied Kashmir.
Kashmir in August 2019 is, suddenly, mainstream in Lahore, in all of Pakistan.
For as long as I remember, it was a form-changing magical creature viewed with a subjective ambivalence, a lingering uncertainty. Sometimes, it exploded with its in-your-face potency of being something that caused an almost unanimous response in most who viewed it: how do we pretend it doesn't exist? But they did. For periods of unquantifiable indifference, it shrank into a half-forgotten theme relegated to the forgotten, dusty corners of most political discourses.
Once in a while, it became visible in all its haunting complexity, evoking moral platitudes that have an expiration date of fresh bottled milk. And once in a blue moon, like an avalanche of snow that suddenly fills the road in front of you in a dangerous, narrow valley, its stops you in your tracks. Kashmir. The seven letters that in an exquisite poignancy form a word that holds in a tight embrace a hundred years of the story of a place that has no beginning, no end, no parallel.
On August 5th, 2019, in what will be known as many things for many people, the BJP-led Government of India announced the revocation of Article 370 of the Indian Constitution, ending in one strike the tenuous bridge that connected the beautiful erstwhile princely state of Jammu and Kashmir to India on October 7th, 1949. India also revoked Article 35A. India erupted in jubilation. Pakistan was shocked and enraged.
Observers of the Pakistan-India dynamic watched with concern and curiosity.
Kashmir remained silent. Kashmir was silent like a graveyard. It was the noisy silence of people still breathing that had been put into one communal grave. India, before its unilateral abrogation of Article 370, irrevocably changing Kashmir, ensured the silence of Kashmir, the place India calls its integral part.
August opened with news of various developments in Kashmir. Something was about to unfold, something that was not good. To do a good thing, the Government of the biggest democracy of the world doesn't do what India did. India moved with the smug overconfidence of an autocrat. What India did was unprecedented. And sometimes, there isn't any single, CliffNotes way of understanding the immediate and long-lasting consequences of things that are unprecedented.
Before August 5th, to do what India says is in the best interest of Kashmir: 'Tens of thousands of additional Indian troops were deployed, a major Hindu pilgrimage was cancelled, schools and colleges were shut, tourists were ordered to leave, telephone and internet services were suspended and regional political leaders were placed under house arrest.'
Kashmiris were forced to stay inside their houses. They were not taken on board. There had not even been a pantomime of gauging their response. Their elected leaders, including two former chief ministers, Omar Abdullah and Mehbooba Mufti, were put under house arrest, and later, arrested. Some had long been in jail: Kashmiris' other leaders—despite India's vehement and brutal denial of their relevance, to some, they still are their leaders—who are known as pro-freedom fighters or separatists—depends on who you ask.
Landlines, internet, cable television, cell phone services were suspended. In 2019, Kashmir was forced into a dark silence. Kashmiris were clueless as their fate was being sealed with that one speech by that one party president in the Indian Parliament. Amit Shah, the man of heavy Hindi words and an implacable exterior, announced the bifurcation of Kashmir with a calm that posterity will look back at for what it was once India realises what it lost on August 5th: the cold, clinical cleaving of a state without missing a single shabd, without giving a damn.
Kashmir is global since August 5th, 2019. It is in most newspapers and on most TV channels that are read and beamed into homes all around the world. From a back page, one-column story, it is now a front-page headline. Kashmir is in the editorials and op-eds of every publication and every news channel that matters in terms of substance, readership and viewership: The New York Times, Washington Post, Foreign Policy, The New Yorker, The Guardian, The Independent, Haaretz, CNN, BBC, Sky News, Aljazeera.
On August 16th, the United Nations Security Council, for the first time after 1971, convened to consider 'the volatile situation surrounding Kashmir,' and to address 'the issue in a meeting focused solely on the dispute.'
Right now, what I know is Kashmir is still under curfew. Some landlines are operational. Cell phone and internet services are still blocked. Protests, wherever they have taken place while India kept up the façade of all-is-calm, were dispersed with chilli grenades, pellet guns and tear gas. Hundreds of people have been detained. People outside Kashmir have been unable to talk to their loved ones for almost two weeks.
Farooq Abdullah is in house detention. Omar Abdullah and Mufti are in improvised jails. Indian media has reported that while Abdullah plays video games, watches movies and works out, Mufti reads in solitude. Shah Faesal, a former IAS-topping Indian bureaucrat and president of the newly-formed Jammu and Kashmir People's Movement, was taken into custody from the Delhi airport. Faesal was travelling to the US to go
to Harvard.
A number of workers of different parties were arrested before August 5th. Most schools, colleges and Government offices are closed, although there is announcement of some of them opening. According to The Guardian: 'On Saturday and Sunday, small groups of teenage boys and young men blocked roads and forced commercial vehicles to turn around—a sign that restive and angry youth may not allow the administration to go ahead with its plan to open government offices.'
Kashmir without Kashmiris is the ultimate fantasy of the RSS, their ideological follower BJP, and all adherents of Hindutva that view India as a saffron-hued Hindu rashtra. The only Muslim majority state of India of 200 million Muslims has been struck in its soul, stripping its people of their identity, honour, respect, right to speak, right to decide, and right to be.
As an observer of India's dynamics as Pakistan's enormous and an increasingly hostile neighbour, I feel a sense of incredulity at what India just did to Kashmir. The stories of decades of human rights violations, disappearances, killings, torture, and rapes are not just an Arundhati Roy novel. It is all very real, etched in the pain on the face of every Kashmiri who has a story of loss to share. Not many wish to hear those stories. It is not about Pakistan; to me, it is all about Kashmiris. It pains me to see that they do not matter. They do not exist despite having identity cards. Their assent is of lesser significance than the sound of
falling leaves in a rain-drenched forest. Their right to live freely is as inconsequential as their right to be.
What will happen, I don't know. I know Kashmir in the anguished posts of Kashmiris unable to talk to their loved ones. I know Kashmir from the bandaged faces of toddlers who wouldn't be able to tell a pellet gun from a toy gun. I know Kashmir in the words of the pain-dipped op-eds of Kashmiris who feel like aliens in a country they thought was their own.
I know Kashmir through the unbiased reporting of foreign journalists who are constantly trashed by India's majority as dispensers of false or incomplete news. I know Kashmir through brave voices of some Indian journalists who speak the truth while reporting on the hugeness of what happened to Kashmir.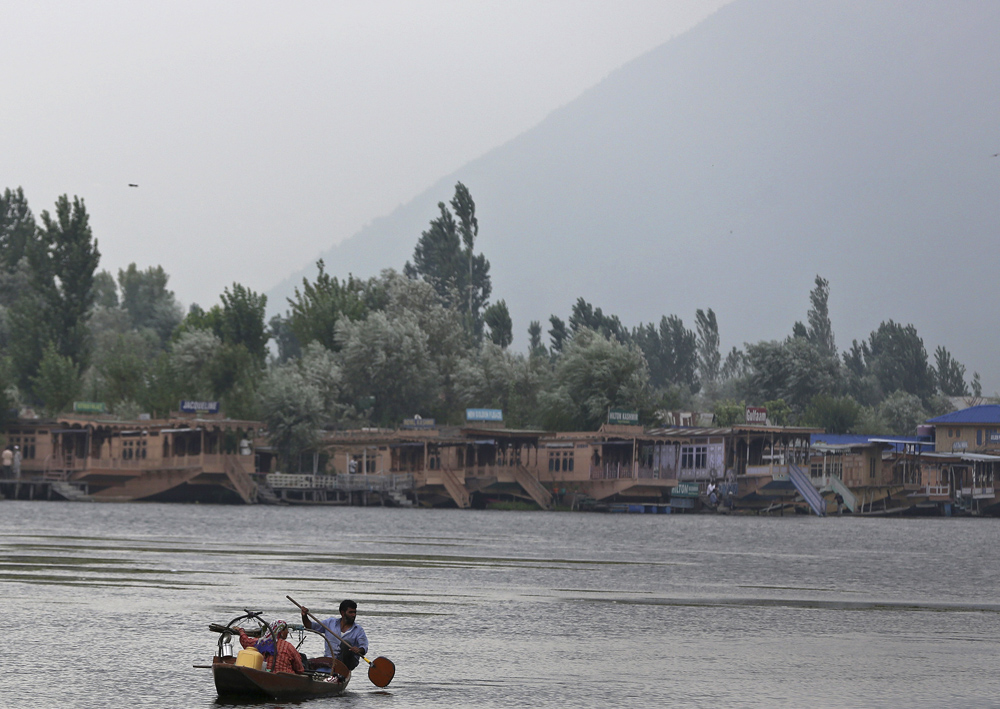 I know Kashmir in the unheard pleas of Iltija Mufti who is forbidden to meet her arrested mother. I know Kashmir via the agony of Mushaal Hussein Mullick whose separatist husband is rotting in a jail in India. I know Kashmir hidden in shards of glass in its stories, graves without tombstones, half-widows, orphaned babies, angry and depressed young men, raped women, and old people whose faces are lined in grief and loss.
WHAT I SEE is what should be a matter of concern for all Indians who love their country as the flag-bearer of democratic values. If mainstream Kashmiri politicians, like Farooq and Omar Abdullah and Mehbooba Mufti who think of themselves as Indian, who have been part of various governments of the BJP, and who are elected representatives of Kashmir, are disposable entities in the Narendra Modi idea of an India for all, just think of the millions of regular Kashmiris, many of whom already view India as an occupier in Kashmir. Those Kashmiri Muslim leaders who made an alliance with the political forces in New Delhi are today imprisoned. They have been silenced. They were not given a chance to discuss, debate and vote on the abrogation of Article 370.
If Abdullahs and Muftis do not matter to the BJP and its allies, place your hand on your conscience and say you believe a regular Kashmiri is of any consequence to the Government of India.
Pakistan responded to the revocation of 370. In a rare moment of national unity, Pakistan has come together for Kashmir. While Prime Minister Imran Khan has said he would be Kashmir's ambassador to take the voice of a silenced people globally, his tweets of the last two weeks reflect a deeper concern. The pluralist India that Khan hoped to have a dialogue with to resolve all issues between Pakistan and India seems to have another India superimposed on its values of diversity, acceptance and secularism: the Hindu India in which there is no place for anyone who is not a Hindu, who does not toe the BJP-RSS code of ethics of being an Indian, who does not chant Jai Ram when forced to, who doesn't wish to say Bharat Mata Ki Jai, who is lynched for meat that is not even of a cow, whose killers are pardoned even when they kill him on video.
India, in its war to erase its thousand-year Muslim-ruled past, is rewriting tomorrow with decrees that will make Muslims indistinguishable from the majority. In an almost 80 per cent Hindu India, today Muslims are considered a threat. Muslims have become outsiders in their own homeland. Their systematic other-ing is almost complete.
The next step will be the construction of the Ram Temple where once the Babri mosque stood for centuries.
After India's revocation of Article 370 that changes the demography of Kashmir from a state to two Union Territories, and which India, in its trademark arrogance, reiterates is its internal matter, and which Pakistan considers a violation of all UN resolutions on the disputed territory of Kashmir, and even the spirit of the 1972 Simla Agreement, the reaction of Pakistan is measured, focusing on the short- and long-term picture.
Pakistan didn't halt the construction of the Kartarpur Corridor for Sikhs' pilgrimage for the 550 birth anniversary of Guru Nanak Saheb. Indian High Commissioner to Pakistan Ajay Bisaria was asked to leave Islamabad, and Pakistan's High Commissioner to India will not go to Delhi. Pakistani air space has been made off-limits for Indian planes. Trade is suspended. All major countries have been notified of India's unilateral decision that could have grave consequences not just for Pakistan and India but the entire region, already besieged by the decades-long tragedy of the Afghan War.
On the directive of Prime Minister Khan, a recent development has been a formation of a special seven-member committee on Kashmir. A special Kashmir cell will be formed in the Ministry of Foreign Affairs and Pakistani embassies in major countries.
Pakistan has written to the UN, OIC and UN Peacekeeping Mission about its reservations regarding the abrogation of Article 370. Pakistan has serious misgivings about the unprovoked Indian firing at the LoC, resulting in deaths of civilians every day. Pakistan believes India is capable of future diversionary tactics to blame Pakistan of cross-border terrorism. Pakistan also thinks that India is capable of engineering a false flag operation in Kashmir once Kashmiris' reaction to the revocation of Article 370 unfolds.
One of the noteworthy post-370 revocation phenomena has been peaceful protests all over Pakistan, and in many parts of the world outside the Indian embassies. What is most noteworthy about these protests is the absence of religious organisations. Kashmir has become mainstream to the young people of Pakistan, who unlike our generation who had learnt to live with the futility of hope of ever seeing a peaceful resolution of the Kashmir issue, mostly just knew Kashmir as a catchword bandied about by political parties and bearded vigilantes of religion and Kashmir in Pakistan. Thousands of young people, women, men and older people of all backgrounds protested. There were no roaring hordes chanting jihad against India. There were just very concerned Pakistanis demanding justice for Kashmiris whom they look at as their own.
Pakistan for Kashmir. It is reflected in the deep sentiments of Pakistanis for Kashmiris keeping only one thing in mind: the well-being of Kashmiris.
The Pakistan that Sheikh Abdullah stated was "a religious state, a throwback to medievalism," has always supported Kashmiris. The champion of Kashmir's accession to India, Sheikh Abdullah, lauded India in 1951 as the "secular democracy based upon justice, freedom and equality," values that negated the argument that the Muslims of Kashmir cannot have security in India. In 2019, that very India has put Kashmir in a weeks-long lockdown, taking away its semi-autonomous status that was the raison d'être of its annexation to India.
The Indian-occupied Kashmir, as Pakistan calls it, and the Indian-administered Kashmir, as the rest of the world views it, needs to be looked at as just what it is: Kashmir. The beautiful Jammu and Kashmir without the hyphenation of Pakistan and India. What Kashmir needs is the right to be. I don't know what that is, I've no right to even propose what it should be. Not Pakistan, not India, not any country has the right to decide what Kashmir is to be. As a Pakistani, I stand with my prime minister, government, armed forces and the people of Pakistan, to state without ambivalence: Pakistan will extend its moral, emotional and diplomatic support to Kashmir today, yesterday, tomorrow and always.
What I also say as a Pakistani is that Kashmir's primary and most important stakeholder is its people. There is no Kashmir without Kashmiris. No curfew will keep them down. No suspension of communication services will mute them. Kashmiris will speak. Kashmiris will stand up for their rights as they always have in one of the most militarised regions of the world.
I reject the world in which the pain of an entire populace is worthless, is unheard, invisible: be it Palestine, Idlib, Kabul, Yemen, Fallujah or Xinjiang.
I pray for Kashmir.

Mehr Tarar is a well-known Pakistani columnist and author