EVEN FOR THE LEPCHAS WHO LIVE IN THE PROTECTED REGION OF Dzongu in North Sikkim, Tholung is a sequestered spot, divine status notwithstanding. The Tholung monastery is the most sacred of all places for these peace-loving mountain folk, the majority of whom are Buddhists. "Sir, tomorrow you have to walk the whole day, take full rest," Pangzor Lepcha, a PhD student at Sikkim University, tells me the day before our trek to Tholung, giving the preternatural impression that Tholung is on the edge of planet earth. His three friends, who are to accompany us, affirm his statement with a smile that is meant to equally intimidate and console an outsider. We are at Bey in Upper Dzongu, beyond which vehicles cannot progress. A dead end.
I had already trekked through large areas of Lower and Upper Dzongu by then, been to the Buddhist monastery after a tiring clamber in Lum, from where we had started off weeks earlier; survived a perilous fall in Gor on the wet steps of the monastery there; and got used to the herbal massages and traditional medicines of the Lepchas. That also meant beating the fear of heights and seemingly endless climbs through the forests, negotiating old bamboo bridges over wild streams that test your endurance, living without the internet, and braving treacherous cliffs to reach forlorn villages where Lepcha people live along with their vanishing groups of shamans called bomthing (male) and mun (female).
Yet, these companions on my trip—who, besides Pangzor, are a young guide who has just joined us and two men, both named Nimchung, who have been with us for weeks—forewarn me that no experience in Dzongu so far can prepare me for tomorrow's climb. The older Nimchung is a driver and a guide who had been an eco-warrior and an activist deeply involved in the region's anti-hydel project agitations in the past. Junior Nimchung, who holds a Masters in economics, is now a vocalist with a band called Laso Mung Kup, named after one of the most ferocious demons in Lepcha mythology, Laso Mung. Kup stands for son.
By evening, all four are vigorous in insisting that I sleep early after eating well "because tomorrow is going to be a long day". I swig the chi (local beer) rapidly and, frustrated by the lack of network on my phone, hit the sack by 8PM. I hear them whisper in Lepcha and laugh frequently as I drift into a deep sleep.
Nine hours later, I wake up with the feeling that I am Reinhold Messner, ready to climb Mount Everest without artificial oxygen. But that self-reassurance doesn't last long. Like the mountainous terrain, my mood undulates high and low. As we sip our first tea of the day, which is served to me in the most exquisite cup of the home where we are staying, people take turns to wish me the best of luck on my first trip to Tholung. Most of them have been there many times, but still believe it is a fatiguing ascent and that one has to earn it to reach the Tholung monastery, which was, according to their belief, built in the year of the French Revolution: 1789.
According to legend, it was considered a sacred place much earlier. This was why, in the face of the Gorkha invasion during the reign of Chogyal Tenzing Namgyal (1769-1793), Buddhist priests took all precious belongings, holy texts, art, and artifacts from the region up to Tholung. It was believed that no place was as safe as Tholung, considering its remoteness and hallowed surroundings. Lepcha scholars can narrate myriad myths of how the valuables finally reached Tholung.
WE HAD MET one such elderly local scholar at nearby Lingzya a few days before we were to embark on our trip. He had regaled us with the oral histories of the Lepchas and about the Tholung monastery, which now sits at 8,000 ft inside of Khangchendzonga National Park. Meanwhile, my companions on this trip, all of them from the Lepcha community, are on a mission to document such oral histories themselves.
Breakfast at 7.30AM on the day of the trip is heavy, consisting of meat and rice with hot chilli pickle on the side. "You need to eat well to be able to make this climb," says the lady of the house, serving more rice onto the plate, as someone else in the room exclaims that those who travel to Tholung "don't go just like that". She adds, "You go to Tholung only when Tholung calls you."
I am glad Tholung has called me. Although scholars of yore, including foreigners such as General GB Mainwaring and Geoffrey Gorer, had written about the Lepchas, their culture, beliefs, and Dzongu, Tholung has not been written about in detail yet, essentially because of the difficulty in reaching there in most parts of the year, and especially during the rainy season and in winter.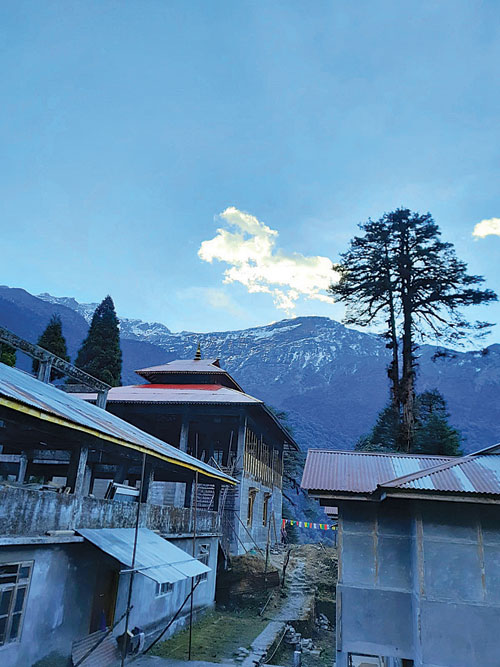 Extensive narratives about the place cannot be found even in the masterpiece of AR Foning, (1913-1987) Lepcha: My Vanishing Tribe. Foning was a Lepcha scholar known for his writings on Lepcha culture. "Much more needs to be written about Tholung and the myths around it. Now, most of what we know are stories transferred orally," the scholar we had met in Langzya had told my companions.
Dressed in full winter gear, we set off on our journey in the chill of dawn to that "distant" destination that is said to be home to expensive artifacts and other relics, a place that they say is both haunting and breathtaking in its beauty. "There are lots to see once you reach there," says an elderly Lepcha gentleman while wishing me the best of luck, again. The inventory at the Buddhist temple up there, my companions inform me as we trek upward one behind the other in synchronicity, is taken out for sunning and airing every three years in a ceremony called Kamsel. We won't be able to witness it, I am told; the excitement of the trip is not only in reaching the summit but in partaking in the journey itself. Various natural calamities, including the earthquake of 2011 and the landslides of the following years, have drastically altered the route there. Old routes fade away although there are rocks placed one over the other like pagodas indicating the path to follow.
As we begin to cross the dangling bridge that also takes us to the nearby villages of Pentong and Sakyong in Upper Dzongu, it strikes me that the 15-km trek is considered arduous not necessarily because of implacable natural forces, but also because it is a place that the locals prefer to keep private: the fewer, the better seems to be the motivation behind the intimidating public image of Tholung and the deliberate resistance to building any infrastructure here. I have not heard anyone complain about the lack of mountain roads to Tholung. Maybe, they prefer the trek to remain as tough as it is precarious.
First, you manoeuvre your way through a shallow riverbed just beyond Bey on the right, stepping on wet stones and boulders that make the hike winding and tortuous. You have to use all your energy at times to jump from one rock to another and also purge all your fear of heights before you commence. Even a small dose of acrophobia can make this trip nightmarish. Next, you are wading through a sea of rocks, up and down you go, expending volumes of strength. The sun begins to rise and as it reflects against the mud-spattered white rocks, the weather suddenly turns so scorching that we are forced to remove our warm clothes and tie them around our waists.
"Sir, don't look ahead, just watch your next step and keep walking," Pangzor tells me, a trick that has multiple benefits. It helps you focus on your movements because the chances of you sliding off and hurting yourself are high. And then, it is always good not to tire yourself worrying about how much distance you have to cover on this riverbed with scarce water and an abundance of rocks. "The route is complicated because you have to keep changing it as the water levels rise," says Nimchung Senior, who remembered to hand me a stick he had cut skilfully to help me balance myself.
Lepcha people visit Tholung monastery on festive occasions, and even otherwise. They often carry gifts that include meat and other raw food items. They are trained to carry huge weights as they ascend, so my companions joke that they can cover the distance that would take me eight hours in a mere three. We are definitely going slow because of my relative inexperience. Halfway on the riverbed, I realise I have emptied my one-litre water bottle out of what seems like an unquenchable thirst. The throat is dry by the time we reach another bamboo bridge, rickety and risky, from where Nimchung Junior manages to fill what looks like pristine river water for us to drink. I pause to satiate my thirst but I must stay focused. Some stretches are too perilous for the uninitiated to traverse. Even the best trekkers unused to the turf can fall off the narrow pathways in the forest area where we are now.
As we begin to cross the dangling bridge that also takes us to the nearby villages of Pentong and Sakyong in upper Dzongu, it strikes me that the 15 km trek is considered arduous not necessarily because of implacable natural forces but because it is a place that the locals prefer to keep private
I have been on steeper and longer treks, but it is the inherent danger in the climb to Tholung that makes many people dread it. In an earlier trek to the monastery here, one of my friends almost fell off a cliff and had to be helped to safety by trained hands like Pangzor and others. A moment of carelessness means you fall from a rock or get trapped in what is left of landslides. A fractured bone is the easiest thing to achieve around here. Anything can happen. Danger lies in wait like a snow leopard.
Some months before my trip, one of our companions had to experiment with new and unknown routes on his return from Tholung to Bey along with a few others because of unexpected floods. Over the past decade, the Tholung monastery, too, has suffered extensive damage because of frequent rains and the earthquake of 2011. The biggest tragedy, Buddhist priests tell us, is that the ancient relics also get exposed to the elements. "You can rebuild a monastery, but the relics are sensitive and can get damaged easily," they aver. Besides, any rescue effort or repair work at Tholung can take time because of the lack of access to this extremely remote spot in Upper Dzongu, especially when the weather is bad.
FROM STATE CAPITAL Gangtok, Mangan, the administrative capital of North Sikkim, is at least 65 km away, connected via hill roads. Tholung is 55 km from Mangan, and unlike the tourist hotspots of Lachung and Lachen in North Sikkim, is cut off from the rest of the state during the rains and when the floods wreak havoc. Again, as in many other parts of India, the distance displayed on Google Maps is often deceptive and it takes much longer to cover it on the roads in real time.
What is an adventure hike for one is also a pilgrimage for others. Maybe, it is a pilgrimage even for those who do not realise it. Once you enter the forest path scaling its way to Tholung through robust wild trees and plants, you don't often meet people. Your friends stop midway to scout for edible vegetables in the forests that only those with trained eyes can identify. All that will be part of your dinner tonight. You make do with chocolates, biscuits, and other snacks as you keep walking, muscles aching and lungs protesting. Considering the journey a pilgrimage helps assuage the pain of what appears like a never-ending trek.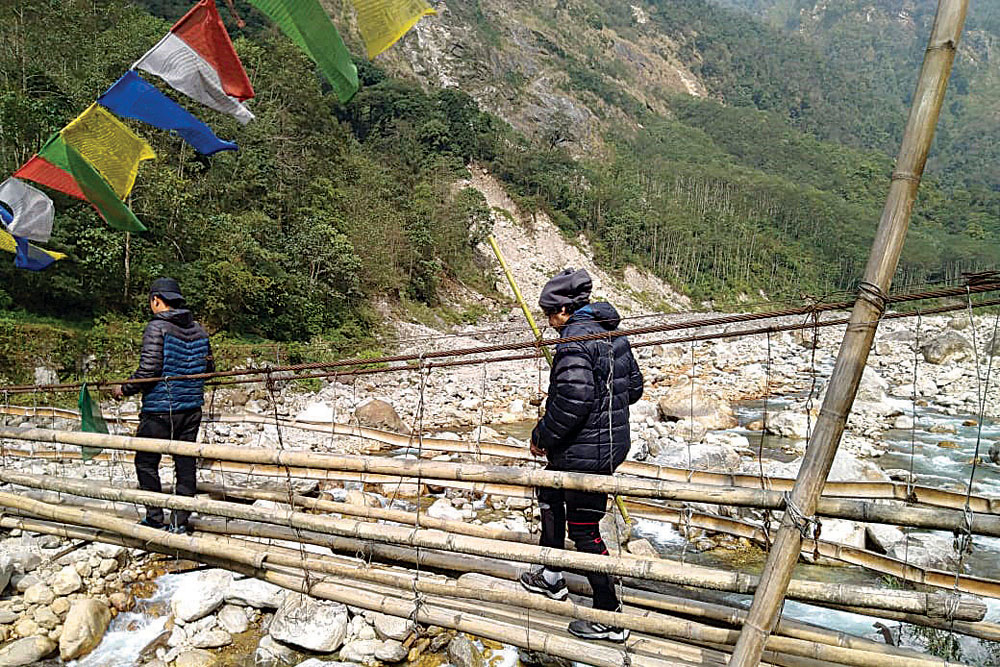 Soon, the February cold becomes harsher. You sweat profusely, then remove your jacket. If you rest awhile, you feel a biting cold again. You put on your jacket again until you're drenched in sweat. Hours pass by and you start sweating less, so you don't have to remove your jacket. Far ahead, you start seeing it as a speck in the sky: the monastery. The state government is building a new, bigger monastery on the grounds, but you cannot see it yet. You have to rest more frequently now as the muscles grow tight like a football player's. You feel numb and exhausted to the point of collapse. Then you rest for five minutes and start off again. This is why treating this journey as a pilgrimage makes you more determined to reach what you consider the luminous heights that house ancient relics, including, according to myths, those associated with Padmasambhava, known here as Guru Rinpoche (or Precious Guru) who is treated with the utmost respect in this part of the country. He is often credited with founding the Nyingma school of Tibetan Buddhism, and there are several spots across Dzongu that the nature-worshipping Lepcha people consider linked to Guru Rinpoche.
Faith definitely makes you more prepared to surmount odds such as the ones you face on the way to Tholung. It is the process of relishing the pilgrimage that gives you the moral and physical strength to endure the surreal mirage that you sense: the monastery appears so close and yet the thousands of strides you take are not enough to reach it.
My Lepcha friends are better trekkers and more youthful than me, and they view the hike as a pilgrimage. No wonder they still have a sunny disposition after all these excruciating hours of climbing. Once we reach up close to the monastery, it becomes steeper and each step feels like a hundred. The workers building the new monastery stare at us as the monk we are meant to meet welcomes us warmly. Finally, we sit inside his warm room where he offers us tea and instant noodles that someone like me enjoys only in the hills—it is strange but I have found like-minded souls on most such adventures, folk who insist they hate instant noodles, except during a trek.
We soon retire to an empty cottage to freshen up and light up a fire outside. We have been given permission by the monks to occupy it for a night on a self-service basis. It is cold beyond belief. I snuggle inside two thick quilts in warm clothes and yet I am chilled to my bones. The toilet is clean, and so is the bathroom. But I have no plans to take a bath.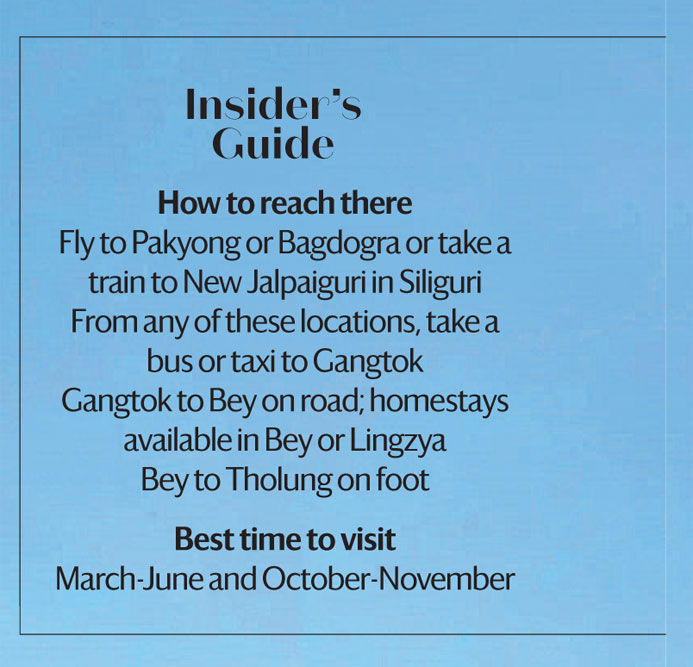 I sleep for an hour and then wake up to help my friends with cooking. But they are quicker and more efficient without my tired fumbling; so, I end up just watching them cook. We watch the dusk over the mountains and the out-of-the-world beauty of the Tholung landscape as we eat. We talk about Kamsel, which is held over three days. Monks will arrive later in the year from elsewhere to oversee the ceremony. My friends tell me one cannot photograph the inventory of relics at the old monastery, where we are yet to reach.
After our early dinner, I go back to bed and sleep like a log. I wake up the next morning only after my friends put in a valiant effort to rouse me from my slumber. After brushing my teeth and washing my face in ice-cold water, we all head towards the sites not very far from the monastery. It is a tough climb again to reach Namzom and Thewkhang, spots where Guru Rinpoche is said to have had a fight with a demon. We also see the rock formation resembling a pile of books that Buddhists believe are their holy texts. Nearby, there is also a cave that was used by Guru Rinpoche for meditation. While my friends have no difficulty going in and lighting candles, I feel claustrophobic and don't stay there for long.
We have other plans, too.
Having made it to Tholung, we aspire to visit Kishung Valley, much higher up. But we are advised against it by the Buddhists monks at Tholung, arguing that we would easily lose our way in the snow. Kishung, visited by even fewer people, is famous for Yarsagumba, or caterpillar fungus, also called cordyceps, an enormously expensive ingredient used in traditional Chinese medicine. It is also known for its aphrodisiac properties.
Kishung can wait. This time around, Tholung is more than enough. It may not be the toughest climb in Sikkim, and you don't need to carry oxygen cans unlike in places like Lamuney and Dzongri in West Sikkim. But its tranquillity and piety stand out. It is a place where history sleeps, mythology beckons.
The blessing of the Precious Guru appears to envelop you as you descend safely down, covering the distance in five hours this time, having shed the last vestiges of your ego and human pride at the feet of the mountain gods. It feels as if the journey was preordained.
After all, you go to Tholung only when Tholung calls you.