IT'S NEARLY 7PM, AND A LANE that shoots off from Dharavi's 90 Feet Road has shrunk to one so narrow that no more than a single individual can pass at a time. The noise of the street has been suddenly replaced by the sound of many tiny homes at night, and there is little light here, except for what spills out of the bulbs and TV sets in these houses. Amidst these homes, atop a few steps, Rajamani Nadar sits in a room brightened with LED lights. A large man dressed in a white shirt, Nadar is the secretary of the Dharavi Food Products Manufacturers Association. He issues orders every few minutes, sending his orderlies scampering to retrieve old dusty files containing newspaper clippings and documents of their association's submissions to the government. Nadar has turned up at this office this evening to preside over a special meeting he has called to discuss the ramifications of the latest plan to redevelop Dharavi. And through the evening, men dressed in lungis and speaking only Tamil, keep showing up in this office. These individuals, most of whom have ancestral roots in Tamil Nadu, run small one-room factories in Dharavi where it is said most of the city's fried savouries known as farsans are made. They come in ones or groups of twos and threes, and after they fill the office space, they take up the space on the stairs outside.
"Look for any document," Nadar tells them. "A ration card, a bill, anything—that shows you have a factory here. We need to show we have always been here, making farsans."
Dharavi, Asia's largest slum and arguably its most well-known, is a maze of lanes and bylanes located in the centre of Mumbai. Its residents, living in cramped spaces and many of them working in the thousands of small commercial units spread across Dharavi—from those that churn out farsans like Nadar and his colleagues, to others like potters, leather manufacturers, garment-makers, welders and plastic recyclers—have transformed this marshy outpost into a vast and informal residential and economic centre. For decades now, there have been attempts to redevelop this area, but it has made little progress beyond the paper. The locality contains some of the poorest individuals living in one of the most valuable land parcels in the city. And, among residents, this has naturally built up apprehensions about being shortchanged. Now, with the realty arm of the Adani Group having won the bid to redevelop Dharavi, its residents and business owners are gearing for the possibility of change. Foremost on their minds is whether such a redevelopment, first proposed sometime in the 1990s, will finally take place. And if it does, will this re-imagined Dharavi have space for its residents? "It is a good thing if it happens," Nadar says. "But whatever is done, you cannot transform Dharavi without taking its people along."
"Do you know it took 14 years to just get the tender process done?" asks SVR Srinivas, the Metropolitan Commissioner of the Mumbai Metropolitan Region Development Authority (MMRDA) and the chief executive officer (CEO) of the Dharavi Redevelopment Project. We are seated in his office, on the top floor of the MMRDA building. Outside the windows, one can see the spread of the plush Bandra Kurla Complex, a once-empty marshland along the Mithi River that has been transformed into one of the country's most valuable pin codes in a little over two decades.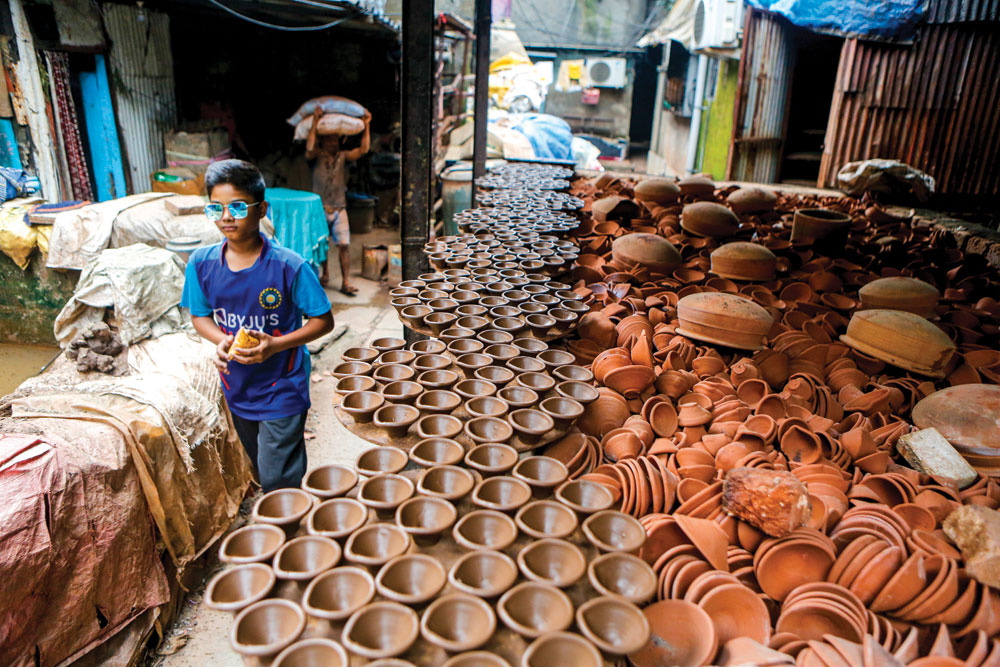 "Doing a project in Mumbai is like doing an operation on a running man," Srinivas says. "And this is Dharavi we are talking about. Calling the project a challenge will be an understatement. It is going to be the world's largest urban renewal project. We are building a city within a city. Name the complexities you can face in a community development programme, and you have all of that here."
These range from the huge numbers who will need to be rehabilitated (the often quoted 58,000 homes and 13,000 commercial units is based on a 2008 survey, and the present number is expected to be much larger) to the nature of the area, where thriving small-scale industries coexist with the residential units. "Plus, there is the constraint of geography. Because it is still a limited space, you will have to rehabilitate lakhs of people. And then the airport is very close. So we aren't permitted to go beyond a certain height," he says. Another issue, he points out, is going to be that of eligibility. Since the cut-off date for individuals who will be eligible for rehabilitation is set at those who can prove they have been living in the area before January 1, 2000, many will be ineligible and will need support. "We can't just throw them out. We will have to accommodate them in some way," he says. "The whole project is going to require a lot of out-of-the-box imagination and execution, and work to be done on multiple fronts."
THE MAHARASHTRA GOVERNMENT has so far issued four tenders for Dharavi since first mooting the plan. The first two, in 2007 and 2016, did not elicit the expected response. A 2019 tender, under the Devendra Fadnavis government, saw the UAE-based Seclink Technologies emerging as the top bidder. But when some railway land, not part of the original tender, had to be incorporated into the project, the Uddhav Thackeray government cancelled the earlier tender in 2020. The realty arm of the Adani Group won the tender issued last year with a bid of ₹5,069 crore. It is expected to rebuild 259 hectares of the area at a cost ₹20,000 crore within a period of 17 years.
The stakes of various interest groups, from the politicians and real-estate developers to residents, have often appeared to be at cross-purposes with each other. And this has affected past attempts at rehabilitation. The residents have found themselves caught between the developer and the government and their own aspirations. And coupled with the long delay, many are now anxious about their future. "We are not against development," says Anil Kasare, a resident of Dharavi. "But our concern is that it has to be fair and done honestly."
Kasare is a 52-year-old resident of Dharavi's Mukund Nagar area. He does various odd jobs in the locality and also serves as the general secretary of Jankalyan Grihnirman Development Samiti, which claims to represent the interests of over 1,500 houses in Dharavi. "The problem right now is that, because it has taken so long (for the redevelopment), we have very little faith in anybody. Where will we move when the work begins? They might say one thing, but will they even bring us back or dump us somewhere? How do we know any of these things?
Nobody has come and spoken to us about these issues," he says. Raju Korde, the president of another such group, the Dharavi Redevelopment Committee (DRC), remains equally sceptical. "There is no real surety right now that it will happen. The whole rehabilitation part is expected to be finished in seven years, and the whole project in 17 years, but the penalty amount for delays is quite low," he says. "Also, with the current eligibility criteria, perhaps 30 to 35 per cent of Dharavi's present residents will find themselves ineligible. If they aren't taken care of, the project might be devastating for them."
Korde is the kind of enterprising character you find in Dharavi. Born here to a father who had moved from Ahmednagar in Maharashtra, unlike his siblings who dropped out of school early to support the family, Korde was allowed to continue in school and eventually went on to complete a Bachelor's degree in law. As a teen, he rented sewing machines and employed people to sew shirts, before moving on to open a telephone booth, which later became a mobile repair shop, after which he opened a printing business, followed by stints as a freelance reporter for Marathi language newspapers, and then established his own neighbourhood paper Dharavi Times, and also dabbled in Marathi theatre while working in the local branch of the Communist Party of India. Korde now lives close to Dharavi, continues to hold on to a shop in Dharavi while working with the Peasants and Workers Party of India, and is also involved in Slum Rehabilitation Authority (SRA) projects. In 2002, when the government first began to chalk out plans to redevelop Dharavi, Korde realised, he says, that the plan was drawn in favour of builders and not Dharavi's residents. He established DRC which has organised protests earlier to push for better conditions for residents.
"The other big factor which developers often don't think about much is the many small factories that work out of this locality. You cannot redevelop this land without protecting their interests," he says.
DHARAVI EMERGED AS an unregulated space on the back of then Bombay's boom. As the city and its industries grew, labourers came here from all over the country and settled in this locality. Dharavi had a skilled and cheap labour force, and a vast informal network among workers, middlemen and suppliers, and a large number of businesses grew, from tanneries to textile and garment manufacturers, from pottery to plastic recyclers and food manufacturers. The result is perhaps the most diverse neighbourhood in all of Mumbai, where even as lanes and passageways get narrower, the languages you hear become more varied, changing from Hindi to Marathi to Tamil and many more every few minutes.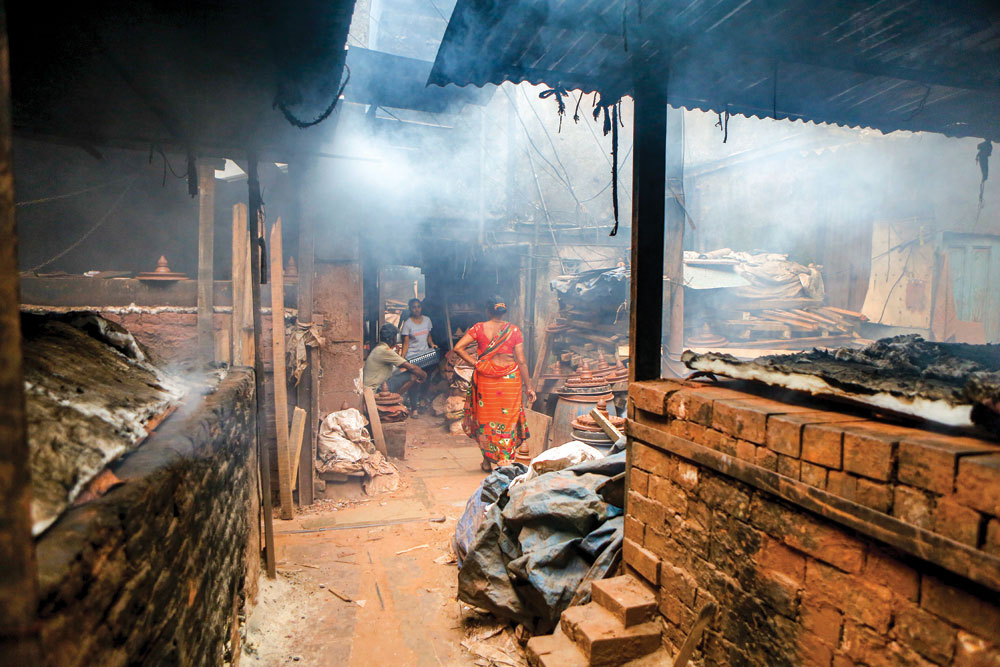 Nadar works in the mostly Tamil-dominated farsan industry in Dharavi. Composed of small manufacturing units, over 10,000 individuals are estimated to be employed in this industry. Units that made these snacks first came up to cater primarily to the many small drinking joints that ran in this part of the neighbourhood. But over time, even as many of these joints closed down, farsan manufacturers found a larger market in the rest of the city. Nadar came to Dharavi as a 12-year-old from his hometown in Tamil Nadu. He was following his father who had moved earlier and begun to work at one such farsan unit. "I started as a kid cycling to other parts of the city to sell these farsans for profit. Later, I started my own establishment, and along with others, now sell our products to most places across Mumbai." To him, redevelopment will not be such a bad thing. "We want to expand our facilities. But right now, there are lots of restrictions against such expansion in Dharavi," he says. "With redevelopment, these will be lifted and more opportunities will probably come. But the government will have to keep us in mind and help us along the way," he says.
Srinivas isn't fazed by the scepticism among locals. It is only natural, he says, given how long-drawn talk of redevelopment has been. According to him, enough elements have been built in to ensure that every resident, eligible or not, is taken care of. While the eligible will be given homes measuring 405 square feet, those ineligible will be accommodated within the Mumbai Metropolitan Region and helped out with rent, with the aim being to eventually help them become house owners. At the same time, commercial units will be compensated for the disruption that will be caused while the construction goes on—by reimbursing the entire amount of the State Goods and Services Tax (State GST) they pay for a period of five years. "There is going to be constant dialogue with the residents through representatives and directly with them and their concerns will be addressed in right earnest," he says.
The main point of difference between this attempt and those that failed before, according to him, is that earlier attempts were developer-driven. "Here, the government is going to be a party. The government will have a 20 per cent stake in the SPV (Special Purpose Vehicle that will be overseeing the redevelopment), and it will have its own directors on the board of directors. The government is there to make the SPV accountable to the local people," he says.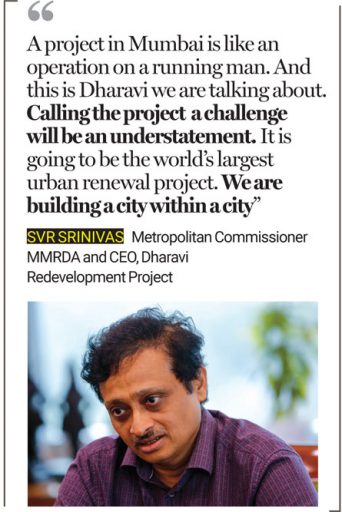 There is still a long way to go before work on the ground begins. A fresh survey will have to be carried out, the SPV will have to be formed, and communication will have to start with the locals, apart from working out the urban planning aspect. "It has become romantic to celebrate the slum. You have Oscar-winning movies set here, and slum tourism here. But we are trying to mainstream Dharavi. We want to make Dharavi a space where, while protecting its identity, it is safe and healthy, where livelihoods are protected, and the economy is vibrant," he says.
To others like Kasare, whatever the outcome, the new Dharavi will probably be an unfamiliar place. "Some of us like me were born and raised here. We have fought for years for the interests of residents during redevelopment," he says. "But when the redevelopment does happen, and even if it goes to plan, I don't know how I will really feel about it."
Taken for a Ride
Lessons from the alleged Patra Chawl redevelopment scam
By Rajeev Deshpande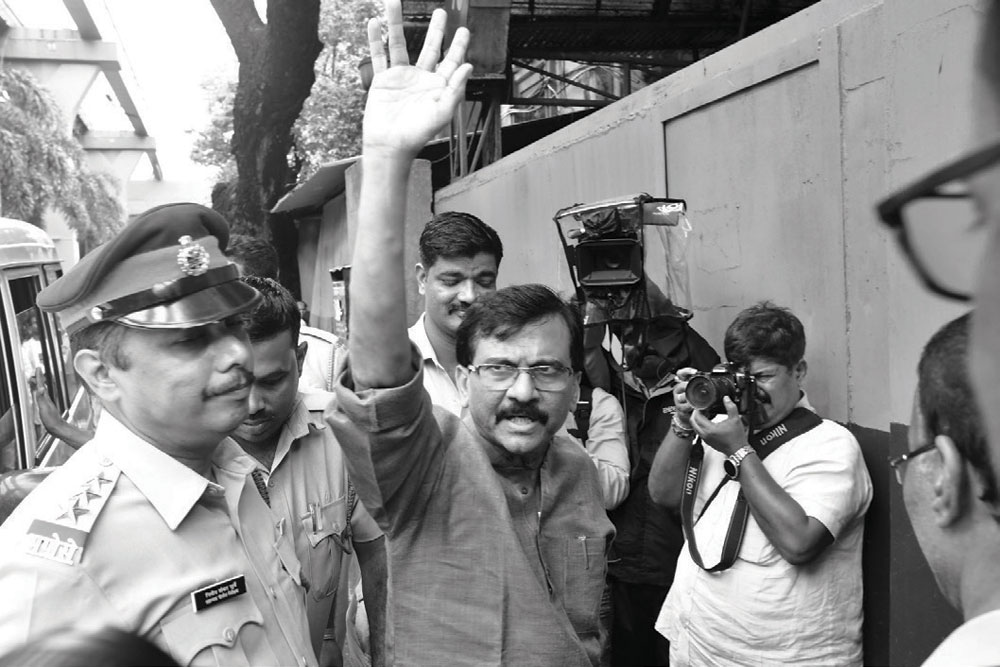 IN ITS CHEQUERED history, the redevelopment of slums and low-income housing has often enough been mired in scams and controversies that leave helpless house owners with nowhere to turn. In December last year, buyers of flats in the Patra Chawl redevelopment project demonstrated, demanding the implementation of rent and housing agreements that are yet to be resolved in a project initiated as long ago as 2008.
The controversial case saw the arrest of Shiv Sena MP Sanjay Raut, a confidant of former Chief Minister Uddhav Thackeray, for alleged money laundering. Raut recently received bail with the special court stating that the Enforcement Directorate (ED) had failed to arrest Rakesh and Sarang Wadhawan of Housing Development and Infrastructure Limited (HDIL). The court held that Raut and his aide Pravin were denied parity in view of ED failing to act against the Wadhawans. Raut is currently out on bail and waging his legal battle, but the controversy remains an object lesson in how redevelopment projects can take home buyers, many of them pensioners, for a ride.
The Patra Chawl case turned the spotlight on the Maharashtra Housing and Area Development Authority (MHADA) as well due to the suspicion that its officials had been complicit in duping buyers. Initially, MHADA had awarded the contract to an HDIL subsidiary to redevelop a 47-acre plot. It was to redevelop part of it for close to 700 families and dispose of the remaining area. The plot was not redeveloped while land parcels were sold to other builders. The allegation levelled by ED was that FSI (floor space index) was sold illegally, benefitting the builders and the contracted firm. With the redevelopment yet to be completed, buyers are demanding additional rent although now MHADA has taken responsibility for the project.
ED has alleged that proceeds of crime were utilised to purchase property in Alibaug and pointed to bank deposits linked to the sale of land parcels. The agency has in its chargesheet pointed to the role of political persons and said that the contract to redevelop the chawl was part of a plot to make illegal gains.
The case took on a political hue with Raut writing to then Rajya Sabha Chairman M Venkaiah Naidu, claiming that he and his family as well as associates were being harassed by agencies. The MP was arrested by ED and the case grabbed headlines with former BJP MP Kirit Somaiya saying that Maharashtra Vikas Aghadi (MVA) leaders would have to account for alleged corruption and misuse of official machinery when they were in office. Somaiya had earlier stated that he was assaulted by Shiv Sena workers owing allegiance to the Thackeray faction when MVA was in office and he had submitted complaints to the police.
Plans to redevelop slums and chawls have been drawn up periodically but without much success. At times, slum dwellers have protested and the redevelopment plans did not support the residence-workshop nature of dwellings that were to be redeveloped. On other occasions, people allotted flats soon sold them off and returned to living in slums.