WHEN ARTIST VIMAL CHANDRAN returned to his hometown Palakkad in Kerala after the pandemic broke out last year, he began to turn his mind to the region's many folk stories he encountered in his childhood. Chandran was returning to live for an extended period nearly 15 years since he had moved to Bengaluru. But as he considered the memories of these stories, he found his mind equally crammed, he says, with the dystopian visuals of the many science fiction shows and films he frequently binges on online.
Wouldn't it be interesting, he wondered, if he could find a way to amalgamate the two into a work of art?
The result is a striking series of four pieces so far that he calls Folk SciFi. These are little stories in themselves, blending the deities and poltergeists of folklore with Chandran's own personal childhood memories of their enactments, but each of these presented with the eerie detachment of a science fiction dystopia. These, unsurprisingly, got sold moments after they went on sale.
But not a single of these pieces exists in the real physical world. Its owners can neither mount them on a wall nor hold them in their hands. They are entirely in the digital realm.
Hosted on a website, these four pieces—created in 3D, with an audio track running through—are digital artworks. While such digital works, although rare, have been around for some time, what is new is the concept of ownership over them. What Chandran sold wasn't merely the art work, but an NFT (or non-fungible token) linked to the art. The NFT is a tool that can be used as proof of ownership over a digital asset. It relies on the blockchain (the same underlying technology behind cryptocurrencies), where an NFT over a digital product is created (or "minted", in crypto-speak) and which maintains a record of every transaction on that NFT going ahead. This makes an NFT impossible to duplicate, making the digital product associated with it both rare and worth collecting, like a physical piece of art (at least, to crypto-enthusiasts).
So, while Chandran's digital art will be available for anyone to view online—and, maybe, even download and make illegitimate copies—there will always remain just one NFT of it.
The NFT exploded into the mainstream earlier this year. Since then, it has completely upended the global art market. Many believe that this new market is a bubble waiting to burst; one whose market prices are driven by crypto-vanity and hype. Others believe that the NFT represents the precipice of something truly new and that the world will never be the same again.
What is undeniable is that there is an NFT gold rush going on globally. And everyone, even in India now, wants a piece of the action.
Amrit Pal Singh, a popular Delhi-based visual artist, had been working on a series of 3D toy faces that could be licensed out to brands since last year when he decided to test the waters of NFT. His idea was to use the concept of the toy faces, but to bestow upon each the likeness of popular characters.

Singh has so far sold around 30 of these faces—ranging from real characters like the Pakistani activist Malala Yousafzai and Vincent van Gogh to fictional ones like Frankenstein's monster and Marlon Brando's The Godfather persona—on NFT marketplaces like Foundation, Bitski and SuperRare. Most of these pieces have fetched attractive prices. He has made nearly 100 Ethers (the cryptocurrency) on these pieces which, despite the fall in the crypto market, is currently worth nearly $190,000 (or, about ` 1.4 crore). Just two of these, featuring the two members of the Daft Punk band, sold for 15 Ethers when news of the band splitting emerged. Another—a series of four pieces depicting bunkers for billionaires on Mars (a non-toy face creation) —went for 20 Ethers.
The success of these pieces also offers Singh something more than just remuneration—the recognition that his work are pieces of art. "In the past, to make money (on digital creations), I would have to make a print of it. Or stick it on a mug or T-shirt. But that isn't art," he says.
The idea that a free-floating digital asset can be worth collecting is transforming the internet. Art might be worth whatever someone is willing to pay for it, as the saying goes. But with the NFT, absolutely anything, so long as it is of some value to someone, can now be sold. This could be the JPEG image of a digital illustration, the MP3 of a song, a poem, a tweet, a GIF of Rajinikanth tossing a cigarette in the air or a video of MS Dhoni hitting the winning shot to win the World Cup. A new NFT platform, Diginoor, is soon launching digital Indian movie collectibles, including those from the Rajinikanth-starrer Sivaji: The Boss (2007).
"We are just scratching the surface of possibilities," says Vishakha Singh, the vice president of WazirX's NFT marketplace. "A headline in a newspaper, the cover of a magazine. Anything of value can technically be put up as an NFT for sale. Going ahead, like you sell the OTT rights and theatrical rights of films, we may even see its NFT rights being sold."

WazirX, which claims to be India's largest cryptocurrency exchange, launched its NFT marketplace in June. The firm has big expectations from it because it believes, Singh says, that such marketplaces will lead to the mass adoption of cryptocurrencies in India. "The NFT is like a social media platform. It's at the backend, where the crypto-wallet integration (with the NFT) happens," she says. "NFT is really the best way to take crypto and blockchain mainstream. You have artists, musicians, celebs and influencers jumping onto the NFT bandwagon. And this will lead to a mass adoption of crypto."
As of July 12th, in a little over a month, WazirX has put up nearly 1,300 NFTs for sale, and seen sales worth nearly Rs 90,00,000. The marketplace is still in its beta phase, Singh says, and while most works put up right now are 3D artworks, a wider variety will begin to show up. There are already music pieces and poems, but many more, she says, including NFTs related to sporting events, will become available.
NFTs' big moment came in March this year when the US-based digital artist Mike Winkelmann, who goes by the name Beeple, sold an NFT piece for $69.3 million at a Christie's auction. Beeple had developed a large online following around his long-running online project Everydays, a series of digital artwork that he makes daily. His NFT piece was a composite of 5,000 of these artworks. This was, as the New Yorker reported, the third most expensive artwork ever sold by a living artist. In the flash of a moment, a digital artist with a large social media following had made it into the highest echelons of the art world.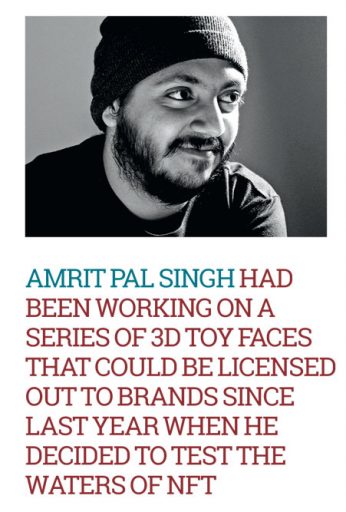 Since then, many more types of NFTs have been sold. Twitter co-founder Jack Dorsey sold his first ever tweet as an NFT for more than $2.9 million. The Charlie Bit My Finger YouTube video that went viral over a decade ago fetched over $700,000; the Nyan Cat meme went for around $590,000; Tim Berners-Lee's original source code for the internet went for $5.4 million; a video of the moment Andy Murray won the 2013 Wimbledon, along with some physical collectible, went for $177,777.
While many of these are original works, quite a few of them are those that already exist in some form elsewhere, like the Dorsey tweet or Charlie Bit My Finger. The Bengaluru-based digital artist Prasad Bhat, for instance, sold an animation-based GIF of Leonardo DiCaprio that had gone viral about five years ago, for 1.76 Ether earlier this year, which despite Ether's fall in recent times, is worth about Rs 2.5 lakh today.
Bhat, who runs the design studio Graphiccurry, is well known for his caricatures of celebrities, and the DiCaprio caricature is part of his Evolution series, where an animated GIF takes the viewer through the subject's many iconic characters over the years. "Collectors look at these pieces as part of an investment. It's like if Van Gogh were to be alive today and he sold his first NFT for 1 Ether. Obviously, 20 or 30 years later, once he became Van Gogh, that NFT is going to be worth a lot more," says Bhat, while joking that at 42, he is a lot likely to die sooner than the many 20-something artists who crowd the NFT scene currently, making his work (if he were to become posthumously famous) a lot more valuable.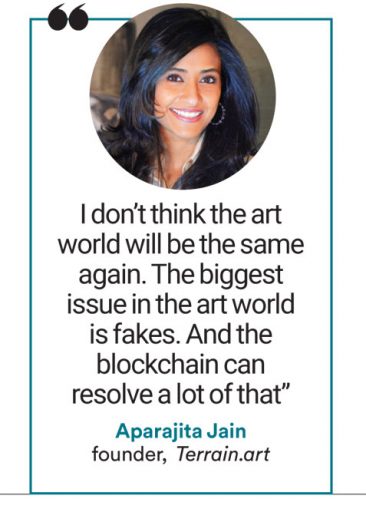 But what is the point of all this? Is this part of a new meme economy where an internet subculture transforms our traditional notions of value? Are people paying for bits of internet history and digital keepsakes, or can products of internet kitsch, for instance, the Beeple piece, be really worth as much as a physical masterpiece that is picked by curators and critics?
Crypto enthusiasts and digital artists claim we are missing the point when we dismiss NFTs as a passing fad. According to them, our modern lives are as equally digital as they are offline, and that digital works are a new way of artistic expression.
When Chandran first put his NFTs on sale, he was curious about why someone would want to buy a digital work. While Chandran dabbles in many digital mediums, he is also a conventional artist whose physical works are displayed at exhibitions. "I was very curious as to why someone would buy a digital work. So, I began to contact them," he says. One of the buyers turned out to be an 18-year-old computer geek who was investing the cryptocurrencies he had earned while doing some software work online. Another turned out to be an anonymous Indian-Australian who was buying it as a form of investment.
When I spoke to the anonymous collector, who goes by the online pseudonym Scrypt, he told me that he has been dabbling in cryptocurrencies for a few years and had recently started collecting NFTs. "Mostly I buy according to my taste…and I buy if I see progress (of investment)," he says. He claims to have been following Chandran's work for several years, having even purchased one of his physical works, and become excited when he learnt Chandran had launched an NFT. With the emergence of NFTs, the issues of provenance that plagued digital works, has been resolved. "There is value in it now. The ownership is protected like a physical work," he says.
According to another collector, the entrepreneur Nikhil Velpanur, while NFTs associated with artworks are the most visible aspect of this new marketplace, their impact on our digital lives will be eventually much larger. He gives the examples of new types of NFTs that are emerging, such as those for social good, like a charity whose proceeds go for elephant conservation, or those that allow you membership of online clubs.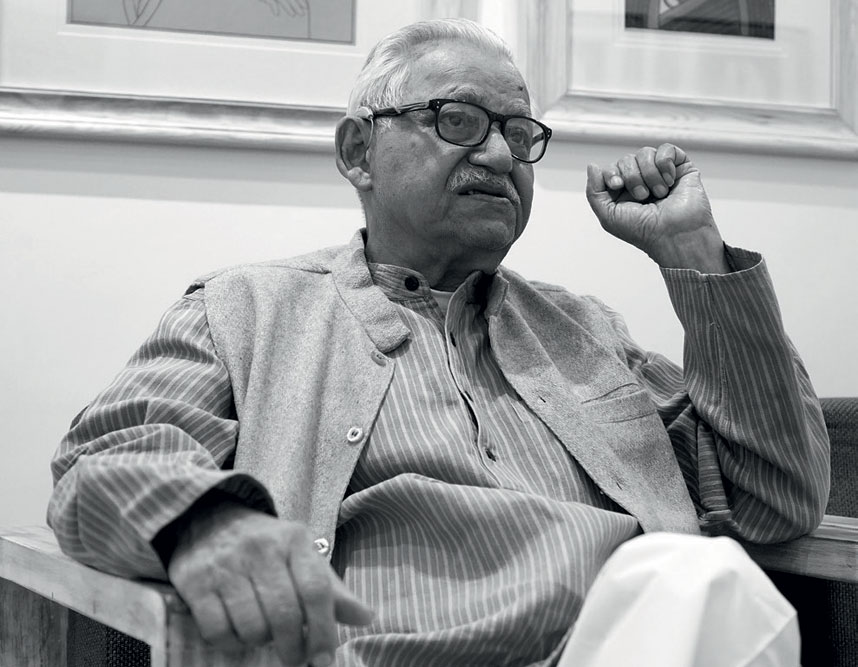 Velpanur first became interested in cryptocurrencies around 2013, and later became involved with companies going for ICOs (or, initial coin offerings, which acts like a public offer, except that what's on offer here is not an equity share but a digital coin or cryptographic token), before becoming interested in NFTs. "I can't apply the word bearish or bullish for NFTs. This is just a new world. And according to me, the quicker to jump into it, the better," he says. Velpanur first acquired an NFT for the artist Raghava KK's work. He figured, given the money Raghava's physical artworks fetch, he was acquiring an NFT for a steal. He bought a few more NFT artworks, both of Raghava and other artists. But in recent times, he has begun to collect NFTs that offer membership of online clubs.
The emergence of NFTs has been transformative for the artist. It has democratised the art world, taking it out of the elite and stuffy atmosphere of galleries and exhibitions. There are no cultural gatekeepers here, no curators or critics telling what is art and not, or who is worth how much. There is now only the artist and the buyer, the provenance of the work existing on the blockchain. "For a young artist to break out into the art world is really tough. You can't just be good. You have to network…Even getting space for an exhibition is sometimes impossible. In that sense, NFTs have democratised the whole thing," Chandran says. Since artworks are registered on the blockchain, and the information about the ownership of every piece is stored there, artists are also assured of a commission (about 10 per cent) every time an artwork changes hands. Of course, there are other issues. Blockchains are known power guzzlers and there are growing concerns about the carbon footprint of NFTs.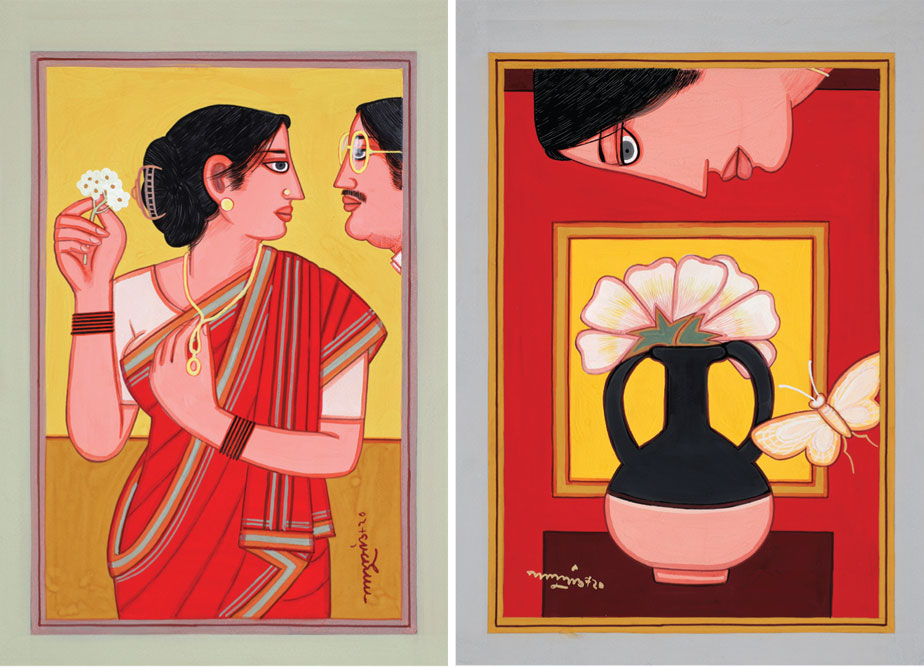 While a majority of the art establishment has remained apprehensive, if not dismissive, of this new marketplace, a few are beginning to work with this new form. Auction houses, such as Christie's, have decided there is more to gain than lose by lending its name to this market. In India, according to reports, the auction house Prinseps is set to hold two NFT auctions, one featuring sketches by the late Academy award-winning costume designer Bhanu Athaiya, and the second based on the artist Gobardhan Ash's Avatar series of the 1950s.
So far, Terrain.art has completed registering the works of three artists. One of them is the Bengali artist Lalu Prasad Shaw
The Delhi-based gallerist Aparajita Jain is also putting her stock behind NFTs. "I think it is going to be a disruptive moment for the art world," she says. "And I don't think the art world will be the same again." But Jain isn't just working with digital artworks. She is using NFTs for the physical works too. Through her initiative, Terrain.art, believed to be the country's first blockchain-powered online platform in the art market, Jain is taking conventional physical artworks and registering them on the blockchain. "The biggest issue in the art world is fakes. And the blockchain can resolve a lot of that," she says. By registering artworks, even physical ones, on the blockchain and assigning them a digital token, since everything is recorded on the blockchain, she says, it will bring about transparency and protection for every piece. So far, Terrain.art has completed registering the works of three artists. One of them is the Bengali artist Lalu Prasad Shaw—27 of whose new works are currently being exhibited virtually on Terrain.art. Next, she says, will be an NFT show focused on digital work.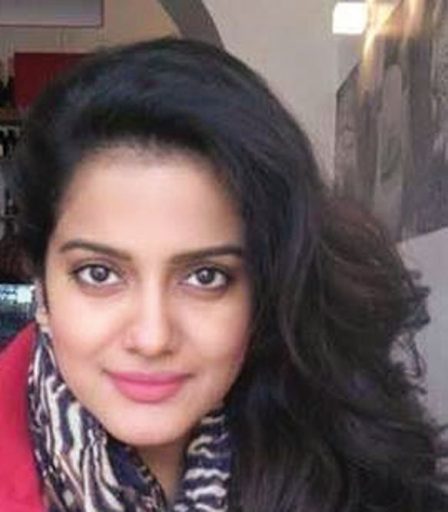 While the likes of WazirX believe that the NFT marketplace will eventually lead to cryptocurrencies getting widely adopted across the country, the likes of Jain are trying to delink NFTs from them. Jain, for instance, allows patrons to purchase NFTs through traditional means, such as a credit card. This is because cryptocurrencies currently operate in a legal grey area. While NFTs and cryptocurrencies remain deeply interlinked, if a time were to come when cryptocurrencies got banned, the likes of Jain believe NFTs could survive without them.
NFT is really the best way to take crypto and blockchain mainstream. You have artists, musicians, celebs and influencers jumping onto the NFT bandwagon. And this will lead to a mass adoption of crypto, says Vishakha Singh, the vice president of WazirX's NFT marketplace
For artists, selling an NFT can sometimes be the less anxious part of their jobs since the average day on the cryptocurrency market is like the stock market on an acid trip, with the selling price of an artwork fluctuating wildly depending on the performance of the cryptocurrency linked to it.
Spooked by the volatility, Amrit Pal Singh used to convert the cryptocurrency into fiat currency immediately after a sale. "I was converting Ether (the most widely used cryptocurrency in NFT marketplaces) instantly at first," he says. "But I have warmed to it. I have come to believe in the future of Ether."