FORTY-NINE-YEAR-OLD PK Raveendran's new Tata Nexon is a source of tremendous curiosity in his Kannur neighbourhood in northern Kerala. When he returns from shopping, he finds people crowded around his car, peering inside to view its dashboard and other features. He says he uses the vehicle not only for his daily trips to the office but also for long travels and claims a mileage of 240 km once it's fully charged. He does domestic charging, also called slow charging, which can be done using an electric power point at home (typically used for geysers and refrigerators) and it takes him eight hours, mostly done at night, to charge the car 100 per cent. In comparison, it takes only one hour at fast-charge kiosks. "The reason I bought it after months of research is to reduce the burden on the earth and to cut costs. Soon, I am planning to install a solar-electricity system to ensure steady electricity supply for my whole home and for charging my car," says this technical officer of a company that makes food products and agricultural machinery.
More than 2,500 km away in Dehradun, Uttarakhand, Soumya Prasad, 41, and her husband Raman Kumar have taken their love for mother earth a bit further. Not only do they drive a Mahindra e20 electric car, which they bought six years ago, but they also live like eco-evangelists by running an organic farm, using solar energy and harnessing rainwater—as a result they don't have to even pay water and power bills. Prasad, a nature fanatic, an ecologist and an alumnus of the Indian Institute of Science (IISc), Bengaluru, where she did her doctorate before joining Delhi's Jawaharlal Nehru University (JNU), is associated with groups that champion the cause of electric vehicles (EVs). The educationist, who quit JNU and now offers ecology lessons to architects, accuses India of squandering golden opportunities to make a huge impact in the EV segment over the past two decades. "I think Chetan Maini [who made the first Indian electric car named Reva, which was later bought by Mahindra & Mahindra Ltd] is someone who deserves the credit for the initial gains the country made in the field. Later, they made very foolish decisions not to step up investment," says she. While Mahindra & Mahindra Ltd did not respond to queries from Open, Maini now heads SUN Mobility, a joint venture between Virya Mobility 5.0 and SUN New Energy Systems, of which he is the co-founder. Maini's company develops charging points and other services to push electric vehicle adoption.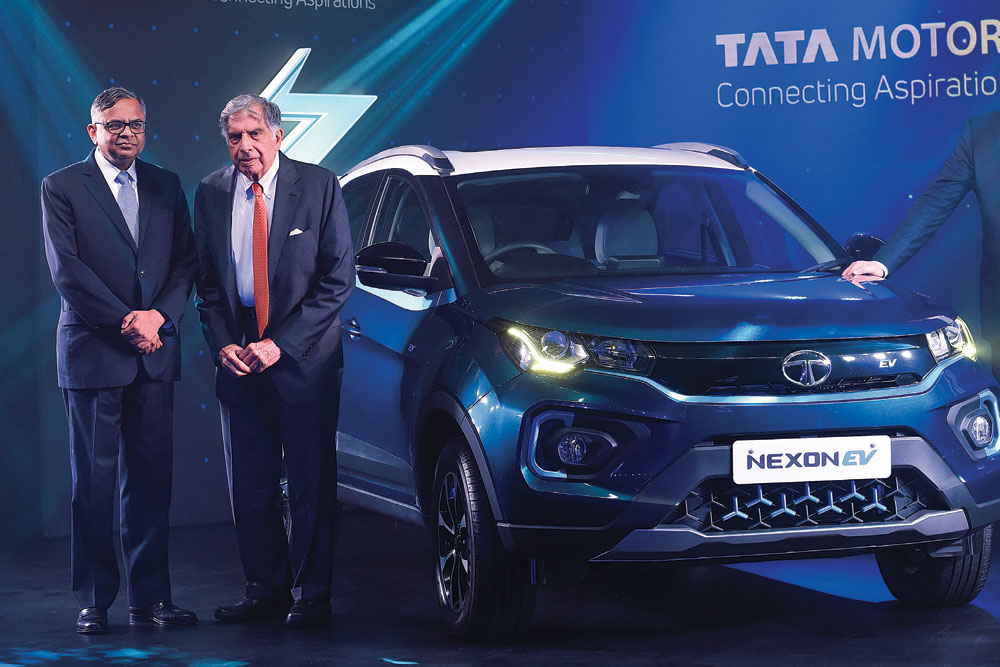 Whether or not Indian corporations missed the first-mover advantage, across the country, more and more people are buying electric cars thanks to a raft of reasons, including Government backing, entry of more players in the segment, environmental concerns, long-term gains and ease of driving, among others. According to official statistics, more than 380 EV manufacturers—including parts makers—operate in India. The official numbers reveal more: in the EV segment, the country saw a rise of 234 per cent purchases between April and September 2021 compared with a year ago. While business opportunities are attracting more Indian automobile companies to launch EVs, many high-end car manufacturers are looking to tap Indian markets with a slew of new launches of their luxury electric cars. Although Tesla, the most iconic of electric car-makers whose aim is also to enhance artificial-intelligence (AI) applications in driverless cars, has not yet made an entry in the Indian market, it is speculated that the Elon Musk-run innovation giant is contemplating ways to attract high-end car buyers in the world's second-most populous nation. News reports suggest that the car company has done test drives on Indian roads and is lobbying with the Government to slash excessively high existing import duties for cars (60 per cent for cars priced below $40,000 and 100 per cent for those priced above), but the Government hasn't shown signs of yielding. Not yet.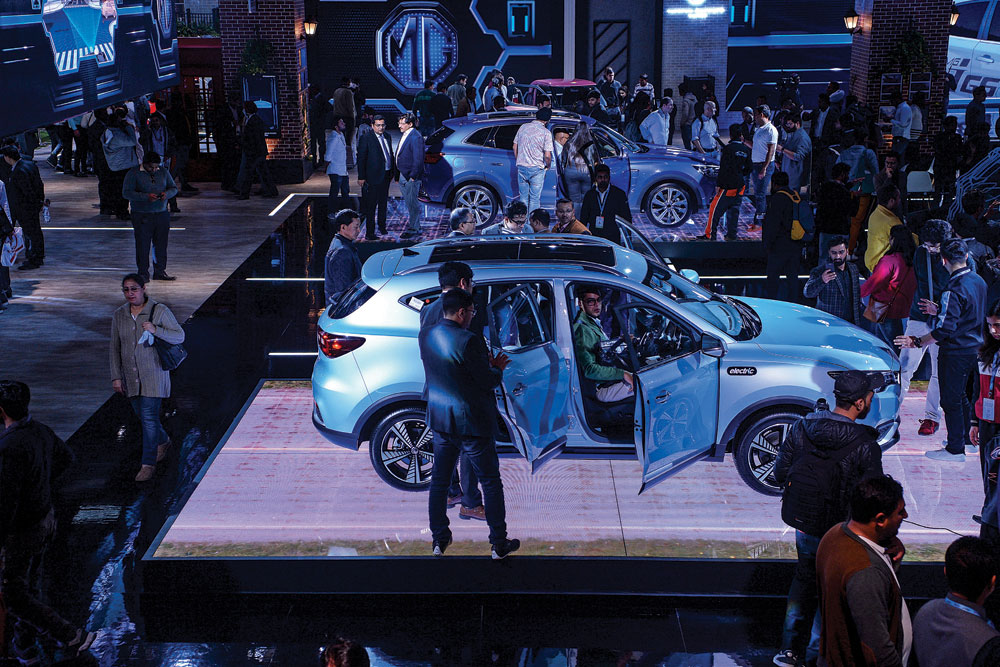 What drives the EV business in India is a plethora of emotions: from the craving to be eco-friendly to being passionate about driving the most hi-tech and high-end vehicles around. The likes of Prasad and Raveendran are looking for sustainable living and a great driving experience while many others that Open spoke to are keen on protecting the environment as well as enjoying cars made with the best technology and luxury features. Indian-origin, US-based biotech professional Kapil Sardiwal owns the Tesla Model Y, a driverless car that requires a mere touch on the steering to drive and park on its own. He wants to drive it even when he is in India. "My attraction for Tesla is not just thanks to its being an EV, but also for its AI prowess," says this Jaipur native currently settled in the San Francisco Bay Area. Not surprisingly, online educational companies, both overseas and local, such as Udemy and Byju's, offer short courses on electric cars for small sums of money. Sample these electric car 101 tips from Byju's: "An electric vehicle (EV) is one that operates on an electric motor, instead of an internal-combustion engine that generates power by burning a mix of fuel and gases."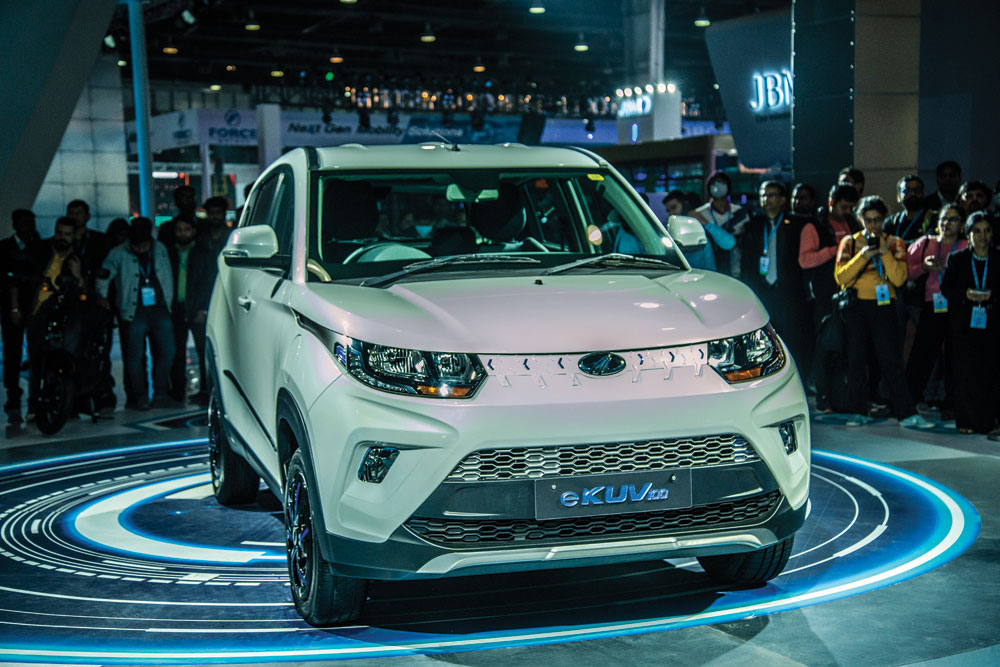 It adds: "Though the concept of electric vehicles has been around for a long time, it has drawn a considerable amount of interest in the past decade amid a rising carbon footprint and other environmental impacts of fuel-based vehicles." The course also classifies various types of EVs and even differentiates between plug-in hybrid EVs as well as battery EVs (the latter being the focus of this article). Many such courses also dwell on various government initiatives and schemes, including the ₹ 10,000-crore FAME-II scheme to promote quick adoption of electric and hybrid vehicles using incentives. Also under close scrutiny in such courses are EV policies of various states and the Centre.
All this enthusiasm is not lost on the Government. On November 10th, the Centre launched a web portal titled e-Amrit at the COP26 summit in Glasgow. An official statement said the Government envisages e-Amrit as a one-stop destination for all information on EVs—busting myths about the adoption of EVs, their purchase, investment opportunities, policies, subsidies, etcetera. The portal is developed and hosted by NITI Aayog in collaboration with the British government. A press information bureau release said on the occasion of the launch: "E-Amrit intends to complement initiatives of the government on raising awareness on EVs and sensitising consumers on the benefits of switching to electric vehicles. In the recent past, India has taken many initiatives to accelerate the decarbonisation of transport and adoption of electric mobility in the country. Schemes such as FAME and PLI (production-linked incentives) are especially important in creating an ecosystem for the early adoption of EVs." NITI Aayog Adviser Sudhendu Jyoti Sinha later told Open that the portal offers comprehensive data on EVs to potential buyers as well as entrepreneurs.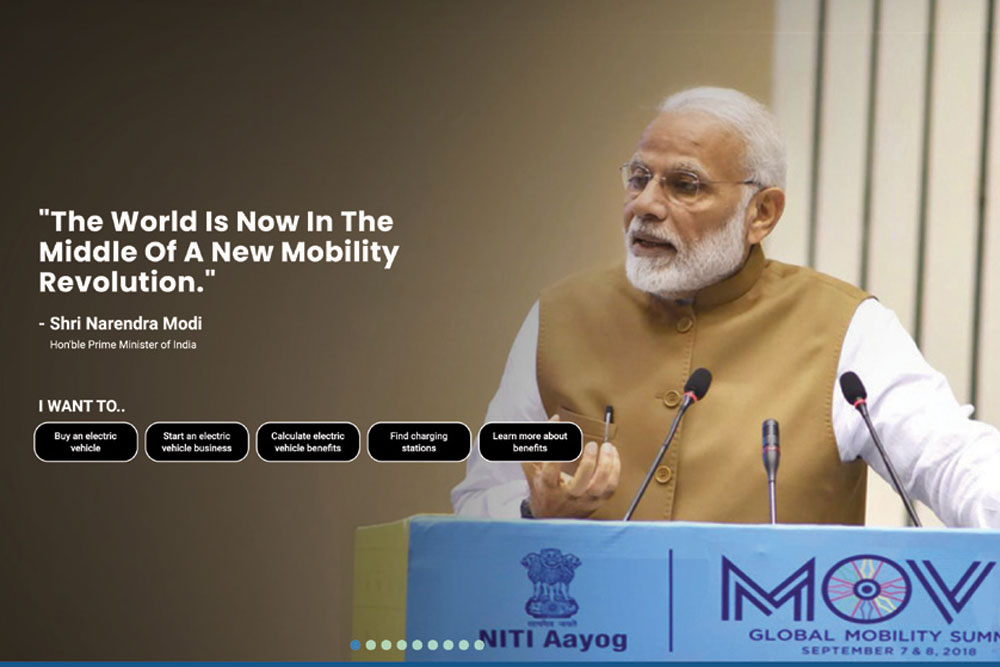 On e-Amrit, one can even compare various EVs and their respective features. Among the four-wheelers analysed on the site are Hyundai Kona EV, MG ZS EV, Tata Nexon EV (the company offers another four-wheeler called Tigor), Mahindra EV (it sells a four-wheeler brand called E-Verito apart from three-wheelers and vans). The company doesn't sell its e20 and e20 Plus versions anymore. The Government site also offers calculations of the price for charging various vehicles in different states and regions. Meanwhile, among the electric cars, the cheapest on the anvil is Strom R3 Electric Car, priced between ₹ 3 lakh and ₹ 5 lakh. Mahindra, too, is expected to launch its eKUV100 version over the next one or two years. Various high-end carmakers, including Audi, Porsche, Mercedes Benz, BMW and others are looking to make the most of the opportunity in India although, unlike Tesla, they haven't sought any tax rebates. Some of these are Audi e-tron Sportback, Audi e-tron, Mercedes-Benz EQC, and so on. BMW, for its part, recently soft-launched and sold 30 of its all-electric Mini Cooper SE on day one itself. BYD has launched its MPV (multi-purpose vehicle), the BYD e6, for the B2B segment in the country at a price of ₹ 29.6 lakh.
The efforts that the Government is making now were first made by a handful of zealous EV connoisseurs.
Farah Halim is a director at PluginIndia, which, launched by eco-activist, EV aficionado and techie Kamlesh Mallick in 2013, is often called the country's oldest EV advocacy group. Many of those associated with this group—which has developed an app called Re:Charge India Mobile App to usher in a concept called community charging—are all Mahindra e20 users. They resent that the company had not given enough thrust to an opportunity that they think would have made it a global leader in EVs.
Whatever that be, this new app connects EV users, owners, environmentalists and pro-EV restaurants and hotels across India. Which means anyone who downloads this app can spot the nearest community charging station—where he or she can freely use a charging point overnight or during the journey. PluginIndia, Halim says, has, over time, also helped in creating a large EV owner community spread across India, from the Northeast to the west and from the north to the south. The team, she said, also tracks and documents issues faced by EV owners and connects them with original equipment manufacturers. Farah joined PluginIndia in 2015 and notes that she and her team compile videos for potential EV users and for those who are already owners. "We educate people on the uses of EVs. We also offer data and news on anything and everything related to the EV segment in India, from four-wheelers to other kinds of vehicles," she adds. Many videos are meant not just to inform but to bust stereotypes and propaganda against EVs by those who speak at the behest of the gas-driven automobile manufacturers. A recent one by PluginIndia, titled 'The dirty truth of petrol and diesel vehicles', is a thoroughly researched scientific analysis of how EVs cannot be singled out for the pollution electric generation causes, for instance, if the power is generated by thermal plants.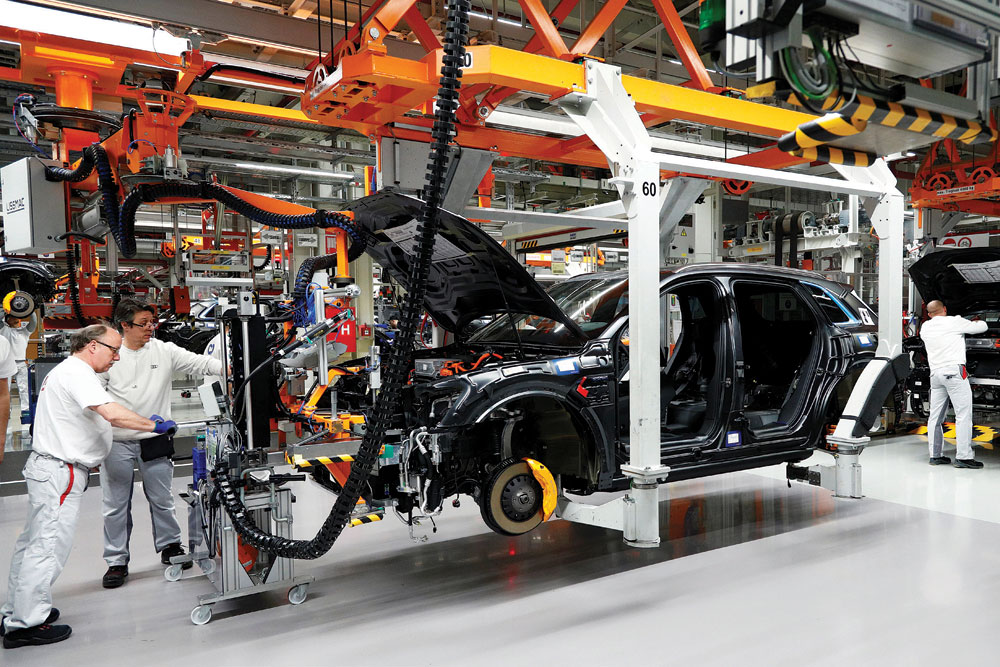 Halim avers that, in India, many people are waiting for the Tesla models to enter the market. Although it is unlikely to cannibalise on the entry level EVs or even the mid-segment ones, it is expected to generate a lot of buzz, she says. Nikhil Chaudhary, 21, who is the co-founder of Tesla Club India, a group of Tesla enthusiasts, and is from Bhiwani, Haryana, has watched Tesla's plans closely. He feels that Tesla will bring with it a vehicle that suits the Indian market. Which perhaps explains why they have done tests here, he argues. A student, he manages the social-media accounts of his team. "We are so inspired by Tesla that we want to work towards creating awareness about the need for a quick transition to sustainable energy," he says.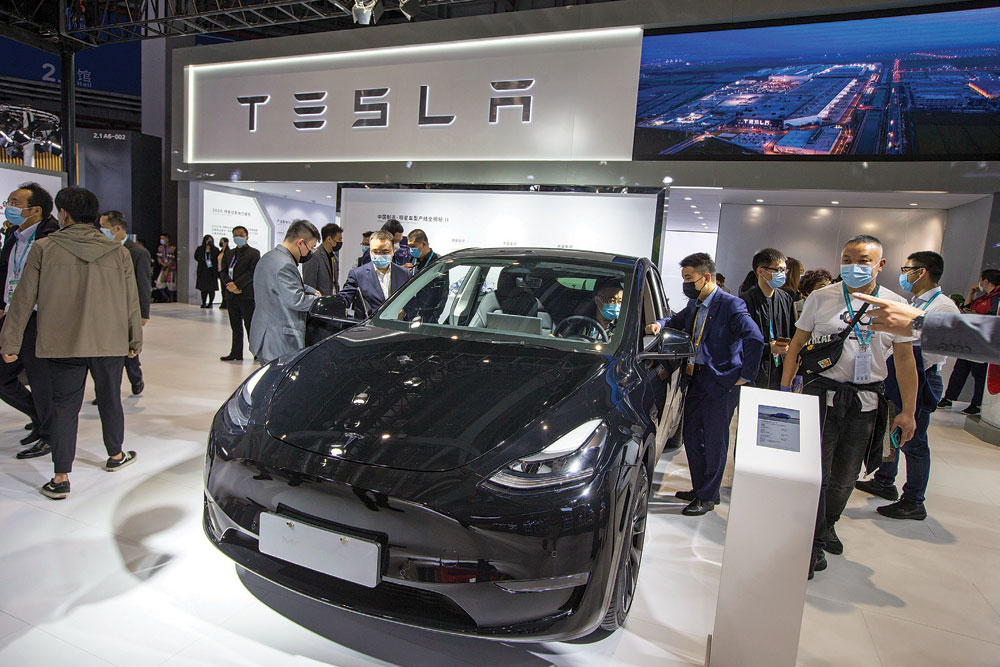 Chaudhary and his teammates were inspired by the concept of the Tesla Owners Club in the US to launch this forum. "We hope to be associated officially with Tesla once they launch in India," he says, emphasising that the low ground clearance of 140 mm of the Tesla Model 3 would easily be fixed by the carmaker. This was the problem that Sardiwal, too, had cited about that model. High-speed bumps on Indian roads are a problem for the 'bottom-heavy' Tesla vehicles where the batteries, the most important part of its cars, are placed. However, Tesla can easily launch its Model Y here. According to industry inputs, it can also opt to give its Model 3 cars air suspension to overcome the problem.
OPINIONS ABOUT tax cuts and other incentives for high-end cars cut both ways.
Aayushi Jain, 29, a chemical engineer who has spent some creative years in the US, especially at the Los Angeles Cleantech Incubator, before finally returning to India to join MoEVing, a company that provides clean, cost-effective and efficient transport, is more worried about the majority for whom EV would mean more disposable income. Her logic is that when you convince and train drivers to buy and use EVs for last-mile drops, they are able to save more and cut costs on fuel. "EV is not just about four-wheelers or personal transport. The large chunk of it could be vans, two-wheelers, three-wheelers, and so on. They are the ones who need incentives, not those who are ready to spend crores for a luxury car," Jain, an alumnus of RV College of Engineering, Bengaluru, reasons. Currently, she divides her time between Chandigarh and Phagwara in Kapurthala district of Punjab. She says that more charging stations need to come up across India, especially in places like eateries, so that "while we put our vehicle for fast-charge", we can take a bite and be back and resume the journey. She says it is heartening to see oil-marketing companies tying up with EV-makers to offer charging spots at their outlets. Indian Oil Corporation, HPCL and BPCL are all part of this initiative. "More such associations have to happen, going forward," she says.
Jain feels that as EV companies rev up production, naturally the market will see prices dropping and technology becoming more accessible and friendly to a large section of people. "That is the case with all new technologies," she opines, adding that overseas companies must reinvest in the country in return for the business opportunity they secure here. She also suggests that certain rules have to be made mandatory to promote EV adoption. One, according to her, is that any individual's second car should mandatorily be an EV. New tractors, ambulances, fire service vehicles and vehicles used in the B2B segment must be compulsorily electric. She hopes that companies such as BYD can contribute a lot to this effort in a country where EV adoption is still minuscule.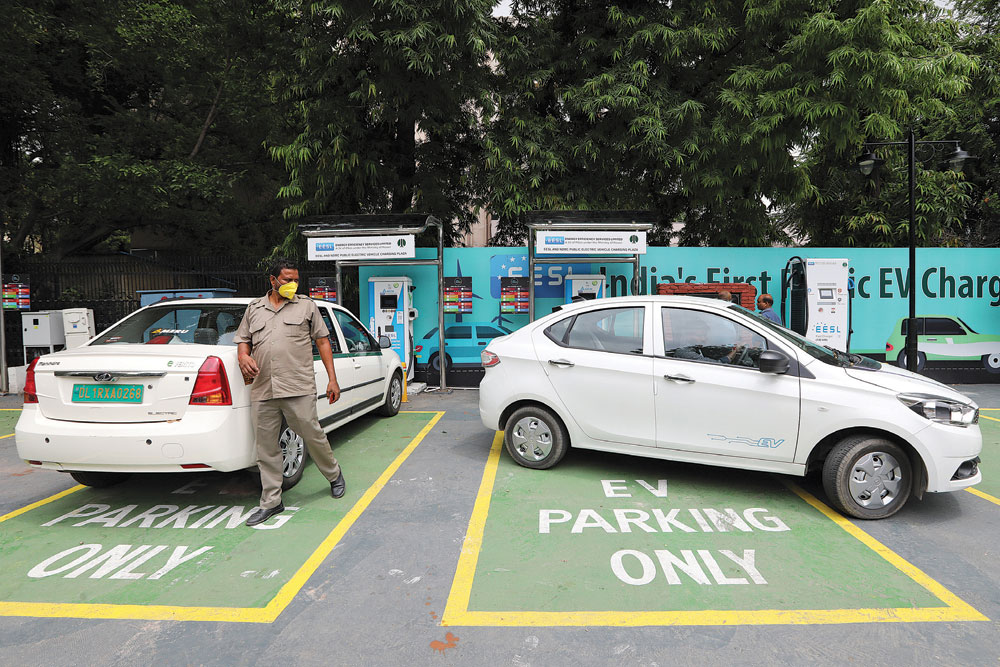 Able Lawrence, a Tesla nut who is professor of clinical immunology and rheumatology at Lucknow's Sanjay Gandhi Post Graduate Institute of Medical Sciences, points out that Tesla has bucked the trend of others in the segment in selling more cars during the lockdown. Tesla has overcome chip shortage issues in the third quarter this year that ended September 30th. It sold, according to reports, 241,300 cars, up from a total 102,000 vehicles compared with the same quarter last year. It is also Tesla's highest quarter sales ever. "They are growing and seem irresistible globally with manufacturing presence in multiple countries. They are the original EV carmaker, with each component made towards making a compact EV. They have a great advantage," he says. He foresees a situation when the disruption will become a habit. He also expects policies changing when trends change and the country sees greater EV adoption. Renowned Israeli-American behavioural economist Dan Ariely offers his take on the mindset change in EV adoption. As to whether he expects people to generally shift to EVs the way they had switched from feature phones to smartphones, the professor of psychology and behavioural economics at Duke University says, "The analogy is a reasonable one, but not as intense for multiple reasons. First of all, the fixed cost of electric vehicles is higher than the fixed cost of cameras. Also, the externalities of EVs are lower than the externalities of digital cameras and so I don't think it would be a quick shift, but I think the shift would be mostly for people who are buying new cars anyway. And of course, fleets [for B2B or B2C purposes] are going to be a main driver."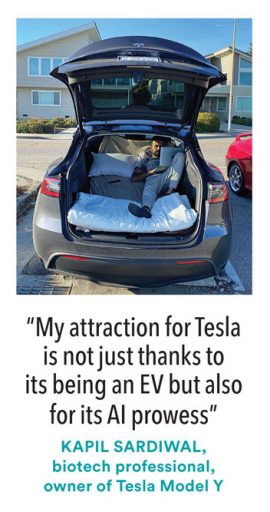 Tesla, meanwhile, is becoming extremely hot for certain markets. For instance, its orders from China, where it makes its cars, are on a rapid rise. Similarly, sales of Model Y SUV, the one that Kapil Sardiwal owns, are high in the US and the brand is catching up in Europe too. More companies are following in Tesla's footsteps. For instance, Toyota is planning to make its own batteries and raise the number of electric cars it manufactures to half of its total output by 2025. Volkswagen is investing billions into electrifying vehicles and churning out a million EVs by next year. Ford is betting big on its Ford Mustang Mach-e Electric SUV. Volvo's EV project is nothing less ambitious. Honda, BMW, Nissan and Daimler are also equally upbeat about electric variants and new EV line-ups. More Indian players, too, are sensing a grand opportunity as the whole world looks to reduce its dependence on fossil fuels in order to make the planet a better place for future generations even as countries and companies set net-zero carbon emission targets.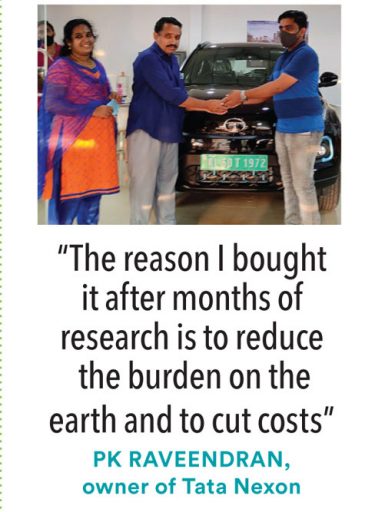 Aditya Kapoor, a Silicon Valley techie and automobile cognoscenti, compares the revolution unleashed by Tesla on the global stage, whether or not they enter India soon, to what Apple did in the world of operating systems. "There is absolute hardware and software integration in Tesla's products like in the case of Apple. Before Tesla happened, such machines didn't exist in the world," he says. The likes of Sardiwal also rave about the concept of regenerative braking in EVs like Tesla cars and SUVs. Unlike in ICE (internal combustion engine) cars where kinetic energy lost while braking turns into heat, in the case of EVs, the kinetic energy lost while decelerating is stored in the vehicle's battery.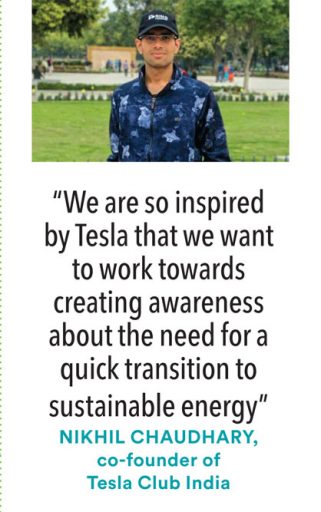 Amid such euphoria about Tesla is the excitement among existing users of EVs to ditch gasoline-run cars and make driving a pleasurable experience thanks to the vehicles being automatic, more nature-friendly and less noisy, even when these are entry-level ones. Liza Rajasekhar, associate professor at Nizam's Institute of Medical sciences, tells Open that she has been driving her Mahindra e20 for several years, and now her husband, too, wants to kick the habit of driving a petrol vehicle. Her husband, a medical professional who drives a Mercedes currently, wants to buy a Tata Nexon, she says laughing.
If the alternative is attractive enough, it isn't that hard to change old habits after all.