AS A FAMILY POSES holding hibiscus flowers, coconut, cardamom and sweets to offer to the goddess at the Deori temple in Jharkhand, a middle-aged woman clicks photos with a Nikon D-90 camera. Around six years ago, Maini Kumari, belonging to the Munda tribe, had bought the camera in Ranchi, about 60 km away, for Rs 51,000, with loans and earnings from her farm. Ever since, she has taken photographs of thousands of devotees, including cricketer Mahendra Singh Dhoni, a regular visitor to the temple. "When he comes here, everyone wants to take photos with him. He always obliges," says Maini, the only woman photographer at the temple among the 20-odd youngsters in frayed jeans and t-shirts who call her "Nani".
A single woman from Babaikundi village in Tamar Vidhan Sabha constituency, Maini had decided to take up photography at the old stone temple, which has gained popularity after Dhoni's frequent visits. She earns around Rs 400-500 a day at the temple, selling photos she takes of visitors for Rs 20-80 each. Chief Minister Raghubar Das is also a regular visitor, on the way from the state capital, Ranchi, to Jamshedpur, where his constituency lies. Everyone comes with a wish to the deity with 16 hands, an avatar of Kali, believing it would be granted. Asked if Das' wishes will also come true, Maini smiles and says: "The Chief Minister has not kept his promises. Women from my village have to go to Ranchi for jobs." Maini and the youngsters complain about the Das regime's domicile and land acquisition policies, saying Tribal rights have been diluted.
The nagaras, dhak and dhol—Jharkhand's avanaddh instruments—start playing. Three businessmen from Seraikela, a constituency held by the Jharkhand Mukti Morcha's (JMM) Champai Soren for 15 years, line up to be photographed, holding puja thalis. Their political affiliations vary, but they have their own reasons to praise the Das government—security, roads and electricity. "The Naxal menace has come down. Corruption has also been checked. Officials think twice before taking bribes," says Amarnath Thakur. According to Manish Prasad, a JMM supporter, the Bharatiya Janata Party's (BJP) Ganesh Mahali has done a lot of work in their constituency, which falls in the Kolhan division, a mining area that has been home to Tribals, industry, the Saranda forest and Naxalism. Jharkhand has been a paradox. It is said to be the richest state in natural resources, endowed with 40 per cent of the country's minerals, yet has one of the highest poverty levels in India.
Das, the first non-Tribal chief minister of the state carved out of Bihar in 2000, is fighting for a second term, in an election in which old friends—ally Sudesh Mahto's All Jharkhand Students Party (AJSU) and Saryu Rai, a BJP veteran and minister in his own government—have turned foes. Rai is taking on Das on his turf, the industrial town of Jamshedpur (East), also in Kolhan. The JMM has tied up with the Congress and Lalu Prasad's Rashtriya Janata Dal (RJD) while the BJP and AJSU are going it alone.
All eyes are on Jharkhand to see if it can resurrect the BJP's winning streak in states, after Maharashtra and Haryana failed to live up to the party's expectations. Like Devendra Fadnavis and Manohar Lal Khattar, Das took charge as a first-time chief minister under the Narendra Modi regime at the Centre. The Jharkhand election, the last before the next round in 2020 in Delhi and Bihar, could either raise the BJP's hopes or further dampen them. The latter would underscore that the Modi magic alone cannot turn state electorates in the BJP's favour and also energise efforts at an anti-BJP consolidation.
Nestled in thick forests in the hilly terrain with Tribal hamlets, waterfalls, the whiff of rice beer and dhabas selling Dhuska, every seat tells a different story. Given its complex demographics—a concentrated Tribal population in Kolhan and Santhal Pargana divisions, itself divided in its political leanings, and almost 50 per cent OBCs—Jharkhand has thrown up surprises, delivering hung verdicts in all three Assembly elections so far. The votes get divided almost evenly among three major parties, with the Congress and JMM traditionally getting the support of large sections of Tribals while the OBCS mostly back the BJP. In a bid to cash in on this fragile arithmetic, independents and smaller parties with pockets of influence jump into the fray hoping to become kingmakers.
Das became Chief Minister in 2014, with the BJP winning 37 of the 81 Assembly seats and its ally AJSU supporting it with its five, leading the first state government that has managed to retain power for a full five years. At the Chief Minister's official residence in Ranchi, a pre-Independence bungalow, Das relaxes in blue track pants, grey sweatshirt and casual slip-ons, after a hectic day of campaigning and a Prime Minister's rally. Satisfied with the rally's outcome, he exudes confidence that the AJSU's snapping of ties would not affect the BJP's prospects, drawing a distinction with the Shiv Sena, the BJP's ally in Maharashtra. "The Shiv Sena is strong in parts of Maharashtra," he says.
Das also points out that unlike in Haryana, where Jats had launched an agitation for reservations and turned against the BJP, Jharkhand has not witnessed any such movement in the last five years. "Every place has its own issues, politics and dynamics," he says. However, like other Jharkhand politicians, in the aftermath of the Maharashtra and Haryana elections where political rivals got together to form governments following split mandates, Das says that in politics all options have to be kept open: "Look at Maharashtra."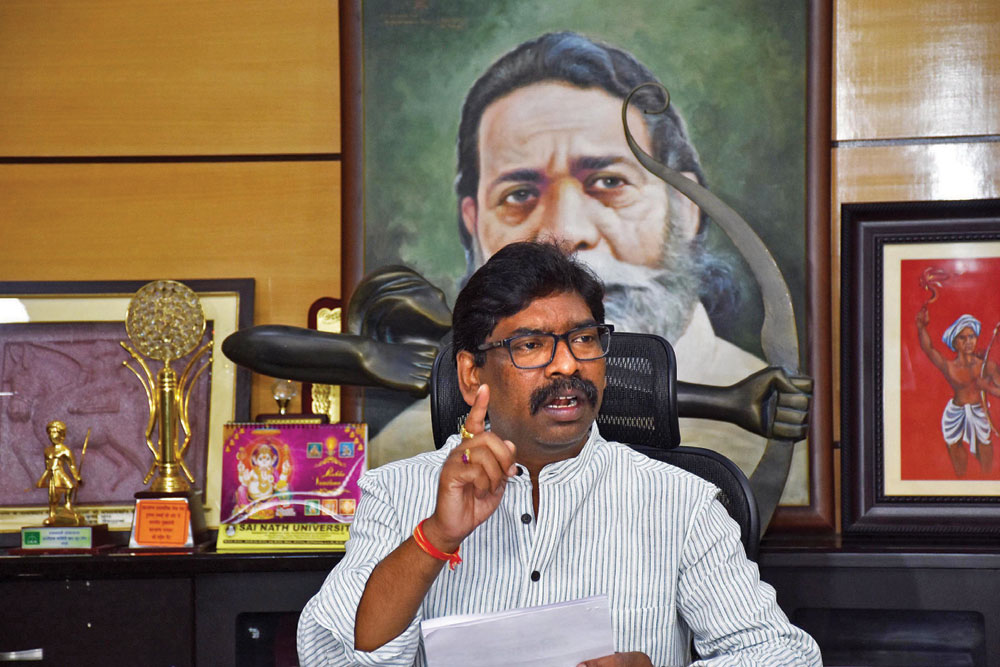 Calling security the biggest achievement of his government, the Chief Minister says people can now move about without fear even after sunset. This, he says, has enabled the government to provide roads and electricity in remote villages, claiming that, barring three districts, violence has been contained. Having set an ambitious 65-plus target (a calculation based on Lok Sabha results that translate into 66 Assembly seats), Das is banking on "double-engine ki sarkar", with the BJP at the Centre and in the state and his government's development work over five years. Das, a Vaishya (OBC), alleges that the opposition has been raising the 'jal, jungle, zameen ' (water, forest, land) slogan to 'falsely' accuse his government of seizing Tribal land.
CALLED 'SARNAS', derived from 'sarna' or sacred grove where the village deity is worshipped during harvesting and sowing festivals, Tribals constitute around 26 per cent of Jharkhand's population, where 28 seats are reserved for them. Under the Chota Nagpur Tenancy (CNT) Act, 1908, non-Tribals are barred from purchasing Tribal land on the Chhotanagpur plateau. The Santhal Pargana Tenancy (SPT) Act, 1949, which bars any type of land transfer, applies to districts of the Santhal Pargana division, where the CNT is not applicable. The government eased provisions of these Acts to allow Tribal land to be used for development purposes but was forced to backtrack following resistance as well as the governor's return of the bill. However, it restored some of the provisions in the land acquisition policy it brought in later, drawing flak from sections of Tribals and the opposition.
The BJP has been trying to gain the trust of Tribals, who have largely backed the JMM. At his rally in Tribal-dominated Khunti, Prime Minister Narendra Modi said Ram had left for "vanvaas" as a prince and returned as "maryada purushottam" after spending 14 years with "Adivasis". The Das government, in an apparent bid to tap Tribals' grudge against Christians for having better education, health facilities and social status, had cracked down on Christian missionary-backed NGOs, accusing them of misusing foreign funds for religious conversions. Earlier, it had passed the anti-conversion bill in the state where Christians constitute about 4 per cent of the population. Das alleges that opposition leaders like the Soren family have violated the CNT and SPT Acts.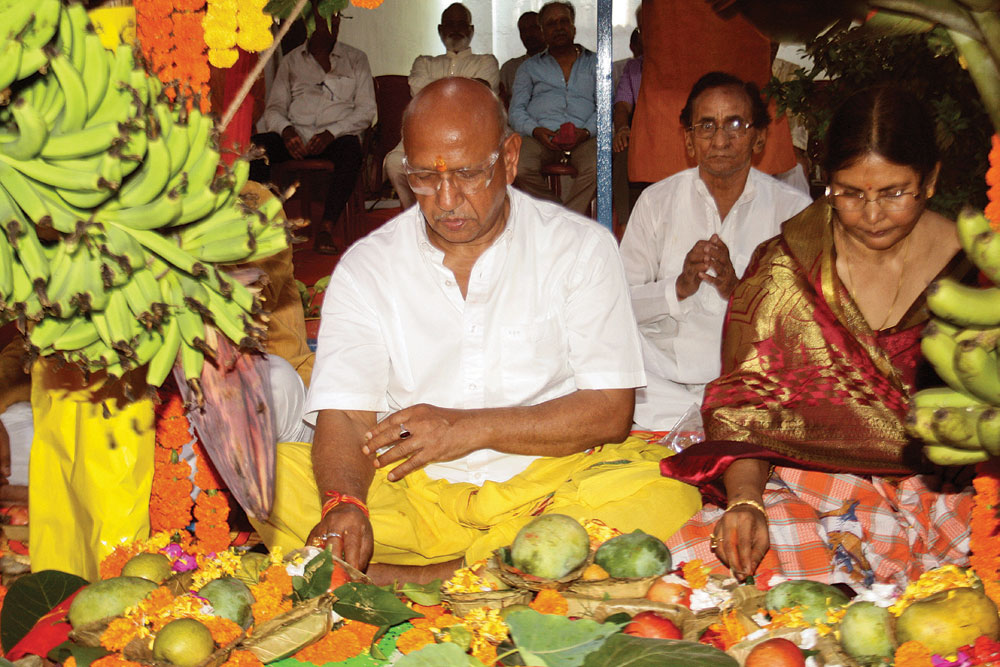 As green tea is served, 65-year-old Das goes down memory lane to his humble beginnings. The son of an employee at a steel company who studied only till Class 5, Das recalls, "My father used to tell me, study or you will end up breaking iron like me." He did his BSc from Jamshedpur Cooperative College, followed by law, and got a job with Tata Steel as a legal professional. Along with his brother, he ran a 'Janata Electrical' shop and even sold crackers. Having dabbled in politics as a student, he joined the JP movement against Emergency in the mid-1970s and was arrested. After three years in the Janata Party, he joined the BJP in 1980 when it was founded. Fifteen years later, when Rashtriya Swayamsevak Sangh (RSS) ideologue KN Govindacharya gave him a ticket to fight from Jamshedpur (East), the Opposition was confident he would lose. Das, who describes Jamshedpur—one of the first planned industrial cities founded by Jamsetji Tata—as a "mini India", says he drove his Kinetic Honda into every colony, asking people directly for votes. Das won by 1,101 votes, a number he still uses on his cars.
Das went on to win Jamshedpur (East) five times. This time though, he is pitted in a fierce battle against 68-year-old Rai, former public distribution and consumer affairs Minister in his government, who has made the LPG cylinder, central to a major flagship scheme of the Modi Government, his election symbol. "After my name was held back on the fourth list, I decided to fight against the Chief Minister… I had felt humiliated," says Rai. Known for exposing the fodder scam in Bihar and the iron ore mines allotment process in Jharkhand, leading to conviction of Chief Ministers Lalu Prasad and Madhu Koda, Rai says he raised issues regarding 'corruption' in the Raghubar Das government with the BJP's central leadership, including the Prime Minister and party president Amit Shah. He has the backing of the JMM, despite its alliance partner Congress' Gourav Vallabh contesting from the seat.
Rai is among the 13 BJP MLAs dropped this time. According to the Chief Minister, ticket distribution was based on winnability. Rai's candidature has made it a Das versus Rai battle in Jameshedpur (East). Sanjeev Marwah, a Punjabi chemist whose family had come to the city from Peshawar during Partition, says various governments have disappointed the city's people and if the Tatas were not there, the city would have ceased to exist. He says most people are unhappy with Das, but a Modi rally generally tilts the mood in favour of the BJP. Several shopkeepers on Golmuri road assert that it is a tough battle for Das, as they complain of joblessness and the failure to re-open shut companies.
There is scepticism about Rai too. "People are tilting towards Rai, but he will ditch them. If he really wanted to leave the BJP, he could have joined another party," says Lakhan Lal Aggarwal, who runs a stationery shop. KC Mohanty, an Odia chemist, praises the Modi Government's Ayushman Bharat scheme, giving credit to the BJP. Birendra Singh, roasting peanuts on his cart, favours 'change'.
The backwoods also reflect the rising aspirations in Jharkhand—a dhaba called 'Facebook Hotel', Maini Kumari taking up photography, uniform-clad girls with pigtails walking to school. Some have got houses, toilets and LPG cylinders under Central schemes. For some, the difference between the Modi and Das governments is blurred, while others make a clear distinction. The BJP's vote share in the state soared to 50.72 per cent in the Lok Sabha elections earlier this year. It was 40.11 per cent in the 2014 General Election but dropped to 31.26 per cent in the Assembly election that year.
At the tomato bazaar in Tamar's Bhuiyadih, where vegetable trade goes on throughout the year, farmers complain that their demands for an overbridge and a check dam for irrigation have not been met. In Tamar, a reserved Scheduled Tribe seat, where JMM leader and three-time Chief Minister Shibu Soren lost to the Jharkhand Party's Raja Peter in 2009, politics has taken a strange turn. The destinies of three people—the JMM's Vikas Munda, former AJSU MLA, whose father Ramesh Singh Munda was killed 15 years ago; Kundan Pahan, who is charged with killing him; and Raja Peter, accused of giving the 'supari' for killing him—have entwined again, with all of them in the fray.
Like Rai, the AJSU has also parted ways with the BJP. Driving a Toyota Fortuner through the road in Silli, where he is contesting, 45-year-old AJSU president Sudesh Mahto says the state's rich legacy of natural resources should go into its development: "Why should people vote for the BJP? What have they done, despite getting a full stint of five years?" Mahto lost Silli to the JMM in 2014, after winning it in three consecutive elections.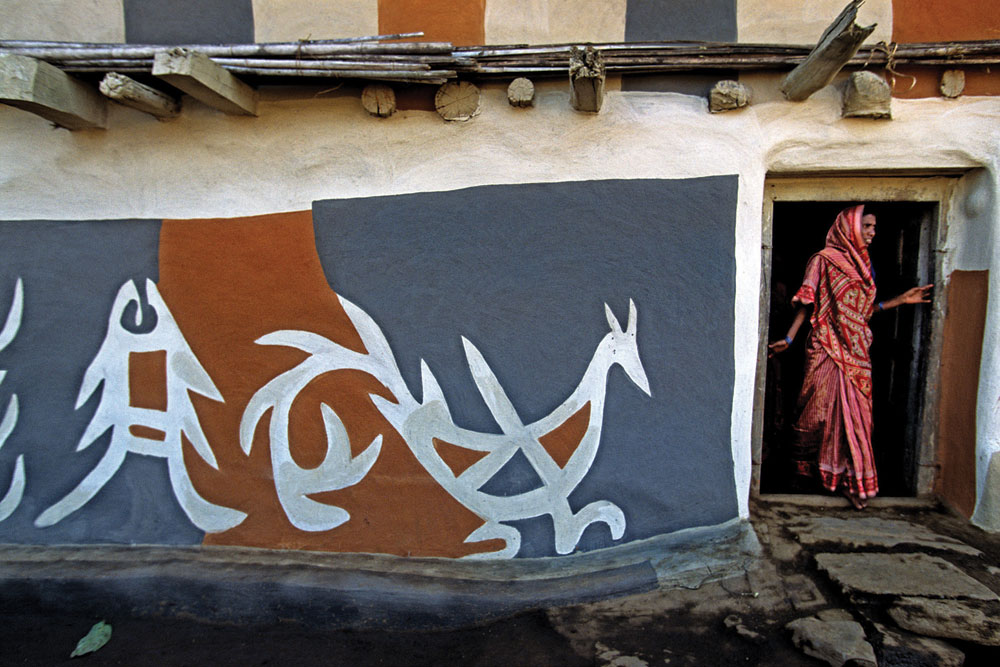 The main battle in Jharkhand is expected to be between the BJP and the JMM-led alliance. JMM leader and Shibu Soren's son Hemant is campaigning primarily on three themes—unemployment, the CNT Act and poverty. The party has promised 67 per cent reservation to SCs, STs and OBCs, despite a 50 per cent cap set by the Supreme Court. He exudes as much confidence of victory for the alliance as his neighbour in Ranchi, the Chief Minister, does about the BJP. "In five years, the BJP has only furthered its political agenda," he says.
In the waiting room at his residence, a skinny old man with matted light brown hair and a white beard has come from Giridih, about 200 km away, with a piece of paper which had been put on the wall of his house. It turned out to be a non-bailable warrant. "The old man is clueless about what crime he may have committed to get the warrant," says Hemant.
In Jharkhand, it's a battle of survival for the state's politicians. Das will be edged out if the BJP loses. Hemant Soren, the fifth Chief Minister, desperately needs a victory after successive defeats. Babulal Marandi, the first Chief Minister who quit the BJP in 2006 and formed the Jharkhand Vikas Morcha, is fighting a lonely battle. Mahto, too, has to prove the AJSU's electoral muscle, as the party goes it alone.
At the bustling Firayalal Chowk in the heart of the city, where the political strife reflects in the poster war, Narayan Das, the manager at the Fun N Food outlet, a 70-year-old softy ice cream shop, the first in united Bihar, says the equations are such that no single party can get a majority. He believes that different parties at the Centre and state work to the detriment of the state: "Hope is there. This government continued for five years. The security situation has also improved."
Right across, at Vishnees, the new ice cream parlour run by Firayalal, Rajkumar offers a cup of vanilla ice cream to taste. The old one is natural, custard-based, without essence and with less fat. But everyone wants change, he says. According to him, the government should change every five years. "How does it matter who wins? Look at Maharashtra and Haryana. We vote for a party and it joins hands with the opponents. At this rate, people will stop voting."
Political developments in Maharashtra and Haryana, which threw up fractured mandates, weigh on everyone's mind. While politicians are keeping their post-poll options open, there is cynicism among the electorate in a state where fractured mandates have been the trend. It is to be seen if this election breaks the pattern to elect a king— or leaves it to the kingmakers again.