IN A PORTENT of things to come, more than 250 Kanpur-based vendors selling desi snacks such as chaat, pakoda, samosa and 'cutting chai' were among the tax-evading millionaires making crores of rupees in profit every year in Uttar Pradesh (UP). The story only got spicier after the taxmen found that they had used the proceeds to buy up prime real estate worth crores and live it up.
Until a few decades ago, leaving your village of scant economic opportunities for a city meant hope and liberation from starvation, but often only an incremental climb from abject poverty. Most unskilled poor rural folk who migrated to cities ended up eking out an income working for others in precarious jobs or by starting small shops that either sold tobacco and paan or tea and snacks. The Rolling Stones famously captured this global trend of migration and the rude shock that awaited the expectant crowd of newcomers in a city in their 1989 song 'Rock and a Hard Place'.
Mick Jagger roared those lines to audiences with his distinctive aggression: "People are hungry/They crowd around/And the city gets bigger as the country comes begging to town/We're stuck between a rock—And a hard place."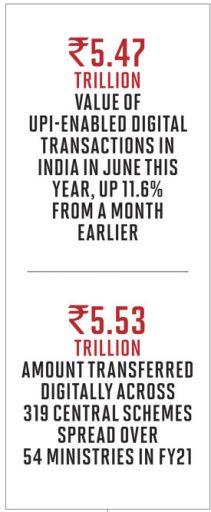 This is a trend as old as the cities. It is said that Italian migrants who went to American cities at the turn of the last century on long and arduous boat rides anticipated streets paved with gold. Shortly after arrival, they realised that not only was gold nowhere to be found but that there were also few roads—and they had to work for a pittance to build roads to make ends meet.
BUT TIMES ARE different now, as the Kanpur case suggests. Everything is changing further thanks to quick adoption of technology and digital transactions, and especially in India where more than 40 million people shifted from feature phones to smartphones in 2021 alone, signalling a major shift to online consumption and interaction even as Prime Minister Narendra Modi pushes ahead with lofty digitalisation targets. For her part, Finance Minister Nirmala Sitharaman has set aside  ₹ 1,500 crore to exclusively promote digital transactions in the country to spur innovation by fintech firms. Rajesh Raj SN, an economist and author who specialises in India's informal sector, notes that thanks to adequate state support, even street-side dhabas and tea shops selling 'cutting tea' have already become part of the digital food delivery ecosystem and more are on their way to be part of it.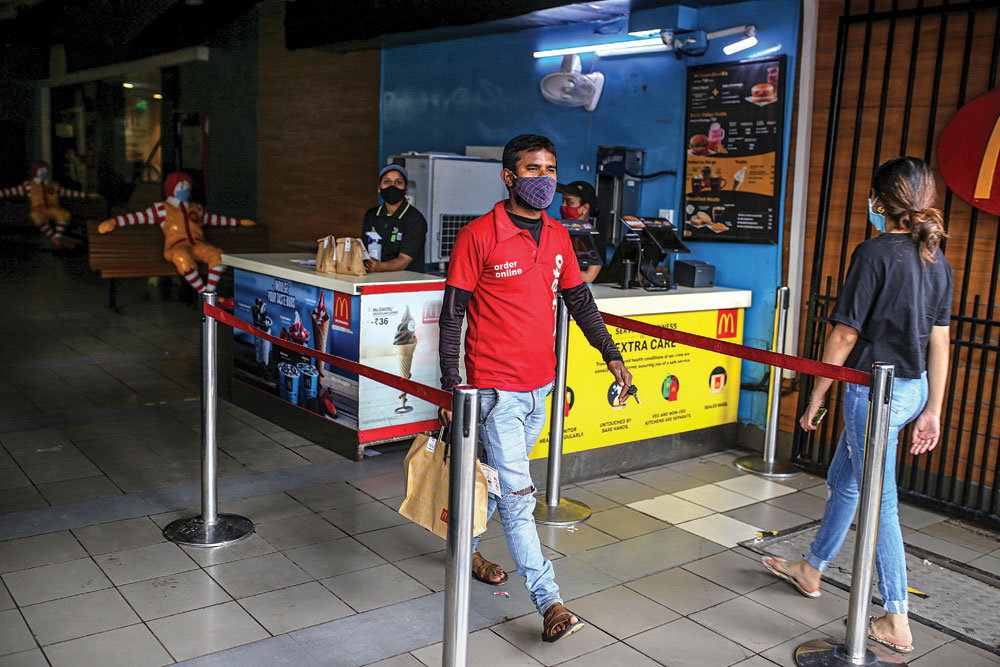 Surveys suggest that close to 30 per cent of Indians have begun to order food through home deliveries during the pandemic. Various such eateries serving kulhad chai, sugar-free ginger chai, ayurvedic chai, samosa, vada pav, or methi khakhra deliver their products well-packed to your doorstep, be it at home or in office (those which have reopened). They also have the incentives now to compete with the likes of Chaayos, a startup built by techies that now sells quality tea in small and big disposable kettles that keep the product hot for 90 minutes. Raj says street-side eateries and tea shops competing in this space will now have to enhance quality and hygiene to gain from the country's digitalisation drive and require loans to train and upgrade themselves to the level of others like Chaayos.
"A well-packed, mouth-watering samosa or pakoda can earn you name and fame, and once you are linked to apps and the online food circuit, you can make it big as an entrepreneur," argues the economist who has published several papers on India's informal sector at the United Nations University World Institute for Development Economics Research (UNU Wider).
The good news is that despite the Covid-induced lockdown, the Centre disbursed ₹ 37,601 crore in loans under the Pradhan Mantri MUDRA Yojana (PMMY) in the first quarter of the ongoing fiscal, which is ₹ 4,000 crore more than the first quarter of the last fiscal. MUDRA loans are meant for petty businesses that people in the countryside and cities want to set up with some initial investment and they fall into three categories: Shishu (up to ₹50,000), Kishor (from ₹50,000 to ₹ 5 lakh) and Tarun (above ₹ 5 lakh and up to ₹ 10 lakh). Not even the worst detractors of the Union Government would argue that disbursement of loans has not been made smoother for small and medium businesses as well as for individuals, says a Delhi-based government official who recalled how difficult it was for people and businesses in these segments and socioeconomic categories to avail of loans even as recently as a decade ago.
Tough times did not last, but their memories do.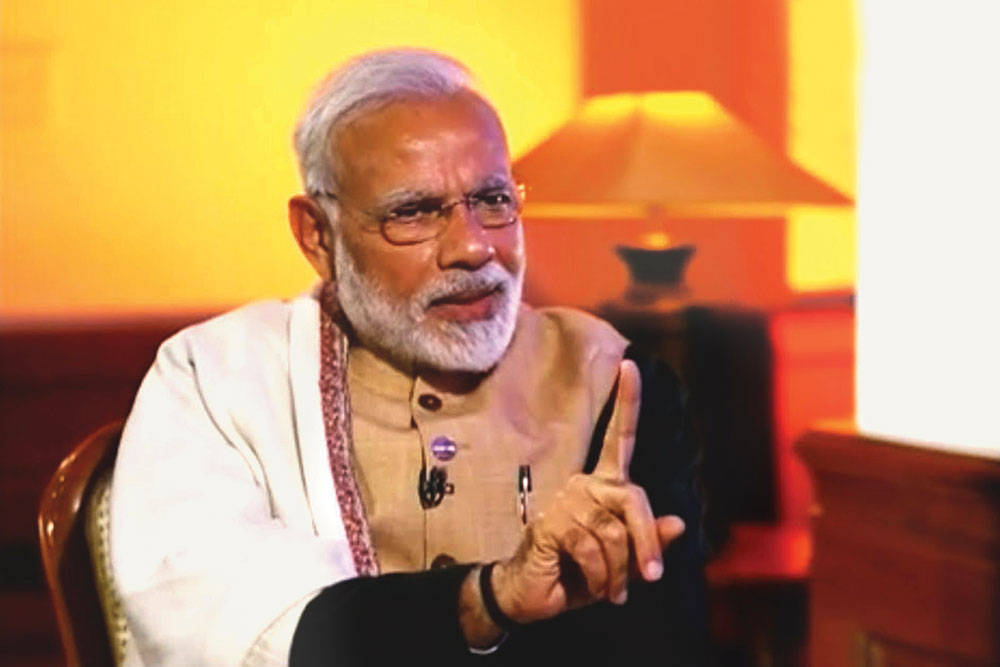 "It was much tougher in the 1970s and the 1980s. To buy a scooter or 100cc bikes, which were the craze that time, you always struggled to find loans from proper institutions, and instead you had to borrow from loan sharks who operated out of dingy offices in crowded bazaars in cities like Delhi and Mumbai. The whole exercise of buying a two-wheeler was extremely enervating for want of loans," says Neeraj Khanna, now a Mumbai-based jeweller who has lived and worked in multiple Indian cities at the height of the Licence Raj. "Things have changed so drastically that all those moments now flash before you like nightmares from another planet. I am glad that irrespective of economic and social status, people are able to avail of loans from institutions of repute now even in the rural areas. That is a huge departure and a revolutionary change," he adds with a sense of
bitterness about what he calls the "hardships-filled past".
The cushioning for local economies was the effective implementation of plans in various segments: banking, electrification, drinking water, LPG connections, job guarantee, housing, toilets, etcetera
Young people of today, in stark contrast, seem contended.
Dinesh Varma, 24, who works as a delivery boy in Delhi and hails from Allahabad (Prayagraj) in UP, says that he has to work overtime lately because of the demand. Which also means he is able to send home thrice the amount he used to wire across to his parents earlier. "There is a lot of work, but no complaints," he says, emphasising that he will get back to his studies after a year.
Besides ensuring a viable level playing field for wannabe entrepreneurs, delivery apps such as WeFast, Uber Eats and Zomato, among others, promise social mobility, as Varma said. For their part, startups such as Swiggy and other app-linked street-food vendors offer the customer the best product at an affordable rate. In fact, municipal corporations in six cities in India—Delhi, Ahmedabad, Chennai, Varanasi, Indore and Hyderabad—went on a "Main Bhi Digital" drive launched by the Ministry of Housing and Urban Affairs this January to enable vendors selling street-food to tie up with food-delivery apps. It is a win-win situation with more people transacting digitally. The growth of such business ventures is expected to rise remarkably.

Numbers foretell that story: India's score rose to 90.32 per cent in 2021 from 78.49 per cent in 2019 in the United Nations Economic and Social Commission for Asia Pacific's (UNESCAP) global survey on sustainable trade facilitation. More importantly, UPI-based digital transactions went up by volume from June 2020 to June 2021. In value, the figure rose by 109 per cent. UPI (Unified Payments Interface) is an instant payment system run by the National Payments Corporation of India (NPCI) and facilitates financial transactions by bringing all bank accounts into a single mobile application. NPCI is an initiative of the Reserve Bank of India (RBI) and the Indian Banks Association (IBA). For anyone who wants to see the Indian economy rebound, it is heartening to know that the value of UPI-enabled digital transactions in India in June this year stood at ₹5.47 trillion, up 11.6 per cent from a month earlier.
True, street-side vendors and laddoo suppliers making it big in India is nothing new thanks to tangible gains from government schemes and through deceit, as evident from the Kanpur tax-evasion incident. This development, although unpleasant, only confirms the business potential of desi foods supplied even by small shops. But this time round, thanks to digitalisation, those venturing into this space have the opportunity to do it in a legitimate way and contribute to the economy.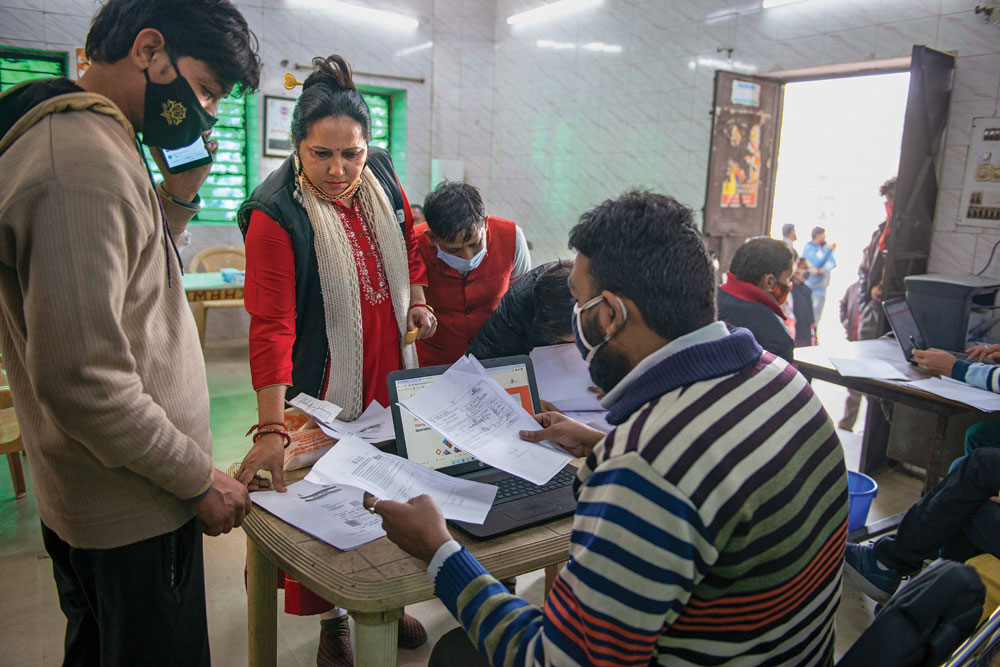 Being a part of the digital mission makes the aspiring among rural entrepreneurs looking to strike gold in cities prized assets for the Indian economy. A closer look at the functions added to the job markets in the food app space will reveal that there is a high demand for those who manage the backend, logistics, kitchen, online transactions, coordination, packaging, raw materials and so on. Money is flowing to the bottom half of the pyramid, the classes that are seeking a positive shift from the informal to the formal sector. Big e-commerce companies these days are looking for smaller shops near their clients' locations to service them. This, in turn, is stirring local economies.
THE TREND HAS reached even the hinterland.
UPI-based online transactions are the new normal even in some of the remotest parts of India, including Leh and north Sikkim. Pangzor Lepcha, a PhD student in Sikkim, says that Google Pay, Paytm and Amazon Pay are used by people even in the hilly terrains of Dzongu, a region where the residents are mostly Lepcha tribal people. They may have never used credit cards or debit cards in their lives, but they are quite at ease with UPI-enabled transactions. A report by research firms Worldpay and FIS says that close to 40 per cent of India's e-commerce payments are done through digital wallets because consumers prefer digital transactions to paying cash, thanks to growing internet penetration.
In a recent speech, RBI Governor Shaktikanta Das dwelled on the issue. "The evolution and adoption of technology has led to massive improvement in deepening of digital financial services," he noted, adding that the Jan Dhan, Aadhaar and Mobile (JAM) ecosystem has brought about a major shift in the universe of financial inclusion. Further, he said, several initiatives have been taken for the creation of enabling digital infrastructure at the ground level so as to universalise digital payments in a convenient, safe, secure and affordable manner. He added: "Given the latent potential of harnessing value at the bottom of the pyramid, we have seen a plethora of players emerging in the field, ranging from traditional banks, niche financial entities such as payments banks, small finance banks, micro finance institutions and promising fintech companies."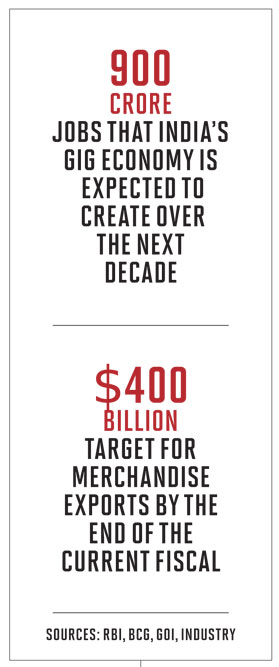 While it is true that economic policies instituted to encourage entrepreneurship and digitalisation in India are showing results and are partially offsetting losses caused by the pandemic, direct benefit transfers (DBT) remain crucial for citizens to contribute to the economy. The answer to how people even on the lowest economic rungs are able to not just stay alive but also spend is clear from the ₹ 5.53 lakh crore that was transferred digitally across 319 government schemes spread over 54 ministries during 2020-21. The Government stepping in to increase DBTs tells the tale of the survival of families that would have been in dire straits otherwise, especially in the eastern and northern states where levels of poverty are the highest. In most of these states, half of each family's members from the village are employed elsewhere, in the cities. Which means, typically their non-agricultural income is higher than their farm income. If the Centre had not provided this support, woes in this pandemic phase would have been far worse than one could imagine. On the other hand, this huge dole-out is helping revive the economy and drive entrepreneurship. For instance, Seema Rani, a house helper from Bhanwar Singh Camp, Delhi, says that she was able to tide over the pandemic despite her husband's job loss because of the stipend in her Jan Dhan bank account during the lockdown.
Past efforts, too, seemed to have helped.
The cushioning for local economies, especially in India's northern rural settings, was the Government's effective implementation of plans in various segments, such as banking, electrification, drinking water, LPG connections, job guarantee, housing, toilets and so on, over the last nearly eight years. Several flagship schemes were run so meticulously that people, especially in the villages, had the opportunity in the pre-Covid years to focus creatively on other aspects of their life since hardships, such as collecting wood, travelling long distances for water and so on, became things of the past. They were suddenly interested in the schooling of their children (although now they are confined to their homes), buying a new vehicle, improving their lifestyle, diet, and even learning how to make viral Instagram videos, as in the case of Naveen Singh, also known as "Bihariladka", who has one million followers on the social media platform. Money transfers helped people retain their lifestyle after Covid struck and then look for opportunities to live the Indian dream.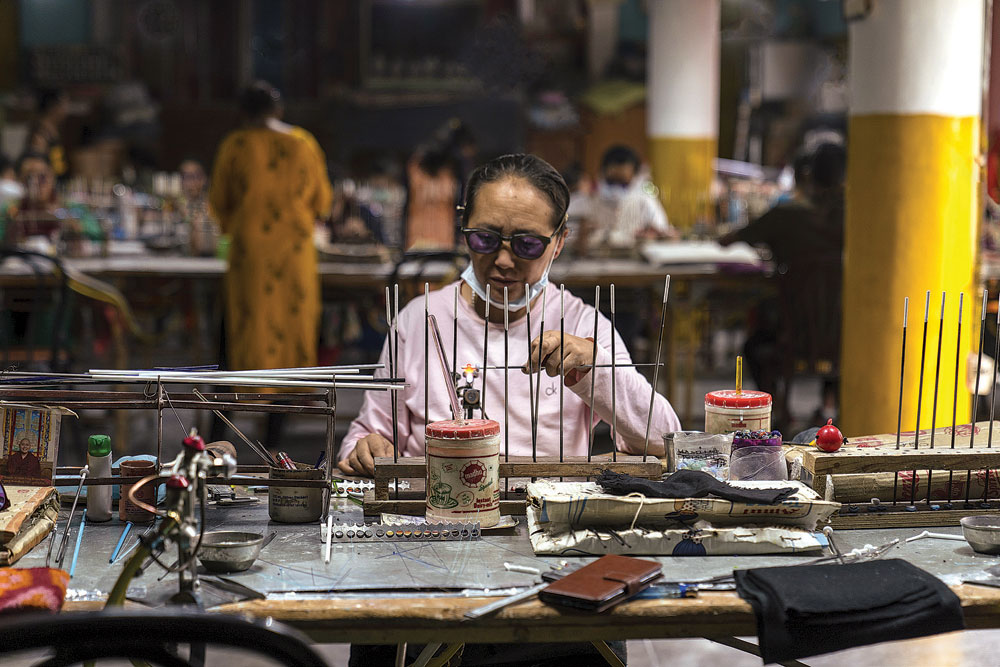 Those working in various positions considered low-paying had a windfall during the Covid period. It is not confined to the food segment alone. Through the app Urban Company, formerly UrbanClap, users are able to hire plumbers, electricians, carpenters and other handymen for part-time work at home. Hiring them through the app ensures that all safety measures are followed, and payments are purely digital.
It is true that digitalisation had started much earlier, following the demonetisation of November 8th, 2016, when vegetable vendors and grocers besides other businessmen had begun using Paytm and then various other UPI transactions. But over the past year, the shift to digital payment has been phenomenally swift, suggesting a largescale formalisation of the Indian economy. To a great extent, what is often called the pakoda economy is converging seamlessly with the formal one, entering business-to-business transactions.
Coming to medical labs, technicians and other staff who were in such demand that their incomes had risen massively over the last two years, say that Covid tests have trickled to a tenth of what they used to be two months ago, perhaps indicative of the fact that the intensity of the pandemic is on the slide as more people get vaccinated.
Notwithstanding the odds stacked against people working outdoors during Covid, Swiggy and Zomato and cloud kitchens, meaning kitchens that you can rent to cook food to sell online, have made customers happy because of affordable rates. People are also tying up with other delivery companies to sell from their home kitchens. Even five-star hotels have slashed their rates to compete with the others. The people hired by all these businesses are temporary to reduce overhead costs and increase returns. Not all of this may last post-Covid, but the result of an ongoing churn is a growing gig economy where you have everything done by freelancers and most equipment is rented. How this is going to change the nature of work in future is uncertain, but at the moment, these jobs are catering to those at the lower functions in the employment hierarchy, giving them relief at a time they need support the most.
More studies confirm the trends. According to a study by the Boston Consulting Group and the Michael & Susan Dell Foundation, titled 'Unlocking the Potential of the Gig Economy in India', most of these jobs are in lower-income job types like deliveries, ridesharing, microtasks, care and wellness. It says that India's workforce now is estimated to comprise about 500 million workers, of which about 210 million are engaged in agriculture and allied sectors, and the remaining approximately 290 million in the non-farm sectors that include construction and real estate (62 million), manufacturing and utilities (60 million), retail (47 million), and transportation and logistics (25 million). The study estimates that the gig economy in India has the potential to service up to 90 million jobs in India's non-farm economy alone, transact over $250 billion in volume of work, and contribute an incremental 1.25 per cent to India's GDP. The net new jobs, says the report, will result from better market transparency (ability to match demand-supply), greater efficiencies in delivery (lower cost), and growing demand (from availability of smaller increments in consumption or 'sachetisation').
CONSIDERING THE JOB functions expected to rise in demand, the prerequisite for a growing gig economy will certainly be the digitalisation drive undertaken by the Government. According to RBI, as of March 2021, banks have achieved a digital coverage of 95.9 per cent of individuals while the achievement for businesses stood at 89.8 per cent. Digital payments—total digital transactions—in volume as of April last year stood at ₹  236 crore. And in 2021, it has risen to ₹ 452 crore in transactions. In value terms, in April 2020, it was ₹ 82 trillion while it is ₹ 119 trillion in 2021. The figure is expected only to rise because companies such as Amazon and others have now nearly eliminated the smuggled-goods markets that people had to visit until a decade ago, and have made available all products—from latest models of laptops to other electronic goods—at your doorstep at affordable prices and sometimes at highly discounted rates. All such efforts, be they anti-competition measures or otherwise, have further minimised the use of cash in transactions. The scale of what we call the pakoda economy, which mostly comprises lower-income jobs, is only expected to grow as multiple surveys suggest.
The RBI governor's promise in this regard is notable: "I would like to reiterate that financial inclusion promotes inclusive growth by way of making financial services including credit and other safety nets available to the bottom of the pyramid. Lessons from the past and experiences gained during the Covid-19 pandemic clearly indicate that financial inclusion and inclusive growth reinforce financial stability."
With demand for products and services rising as more people are spending—complemented by the ease that comes with a mere click to make a purchase—companies will need more and more warehouses and those who manage them besides the workforce required to run the logistics. Several of these jobs, seen as straddling the informal and formal sectors, will now get formalised thanks to digitalisation and scale. Many pundits have forecast this trend to emerge in the future as to how we will work.
One thing is certain. Notwithstanding their financial crime, the deceptively rich street-food vendors of Kanpur have taught the world a lesson: there is more to Pakodanomics than meets the eye.